More (Barbet Schroeder, 1969)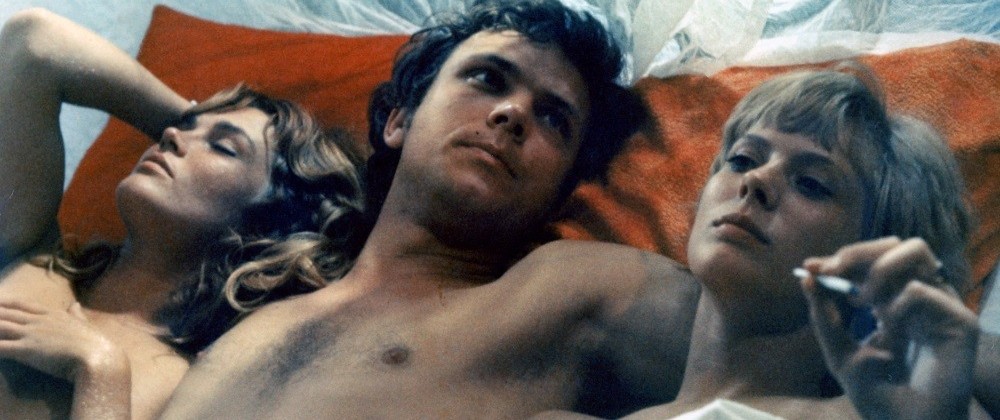 German student Stefan (Klaus Grünberg) leaves his studies behind in true late 60's youth culture style by hitchhiking to Paris, soon meeting and falling in love with a free-spirited, easy loving American girl Estelle (Mimsy Farmer), then dreamily following her to the beautiful isle of Ibiza, where his idealistic pursuits take a darker turn, discovering his new love to be under the Machiavellian control of the ominous Nazi-in-exile Dr Wolf (Heinz Engelmann) and his innocent search for spiritual self-discovery turning to misery as he follows her down a rabbit hole of heroin addiction.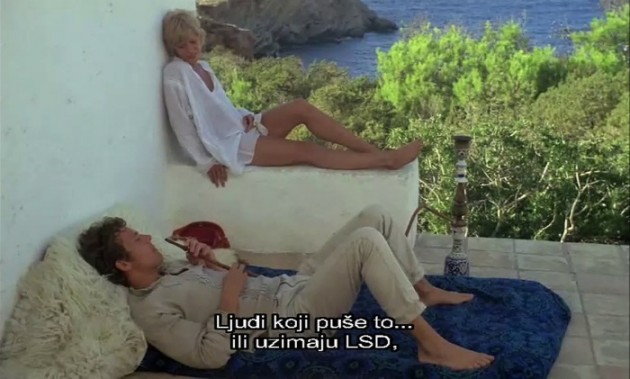 It was 1969, a year after the hippie-uprising Summer of Love, and filmmakers like Schroeder with this film and underground cartoonists like Robert Crumb with his lascivious 'anything for kicks' sex fiend character "Fritz the Cat" were saying, if the movement wasn't totally dead, whatever its idealistic origins, it had mostly devolved into a sham; an indulgent youth movement exercise, a generation of horny and immoral boys doing tons of drug, trading on the opportunity to get a slew of woman to drop their knickers and fuck them under the pretence of a spiritual act.
With a wild score (though cleverly always used practically, informing the characters' lives, rather than operating as standard 'score') of foreboding experimentations by The Pink Floyd (not yet having dropped the 'The' from their name), a soon to be super-group whose music would become a sort of emblematic representation of the reaction against the psychedelic childish innocence of the 60's with the cynical, paranoid and scary 70's (reflected, in Floyd's music, around the manically LSD-imbibing genius wild-man Syd Barrett who went entirely mad and ultimately haunted the band's later work), an entirely unknown lead (Grünberg), a meandering shooting style influenced directly from the 'breaking Hollywood narrative tradition' of the French New Wave from which Schroeder came, while also mirroring – in that having your cake and eating it too way – the very indulgent sensibilities of the characters, the deliberately affected sense to the overriding ennui expressed in their performances, and the waif-like lead actress (Mimsy Farmer, the striking, boyish soon-to-be-star of many a giallo), Schroeder's More has a lot in common with that other European director, Antonionio's, film also about the American counterculture Zabriskie Point that would come out a year later (and also be a resounding commercial flop).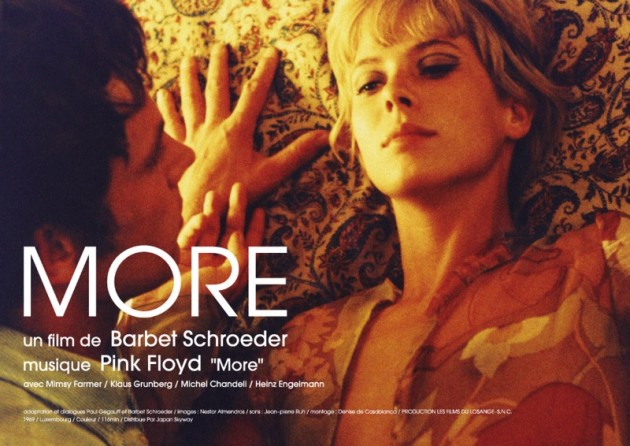 While neither More or Zabriskie is a masterpiece (far from it), they're both still worthy as time capsules of a fascinating time and place with a couple of directors who, each in their way, was attempting to experiment with form (perhaps not always as much as they thought, however, at least with these particular films, being aligned as closely as they were to a 'movement' and a pretty clear desire to come across as hip to American audiences). While Schroeder revels in funky imagery and beautiful vista shots of Ibiza, and has some fun with the shady characters who have 'tuned out' and escaped there, Stefan and Estelle's descent into drug addiction (including a brief respite in which they manage to go cold turkey after they follow her suggestion of a seriously questionable LSD replacement treatment – I mean… was that a real thing?).
Neither dates well, either, but where Zabriskie ends with a fantasy of the literal obliteration of the representative of Capitalist success (i.e., 'the Man') (cathartically helped along with the shrieking hysteria of a simply mind-blowing Pink Floyd song "Come in Number 51, Your Time is Up"), Schroeder's focus is not only more moralistic and cautionary – wagging his finger at the irresponsibility of the hedonistic pursuits of the youth – but catered towards male fantasy (fitting right in there with the Free Love crowd he's going after) – ultimately suggesting our German dreamer's tragic fate may have less to do with a misguided pursuit of self-enlightenment, than of simply following a crazy woman over the edge.