"Hell" is Other People; or, Nostalgia for a World Culture in "Wolfhound Centuries": Proteus by John Greyson and Jack Lewis, with references to Jonathan Demme's Manchurian Candidate and Michael Mann's Collateral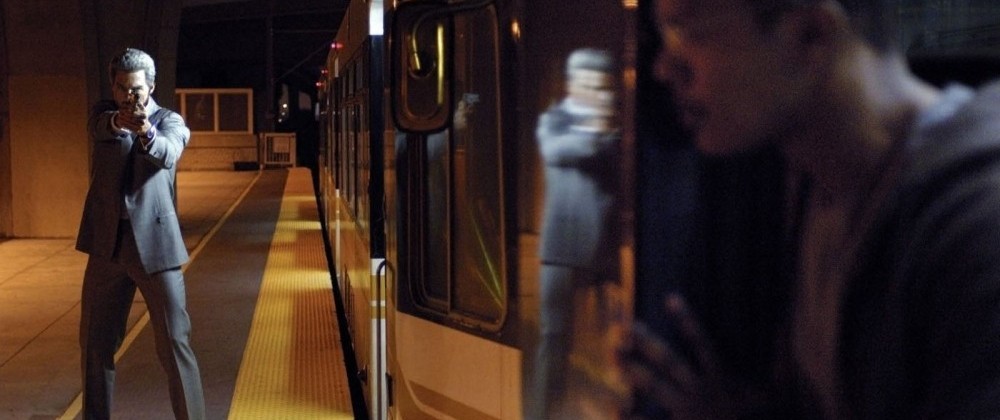 Today, an angel, tomorrow a worm in the tomb,
The next day just an outline, nothing more.
What's been—a step—will be one step beyond our reach.
Flowers are immortal, heaven a single whole,
And what shall be is nothing but a promise.

—Osip Mandelstam, the last lines of 50 Poems (Persea Books, 1977)
I can imagine an existence of art, nature, and solitude, in which I did little more than thought and wrote about particular persons and their works — Boccaccio, Shakespeare, Rilke's Duino Elegies, John Koethe, Chekhov's stories and plays, Nietzsche, John Stuart Mill, W.E.B. DuBois, Cezanne, Rembrandt, Picasso, Henry James, Dawn Powell, Paul Bowles, Thomas Bernhard, Ralph Ellison, Toni Morrison, William Demby's The Catacombs, Percival Everett, Duke Ellington, Greta Garbo, Diana Ross, David Bowie, Al Green, Nicole Kidman, Jude Law, The Magnificent Ambersons, Pather Panchali, The 400 Blows, Rocco and His Brothers, and The Seventh Seal.   I can imagine a life in which all my acts are elegant, intelligent, and generous.  That is not the world of breathing, bleeding, bumbling people; and I live in that imperfect world, for which disinterest brings penalties,  and I am entangled in it—its necessities and stresses inspire not only the conflicts and errors of others but my own.  It is a world in which the material and moral missteps made by ambitious creative people are used by some to excuse their own lack of accomplishment.  Eyes and ears are bad witnesses for men with barbarous souls, said Heraclitus (600-540, before Christ; dates given vary), a philosopher of flux and process, of change, a man who believed in the ongoing conflict of opposites.  The blend of earthy and empty friendliness, hypocritical religious piety, and outrageous hostility to difference of the common man is an art in itself, and yet much of culture advances personal and social ideals.  Plato's Symposium (written 360, before Christ) puts forth the idea that the relationship between two males can be a foundation of the state; civil, ethical, and philosophical, as well as sexual.  That idea, emblematic of ancient Greece, is contested in other periods of western history; and no one suggests it in the film Proteus, which presents the relationship between two men in 18th century southern Africa, a sexual relationship born of adverse circumstances and human possibility.
In Plato's Symposium, a detailed remembrance of a gathering in which a group of friends talk about love and philosophy and drink and flirt is, at once, literature and philosophy, a drama and a meditation on psychology and society.  Apollodorus is asked to recount this gathering, a Symposium, at which erotic love is discussed by Socrates and his friends, and he relays the story as told to him by Aristodemos, noting what might be lost to memory:  Socrates walks to the dinner but is distracted and delayed getting there, and the dinner proceeds without him.  Phaedrus talks about how the lover and the beloved relate to each other, that they can be guided by love into virtue.  Pausanias describes Aphrodite as having two natures, one undiscriminating and one discriminating, and it is the discriminating or Uranian nature that prefers the male.  He acknowledges that some people frown on the love of boys; and that is part of attempts to discourage the development of prideful thoughts that might arise in a boy who has the attention of a man, just as certain friendships, philosophy, and gymnastics are discouraged by those fearful of unleashing pride.  (Many of the beloved boys did go into politics or civil service.)  Pausanias also distinguishes between love of the body and love of the soul; and says that if a relationship enhances character it is good.  Eryximachus distinguishes between healthy and sick love, but sees the potential for both in any love, and says that what is healthy is balance.  Aristophanes introduces a metaphor—a time when there was a race of beings who were both male and female, with a round body, four arms and legs, two faces set in opposite directions on one neck, and with two sets of genitals, and that these proud beings attacked the gods and were then cut in half, refashioned as men and women, and that there was forever after a longing for the original union.
Three moving pictures that contend with violence and law, and have as a central relationship the connection between a man whose skin is high in melanin and one whose melanin count is low, opened in late summer 2004, none of which has the spiritual dimension of Plato'sSymposium.  One of them is Proteus, the most imaginative, intricate, and unusual of the three, and the other two are The Manchurian Candidate and Collateral.
Jonathan Demme's The Manchurian Candidate is an entertaining, politically topical movie with good performances by Denzel Washington and Meryl Streep and an intriguing though uneven performance by Liev Schreiber.  (There are strong supporting performances by Jeffrey Wright as a fellow soldier, Kimberly Elise as a store clerk with a secret, and Jon Voight as a senator.)  The film, about false memory, a grab for political power, and war, is a reinterpretation of Richard Condon's novel of the same name; and a previous, now classic, film starring Frank Sinatra, Angela Lansbury, and Laurence Harvey had been made decades ago.  Denzel Washington's character is a man haunted by his time at war, even as he gives speeches celebrating its heroes, one of whom is play by Schreiber.  Streep's character is calculating, driven, full of energy, and funny in her dedication to do whatever it takes to achieve her purposes.  Streep plays a senator whose son, played by Schreiber, is declared a war hero after his conduct is commended by his commanding officer, played by Washington, a status that is the basis for the son's political career, a career a large international corporation wants to succeed.  (Streep said that she based her performance on women such as George W. Bush adviser Karen Hughes, whom I heard speak at Borders bookstore in Columbus Circle—Hughes seemed both likable and smart without being honest, sharply condemning of beliefs and gestures she didn't approve of, and ready to discuss foreign policy with little to say about the education, housing, and monetary needs of ordinary Americans.)  The Manchurian Candidate turns on nightdreams of capture and brainwashing that seem more vivid than the conscious summary each man carries of what took place in battle.  I did not see the earlier film but descriptions I've read of it—by Greil Marcus and Tim Dirks, among others—make it sound like a political thriller, a satire, and a tragedy; whereas, Demme's film is a political drama with some aspects of a mystery thriller and a bit of science fiction.  (The tragedy in the former film was in the total corruption of the mother-son relationship, a corruption that ends when the son murders his mother and stepfather instead of the political candidate he was programmed to assassinate: an awful act, immensely difficult and also necessary—improbable in one way, inevitable in another.)  The Demme film rewrites various aspects of that scenario, adding recent references to international business deals, environmental problems, and other issues of concern, and making Denzel Washington's character less a witness and more of a protagonist to what goes on, something which takes away from the Liev Schreiber character's singularity.  The candidate son talks about the rich versus the poor, and how some people are forced to choose between food and medicine, and says that the public is encouraged to feel secure rather than be secure.  The essential personality and mission of Schreiber's character is at stake, but that is not dramatized enough: that a man could be taken only for his usefulness—his closeness to power, his ability to kill—is horrifying, and says everything about the people who use him, and somehow that is lost in the pursuit of the rituals—the rhetoric, the campaigns—of political power. 
The contemporary world has recently produced two stories involving politicians—and individual character, public perceptions, and the use of power—that I find much more interesting than anything occurring in The Manchurian Candidate, stories involving Assemblyman Roger Green and Governor Jim McGreevey.  To increase the participation of all members of society in determining the direction of society—a participation that may lead to the adoption of new values and projects—is for some people the fulfillment of humane culture; and for others it is a capitulation to forces that may destroy society itself.  People involved in politics, like those involved in the arts, often seek to expand the range of opportunities for themselves and others—they seek to expand freedom; but this can become license, lawlessness.  The powerful, and the impoverished, for different reasons, do not fear the bottom, unlike the middle class that hopes to rise and fears falling, and that lack of fear can lead to recklessness.
Is it always possible to know the difference between enforced rules that are just and unjust, and between liberties rightly and wrongly taken?  I had first seen Roger Green many years ago when he addressed a group at the college I was attending; and he seemed intelligent, sincere, and attractive, a current embodiment of past civil rights struggles, someone who intended to carry on that legacy.  Green, who was elected to the New York state assembly in 1981 and subsequently re-elected, resigned his position as assemblyman for the 57th district in Brooklyn in June 2004, after being charged with petty larceny involving the reimbursement of travel vouchers and giving a guilty plea, for which he was placed on three years probation and had to pay $3,000 in restitution and a $2,000 fine.  Now the rest of the story:  Roger Green was born June 23, 1949 in Brooklyn, educated in public schools, and graduated from Southern Illinois University with a bachelor of science degree.  He participated in various civil rights and community organizations, and took his assembly seat on January 15, 1981 (January 15 is also Martin Luther King Jr.'s birthday).  During his tenure as assemblyman, Roger Green co-authored legislation for tuition assistance for poor students and health services for uninsured expectant mothers, and authored legislation for the establishment of various institutions to help troubled youth, provide youth training in technology, support physical fitness and recreation, and advance non-violent social practices, good citizenship and social progress (see: the Supplemental Tuition Assistance Program, New York State Prenatal Care legislation, the Martin Luther King Institute on Nonviolence, the Latimer-Woods Economic Development Association, the Jackie Robinson Center for Physical Culture, and the Benjamin Banneker Academy for Community Development).  Green also supported increase in the minimum wage for workers, a fair pay act for both genders doing comparable work, emergency contraception for rape survivors, a sexual orientation non-discrimination act, an immigrant health care act, and repeal of the housing vacancy decontrol law that allows an automatic 18 percent rent increase when a tenant moves out.  At the time of his resignation, Green was the chairman of the New York State Black, Puerto Rican and Hispanic Legislative Caucus, chairman of the New York State Standing Committee on Children and Families, co-chair of the Joint Budget Conference Sub-Committee on Human Services, and a member of other committees, including Labor, and Ways and Means.  What happened?  Green claims the basis of his trouble was a $90 administrative error made by an intern in December 1999.  In an early June 2004 interview with Nayaba Arinde of Challenge Group, the publisher of Afro Times and The Daily Challenge, Green said that the Correctional Services Corporation provided his office transportation to move materials for a Black and Puerto Rican Caucus event, the kind of thing for which he would typically pay gas and tolls—and that an intern mistakenly submitted a request for reimbursement to the corporation.  Other reports say Green's office made similar reimbursement requests at other times that may be valued at about $100 per week (Albany Times-Union; and Courier Life Newspapers).   What interests me about Green?  His profile, his philosophy, his accomplishments; and the very public nature of the trouble in his life, for it is the kind of trouble that forces the questioning of motive and practices.  One of the things Green said was that it was easy for newspapers such as The New York Post to criminalize his behavior, as the image of blacks is already criminalized (Green had engaged in civil disobedience following the police's killing of unarmed African immigrant Amadou Diallo, protest for which Green was arrested, an arrest that was photographed, and the Post used that photo of Green in handcuffs).  Green has noted that Governor Pataki had run up a charge of $28,000 using government cars for his personal election campaign (Pataki repaid $6,000); and Green notes Brooklyn Borough President Marty Markowitz made a similar mistake as Green.  An online Gotham Gazette article, accessed mid-July 2004, said that a probation officer's report described Green as having limited mental capacity and of possibly being honest, the kind of claim unlikely to be made or published without contest (such as the citing of counter-evidence) about a politician of European descent who has had Green's career.  (I suspect that Green simply chose not to give the probation officer his complete attention.)  Since his resignation Green has said that he plans to work in his district and one day, possibly soon, return to public office; and he was quoted in the August 22, 2004 New York Times as saying, "You think about your legacy and you want to end a career on a note that doesn't obscure the good work you have tried to accomplish."
Was Roger Green guilty of the arrogance, or merely the obliviousness, of power?  Was Jim McGreevey?  The August 2004 press conference at which New Jersey governor Jim McGreevey, a Democrat, stood next to his wife and announced that he was a gay American, had an affair with a man, and intended to resign, produced confusion and shock in many people.  I had not paid much attention to McGreevey before this.  I knew that he had appointed Amiri Baraka New Jersey's poet laureate (apparently Baraka asked him if he was ready to accept the controversy the assignment might inspire and McGreevey assured him he was); and when Baraka wrote a poem about the September 11, 2001 attack on the World Trade Center that seemed to implicate Israelis, and there was controversy, McGreevey asked for Baraka's resignation and Baraka refused.  (Many reports mentioned the $10,000 annual honorarium the poet would get in the position, just as many reports mentioned Roger Green's $79,500 annual salary and $12,500 stipend for Green's chairing the Committee on Children and Families.  Was there undue preoccupation with the compensation given to two black men?)   Although I had reservations about Baraka's personality, politics, and creative work, I signed a petition supporting him, on behalf of freedom of speech.  McGreevey urged the state legislature to abolish the post, and signed that bill of abolishment into law in July 2003.  Baraka filed a federal lawsuit in April 2004 against McGreevey, and the New Jersey Council of the Arts and its chair, seeking damages, reinstatement, and the honorarium.  There have been also various corruption scandals involving McGreevey appointments.  The Washington Post ran an article July 31, 2004 that discussed these — a state commerce secretary resigned after giving contracts to his chief – of – staff's sister; a campaign contributor tried to undermine a federal investigation by intimidating a potential witness, the donor's own brother-in-law; and a fundraiser for the governor was indicted on charges of extorting bribes and campaign contributions, and McGreevey, though not charged with a crime, was mentioned 83 times in the federal indictment of the fundraiser.   When McGreevey stood up August 12, 2004 and announced his intention to resign November 15 as a result of his very personal circumstances and how they might affect perception of his administration, he made a speech that seemed truthful and touching, but which was scrutinized and doubted within days (a mid-August public poll found that nearly half those surveyed thought he resigned because of corruption).  McGreevey had said, as reported by The Associated Press and ABC-News.com August 12, "Shamefully, I engaged in adult consensual affairs with another man which violates my bonds of matrimony.  It was wrong, it was foolish, it was inexcusable." And, "At a point in every person's life, one has to look deeply into the mirror of one's soul and decide one's unique truth in the world, not as we may want to see it or hope to see it, but as it is."  With his wife, with whom he has a child, standing next to him, I thought he should have said that he was bisexual but many people feel forced to choose either/or rather than both (and he had been advised by the gay Human Rights Campaign to use the phrase "gay American").  Immediately following his announcement were reports that a man he had an affair with and appointed, without qualifications, to a homeland security position, Golan Cipel, intended to charge McGreevey with sexual harassment.  Is McGreevey corrupt, or has he simply made some bad appointments?  Was he not focused enough on his work?  McGreevey, a graduate of Columbia University and Harvard, a former county prosecutor and mayor, has been credited as governor with giving tax rebates to two million middle-income homeowners while raising taxes on millionaires, and also with increasing protection for the New Jersey highlands.  McGreevey also signed a domestic partnership act that gave homosexual couples medical benefits and some legal rights but opposed same-sex marriage.  (He has asserted his intention to advance stem cell research before leaving office, and also to appoint a commission to examine property tax reform.)  Did McGreevey reveal his tormented private character to hide his questionable professional actions?  
Collateral is less about being than doing.  When I had seen the ads for Michael Mann'sCollateral, I thought the moving picture was one I wanted to see.  I like Tom Cruise (Minority Report, Magnolia, Jerry Maguire, Interview with the Vampire), and the ads made the picture seem full of dash and style.  Cruise is fine in Collateral, and Jamie Foxx is probably better, and I liked seeing Jada Pinkett-Smith (prosecutor), Mark Ruffalo (policeman), and, especially, Barry Shabaka Henley (witness, jazz musician) and Javier Bardem (crime boss), and I cannot say the film failed to offer entertainment, but I did not like it.  Cruise plays a hired killed who himself hires cab driver Foxx to (first unknowingly) squire him to his murderous appointments.  Cruise's character is amoral, cool, focused—a professional; and Foxx's character is efficient and kind, with implications of spiritual resources and definite unfulfilled dreams, and he is also a professional.  However, neither character has enough depth for this story to be a study of them.  We do see a contrast in styles, but the lack of anything more is felt.  Of course, the Foxx character is appalled by the Cruise character's cavalier approach to death, but who wouldn't be?  We do not know enough about either man.  I also had trouble with the look of the film, which was apparently shot using digital video.  Leaving the theater I heard young women enthuse about the film's look, how immediate and vivid it seemed, and how they felt as if they were right there with the characters.  I've read critics who appreciate Collateral's imagery.  I thought the movie looked cheap and ugly and I was aware of its contrivance (naturalistic settings tend to make actors appear unnatural), though if its style is as transparent as others think—as lifelike—I may be simply too fond of, too used to, the fine artifice of film.  As with Manchurian Candidate, I found myself wanting more from Collateral. 
Even in a year in which the films viewed have been diverse in subject matter and quality — Big Fish, Win a Date with Tad Hamilton!, Japanese Story, The Dreamers, The Reckoning, Eternal Sunshine of the Spotless Mind, His Brother, Hellboy, Walking Tall, Dogville, Troy, Spring Summer Fall Winter and Spring, The Day after Tomorrow, Harry Potter and the Prisoner of Azkaban, The Saddest Music in the World, Father and Son, The Mother, King Arthur, Before Sunset, I Robot, The Bourne Supremacy, Catwoman, The Village and Hero — a film such as Proteus would stand out. 
Proteus, a historical melodrama, focuses on the relationship of an African and a Dutch man in prison; and its themes include power—of law, of science, and it features an emphasis on sex, racist brutality, and harsh prison circumstances; and the film's best moments might be its scenes of quotidian life—of prisoners fishing or breaking rocks, of a lady and her guests in her home.  No individual in Proteus embodies the total consciousness of the film—the film itself is the only complete holder of consciousness.  Proteus, directed by John Greyson and Jack Lewis, from a script by both men, was produced by them with Damon D'Oliveira, Anita Lee, Steven Markovitz, Platon Trakoshis.  Giulio Biccari was the cinematographer, Tom Hannam the production designer, Diana Cilliers the costume designer, and Roslyn Kallo the film editor.  (Don Pyle and Andrew Zealley provided the music.)   Greyson, who has named as his influences Fassbinder, Visconti, Yvonne Rainer, Todd Haynes, Derek Jarman, Gus Van Sant, and Chantal Akerman, previously produced Moscow Does Not Believe in Queers, The AIDS Epidemic, and The Law of Enclosures; and Lewis, known for his activism, co-founded a gay film festival and non-profit television production company, and has made documentaries.  Lewis found a Dutch transcript of a 1735 sodomy trial involving two prisoners, inspiring his collaboration with Greyson.  Greyson is Canadian, and Lewis South African.  The film was funded by agencies in both countries, and cost about $300,000 in cash and $150,000 in deferrals and donations. 
Proteus was filmed on digital video using Pal-D Beta with high definition lenses during an 18-day shoot, then transferred to film, a process that means some scenes are remarkably detailed and others are a little blurry; and the film opens with the view of a book, a journal, and a flower quickly blooming.  The flower is of the protea family; and the protea cynaroides, or king protea, has been taken as the national flower of South Africa.  We see three Dutch typists in somewhat recent (1960ish) though not contemporary dress as they discuss whether to use the work "fuck" in the trial transcripts they are preparing.  Apparently, it's a variation of an old Dutch word, fokken (fokken was used to mean "to breed," and the Swedish fokka meant "to copulate," according to Merriam-Webster).  We are told that in 1735 Carl Linnaeus published work on the classification of nature, including flowers: the book was Systema Naturae (System of Nature).  Many of the protea plants contain both male and female organs; and the plants are often referred to as sugarbushes for the nectar that can be obtained from a flower head.  The first southern African plant recorded belonged to this family—it was the protea neriifolia, observed by the Dutch Botanist Carolus Clusius in 1605. 
The film Proteus was shot on Robben Island, which had as its most famous prisoner Nelson Mandela, the African National Congress freedom fighter (called a terrorist by the west) and later the president of South Africa.  Greyson and Lewis wrote in an article accessed in early August 2004 on Landmark Theatres' Movienet.com, "Robben Island has in fact been a prison on and off for three centuries. Bleak, windswept and barren, pounded by waves and punishing currents, it boasted an almost perfect track record: only one prisoner had successfully escaped during those three hundred years.  We wandered the island, searching for the ghosts of Claas and Rijkhaart, our two forgotten convicts.  The slate quarry where they'd hewn rock was overgrown and abandoned, but it wouldn't be hard to make it work visually as a location—except for the reverse angle, which looked across the water at the emphatically twentieth century city of Cape town, nestled in the shadow of Table Mountain.  The site of their prison garden was now an overgrown field—again a perfect location, except for the 1950s lighthouse in the distance.  The penguin colony where they poached eggs was similarly untouched—except for a row of concrete doloses, those unique South African breakwaters that resemble nothing so much as a scattering of giant jacks waiting for house-sized rubber ball to be bounced."  Consequently, Proteus mixes history with recent and present concerns and styles.  Greyson and Lewis wrote in that same Landmark Theatres Movienet.com article that "The pristine past of 1735 that we sought to recreate didn't exist, couldn't exist—it would always be haunted by the present, by every image we know from our century, by Biko and Soweto, by whites-only beaches and black townships, and now, by ten years of democracy when South Africa became the first country in the world to enshrine gay rights in their constitution.  No matter where we looked, there would always be concrete chunks interrupting the view.  We filled Proteus with such anachronisms, especially those that referenced 1964, the year that Mandela was incarcerated."
The film stars Rouxnet Brown, Neil Sandilands, and Shaun Smyth, with Kristen Thomson and Brett Goldin.  After the nice green blocks on which the stars' names are presented, we see the green and cream walls of the prison, and a black man (Claas Blank, performed by Rouxnet Brown) in a solid topless cell in which water is being hosed in as he attempts to pump it out, working tortuously against the threat of drowning.  We then see a group of men searching for what they call a Hottentot thief (the word Hottentot was used by the Dutch to describe the Khoi people, known for their short, slim bodies and yellow-brown skin, a somewhat nomadic people that herded cattle and sheep); and the man they seek is found hiding in a box of plant samples.  The botanist's assistant, Lourens, performed by Brett Goldin in a mostly showy, effeminate manner, is very upset by the damage Claas Blank might have done to the samples.  The Hottentot man, a Khoi herder — Rouxnet Brown's Claas Blank — begs the botanist to intervene, before Blank is taken to the magistrate, in a court established by the Dutch East India Company, a company that was created in 1602 when the Netherlands granted a group of Dutch merchants and trading companies a monopoly to trade with Asia; and the company issued shares and established bases in Java, the Cape of Good Hope in Africa, Persia, Bengal, Ceylon, Malacca (now Malaysia), Siam, and China.  The company was allowed not only to trade in spices such as nutmeg, cloves, cinnamon, and pepper, and also tea, silk, and porcelain, but the right to colonize land and peoples.  (In Proteus, we learn that at the time of Claas Blank's arrest seventeen Hottentots, women and children, have been killed recently by the settlers.)  Apparently, Claas Blank was accused of stealing property that had been stolen from him and his people by the white settlers; and the court finds him not guilty of theft but guilty of rudeness to a white man, and he's sentenced to years of hard labor for this crime in the Robben Island prison.  Men in the prison spend time breaking rocks; and one of the men, Nanseb, sometimes called Jaktie, befriends Claas.  Claas, who had been born on a farm and became a favorite servant before his recent trouble, is thought by some to seem like a bush man, which may carry both stigma and the possibility of special knowledge—of nature, of methods of survival.  The San of southern Africa were called men of the bush, or bushmen.  (We see penguins: just as the protea flower is both male and female, the penguins are black and white, terms usually seen as opposites.  The name Proteus is actually that of a Greek god who looked after the sea god Poseidon's seals.  Proteus could predict the future, and was sought for this reason, but his ability to change his shape—into water or fire, into lion or snake—made him difficult to hold.  To those who could hold him, he told their future.  The name can be read as of sign of ambiguity and change.)   When the prisoners are working outside, Nanseb climbs atop a rocky hill and gathers some large eggs, which he and Claas put inside their shirts (Claas's look like breasts; and one of the guards registers the oddness of this but does not investigate).   Claas is warned against the Dutch faggot, Rijkhaart Jacobsz, a role performed by Neil Sandilands; and Claas asks if the man is two-sexed, both male and female.  Jacobsz, a sailor jailed for sodomy, seems masculine, serious, reserved.  At egg-boiling time, Claas's nipples are tweaked by one of the Africans in remembrance of where he hid his eggs.
Virgil Niven, the botanist, performed by Shaun Smyth, picks helpers from the available prisoners for an enterprise that is scientific and commercial, and one of them is Claas Blank, who is watched by Rijkhaart Jacobsz, a watchfulness that seems curiosity about a new person.  Blank and Jacobsz begin a regular chore of taking wheelbarrows to the well for water for the plants.  The botanist, who is privately bathed by his assistant Lourens, whom he sleeps with, wants a bush man for help with his work, to find out about plants, their names and uses — and Claas claims to have such knowledge and gives the botanist false names, some of them obscene.  Claas says he wants to save money — apparently whatever compensation the botanist will give him — to give his mother upon his release.
Claas sees Rijkhaart Jacobsz eating meat in a cave, and refuses an offer of meat before giving in—though this meeting between the two ends in an exchange of insults and a fight.  
The botanist, Virgil Niven, explains the sex organs of plants to Claas; and, in passing, mentions his wife.
According to the South African Protea Atlas Project, which is dedicated to encouraging appreciation of proteas, as well as identifying their patterns of development and places of growth and threats to their existence, the protea family is ancient, more than 130 million years old; and was long ago subdivided into two subfamilies, the proteoideae in which there is usually one seed in a flower, found in southern Africa and Australia and New Zealand, and the grevilleoideae in which there are usually two seeds in a flower and two flowers in a bract, found in Australia, South America, southwestern Pacific islands, and with one species in Africa.  There are about 1400 species in the protea family.  "It is a feature of southern African proteas, together with daisies, that the flowers are grouped into large heads which many mistake for flowers," remarks the Protea Atlas Project, accessed on the internet in early August 2004.  Protea flowers, rather than having separate petals and sepals, have one set of "four perianth segments (called tepals)."  The stalk of the female organs can be seen once the tepals separate and open; and the male organs or anthers are joined to the top of the tepals and give off pollen onto the top of the female stalk (or style) before the flowers open.  The female organs contain a stigma, style, and ovary, and the "ovary develops into the small dry fruit, each containing one seed.  The fruit is often incorrectly considered a seed."
Claas, possibly responding to the tone of the botanist, recalls some stories his mother told him, folklore and mythology; and later he'll recall medicinal uses for some of the plants, genuine and genuinely useful information.  Scenes of Claas's childhood memories are one of the better parts of the film; and they allow him his human past—his innocence, his mother-love, his yet uninterrupted possibilities.
Claas teases Rijkhaart Jacobsz while the men are in a rough formation, and in backing up to get away from Claas, Jacobsz hits Nanseb (Jaktie), who had been carrying eggs beneath his shirt, eggs taken from an outside nest—and the eggs crack and wet his shirt front and he is tied to a tree and beaten with a whip for stealing and insubordination.  Salt is put into the wounds on his very raw back; and he dies.  The next morning, the men walk past the dead man tied to the tree, his back exposed.  Claas secludes himself and cries; and when Jacobsz finds him and Claas rebuffs him, Jacobsz tells him that the death is his fault too.  (For a moment, we see an imagined scene:  Jacobsz reaching out to comfort Claas.)  The overseer says the men shouldn't be hungry as the prison's feeding schedule allows them fishing (imagine thinking you know when someone else is hungry), and he tells the base commander that he was following orders—that certain punishments were specified for each crime and he delivered each specified punishment, adding one to the other.  The commander's wife, the botanist's cousin Kate, thinks the punishment was too harsh.
We see the prisoners fishing at the water's edge. 
While working with the botanist in-house, Claas Blank is introduced to Linnaeus' classification of mankind into four races—including the black as lazy.  The Hottentot, of which Claas is classed, is described as having a tail and horns.  ("Carl Linnaeus was not only the father of modern botany, he was also one of the fathers of 'scientific racism.'  His famous work of botanical classification included the classification of people into different races each with their own racially determined characteristics.  In this racial hierarchy the 'Hottentot' was confined to a special sub-species of the not-quite-human!" wrote Jack Lewis, in a March 12, 2004 article on the Gmax.co.za web site.)  As the botanist reads this to Claas, one can imagine not only how alien this seems to Claas but that such science must strike the botanist as rejectionable.  In such a time and place as 18th century Europe or Africa, empathy and imagination may be more useful than ideology or official knowledge.  The botanist is probably the most interesting person in the film—he has knowledge and some power, and passion:  he is able to see what is described as real and what is actually real.  The question is, will he allow what he knows or feels or intuits to change him or change how he acts.  For a moment, while Claas's back is to the botanist, the botanist reaches out to touch Claas's head — and he takes something, a leaf, from Claas's hair (it had seemed at first an ambiguous gesture, a gesture of care or desire).  For his payment for the day's work, Claas asks the botanist for a nearby bottle of liquor and the botanist allows this.  Claas drinks in a somewhat isolated place, which seems near the well or water tower, and which looks like an empty shed or old abandoned train car; and when Rijkhaart Jacobsz comes upon him Claas says something about Jacobsz being so gentle and inventive, a mocking remembrance of a description the botanist had read to him of a European type.  The two drink to Nanseb, then smoke together.  Jacobsz, a sailor, talks about having been in an orphanage where the children were threatened with a drowning cell.  The botanist sees the two talking; and Claas Blank and Jacobsz close the door to the room they are in and fuck, Claas taking Jacobsz from behind.  (The botanist finds a wall opening from which to watch: his observance may be both personal and scientific.)  Another time, when the botanist sends them away together to get water—knowing what they are likely to do—Jacobsz says that he had seen the botanist, Niven, in Amsterdam flirting with a soldier; and that he thinks Niven desires Claas, whom the botanist's assistant, Lourens, tries to warn the botanist away from, saying, among other things, that he's not a real bush man.  Meanwhile Claas fucks Jacobsz while talking about a girl he wants to marry, a cousin who has large breasts (Jacobsz says that he can marry her breasts).
Jack Lewis wrote on the Gmax.co.za web page, "Amsterdam in the 18th century had a thriving gay culture where men did indeed have sex in favoured public toilets, where there were gay bars and where, all in all, things sounded pretty damn gay!  So — if Foucault was wrong and gay identity had in fact emerged 100 years earlier than he thought, and if Rijkhaart had by any chance been part of that Amsterdam gay subculture, how would that have [a]ffected his relationship with Claas?  How would Claas and Rijkhaart have understood their affair, which endured for more than 10 years?" (March 12, 2004)  
Virgil Niven, the botanist, receives word that a monograph of his work on plants will be supported for publication; and there's a celebration, a warm scene in his cousin Kate's home.  The botanist later draws Claas Blank in a loincloth and cape, an image of a noble savage, and names a plant after Claas — protea blanka, which he describes as rare, beautiful, hard to find, and blooming only at night.  Claas says he wants to return to Amsterdam with the botanist, that he'll do whatever the botanist wants, it is an offer of sexual service, but the botanist does not accept the offer — and he gives all his prisoner-helpers sandals as going away presents.  We next see him, Niven, at home in Amsterdam with his wife, small child, and his assistant; and we see his many hot house flowers.  Does he love his wife?  What is their relationship like?  Does she suspect the relationship between her husband and his assistant?  We do not know; nor are we given any clues. 
Five years later, the prisoners pick sea shells, possibly clams, while under guard.  At night, amid pipe smoking and relaxation, Claas gets Jacobsz to talk about Amsterdam.  It seems a way for Claas to remember the botanist, and his own time when he had a somewhat special status, and the possibility of another place, another kind of life.  Claas and Jacobsz argue a little — Claas wants to be discreet but Jacobsz says that everyone knows about their relationship.  (When they have sex, Jacobsz seems to narrate an Amsterdam fantasy for Claas in which the botanist has semi-public sex with a soldier, an American soldier.  Men who are sensually excited by each other can embrace different forms of kissing and caressing, using lips and hands in various ways, but most of the sex in Proteus is Blank taking Jacobsz from behind.)  Claas gives Jacobsz a necklace that had been made for Claas when he was younger.  The two frolic on the shore, naked.  The scene of the two men on the beach, and the celebration for Niven's planned book, and possibly a scene of an Amsterdam gay bar, are the happiest in Proteus.
A large, ugly man, a prisoner, makes sexual advances on Jacobsz, while offering a few nasty remarks about Africans; and Jacobsz refuses the advances.  The man reports Claas and Jacobsz, who are tied together against a tree and whipped; but the floggings produce no confessions and so there can be no further punishment.  (I had read Dave Kehr's July 30, 2004 New York Times review of Proteus before seeing the film, so I watched this punishment scene very carefully as Kehr had written, "In the most romantic moment in the film, which opens today in New York, the two prisoners are lashed together and whipped, sharing the sweet ecstasy of pain."  Kehr's description is inaccurate and insensitive; the whipping is humiliating and painful and the scene is an expression of power, not romance.  I would say that Class's gift of the necklace to Jacobsz, a thoughtful gesture, and their running and touching each other on the beach under the sun, displaying a spirited lightness, are the most intimate moments and consequently the most romantic scenes in the film.)
Proteus was called a "deeply moving love story" by TVGuide.com'_s Ken Fox, in a review accessed July 31, 2004.  _NewYorkMetro.com, the online arm of New York magazine, described the film as being "a historical epic, a video polemic, a sexual melodrama, and a dark comedy all rolled into one—one of the more intriguing queer films in years."  (When it first appeared, that brief film review was attributed to Logan Hill and Bilge Ebiri.)  Referring to the film's scientific exploration, TimeOutNY.com'_s Erin Clements wrote, "Directors Greyson and Lewis effectively use this historical context to illuminate ever-evolving topics such as homophobia and interracial love.  Intensely erotic scenes between the magnetic Brown and the brooding Sandilands help propel this visually stunning film."  (The _New York and Time Out reviews were both accessed August 6, 2004.)  The film, for everything that it is, is unique; and it will, no doubt, take its place in film history, which may be among films of the countries that participated in its making, experimental films, films focused on race and those focused on prison — and also among those films from around the world that allow meaning to the desire and love of males for each other, among them: Adventures of Felix, Another Country, Beautiful Thing, Before Night Falls, Being at Home with Claude, Bent, Borstal Boy, Broken Hearts Club, Business of Fancydancing, Come Undone, The Delta, Dona Herlinda and Her Son, East Palace West Palace, Ernesto, Far From Heaven, Four Weddings and A Funeral, Fox and His Friends, Gods and Monsters, Grief, Happy Together, Hollow Reed, Krampack, Lan Yu, Law of Desire, The Living End, Longtime Companion, Looking for Langston, Object of My Affection, The Opposite of Sex, Parting Glances, Philadelphia, Prick Up Your Ears, Priest, Querelle, Savage Nights, Trevor, Urbania, and Yossi and Jagger.
However, I'm not sure that Proteus is a love story; and, certainly, if it is a love story it becomes one late in its development: love, like beauty, is not the same for all.  Agathon in Plato's Symposium describes Eros as young, tender, supple, harmonious, of beautiful complexion, an inspiration.  Socrates, who arrives mid-dinner and will stay the night to talk, is a married man with children who finds males attractive, and he is later described by the infatuated Alcibiades as a woodland god and a satyr, who turns himself into the beloved in the eyes of beautiful youths whose seductions he resists.  It is Socrates who reviews and concludes the discourse.  Socrates acknowledges the beauty of Agathon's speech, and the eloquence of the other speakers, and asks his devastating questions in which contradictions come to light.  Socrates recalls a talk with a woman thinker, Diotima of Mantineia, in which she suggested that Eros is not beautiful nor ugly, not good nor bad, and that correct opinion can exist between intelligence and lack of understanding.  She describes Eros as a bridge between the mortal and the immortal, between poverty and resources; as tough, squalid, skilled, and philosophical (in the words of Seth Benardete's University of Chicago Press translation, 2001).  Diotima says that men and women come together and give birth—and that giving birth is a kind of immortality, just as the soul—in its expression in poetry and architecture and law—can have a kind of immortality.  Diotima says, and Socrates agrees, that the important thing is to pursue beauty in various forms (bodies of whatever gender, language, souls, laws, sciences, other pursuits) through heightening stages until one begins to see the beautiful itself—until the sublime is seen beyond its forms.
Plato's Symposium is sent to a group of Canadian artists, filmmakers, and writers in Nik Sheehan's mid-1990s film Symposium: Ladder of Love, and they get together to discuss same-sex love, in a film that has been described as a mix of documentary and drama.  Films have been made based on Thomas Mann's novel Death in Venice, about a man captivated by beauty in the form of a male youth, and Manuel Puig's Kiss of the Spider Woman, which features an imprisoned homosexual in love with movies and infatuated with a political prisoner.  E.M. Forster's Maurice, about an educated middle-class man's affair with a grounds-keeper, has been filmed as has Proust's In Search of Lost Time (Raul Ruiz's Time Regained is a very good film).  There are other books featuring relationships between males that would make films of substance, works that feature men who are teachers, soldiers, musicians, writers, and tradesmen, and take place in France, Germany, Cuba, Japan, and America, and explore themes of childhood bonding, intergenerational seduction, obsession, economic struggle, political harassment, social manipulation, religious passion, the severing of emotional ties, and interracial love: Matthew Stadler's Allan Stein, David Plante's The Catholic, Gore Vidal's The City and the Pillar, John A. Williams' Clifford's Blues, Reinaldo Arenas' The Color of Summer, James Purdy's Eustace Chisolm and the Works, Yukio Mishima's Forbidden Colors, Andre Gide's The Immoralist, James Baldwin's Just Above My Head, Christopher Isherwood's A Meeting by the River, James Robert Baker's Tim and Pete, Darieck Scott's Traitor to the Race, and Daniel Curzon's The World Can Break Your Heart, as well as stories by Richard Hall (Letter from a Great Uncle) and Thomas Glave (Whose Song?).  In Night Letters, a rewarding novel by Robert Dessaix (editor of Oxford's book Australian Gay and Lesbian Writing), a man discovers he has a fatal disease and is inspired to seek out the world's rich cultures; and it is a book that could inspire a philosophical film of beauty.  Work both subtle and forceful about and/or by men who desire men is part of the history of the world: that includes the work of painters, from Michelangelo and Caravaggio to Paul Cadmus and Francis Bacon; poets, from Walt Whitman, Paul Verlaine, and Cavafy to Wystan Auden to Henri Cole and Reginald Shepherd; and singers, from Little Richard and Andy Bey to Elton John to Mark Eitzel, Bob Mould, and Patrick Fitzgerald to Rufus Wainwright.  Christopher Marlowe's Edward II, which became a film by one of Proteus director John Greyson's influences, Derek Jarman, lists the great male couples of legend—Alexander and Hephaestion, Hercules and Hylas, Achilles and Patroclus—and is itself about a king's love for a young man that leads to disaster. 
In Proteus, the prison commander says he thought that the African natives were immune to such unnatural deeds as sodomy.  (If homosexuality is seen as a decadent aspect of European civilization, as civilization become perverse, and Africans are seen as pure nature, as uncivilized, it would be unexpected to find homosexuality among Africans.  The book Boy-Wives and Female-Husbands discusses homosexuality found in about fifty societies throughout Africa, past and present.)  The official public disclosure of the relationship between Claas and Jacobsz causes Claas to be ostracized.  During feeding time, he's not allowed to sit with men he had been friendly with—and as he sits alone, Jacobsz brings him food.  Meanwhile in Amsterdam, there is a crackdown on sodomists.  A court officer arrives to see the botanist at his home.   (The botanist will go back to southern Africa.)
Claas and Jacobsz talk near the large well.  Claas says he's tired, that his arm hurts—and Jacobsz says that something else hurts, indicating Claas's heart or pride. 
The botanist shows the monograph of his work to his woman cousin, the lady of the house, Kate, in southern Africa; and she sees that it has been published under another man's name, that of Linnaeus.  Linnaeus has given his own names to the plants; and, among other things, unspoken is the fact that Claas no longer has a plant named for him.  Niven's cousin asks about Lourens.  The botanist admits that Lourens no longer works with him, but does not say why.  His nephew later reads a newspaper account about the panic over sodomy in Amsterdam.  At dinner with the botanist and his cousin a Boer visitor takes out a tobacco pouch made from an African woman's breast—and seeing the three moles on the skin, Niven recognizes these as the markings Claas described as those of his mother.  Meanwhile, Jacobsz has been thinking of having a farm upon his release, and he suggests to Claas that they can be master and servant (or, appear to the world to be master and servant); but Claas doubts that even this would be allowed.  "They would kill us," says Claas.  "What are we?" asks Jacobsz.  "There is no name," says Claas. 
The prison overseer is relieved of duty because of the longtime presence of sodomites, though he defends himself by saying that he informed his superior of his decisions and punishments.
Claas and Jacobsz are sent to collect water, which seems—and is—an obvious trap, though they do not realize it.  Claas allows himself to be Jacobsz's "mare," a gesture of transition and trust in their relationship (or, simply, Claas's exhaustion is allowing him to give up who he thought he was); and the two are interrupted, handcuffed, chained.  The watching crowd has people in modern dress; and the vilification of homosexuality reverberates through time.  We see Claas in a water cell—the one the film began with; and we see him asleep (the cell seems part of his dream).  Then, we see Jacobsz in the same water cell; and we see Claas and Jacobsz asleep on the hay (Claas seems to be dreaming of Jacobsz in the cell, and of Jacobsz confessing).   We see Jacobsz go back to the room in which the two men are being kept and Claas hits him, accusing him of confessing.  At their trial, which was shot in Cape Castle where the historical Jacobsz and Class were judged, are the typists, the court reporters, we saw near the beginning of the film and the judges.  A convict witness, the one Jacobsz refused to have sex with, makes up a story about Jacobsz.  One typist recognizes Jacobsz's lack of shame, which she finds remarkable. 
Societies declare various persons and proclivities shameful—lacking in dignity, purpose, value, other than how a society sees itself; and the desire of men for each other in one epoch is celebrated and in another denounced.  One reason for its disfavor may be the idealization of a man and a woman as a couple, and as the basis for the human family; and another may be that the acts associated with homosexuality, not kisses and caresses, but acts such as fellatio and anal sex, involve areas of the body inevitably associated with human waste, with urine and excrement.  Acts and facts accrue meaning through their associations: and shame is likewise established; and the lack of shame surprises someone whose mind is filled with those associations.
Virgil Niven has his own unspoken words and deeds; and his woman cousin finds an executioner's bill amongst his things.  The bill had been sent to Lourens's mother, who sent it to Niven.   Lourens was strangled to death in public.  (In fact, in 1730, 70 men were executed for sodomy in Amsterdam.)  Niven's cousin, who says she thought she knew him but finds she does not, asks him to leave.  Is sexuality, like race, such an obliterating fact that nothing else can be seen?  Is that the root of personal shame—fear that a disrespected part of one's being will be taken for the whole, embarrassment that there is a disrespected part to be seen?  Niven says he was found guilty in absentia and cannot return to Amsterdam.  He subsequently gives the tobacco pouch to Claas, who is stunned.  It is recognition of a nearly surreal form of brutality, and he looks as if strength has been torn out of him.  (The botanist has planned to testify on Claas's behalf—we see his fantasy of a defense speech, but after his conversation with his cousin he does not seem inclined to do so.  He does not use his power or his passion on behalf of Claas.)
Jacobsz tells Claas there was no drowning cell—not in his childhood, nor in jail now, that it exists only in the imagination.  (An anachronistic wet plastic bag was used on Jacobsz, placed over his head, a form of intimidation that was part of interrogation in 1960s South Africa.)   Jacobsz, who confessed to sodomy, is sentenced to death; but Claas, who did not confess, is ordered to return to Robben Island—and on hearing this sentence, Class says, "We did it," thereby confessing.  Brief looks on the two men's faces—love, relief, pride—indicate that this public acknowledgement is thought by the filmmakers to be some kind of personal triumph.  I do not read Claas Blank's confession that way: I think it's a capitulation to public power, a denial of his privacy and his spiritual integrity.  Film director John Greyson told Kaizaad Kotwal of the online publication The Film Journal that he has long been interested in how marginalized people cope, particularly in the absence of resources, but part of this coping has been not taking the authority of others very seriously, of holding one's self aloft from the rituals of power.  (Such withdrawals do allow for diverse interpretations and misunderstandings; and a NY Daily News critic actually described Claas Blank as selfish.  Does anyone really expect an unfairly treated person to always exude sweetness and light?  Some people do.)  Claas Blank's confession says that these people—who stole his property and unjustly imprisoned him and condemn his sexuality—have the right to stand in judgment of him.  A judgment that ends in a black man's death is not a triumph.  About Claas Blank, Greyson told _IndieWire.com'_s Gray M. Kramer in an interview that appeared online August 2, 2004 and was accessed a few days later, August 6, that "in the court record, the [sodomy] crimes were mutually perpetrated.  The only way he could claim his dignity was in confessing. He says it in two languages and the translators translated it in three. This is how we wanted our narrative to resolve the moment of claiming identity for the first time, it condemns him to death." 
Both Claas Blank and Rijkhaart Jacobsz are sentenced to death by drowning—for sex, the kind of punishment that inspires one to question law itself.  (It is hard to countenance the death penalty for murder, not to mention a consensual act.  The value of incarceration as a deterrent and a tool for change is also questionable.  In Angela Davis's Are Prisons Obsolete?, published by New York's Seven Stories Press in 2003, Davis calls for alternatives to incarceration, such as facilities for education and mental health care.  Davis wrote, "It is virtually impossible to avoid images of prison" (18), and that corporations "producing all kinds of goods—from buildings to electronic devices and hygiene products—and providing all kinds of services—from meals to therapy and healthcare—are now directly involved in the punishment business" (88), using prisons as both a labor and a consumer market, and that developing alternatives to prison would likely involve "radical transformation of many aspects of our society"—108.  What was a crime yesterday is not always a crime today, nor may it be tomorrow; and a sentence of death or prison cannot be unlived.)
Following the court's judgment in Proteus, we see flowers shrinking, the reverse of blooming; and the two men, weighted with bags, are pushed from a boat into the water as the botanist watches from shore.  ("Just as Niven watches them fuck he also watches them die. The voyeurism is what drove those scenes," Greyson told IndieWire.com.)
"Proteus is a fascinating, low-budget hybrid," wrote Leslie Camhi in the film listings section of the Village Voice, available in the August 11-27, 2004 issue.  "Rather than merely exploit taboos, it actually thinks about their origins, and considers their impact on human lives," wrote Matt Zoller Seitz about Proteus in a short New York Press review summary available in the August 18-24 2004 issue.  Frank Scheck in the August 5, 2004 Hollywood Reporter found the film's stylistic devices distancing rather than compelling, and described the film's characterizations as frustratingly vague and confusing.  Stephen Rebello in the August 17, 2004 issue of The Advocate concluded his bored, disapproving review thusly: "What we also know is that such rich material needn't have been played as flatly, unemotionally, and clumsily as a historical pageant.  We never feel any heat or passion, much less chemistry, between Brown and Sandilands as the lovers.  Where their climactic farewell scene should spark anger, outrage, and grief, it merely lies there, prompting a whopping 'So what?' Proteus is the cinematic equivalent of capital punishment, only much slower."
I think Proteus is interesting, though not satisfying, and significant, though not necessarily important.  This seems a rather reserved response for a film brave enough to take on a variety of facts and issues, one that is so tightly constructed its ideas and their meaning are clear, but that is my truest sense of the film, even as several things in it please me, such as the presentation of Claas Blank, who is not made artificially charming nor unnecessarily difficult, and the directness—without rhetoric, without indulgent bathos—with which the horrible punishments are brought against vulnerable men.  The importance of power and the presence of ignorance (or, prejudice) at this time in history are beyond doubt; and yet the use of dreams, fantasies, and memories are visual evocations of the inner life of the characters—allowing them not freedom, but individuality.  The actors Rouxnet Brown, Neil Sandilands, and Shaun Smyth, directors John Greyson and Jack Lewis, and their collaborators, have reason to be proud: Proteus is an admirable work.  One of the laudable aspects of culture at its most comprehensive and cosmopolitan is that it can make human acts, human responses, understandable; and culture that can speak across national boundaries is especially important as people move across those boundaries, first as strangers, then to become neighbors.  However, no character in Proteus is free of history, nor could be in that time and place, and that is something that, to me, prevents the film from being profoundly transcendent.  It is a work that offers truth but not reconciliation.  The South African singer Miriam Makeba has a song, recorded upon her return from exile to South Africa at the end of racial apartheid, "I Still Long for You" (Eyes on Tomorrow, PolyGram Records, 1991), and written by Victor Masondo, J.B. Arthur, and Steve McEwan, with the lyrics, "Time won't heal this open wound, of fate that's brought me here/But I know my heart's desire, my destiny is near/Justice, take your rightful place, reclaim these stolen years/Let the sound of freedom fall, on these long-deafened ears.