Thoughts of a Dry Brain in a Dry Season: Woody Allen's Melinda & Melinda (and Crash, Mysterious Skin, and Eros, featuring Antonioni and Wong Kar-Wai)
Old Masters Die Hard; or, Can Andrew Sarris and Stanley Kauffmann be wrong?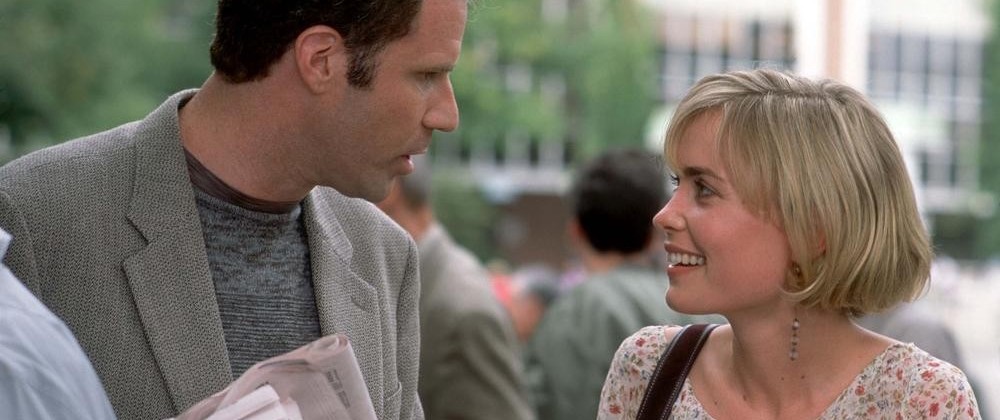 "Very often people avoid making value judgements, but I think the opposite. I think it's very important to make them; it's almost an obligation."
—Woody Allen to Stig Bjorkman, while discussing Crimes and Misdemeanors
"I'm not a believer in the specialness of the artist. I don't think that to have a talent is an achievement. I think it's a gift from God, sort of. I do think that if you're lucky to have a talent, that with that comes a certain responsibility. Just in the same sense as if you were born rich."
—Woody Allen to Bjorkman, while discussing Shadows and Fog
Woody Allen's Melinda & Melinda is a comedy and a drama, a dialectical film, born of an intellectual argument between friends who seem part of an ideal New York. It is a New York of comfort and culture, of money and means, of nerve and neuroses. Central figures in the film are two musicians, who are also black, and played by Chiwetel Ejiofor and Daniel Sunjata, musicians whose antecedents might be the classical pianists Andre Watts or Awadagin Pratt, or further back the jazz pianists Billy Strayhorn or Erroll Garner—or even further back: Joseph Boulogne, the Chevalier de Saint-Georges (1745-1799). De Saint-Georges, born in Guadeloupe the son of a black slave woman named Anne and a French nobleman, became a composer who was one of the most celebrated figures of his day. Joseph's father's wife seems to have been accepting of her husband's mistress and son; and Joseph's father entered him in a fencing academy in France, in which he also studied music. Joseph would master harp and violin, composing in a wide range of classical forms such as concertos and symphonies, and he performed for and was befriended by royalty. He also formed a group to benefit people of African ancestry. Joseph Boulogne, the Chevalier de Saint-Georges, acted as a National Guard colonel, during and on behalf of the French Revolution, with his lieutenant being (an ultimately fair-weather friend) Alexandre Dumas, the father of the Three Musketeers writer Alexandre Dumas. When De Saint-Georges died of a bladder infection, newspapers mourned him. I saw an illustration of him while walking in the Metropolitan Museum. While exceptional, Joseph Boulogne, the Chevalier de Saint-Georges, is one of those exceptions that make history and make of history inspiration and use: such a figure embodies and fulfills the possibilities of civilization. In one of Woody Allen's earlier films, Manhattan, Allen used the black singer and pianist Bobby Short as a sign of Manhattan sophistication. Bobby Short may not, at first, seem worthy of comparison to Saint-Georges, but his repertoire included Cole Porter, Noel Coward, and Stephen Sondheim, and Short ultimately became one of the few blacks listed in the Social Register, the address book of America's elite. None of this is as unusual as some might think, as it is often people from the provinces who most appreciate and most thoroughly appropriate the abundant possibilities of the city. That partly explains Woody Allen's own sensibility. Allen, who was born in the Bronx and grew up in Brooklyn, has described himself as growing up in a neighborhood that was Jewish and working-class, and said that he found a great refuge in the movies. The flowers in spring, the robins that sing, the sunbeams that shine, they're yours, they're mine (lines from "The Best Things in Life are Free" by B.G. DeSylva, Lew Brown, and Ray Henderson)—and while the movies weren't free, they were cheap: and overwhelming in their difference from the life Woody Allen knew, giving him a vision of a life he wanted.
Woody Allen, who likes European classical composers such as Mahler, Sibelius, Stravinsky, Mozart, Beethoven, and Erik Satie, has said, "Jazz is a big thing with me. My favorite kinds of music are jazz and classical. It's a very big passion of mine, to play it. I'm an amateur musician and I love everything about it. I was obsessed with jazz when I was 15 years old and I know a lot about it because I've loved it so much. I've listened to so much of it and read so much about it and played it a lot. And I find in my movies, I like my old personal feelings to inform the movie, and so it's jazz and classical music," in an interview with Julian Roman that appeared on Movieweb.com in March 2005. I'm having myself a time, wrote Leo Robin and Ralph Rainger, I mean I'm having what I want, wanting what I have, doing what I like, and liking what I do, and I'm having myself a time. In conversation with Stig Bjorkman (Woody Allen on Woody Allen; 267), Woody Allen admitted, "I've always wanted to make a jazz movie. And I think I could do a good one. But the concept that I have for it would be very, very expensive. So I've just tabled it and put it back in my mind. It would just cost too much money. It would be a film that would start quite early and go from early New Orleans through Chicago and New York and Paris. You know, it's a big deal. Costumes, recreation of things. It could be wonderful, but I can't do it for less than a lot of money." Melinda and Melinda's soundtrack contains a medley and other work by Dick Hyman, a jazz pianist who has worked with Woody Allen often (Hyman wrote songs for Zelig, for instance). Melinda and Melinda's soundtrack also includes Duke Ellington and Billy Strayhorn's "Take the 'A' Train" and Ellington's "I Let a Song Go Out of My Heart" and "In A Mellow Tone," and Erroll Garner's "The Best Things in Life Are Free," "Somebody Stole My Gal," and "Will You Still Be Mine?" and Stravinsky's "Concerto in D for String Orchestra: 2. Arioso: Andantino," Bartok's "String Quartet No. 4," and Bach's "Prelude 2 Well Tempered Clavier."
It is the sound of Allen's films as well as their look and their unique conversation—intellectual and joking, personal and social, ambitious and stuck in the mires of lust and pain and self-consciousness—that make him an imitable filmmaker, someone whose work gives amusement, provokes thought, and is considered to have lasting and historical value. Woody Allen saw the films of comic directors and comedians such as Ernst Lubitsch, Billy Wilder, Charlie Chaplin, and Buster Keaton when he was a boy; and Allen is on record for his adult admiration of the film directors Jean Renoir, Kurosawa, Bergman, Fellini, and Truffaut, as well as more immediate contemporaries such as Godard and Scorsese and Coppola. Allen admires the plays of Eugene O'Neill and Tennessee Williams, and has said that he wished that he had their talent for drama. (Allen also likes poets such as William Butler Yeats, Thomas Stearns Eliot, Emily Dickinson, and Rainer Maria Rilke.) Allen's taste is wide-ranging: he enjoys Jerry Lewis, the Marx Brothers, Alfred Hitchcock, Chris Rock, and Margaret Cho, among others; but he's not confused about his high art preferences. "There's a very influential school of film criticism in the United States that's populist. And I think that's not good. There's a number of critics, intellectual critics, who are extremely skeptical and critical of, let's say, the fine European works and of fine works in general, but gush tremendously over populist junk films. I won't mention names, but there are a number of film-directors around who make very popular films, and they're delightful films. But to extol them the way they do and to find meaning in them is not right," Allen told Stig Bjorkman, Woody Allen on Woody Allen (195).
Woody Allen, once known to his parents and grade school teachers as Allen Konigsberg, has directed more than thirty films, and some of them include: a film now in post-production that is currently called Match Point, starring Scarlett Johansson, and Sweet and Lowdown (1999), Celebrity (1998), Deconstructing Harry (1997), Everyone Says I Love You (1996), Husbands and Wives (1992), Shadows and Fog (1992), Crimes and Misdemeanors (1989), New York Stories ("Oedipus Wrecks," 1989), Another Woman (1988), September (1987), Radio Days (1987), Hannah and Her Sisters (1986), The Purple Rose of Cairo (1985), Zelig (1983), Manhattan (1979), Interiors (1978), Annie Hall (1977), Love and Death (1975), Sleeper (1973), Bananas (1971), and Take the Money and Run (1969).
There are many books devoted to Woody Allen's work, such as The Films of Woody Allen by Sam B. Girgus and Love, Sex, Death, and the Meaning of Life: Woody Allen's Comedy by Foster Hirsch, but to get a sense of Allen's warm critical reception and prestige one need only look at a couple of reviews printed in The New York Times from the last few decades. Vincent Canby, April 25, 1979: "Manhattan, Woody Allen's extraordinarily fine and funny new film, is about many things, including a time and place where fashion probably blights more lives, more quickly, than any amounts of booze, drugs, radioactive fallout, and saturated animal fats. In this Manhattan, it's no longer a question of keeping up, but of staying ahead. The person on this week's cover is a leading candidate for next year's feature story that asks, 'Whatever happened to…?'" Vincent Canby, February 7, 1986: "Hannah and Her Sisters is the movie he's been working toward ever since Annie Hall, Interiors and Manhattan. It's both a summation of a career to date, as well as a window on a career to come. It's warmhearted, wise and fiercely funny, demonstrating a rigorous command of a talent that, in the manner of Jack's prodigious beanstalk, won't stop growing." Canby concludes that review with, "Mr. Allen has become the urban poet of our anxious age—skeptical, guiltily bourgeois, longing for answers to impossible questions, but not yet willing to chuck a universe that can produce the Marx Brothers." Vincent Canby, September 18, 1992: "Husbands and Wives—the entire Allen canon, for that matter—represents a kind of personal cinema for which there is no precedent in modern American movies." Canby's successor Janet Maslin, September 30, 1994: Maslin wrote that in Bullets over Broadway, Allen "successfully reinvents himself as comic philosopher, finding wicked humor in questions of artistic life or death." Janet Maslin, December 12, 1997: "Deconstructing Harry, his angriest film since Stardust Memories and also his most viciously funny, lets Mr. Allen expand on a thought raised less directly in Bullets Over Broadway: that the person ruled by creative imagination may be indifferent, not to say ruinous, to the happiness of those around him. And that even if he wreaks havoc, maybe he thinks he has no choice."
Woody Allen participated in a series of conversations with Stig Bjorkman, a journalist and filmmaker, for the book called Woody Allen on Woody Allen (Grove, New York, 1995; originally published in 1993 in Sweden by Alfabeta Bokforlag as Woody on Allen). Allen declared that "what the writer does—the filmmaker or the writer—you create a world that you would like to live in. You like the people you create. You like what they wear, where they live, how they talk, and it gives you a chance for some months to live in that world. And those people move to beautiful music, and you're in that world. So in my films I just feel there's always a pervasive feeling of the greatness of idealized life or fantasy versus the unpleasantness of reality" (51). The world Allen creates remains one that many actors feel privileged to enter, even though it may be strange to them. Chloe Sevigny talked in an interview not only about how precise the Melinda and Melinda film script was but about how articulate Allen was on set (she brought a dictionary so she could understand his vocabulary).
Allen's film characters are often comfortable in many aspects of their lives and yet they yearn for more—a happiness or success they can imagine but do not yet have, the quest for which can be the core of comedy or drama. Comedy affirms pleasure; it facilitates communication—and it can be also a way of advancing an independent viewpoint. Comedy allows one to say the unsayable under the cover of lightness, of jest. Often drama allows us to follow an intense emotion to its apparently logical conclusion—in self-expression, in public or social acceptance, in personal fulfillment; or in conflict, disappointment, and dissolution of relationships. Tragedy requires usually the pursuit of an ideal that leads one to forfeit what one had; and often it involves women who follow men, are betrayed by men, and in turn exact a terrible vengeance, usually killing the man and whatever he loves. Tragedy frequently involves misunderstanding—of self, of the beloved, of the enemy, and of nature and life.
Melinda and Melinda presents the testing of friendship and marriage by disloyalty and adultery, as well as indulgence in drugs and alcohol, and the temptation toward madness and murder, but these are offered less as cause for easy sensation than as acknowledgement of some of the facts of social life amid the glimmers of hope and the glamour of achievement.
Melinda and Melinda stars Radha Mitchell and Chiwetel Ejiofor, Will Ferrell, Jonny Lee Miller, Amanda Peet, Chloe Sevigny, Wallace Shawn, Brooke Smith, and Daniel Sunjata. Radha Mitchell has been featured in Love and Other Catastrophes (1996), High Art (1998), Pitch Black (2000), Cowboys and Angels (2002), Ten Tiny Love Stories (2001), Phone Booth (2002), Man on Fire (2004), and Finding Neverland (2004); and a film featuring her, now called Mozart and the Whale, is expected to open later in 2005. Woody Allen was impressed by Radha Mitchell's performance in Ten Tiny Love Stories; and Phone Booth with Colin Ferrell and Man on Fire with Denzel Washington and Finding Neverland with Johnny Depp introduced the Australian Mitchell to mainstream filmgoers; but it was High Art, in which she played a young woman who becomes infatuated with an older somewhat jaded woman photographer, that impressed discerning viewers several years ago. Radha Mitchell's performance in High Art was intuitive and intelligent: she conveyed what it's like to be awakened to art and erotic experience by a stranger—and her character was, suitably, persuasively, curious, passionate, unsure; and one felt as if one perceived her character's deepest being. Mitchell, as Melinda, is the only actor to appear in both of Melinda and Melinda's narratives.
Melinda and Melinda begins on a rainy night in a small, busy Manhattan restaurant, Pastis, with a discussion between dining friends about whether life is basically tragic or comic and why people respond to art that is tragic or comic: the comic playwright played by Wallace Shawn says that life is tragic; and the playwright of serious dramas, Max (Larry Pine), says that philosophers say—and he agrees—that life is absurd. It's not an inappropriate topic for dinner on a rainy night with smart friends, including Neil Pepe, the founder of the Atlantic Theater Company, as Al, and Stephanie Roth Haberle as Louise (Roth Haberle was in Woody Allen's Hollywood Ending in 2002, and Deconstructing Harry and Crimes and Misdemeanors, as well as various classic plays such as The Cherry Orchard, King Lear, Oedipus, and Twelfth Night). The two principal talkers are Wallace Shawn and Larry Pine, and Shawn has appeared in more than seventy films, including Woody Allen's Manhattan and Shadows and Fog, and the Louis Malle-directed My Dinner with Andre, which Shawn co-wrote with Andre Gregory. (Shawn wrote The Designated Mourner, which David Hare directed.) Pine has been in many films too, including Woody Allen's Celebrity, and also the Malle-directed Vanya on 42nd Street in 1994, in which Pine played the doctor, and Pine has appeared in movies such as The Door in the Floor, Mr. Smith Gets a Hustler, The Ice Storm, and Dead Man Walking. The four, Shawn, Pine, Pepe and Roth Haberle, create an atmosphere of camaraderie and seriousness in the restaurant as the rain falls outside. (Allen has acknowledged that rain is a recurring element in his films, and that he himself prefers cloudy days and rain to sunlight: he finds rain beautiful.) Tragedy confronts, and comedy escapes, says Shawn's character, Sy. Another man at the table, Al, introduces a story about a woman who unexpectedly visits friends, and the story is taken up by the playwright of gloomy dramas—with Melinda, played by Radha Mitchell, hesitating before entering the spacious, intricately decorated downtown loft apartment of her college friends, played by Chloe Sevigny as Laurel and Jonny Lee Miller as Lee, who are in the midst of a dinner party that includes the director of a project that the actor Lee wants to appear in. Lee and his wife talk about his hopes—he may not get the part as he's not yet a known name—as they prepare food and refreshment. "We're living beyond our means," admits Lee. I never could save a dime, and so I'm living like a lord, acting like a loon, lying in the sun, and sighing in the moon, and I'm having myself a time. Lee mentions that his wife cries while listening to Mahler, a special sensitivity to music—she is a musician who has given up the possibility of a performing career in order to teach—that will have meaning as the story unfolds. (The visiting director has heard in Lee and Laurel's apartment a piece of music he wants to use in his work: out of accidents—as much as design—art is made.) When Melinda arrives, nervous, a bit sweaty, from a long bus trip, which indicates that she doesn't have a lot of money, she says that she looks like the wreck of the Hesperus. ("The Wreck of the Hesperus" is the name of a poem by Longfellow about a schooner skipper who takes his daughter with him to sea, and a night storm arises of lightning, thunder, and high waves, and despite the daughter's prayers, death comes.) Melinda smokes nervously and asks for champagne or white wine or single-malt scotch, the first two seeming a grasp for elegance and the last a residual detail, an acquired taste, from a past relationship; and her presence is confounding to Laurel's husband Lee, who tells the other guests that Melissa has always been troubled ("crazy," he says) and that she had been expected in months past but hadn't shown.
Wallace Shawn's playwright Sy sees the story of Melinda as a comedy taking place on the east side of Manhattan, involving a film director wife and an out-of-work actor husband. They too are having a dinner party, attended by a real estate baron the wife wants to invest in her film, an all-women piece called The Castration Sonata. The real estate man asks for single-malt scotch, which the apartment doesn't have and when the film-director wife Susan, played by Amanda Peet, returns from the store to get it, she meets on the stairs Melinda, the comic Melinda, who soon interrupts their gourmet dinner party for which a delicious meal is being cooked by the actor Hobie, played by Will Ferrell. Melinda announces that she has taken twenty-eight sleeping pills. Melinda's drowsy and nauseous and while people come to her aid, dinner burns, and the assembled end up ordering Chinese food.
The film moves back and forth between the comic narrative and the dramatic. Laurel and tragic Melinda talk about Melinda's troubles, her attempts to kill herself, her being confined to a state mental hospital, and her current condition ("I'm a little fragile when everything closes in," she says). Laurel's husband Lee is anxious that Melinda not stay with them very long. He thinks it foolish for Melinda to have had an affair when she was married to a successful doctor with connections (the doctor subsequently forbade her from seeing her children). "Life is networking," says Lee. (That seems a simplification but, these days, I often think that to get what one wants one either has to have power or serve power and all else is chance. Is that a simplification? Or is it—if it's what the patterns of daily life seem to prove—a fact?) Melinda says she became bored being a doctor's wife—like Flaubert's Madame Bovary, who bored with her marriage, began an affair and spent her husband's money on her lover, and, fearful of being found out, committed suicide. Melinda describes her own deteriorating marriage, and the man she met who swept her off her feet, John San Guiliano. Her husband hired a private detective and the evidence of the affair gave him ammunition against her—and later her lover, after taking her on an African safari, met someone else. Radha Mitchell is fine in these scenes—bringing a great intensity to her lines, suggesting a past with every haunted look and tremulous gesture; and the sympathy that Chloe Sevigny registers while listening is also appealing. (I haven't seen Chloe Sevigny in much—I remember her from Dogville. She was in Kids in 1995, and then in Gummo, Last Days of Disco, Boys Don't Cry, A Map of the World, American Psycho, The Brown Bunny, and Shattered Glass. I saw a couple of these films—Map, American Psycho—but her presence in them is not vivid now to me.) Here, Sevigny as Laurel has a sincerity that is constant, and she is photographed to look lovely. The character only has one very dramatic scene—when she's arguing with her husband, angry at him for bringing another woman into their home—and she, otherwise, could have used a little more flair, a little more self-indulgence, partly to go with that lavish apartment, but she is likable, subtly touching.
When comic Melinda shares a meal with her new acquaintances, Hobie and Susan and their friends, Melinda describes the job she's applying for at an art gallery, and her visit becomes part of one of those odd but pleasant New York evenings some people have. (In an interview Chloe Sevigny voiced her admiration for Amanda Peet's performance as Susan, noting how the actress busied herself onscreen.) When the party's over, Hobie and his wife have tense moments—she doesn't want to have sex, and he notes that they rarely make love anymore (none of what Aristophanes called sweet wrestling in the dark).
Tragic Melinda's friends Laurel and Cassie (Brooke Smith) meet for lunch and discuss arranging a meeting between Melinda and a nice dentist. Meanwhile, Lee is seducing one of his young female acting students in the family apartment. (Allen has spoken about the importance of locations, that he likes apartments to smell authentic. To see someone be unhappy in this great apartment seems nearly unfathomable.) Lee describes his wife to the girl as someone who shops and lunches and who has come from a long line of women who shop and lunch.
Woody Allen is familiar with that profile. "I live on the upper East Side of New York, which is very chic. When I used to pick up my children or deliver my children to school, I'd go there on a cold winter morning, and the other mothers would be bringing their kids to school, and there'd be fifteen mothers there in huge mink coats and sable coats. They live a very protected life and they have homes in Connecticut or the Hamptons and they live in designer apartments on Park Avenue and Fifth Avenue. And they spend their days shopping and having lunches, and every now and then one of them will get into some kind of project with artists or writers or politicians. But it's quite superficial. I don't dislike those people. I don't think they're bad people. They have a certain kind of lifestyle, and I think it's amusing," said Allen to Bjorkman in Woody Allen on Woody Allen (227).
The young actress, one of Lee's students, tells Lee he shouldn't drink so early in the day, a warning that will have resonance later when his drinking is said to threaten his work. The girl asks him about his wife, Laurel, who had hoped to be a musician but who teaches music, and Lee says, "Life has a malicious way of dealing with great potential." It is one of the really telling lines in the movie; and it is about both Laurel and Lee. Melinda stops by the apartment for a pick-me-up, probably drugs, and gets a glimpse of the girl; and, later, walking in Central Park with Cassie and Laurel, the three talk about when they were younger and thought they would have control and fulfillment in the future—and Melinda asks Laurel if she would change her life. (More than once people comment that Lee was a very desirable catch.) Laurel says, "Who wouldn't profit from a second go-round?"
Allen's characters think before they talk (something that makes them seem at once intelligent, well-mannered, and consequently anachronistic). There's a formality to some of the dialog in the film; and a few of the actors say they found it intimidating even though Allen told them they could change it to make it more colloquial or comfortable. Allen has talked about the difference between literary dialog—intelligent, witty—that engages the mind and entertains, and more realistic—banal and believable—dialog that is functional and is used to create realistic personalities. There's a mix of the two kinds of dialog in the film. Radha Mitchell inflects almost every line she has with compact and conflicted feelings. When her tragic Melinda is with Cassie and Laurel in Central Park and is trying to decide how to approach a dentist the two want to introduce her to, her going to and fro between possible strategies suggests many things, including a fundamental instability, a suggestion that anticipates what happens later.
After the real estate mogul decides to invest in Susan's (Peet's) film without Hobie as a featured actor (he's not famous enough), Susan—sane, sensible, and ambitious but without much subterfuge—pleasantly accepts that decision though her husband is right for the part; and we know that she is someone who adapts to the world rather than expects the world to adapt to her: she is and will be a survivor. Meanwhile, comic Melinda returns from an interview and attends horse races with Hobie and his friend. Hobie has a pleasant time with Melinda, during which Melinda tells Hobie that she likes physical intimacy, often and creatively. Hobie is flustered, shy and excited, and Will Ferrell's performance seems to have a few identifiable and somewhat contradictory modes—articulate and contemplative; physically tentative, awkward, in a way that doesn't fit his height or weight or kind of sanity; and physically grasping, uncontrollably expressive, reaching and touching. (The last two modes do seem, as others have said, more like Allen than Ferrell. Why does Woody Allen feel compelled to inscribe his personality, including his physical mannerisms, in his films even when he is not physically present in them? Is it narcissism, or that his humor is so bound to his sensibility that it requires a Woody Allen figure to work? Whatever Allen's limitations as an actor, Allen exudes a multi-faceted modern consciousness and Ferrell does not.) Hobie doesn't tell his wife that he went to the races with Melinda, an omission that indicates he feels guilty. Melinda is set up with an adventurous dentist, Greg—someone who goes to Africa for safari, where he shoots large animals, which he has stuffed then displayed in his large white house in the Hamptons. Melinda and Greg double date with Hobie and his wife, and all have a pleasant time but Hobie, who makes Allenesque jokes that are subversive and self-deprecating.
Lee gets the part he wanted in an acting project, but when Laurel congratulates him his insecurity and anger make it hard for him to accept her well-intended congratulations. Obviously, it's a bad sign for a relationship when people can't be happy together even when they achieve their goals. That moment is one of the more sharp features in the dramatic narrative we see. When Lee and Laurel go home to prepare for the party Cassie is throwing, at which tragic Melinda will be introduced to the shy, stable dentist, Melinda fidgets over what to wear. She's concerned about her looks, her weight and the circles under her eyes. Laurel warns her about taking too many pills on an empty stomach and drinking alcohol. At the party, Lee, a friendly drunk, suggests to Cassie that they have sex—he thinks it would be fun to have sex with a visibly pregnant woman, though Cassie's husband disagrees. Tragic Melinda is bored by the dentist (who is not the energetic presence he is in comic Melinda's narrative; and that the two narratives handle the same or similar figures and devices differently implies something about comedy and drama, and fact and fiction, and also interpretation. Characters in dramas may be motivated less by external phenomena than those in comedies; and, whereas in comedies characters may be surprised or bewildered by events, in dramas, rather than befuddlement, they are more likely to worry, to rage and to wound, led by temperament rather than circumstance).
Ellis Moonsong, a composer and pianist, is playing music at Cassie's party. Cassie coaxes Laurel into sitting next to Ellis and playing a familiar piece; and while Laurel plays, Ellis goes to the bar, where Melinda is—Melinda has just rubbed an old lamp while making a wish. Ellis Moonsong calls Laurel a mysterious stranger who took over the piano (he endows Laurel with mystery, and he has mystery for Melinda); and he seems to have been conjured by the lamp. (Allen has remarked on his appreciation of critic Diane Jacob's perception of the importance of magic in his films.)
Ellis, played by Chiwetel Ejiofor, has written two operas, one performed at Yale and the other to be performed at the Santa Fe Opera House. He talks of the possibility of going to Barcelona or Paris. "We grab without thinking because we're passionate people," says Ellis, in response to Melinda's somewhat glib but honest remark about the chaos of her life. He seems to be at once himself and calculating, both nervous and confident, someone destined for success. (Whether or not it was intended, the people who are overtly involved with work—Lee and Ellis and Susan—are the most interesting, though they do not at first appear to be the most interesting characters.) I am pleased to see Ejiofor in this film, since after seeing him in Dirty Pretty Things I worried that he would not get significant work and this Woody Allen film is very attractive exposure for him. Chiwetel Ejiofor, the London-born son of Nigerian parents, has been in Amistad (1997), Mind Games (2000), My Friend Soweto (2001), Dirty Pretty Things (2002), Love Actually (2003), She Hate Me (2004), and Red Dust (2004), after reading Shakespeare's work and becoming interested in theater when he was a boy and performing as a man with the Royal National Theatre in England.
Tragic Melinda is intrigued with Ellis. "You can't go through life rubbing lamps and wishing," says Laurel. "It doesn't work," she tells Melinda, while looking at her husband flirting with another woman. If it's magic, then why can't it be everlasting, like the sun that always shines? asked Stevland Morris (Stevie Wonder). Earlier at the party, Laurel told a guest that Lee has refused to do work for purely commercial reasons, an inclination that can only marginalize him in a capitalist culture. Is that part of his unhappiness, part of why he consistently pursues other women—alternative satisfactions?
Comic Melinda, after her drive with Greg, Hobie and Susan to the Hamptons, returns with a tick in her leg; and Hobie takes her to a hospital for its careful removal. (Will Ferrell as Hobie makes faces while the doctor removes the tick; and while there were moments that I liked Ferrell, there were also moments such as these when his performance seemed exaggerated and uncomfortable.)
Ellis and tragic Melinda visit the race track, relax in Ellis's apartment, see a Broadway musical with Laurel and Lee, and kiss on a beach, a quick montage of romance, and admittedly a montage that seems more cinematic gesture than expression of significant love. Then, Melinda confesses to Ellis that she intentionally killed her lover—and that seems the height of Allen's invocation of tragedy, the crazed vengeful woman, woman as destroyer, for which Melinda spent time in an Illinois women's prison. "What do you want?" asks Ellis; and Ejiofor makes this sound like a genuine question—shocked, honest, concerned. "I want to want to live," says Melinda, adding that with Ellis in her life she's coming closer to that. Ellis seems inclined to think the killing was temporary insanity, though Melinda insists on premeditation: however, she doesn't quite convey the drive of a furious woman. The violence is in the past, something remembered, not enacted for our eyes: and Aristotle, who identified plot, action, thought, diction, spectacle, and lyric poetry as components of tragedy, emphasized the enactment of large, complete movements evoking pity and fear in his definition of tragedy. However, Aristotle in his Poetics also noted that there are different kinds of tragedy, including those focused on character and suffering.
Lee, coming out of the bar Joe Allen, tells Laurel over his cell phone that he's been fired because of his drinking—Laurel says she's angry and disgusted and she knew this would happen. Jonny Lee Miller looks doomed—one can imagine him as an old drunk, confused about his own mistakes. When she goes home, Laurel finds Melinda and Ellis on their way to a Bartok recording session of an acquaintance of Ellis (we see Asian musicians) and she joins the couple for that, which she enjoys. Melinda says she finds the more turbulent parts of the music scary, another suggestion of her instability. Ellis takes them both to a bistro, where, he tells them, he has fallen in love many times. (If it's special, then with it why aren't we as careful, as making sure we dress in style, posing pictures with a smile, keeping danger from a child? sang Stevie.) Melinda and Laurel reminisce about their youth. Laurel says that Melinda had a reputation for being postmodern in bed (unexplained, that sounds strange and terrific). Melinda says that after her mother committed suicide she learned that you could only depend on what could be touched, on physical things. Ellis says that both Melinda and Laurel are passionate women (by comparing them, he is also suggesting the possibility of exchanging them); and when Melinda leaves to take a lawyer's call about her children, whom she's forbidden from seeing, Ellis and Laurel talk to the point of flirtation. Melinda has been failed by family and love. Will friendship fail her too? And is she too weak to be a genuine tragic heroine?
Ellis tells Laurel that when they met he saw her soul as clouded, protective, longing. Melinda returns saying that she almost wished the opportunity to change her legal status regarding her kids hadn't come up (she's not sure she can handle the stress, the possible disappointment). After the dinner that Ellis Moonsong has with the two women, one he is involved with, Melinda, and one he may become involved with, Laurel, Laurel goes home to Lee, who apologizes for his drinking, a liquor bottle next to him. Laurel does not admit where she was, which suggests her guilt. (Laurel has asked Ellis to visit her class—and he agreed, saying that he's a good lecturer and hopes that he's not a better lecturer than he is a composer, a possibility and fear that connects him to Laurel and Lee.) Cassie, after Laurel tells her about the evening with Ellis and Melinda, thinks Laurel will act on her flirtation with Ellis. No recognition is given regarding Cassie's being implicated in that possibility, as Cassie had Ellis perform at her party and encouraged Laurel to perform music there too, thereby demonstrating what Ellis and Laurel had in common. Cassie is participant and witness, part of the chorus.
Hobie tells a friend, while playing basketball, about his disappointment with marriage and infatuation with comic Melinda. (It's surprising that Allen's men play basketball, a team sport, rather than tennis, which I now think of as a sport for individualists. Hobie's friend advises him to tell Melinda how he feels.) Hobie, to get something for Melinda, goes to a gift shop, and while there he rubs an old lamp—with a wish that he get out of his marriage without hurting his wife; and when he goes home he finds his wife in bed with one of her producers, the real estate mogul, and she tells Hobie she wants a divorce. The mogul will pay the legal expenses. (I can't believe that I found a desire for true love floating around, inside my soul because my soul is cold, one half of me deserves to be this way till I'm old, but the other half needs affection and joy, and the warmth that is created by a girl and a boy, I need love, I need love, rapped James Todd Smith, also known as LL Cool J.) Hobie, his wish granted, immediately makes a date with Melinda (in conversation with Melinda, Hobie mentions Chekhov and that he played Chekhov's Uncle Vanya, and Shakepeare's King Lear, both with limps—Hobie is one of those actors with one idea, an interpretive trick). Melinda describes walking by a piano being moved on the street and meeting a man she thinks she's in love with, Billy Wheeler, played by Daniel Sunjata. Daniel Sunjata, who was born in Illinois and received his BFA from the University of Southwestern Louisiana and his MFA from New York University, starred on Broadway in Richard Greenberg's play "Take Me Out," for which he was nominated in 2003 for a Tony award as best actor (the same year he was chosen as one of People magazine's 50 Most Beautiful People). Sunjata also appeared on television in "Law and Order" and "Sex and the City." To describe the effect of meeting Sunjata's Billy Wheeler, Radha Mitchell's Melinda quotes a Cole Porter love song to Hobie about bells that now and then ring; and Hobie doesn't quite know what she's talking about in his distress.
Wallace Shawn's comic playwright Sy thinks Hobie's pain is ample territory for comic exploration. The laughable is part of shame rather than pain, according to Aristotle: but Hobie's feelings are only known to his male friend and the film's audience so there's little embarrassment or shame. Even ancient Greece knew different stages of comedy, more evidence that aesthetics change with time: old Greek comedy was often political, scatological, and episodic, featuring a chorus and including parody of famous men; middle comedy had no chorus and was mythological, more abstract, and less personal and profane; and new comedy was social, about family and private life, and given to caricatures, including the mockery of professionals such as cooks and soldiers. Our own contemporary comedy seems more accepting of pain. What is funny about Hobie's situation is that he thought he was going to win an easy victory only to find a new obstruction in Billy Wheeler: life's being uncontrollable is what is confirmed to our amusement.
A sexy Barry White song tracks Hobie as he tries to overhear what Melinda and her new boyfriend are doing in her apartment, and a bit of slapstick follows, involving accident, embarrassment, and social disapproval. (Maybe Aristotle and Sy are both right.)
Tragic Melinda talks to Cassie about Laurel and Ellis—Melinda heard Laurel and Lee argue about Lee's infidelity, in the midst of which Lee accused Laurel of being interested in Ellis. That—what Aristotle might call the beginning of recognition and reversal—has disturbed Melinda. When Melinda finds out from Cassie's lawyer husband that Melinda will not get to see her children, she's hurt again (she nearly does a junkie dance while leaving his office). Melinda goes to Ellis's apartment; and Laurel is there. "Living is messy," says Ellis. Melinda wants to rest; and her desire for momentary rest becomes an impulse toward eternal rest. "I want to close my eyes and never open them again," says Melinda, before saying, "I'm going out the window," which Ellis prevents her from doing. Melinda looks wild-eyed; and she has lost some of her beauty in terror. Laurel calls Cassie to ask if Melinda can stay with Cassie: "She's one of those people who will always need help."
Comic Melinda and her Billy Wheeler (Sunjata) double-date with Hobie and the woman they've paired him with, an acquaintance of Billy, a Republican woman who was featured in Playboy (she says she's radical in the bedroom). They attend a horror film screening and a dance party with masked guests; and the Republican woman agrees to go home with Hobie—and, in gratitude, Hobie says he'll never vote against prayer in the schools again. The woman is still disturbed by her own breakup, and says life is meaningless, and threatens to jump out of his window. Melinda, unaware of how Hobie's date ended, is jealous of Hobie's new romance and realizes how much she likes Hobie—and she tells him.
The film returns to the restaurant where it began, with the four intellectual friends talking about comedy and tragedy and they mention a friend's sudden death and his upcoming funeral: it is death that shadows life—whether life is seen as comic or tragic; and death is like a casting director that suddenly takes an actor off the stage while the play continues, leaving the other actors and the observers to continue the plot while recalling and making sense of the absent figure. Following the first of three screenings I attended of Melinda and Melinda, a late Sunday night screening during the film's opening weekend, people exclaimed, "Wasn't that good?" and "That was good" and "I enjoyed that." Having read lukewarm and even chilly reviews of the film, I was surprised and pleased: and though I do not know him, I was glad for Woody Allen, who is a storyteller and a thinker who makes films.
"I just want to make a lot of films and keep putting them out. And I don't want it to be: 'Oh, it's the new Woody Allen film! Two years we've waited for it!' I just want to turn them out—and that's it," Allen told his interviewer Stig Bjorkman, quoted in Woody Allen on Woody Allen (77). Woody Allen has done just that, and his new films compete with his old films in the consciousness of many critics. Many critics reject some of Allen's ambitions to produce serious art (such as Interiors and Another Woman) but insist on their own expectations for entertainment. There are other critics who are more open to what the artist attempts. Allen has said, "I just feel that you must—if you're operating at the maximum of your capabilities—aim at very, very high material. And that to me would be the spiritual, existential realm" (211).
The Chicago Tribune's film critic Michael Wilmington began his March 22, 2005 review with a salute to Woody Allen: "Woody Allen's films may have fallen on hard times critically in recent years, but he remains one of the great movie comedy creators. He can still crack a fine joke, spin a witty tale. In Melinda and Melinda, Allen gives us at least half a classic comedy—more than we usually get at the movies these days—while having some elegant fun with an idea that has intrigued poets and smart alecks through the ages: the interchangeability of comedy and tragedy." Wilmington went on to describe the film, emphasizing the fictive nature of Melinda and both of her stories and allowing that he perceived some confusion between the two narratives, before stating that the film is about "how we weave tales and mold the world to our fancy. Neither story is real; nor are any of the characters, and as the two stories connect, collide and twist around and through each other—united by little except Melinda and Manhattan—Allen keeps vamping at his theme that laughter or tears count as much as events." Wilmington reminds his readers that the best Allen films—he names Annie Hall, Manhattan, Broadway Danny Rose, The Purple Rose of Cairo, and Bullets Over Broadway—mix both comedy and tragedy. (Allen himself has said that The Purple Rose of Cairo, Zelig, Husbands and Wives, and Bullets Over Broadway came closest to his original conception of them.)
"Melinda and Melinda is a movie about the symbiosis of the filmmaker and the audience, who are required to conspire in the creation of an imaginary world. He shows us how he does it and how we do it. In its complexity and wit, this is one of his best recent films," concurred Roger Ebert in his March 23, 2005 Chicago Sun-Times review. Ebert, whose fame has seemed to outrun his actual value, can be insightful, and I think he is in regard to Melinda and Melinda. It is a film, Ebert argues, that reveals that "movies are only movies," compelling the realization that "that neither Melinda nor Melinda is real, but Woody Allen certainly is."
"I make any film I want. I don't care if the public likes it, the critics like it. I mean, I would like them to. But if they don't they don't. I make films for my own enjoyment," said Woody Allen, though he also acknowledged that film studios must be concerned with profit and that could affect him one day (in Stig Bjorkman's Woody Allen on Woody Allen; 81).
Melinda and Melinda is a small, elegant gem. It is, besides being a consideration of the merits of comedy and drama, a light meditation on relationships, on artistic opportunity, and on romantic disposition (belief in wishes and possibility); and it can seem both logical and whimsical, while also being a series of images featuring well-dressed figures in nicely appointed rooms (often their clothes look beautiful—well matched—within the color schemes of those rooms). The film achieves elegance in its balance of various elements, some of which are not in themselves distinguished: the whole is greater than its individual parts. One reservation I have is that there is not a lot of movement in the film, so there are moments when one is conscious of watching a film that seems more still life than moving picture. This style allows for observation, contemplation, and relaxation. Another reservation may regard the few moments spent discerning which narrative is which, though this did not cause me nor, from what I could tell, most people in the audience much trouble. The need to make distinctions between the two stories does compel comparisons and quickens understanding. The cinematographer Vilmos Zsigmond has said Allen was against an obvious visual contrast in the two stories; and production designer Santo Loquasto said that Allen likes his images to have a certain golden, even autumnal glow.
"You may wonder, though, why he didn't vary his filmmaking style more between his Melindas. Allen and cinematographer Vilmos Zsigmond (McCabe and Mrs. Miller) shoot both sides of Melinda in pretty much the same long-shot, long-take, tableau style he has favored for decades. They ignore Charlie Chaplin's wise advice that comedy is a long-shot, but tragedy is close-up—and ignore as well the great face-up style of his old idol Ingmar Bergman. It's a shame Bergman's cinematographer Sven Nykvist (who has shot some Allen pictures), was physically unable to photograph at least half of this one—or that Allen didn't have the chutzpah to join Melinda's 'two faces' in a parody of the iconic split-screen shot in Persona," wrote Michael Wilmington in his Chicago Tribune review of Melinda and Melinda, March 22, 2005, a review that seemed as generous as it is intelligent, and as intelligent as it is entertaining. Wilmington is aware of aesthetic choices, the resources of technique. I do wonder if having, in visual terms, two obviously different schemes would have been playing to a desire for easy differentiation. Why should Allen follow other directors' dictates about comedy and tragedy and their requirements, when he has his own style? Allen places individuals—no matter how intense or idiosyncratic—within particular physical and social environments; and close-ups exaggerate the importance of individual experience: it's one thing for an individual to think his experience is of overwhelming importance and another thing, an unlikely thing, for the world to agree (and yet the fallacy of the primacy of individuality is what we often crave to see reflected). To read a group of reviews about a film by writers such as Michael Wilmington, David Denby, and David Sterritt, among others, is to create a conversation in one's head between each critic and one's own responses and also to create a conversation among the various critics about the film. The more favorable reviews of Melinda and Melinda seem to grant Woody Allen his distinctive vision, his artistic license; and the least favorable seem to impose rigid, or merely reflexive, standards. Is Woody Allen's own artistic individuality being rejected? Wilmington's speculations, however, come out of enthusiasm and respect.
The New Yorker's David Denby declared in the magazine's March 21, 2005 issue that Allen's "desire that everything look and sound lovely overcomes any sort of practical sense of how to make the material work dramatically. The extraordinary handsomeness not only makes the stories hard to tell apart; it outclasses the principal characters, who are almost all shallow, nattering, self-seeking people. They fall in and out of love, but their passions seem abrupt and rather arbitrary; they spend much of their time complaining about themselves or the others. In the absence of satirical intention or strong dramatic action, we are left with such cranky questions as: Why put two failed actors in the movie? What's learned from the doubling?" Denby's comment seems observant but not probing enough and a little unfair (surely he's noticed that most of us spend our lives complaining about other people). It's arguable that the film's two failed actors—other than being a coincidence of storytelling—exist to emphasize that when fame or money are considered before talent, many people are sidelined, not allowed to work, though there are indications that Lee is, or once was, a more genuine artist than Hobie (Hobie is pleased when he gets selected for a product advertising spot). Artists who do not have the satisfaction of work then may find it hard to live; and those not as well-placed as Lee might become beggars, thieves, suicides, or even worse: they might be forced to give up their art for mundane work. I wonder if we really know who Lee is—as a dissatisfied artist, an artist who is not finding fulfillment in his work, Lee is not really being himself. Lee drinks instead of works, and Melinda falls for the wrong men and makes impulsive, destructive choices: aren't these scenarios—about human vulnerability and error—ones most people could understand regardless of economic class? The idea that the passions in Allen's film are any more arbitrary than in most films is questionable: how often do we believe in the love stories that are presented to us? What we bring rather than belief is often the suspension of disbelief. I can think of many stories I've read and seen and then thought, But those two didn't actually say anything to each other, and they haven't actually discovered anything interesting in each other, so what could compel them to be together other than the plot? In Melinda and Melinda, there is Melinda's beauty and sensuality, Ellis's charm and talent, and Laurel's sensitivity and talent: and, consequently, the attractions are more understandable.
David Sterritt, in his post as film viewer and commentator for The Christian Science Monitor (March 18, 2005), wrote, "The good news about Melinda and Melinda is that it shows real reflection on Allen's part, mostly about tensions between optimism and pessimism." However Sterritt said that the "bad news about Melinda and Melinda is that its milieu is again limited to the urban middle class, the only stratum of society Allen's body of work ever examines. And you won't find many laughs here, even when he strives hardest for high comedy." It may be that the urban middle class, as Allen presents it, does not suffer a great deal from what comes from the outside world but these people do suffer from what comes from within: and we see how often we—his people, and everyone—cause our own trouble. If I lacked any interest in that milieu, I doubt I'd find this or any film about it amusing. Could Sterritt, who has a professional and public career, be as indifferent as he seems? Does he have a preference for stories about the working class, or the poor? (What do intelligent and practical poor people want but money to improve their quality of life—which may well lead them or more likely their children to looking and sounding like the people in Woody Allen movies?) How interesting are stories about people with few, if any, choices? Is there drama in that—or merely a predictable fate and an attendant fatalism? It is some kind of potential or power—charm or energy or intelligence or passion or wealth—that makes choice and also drama possible.
Although The Washington Post's Desson Thomson found the film's opening gambit pretentious, he thought that the film's "details are so complex and interconnected, it becomes more comfortable to let it all wash over you and simply appreciate the passing pleasures. These amount to two things: the performers and Allen's jokes. Thus, you can find yourself admiring the Venetian-blind sultriness of Sevigny's eyes, Ejiofor's robust masculinity and most pleasurably of all, Ferrell, whose intrinsic goofiness is a constant tickle" (March 25, 2005). I'm not sure what to make of the word pretentious: are the characters in that opening scene, two playwrights and their friends, pretending to have interests they do not genuinely have; do they have ambitions beyond their skills (how do you develop skills without trying?); or are they being too earnest; or is the use of the situation to frame two possible stories, two possible ways of being in and seeing the world, too formal and too overt? The word pretentious seems to be a whip that is used to keep people in line in a culture that is enthusiastically dumb. One finds the notation that the film's details are complex and that it's work to follow those details and better to simply bask in the simple appeal of a performer's face or manner or an obvious joke very telling: this is an inadvertent admission of intellectual lassitude. We all have moments of laziness, but part of what makes criticism fun and useful is that it can make sense of what we have read or seen, of what we have experienced (and allows us to enter the experience again with a greater sense of its richness); and it's not asking too much to have a critic be attentive. While it's true that the public or social rewards for appreciating a well-established director are slight (there's more cultural momentum to be gained from championing novices), and one can feel one's power affirmed by damaging or destroying the reputation of someone distinguished, the real aim of criticism is different—is insight and reverie.
"There's a dirty little secret about the movies that no one wants to acknowledge—that we moviegoers soon get sick and tired of seeing the same old people up there on the screen, even if they're good or great," wrote Andrew Sarris, in his March 28, 2005 New York Observer review of Melinda and Melinda. Sarris, after quickly summarizing Allen's career, calls Melinda and Melinda a conceptual disaster, pretentious and banal; and he suggests that rather than comedy or tragedy, parody is Allen's strong suit. "If there is one narrative device favored by Mr. Allen, it is betrayal—largely because his characters seldom have anything else to do, particularly his too often merely decorative women characters. There are no struggles for money, social position, fame, political goals, much less sheer survival. So betrayal becomes the only alternative to endlessly platitudinous table conversations," wrote Sarris. Merely decorative women characters? No struggles for money, fame, or social position? The women in this film have interests that are personal and professional. Comic Melinda seeks work in an art gallery and tragic Melinda talks about the possibility of doing decorating work. Laurel is a music teacher with abandoned ambitions that haven't been excised from memory; Susan is a film producer with an extreme though unspecified viewpoint about men in her work, and she's willing to make sacrifices to get her film made; and the two male actors presented as characters certainly have ambitions and frustrations. Radha Mitchell, in one of her interviews, spoke about all the interesting actresses Allen has introduced and reintroduced to the world. (Louise Lasser, Diane Keaton, Carol Kane, Colleen Dewhurst, Geraldine Page, Meryl Streep, Charlotte Rampling, Mia Farrow, Dianne Wiest, Barbara Hershey, Gena Rowlands, Blythe Danner, Angelica Huston, Judy Davis, Elisabeth Shue, and Charlize Theron are some of the actresses who have appeared in his films.) I am inclined to trust the judgments of an actress about a director's use of women, especially this actress, Mitchell, who has made her strongest impressions in High Art, directed by a woman, Lisa Cholodenko, and in this film, Melinda and Melinda, directed by Woody Allen. Regarding Allen's use of betrayal as a subject, it's arguable that in every kind of relationship there is the possibility of loyalty or betrayal, care or neglect: and that may make it a subject that everyone can relate to.
"Infidelity is one of Woody Allen's favorite subjects, which is understandable: It makes a convenient hat rack for his various neuroses," asserted Salon's Stephanie Zacharek (March 18, 2005), before concluding that Allen "seems to understand nothing about infidelity, or maybe even marriage, at least dramatically speaking. Instead of allowing us to sympathize with both characters in at least some small way, in any equation of marital infidelity Allen always has to have a clear-cut bad guy. In the case of Peet and Ferrell, the equation is wife/hard, husband/gentle. In real life, and in intelligent, heartfelt movies, the lines aren't always so clearly drawn." Zacharek's analysis of the film is more scorching than most, and one could argue that Woody Allen specializes in soft men (he has spoken of his aversion to casting too handsome, too macho Hollywood types); and that he sees women not as hard but as strong. He, as are most artists, is interested in emotion and he shows men of feeling and women with a wide range of feelings and aptitudes. (There is an aspect of Allen's own persona that is that of a universal androgyne, something many great artists posess.) Laurel and Cassie are two wives who are not hard, career-oriented, or selfish. Would it be preferable to have Amanda Peet play a self-denying woman, lacking in ambition? or someone who felt guilty about her ambition, and resigned to stay in a marriage in which desire had dwindled? Amanda Peet plays a woman who seems true to life to me. It's possible to imagine Peet's Susan as more nuanced, as more anguished about her marriage—but is it necessary, and is it true to this kind of person? I don't think so; and I think that Zacharek's disqualification, in this case, has more to do with taste than truth.
"Allen has assembled an attractive cast and given most of them clichés to inhabit. He has also stinted on inventiveness," judged Richard Corliss in Time magazine (March 21, 2005). Where Richard Corliss sees cliché, A.O. Scott sees tradition.
The New York Times's A.O. Scott wrote, "Mr. Allen pries his actors away from their naturalistic habits, evoking a pre-Method style of performance that has all but vanished from the modern stage and screen. The results are mixed. Ms. Sevigny, Mr. Ejiofor and Ms. Peet seem liberated, freed of the necessity to plumb psychological depths and able to explore behavior rather than motive. Mr. Miller, struggling with an underwritten part and a badly fitting accent, has a harder time, as does Mr. Ferrell, who is miscast in the Woody Allen surrogate role of soulful schlemiel" (The Times, March 18, 2005). I think Scott's observation is perceptive, as there was a moment when I was watching a couple of scenes in the film when it occurred to me that the film was also concerned with manners and personal style—and that each is influenced by thought as well as economic class—and that this made the film similar to Scorsese's (and Edith Wharton's) The Age of Innocence and Terence Davies's (and Wharton's) House of Mirth or various Henry James stories, though of course it does not have—and wasn't intended to have—the same depth. I did like Jonny Lee Miller, especially upon reflection (I'm also rather deaf to accents)—when people are unfulfilled they take up less space than they should; and Miller as Lee projects a worried practicality and a shameless though not particularly sensual sexual availability, as well as hurt and deceit, while still being opaque. Unlike the performers Scott has named as successful within Allen's scheme, Ferrell, though he is obviously capable of sensitivity and sweetness, does not seem to embody a well-rooted style of being, of thinking or moving among others, and so I didn't sense him as belonging to a time or place.
"Ferrell's line delivery is formed precisely in Allen's image. As in most recent Allen movies, there's always one male character who's carefully groomed to be the Woody stand-in, and Ferrell, although he can't help being extremely likable, suffers for that here," wrote Stephanie Zacharek in Salon (March 18, 2005).
The Washington Post's Stephen Hunter's commentary (March 23, 2005), amidst a brutal review, echoed this: "In many of the films Woody Allen has made of late—now that critics have informed him he's too old to fail with a better class of woman—he uses a kind of Woody surrogate, who apes his trademark neurotic East Side delivery and gets all the wisecracks at his own expense. Actors as diffuse as Kenneth Branagh (Celebrity), John Cusack (Bullets Over Broadway) and Jason Biggs (Anything Else) have had a try at this. What you see is someone imitating Woody Allen on screen—the anxiety attack, the clammy desperation, the self-doubt—but you want the real thing, and any impersonation grows tiring after a while. Poor guy: If he casts himself, everybody says, 'Who wants to see that old man kiss Tea Leoni? Ew.' And if he casts someone else everybody says, 'Who wants to see Will Ferrell play Woody Allen?'" [Hunter sees and sneers at the film's traces of Flaubert's novel Madame Bovary and Louis Malle's Vanya on 42nd Street, a film of an act-by-act rehearsal of Chekhov's play Uncle Vanya, which balanced comedy and tragedy and is about traditional values and changing times and focuses on a retired professor who returns with his young wife to the family farm being run by his brother, Vanya, and Vanya and a local doctor , who is a drinker, both become infatuated with the young woman. Such traces are no—t difficult to find as the characters mention Madame Bovary and Uncle Vanya: and one wonders why intelligent references should be resented in a cultural work that features educated people. We did not invent misery, and acknowledging that—by referring to other people's suffering and to art—is a remembrance that is part of whatever sanity we have. Even if those references do not mean much to a particular viewer, they still say something about the context of the characters, just as medical or legal or political references would be expected in works featuring certain characters or situations. Hunter says also that by presenting two narratives, a comedy and a drama, Allen failed at two movies simultaneously, and admits he has found most of Allen's recent work "unmemorable."]
David Walsh, the film reviewer for the World Socialist Web Site, began his April 6, 2005 review by stating that "it has been 13 years since Allen produced a work, Husbands and Wives, that was worth something as a whole." Walsh—whose work I respect despite his recent contemptuous dismissal of Godard's Notre Musique—finds that both the comic and the dramatic narratives in Melinda and Melinda lack impact, and says "Characters appear, seem to carry a certain dramatic weight, and disappear, without anything having been established about their presence." (Is Allen being faulted for producing a work that's not insistently ponderous?) Walsh says that Allen never had much to say about the world at large, and thinks that after Ronald Reagan and Rudolph Guiliani, Allen's own preferred world—the world he attempts to recreate in his film—no longer exists, that New Yorkers no longer share his intellectual preoccupations, his liberalism, or even his style. Some might claim that Allen's intellectual preoccupations, liberalism, and style are embodiments of what he has to say about the world, and will—in his art—outlive a didactic political ideology evolved to address specific social problems, a claim I could not contest.
New York magazine's Ken Tucker wrote, "Allen is onto something interesting when he has Jonny Lee Miller remark that 'life is all about networking'; who is a greater expert on gatherings of Manhattan intellectuals? In contrast to the yearning artists Allen has sketched in the past, Miller's and Sevigny's characters are at once more cynical and more desperate, and it would be fascinating to see how a shrewd pro like Allen explores this Gen-X/Y cliché from his older, savvy perspective: Is the present generation more honest or more devious about their avariciousness? But, alas, he lets the notion drop away" (New York magazine, March 28, 2005 issue). If a generation is cynical and desperate, might that be because of larger social and political changes, as David Walsh indicated? And don't we see values expressed in choices, in acts? (I don't think Allen let anything drop.) Unhappiness—which can be poisonous—is also a sign of yearning, and yearning is not rooted in cynicism but in belief.
I think some people still value what Allen values, still take art and ideas and personal possibilities seriously, though it is true that such a sensibility can no longer be considered the dominant one (if it ever could be considered dominant: we have gone from respecting that kind of sensibility, even if it disinterested us, to despising it, in the name of—what? populism and popular culture? anti-idealistic theory? history and practicality?). One of the interesting things about reading Aristotle is that he distinguishes between superior and inferior audiences, a distinction that is an inevitable part of art and its reception; and Aristotle notes that inferior audiences inspire pandering and in turn, when pandered to, are convinced that inferior work is actually the best. With the rage that is hip-hop music, ethnic tribalism, reality television, corporate greed, the idolization of ball players and entertainers and their subsequent multi-million dollar contracts, conservative politics, religion-approved prejudices, the trivialization of suffering, academic jargon, and cell phone conversations that allow public witness of embarrassing personal facts, all various forms of contemporary barbarity, how could complex beauty or thought hold a plea? (Dull signs are taken for bright wonders: after such ignorance, what forgiveness?) Yet, to believe that experience matters, and that knowledge can be born of experience, inclines one to believe in culture, which is an embodiment of experience, experience turned into ritual, text, image, and sound. If learning is possible, then learned individuals are possible: and these are the people one finds in Shakespeare, Henry James, Virginia Woolf; in Godard and in Woody Allen. These are the people one finds alone or in small groups, sequestered in the city, while others—more glittering, louder, tough, and vulgar—walk the main avenues.
Two new films, Crash and Mysterious Skin, directly address experiences and issues that many consider contemporary; and while it's admirable that these films would attempt a hard-headed realism in a culture sometimes given to fantasy, lies, and shallow explanations, it's important to remember that while too many people conflate anything ugly and demoralizing with the truth, there are pretty lies and ugly lies. In Crash, an American film set in Los Angeles and directed by the Canadian Paul Haggis, the subject is the conflict between people who belong to various ethnic groups and nationalities, with the story revolving around law and crime—a district attorney and his wife (Brendan Fraser, Sandra Bullock) have their vehicle stolen, a television director and his wife (Terrence Howard, Thandie Newton) are stopped and harrassed by the police, and two young men argue about coming under social suspicion, something that upsets them, despite the fact that they are, actually, criminals. How people allow prejudice to frame their interactions with others is the controlling idea of the film. However, certain characters or plot developments may feed, rather than examine or subvert, prejudice: a hot-headed Persian store owner dismisses what a Hispanic locksmith tells him—that he needs a new door, not merely a fixed or new lock—then blames the locksmith when his store is broken into; and the television director suffers a meltdown late in the film while facing the police, a response that suggests that no matter how sophisticated a black man seems, beneath that veneer is a hurt, angry and irrational person (this fraudulent scene defeats Terrence Howard). Another problem with the film is that we hardly know what a normal day looks like for any of the characters. Whereas Woody Allen creates a livable environment for his characters, the people in Crash seem to live in a constant state of crisis—and one of them, the district attorney's wife, a pampered woman, says that she wakes up angry every day. I had been looking forward to seeing Crash very much, for its subject matter and the fact that it contains actors I like—such as Don Cheadle and Ryan Phillippe. Thandie Newton gives the best performance I have ever seen her give. (I liked her in Gridlock'd, Besieged, and Beloved, but found her appalling in Jefferson in Paris, boring in the second Mission: Impossible movie, and okay in The Chronicles of Riddick: and I have come to think of her as an inconsistent actress.) She is sensual, outraged, jeering, conciliatory, fragile, and more in Crash. The actors in the film do very admirable work but the conception of the film, and its rhetoric, are problems: humanity cannot be reduced to its worst aspects, no matter how important the issues or how disturbing the facts; and that is something I might not have seen so clearly had it not been for the film's limitations. Much of modern art asks, Why do we come so easily, so often, to the failure of our imagination, the failure of our humanity?—but wallowing in our failures is not the answer.
Gregg Araki, the director, deals with pedophilia in Mysterious Skin: two boys are abused by their smiling coach, and one, Neil, grows up to be a male hustler with fond memories of the man, and the other, Brian, doesn't know what happened to himself, as he blacked out, and he is willing to consider various possibilities—including alien abduction or something involving his own father—to explain the subsequent effects of that molestation. The setting is a small town, and the homes of both boys are stylistically unattractive (I don't know that anyone has commented on the tacky rooms in the film, though many critics sarcastically commented on the splendor on view in Woody Allen's Melinda and Melinda, as if aesthetic judgement is more objectionable than its absence). The two little boys do not seem at all sensual or sexual. Nothing is suggested regarding why the coach molests the boys (the man seems insincere except when involved in a sexual act; and I couldn't tell if that was the creepiness of the character or the lack of talent of the actor playing him, Bill Sage). When the boys are teenagers, they are played by Joseph Gordon-Levitt and Brady Corbet, and I found Gordon-Levitt as the hustler Neil uninteresting and Corbet great. Gordon-Levitt plays a boy who will do almost anything and one of his friends (a gothic lipstick-wearing boy, sentimentally presented) compares him to a god, and Neil is a type of decadent, nihilistic character some people think of as honest or real or cool—and that I see as absolutely pointless. Neil's best friend, a young woman, warns that he has a black hole where his heart should be—but she's still his best friend (an ill logic acceptable in the realm of cool?). Brady Corbet has been in just a few films—Thirteen, and Thunderbirds—but his character, Brian, is so well-conceived and well-performed—shy, decent, intelligent, fair (he's suspicious but looks for evidence for his conclusions), that I had the illusion I was watching a very likable real person. Lisa Long plays his mother and she too is very good (she reminded me a little of Frances McDormand in Fargo). Corbet and Long—more than Gordon-Levitt and Elisabeth Shue as Neil's mother—create a sense of family. The last scene involves a reconciliation between Neil and Brian with a recounting of their childhood experience and a poetic rumination that seems ill-fitting, akin to being given stale champagne after a meal of cold hamburgers. Whereas Woody Allen's films gesture toward a cultural inheritance that can illuminate or give pleasure, films such as Mysterious Skin and Crash give us the mess of human experience and their makers do not have the philosophical depth to suggest a logic, order, or value system that can balance, counter, or contain the mess. Which do we object to most, the artists who give us the mess or the ones who try to give us order—reason and purpose?
Chicago Reader film critic Jonathan Rosenbaum found the comedy/tragedy premise of Melinda and Melinda simplistic in his March 25, 2005 review, but he thought it could work "so long as you don't think about it too much and you believe that romantic comedy and abject misery are opposite sides of the same coin, as they almost invariably are in Allen's world. But keeping up with which story was which absorbed most of my attention, and the few times I got a chance to think about what Sy and Max were saying I was disappointed. I couldn't buy that two supposedly sophisticated theater people could be so simpleminded about what defines comedy and tragedy. I also couldn't believe in most of the characters, including either version of Melinda. The notable exceptions were black characters played by Chiwetel Ejiofor in the darker story and Daniel Sunjata in the sunnier—it's refreshing to find black characters of any kind in an Allen film, especially unstereotypical ones." (Stig Bjorkman has recalled that Allen featured a black actor as J. Edgar Hoover in Bananas, a black sergeant in Love and Death, and other blacks in minor roles in Sleeper and The Purple Rose of Cairo; and many of us will not forget ever the black whore in Deconstructing Harry.) Rosenbaum thinks that Allen holds his audience in disdain, and that the movie is a "dubious exercise." Is it? Allen's audience, we are often told, prefer his comedies to the dramas he feels compelled to make, and in Melinda and Melinda he gives us both comedy and drama, possibly providing gratification to both his audience and himself, while asking questions that may be fundamental: Is happiness possible? Is unhappiness likely?
"Another complaint—that Mr. Allen's New York lacks the racial diversity of the real city—seems to have affected him to the point that he overcompensates with not one but two eminently cultivated, articulate and musically gifted African-American aspiring boyfriends," wrote Andrew Sarris (The New York Observer, March 28, 2005). Overcompensates? Two is too much?
David Denby wrote, "Except for a suave African-American opera composer (Chiwetel Ejiofor), whom the tragic Melinda loves, these people are blocked and useless, and even the composer, who switches women very quickly and sweet-talks everyone, seems trivial and something of a fake" (The New Yorker, March 21, 2005).
Stephanie Zacharek in Salon (March 18, 2005) found the actors in the film "uniformly stiff," but for Chiwetel Ejiofor: "The only actor who escapes unscathed is Chiwetel Ejiofor, as the urbane, charming, emotionally grounded pianist and composer that tragic Melinda falls for. This is the kind of character who's too good to be true. But Ejiofor, whose face radiates intelligent guilelessness, makes us believe in him wholeheartedly. He's the only open window in this airless, addled movie."
About his character Ellis, in an interview (March 24, 2005) with Zacharek's Salon colleague Brian Libby, the actor Ejiofor said, "He's charming and seemingly kind of faultless, but I think the need to charm in Ellis speaks to something less lovable. I think he's looking for a muse, and he's happy to move on when that muse no longer suits him."
The New Republic's Stanley Kauffmann (April 18, 2005) wrote that "the grave story is leaden, the comic story isn't funny, and the comparison—the rivalry—between the two modes is never crystallized" and, commenting on Ellis and Billy, concluded his review with, "Omitting any mention of the men's race seems factitious, an attempt to bring into being a social state that doesn't yet quite exist. May the day soon come when awareness of race is irrelevant; but that day is not yet here." Are artists to be limited to stories that do not go beyond current affairs? If this is not so regarding other matters, why should it be so regarding race? Allen's films often portray Manhattan society, a very special 'we.' In a review for AOL Black Voices (formerly Africana.com), accessible March 21, 2005, Armond White wrote, "In Melinda and Melinda, that "we" includes Ejiofor and Sunjata. Although they are introduced as elites, they are a visual contrast—more compelling than the schizo title character. Ejiofor is Ellis, an articulate socializer, and Sunjata's Billy is another variation on this suave accomplished model. Their ethnicity is never mentioned, which signals the liberal openness of the whites they're entangled with. But the men's similarity—in all but skin color—indicates that Allen's world is still insular as ever. Both men are musicians, adept at a sophisticated form of café-society culture. (This recalls how cabaret legend Bobby Short had a cameo appearance in Hannah and Her Sisters to confirm Allen's semi-documentary record of New York high life.)" Armond White, whose highly original and volatile reviews might cause whiplash, also thinks each character—Ellis and Billy—is an erotic stereotype, a fantasy of and for wealthy whites; and yet, "Ellis and Billy are, in fact, phenomenal. Allen flips race stereotype—showing figures who are alluring rather than demeaning. The intimate rapport between Ejiofor and Chloe Sevigny, and the sexual magnetism between Radha Mitchell and Sunjata show Allen's unexpected social and artistic progress."
Along with Samuel Jackson as a journalist in John Boorman's film about South African tyranny and justice, In My Country (Country of My Skull), and Don Cheadle's performance in Hotel Rwanda, the character played by Ejiofor are among the most positive, most progressive, images of a black male currently available; and they are welcome in a media world saturated with thugs and buffoons. Ejiofor is one of several impressive actors who have emerged from England, and two others are Adrian Lester (Primary Colors, Love's Labour's Lost, and The Day After Tomorrow) and Colin Salmon (television's "Prime Suspect 2" and Tomorrow Never Dies, The Wisdom of Crocodiles, The Statement, and scheduled to appear in Woody Allen's next film, Match Point); and they have an unforced dignity. Ejiofor and Sunjata as Ellis and Billy in Melinda and Melinda demonstrate that intelligence can be just one more attribute, not a goal (the men do not require enlightenment), and also that sensitivity is not weakness—and at the same time neither man is the ideal or right partner for Melinda. It seems to me that Allen's presentation is liberating—Allen unattaches most, if not all, received meaning from blackness—so there are no ghetto manners and no black pride ideology; and no special suspicion, sympathy or exaggerated admiration—and the characters, Ellis and Billy, are free to be particular people, not racial emblems: the characters mean only what they mean in Allen's film, with any additional significance being what we—individual viewers—add.
Allen wanted Ejiofor for the part of the classical musician and, inevitably, saw the character as being the color of Ejiofor. When asked if he always saw Ellis Moonsong as a black character, Woody Allen in an interview with Julian Roman that appeared on MovieWeb.com, accessible March 2005, said, "I always saw him as a black character, yes. I thought that they want to fix this woman up, and they fix her up with this stiff. She goes to this party and the guy at the piano is a fan of the opera and kind of gorgeous and full of feeling, and I'd always seen him as a black character. So in the comedy story, I thought, 'I could also use a black actor to match with that.' And I'd always felt it would be Chewy. As soon as I saw Dirty Pretty Things I thought, 'This guy's great. He's gorgeous and he can act great.' And he was available. I was very lucky because I caught him during two months when he wasn't doing anything."
Brian Libby (Salon, March 24, 2005) asked Chiwetel Ejiofor what he thought about being "the first black actor to have that major a role in an Allen film," and Ejiofor said, "I think it's a bit of a silly footnote." He added, "Any filmmaker can write about what they want to write about. He's the filmmaker and it's his film. He should be able to make what he wants. I don't think I or anyone else should really tell Woody what to create."
"Melinda and Melinda is perhaps best thought of as an offering to the memories of Ernst Lubitsch and George S. Kaufman, half-forgotten culture heroes whose examples of crisp sophistication deserve to be kept alive for future generations," wrote A.O. Scott in his March 18, 2005 New York Times review, a rare instance, when reviewing the film, in which the past wasn't used to flagellate Woody Allen. There are many Allen films I have not seen. He first made an impression on me when I was young and read his writing, such as Without Feathers, and I saw some of his early films on television, but it is only with Annie Hall, Hannah and Her Sisters, Another Woman, New York Stories' "Oedipus Wrecks," and Deconstructing Harry that he has any memory for me as a filmmaker—and possibly that is part of the reason I do not have an automatically negative reaction to his latest works. The care and skill that went into Melinda and Melinda are obvious. David Rothenberg on his Saturday morning WBAI radio show said that if the film had been made by an unknown it would have been celebrated. I don't know what great new works most commentators have been seeing, but Allen's film more than holds its own with most of the comedies I've been seeing, such as Be Cool, Bride and Prejudice, Guess Who and Off the Map, which blends comedy and drama. (The best comedies I've seen thus far this year are The Upside of Anger, Schultze Gets the Blues, and Hitch.)
Two of the better films in memory are Eternal Sunshine of the Spotless Mind and Before Sunset, the sequel to Before Sunrise, and both provide shrewd reinvention of what a love story is and what a film is: and neither, at first, seems very American. Eternal Sunshine, in both scenes of linear narrative and of surreal views of the characters' minds, shows its characters darker edges, their suspicion, their neediness, their vengefulness—and their repudiation of experience and the knowledge that comes with it (such a repudiation does seem American). Their final affirmation of hope seems even more American. The second film takes place in France, and is mostly conversation and travelogue with a man and a woman who had met years before—and if the concerns of the talk—the misfires of romance and marriage, the state of the world as exemplified by environmental problems, and the confident presence of Nina Simone—are the kind that engages the viewer (they did me), the film will be found enthralling (many critics loved it). Melinda and Melinda does not reinvent the love story or our understanding of what a film is: it is not Eternal Sunshine or Before Sunset.
Melinda and Melinda is also not Annie Hall, nor is it Roxanne, The Full Monty, Wag the Dog, The Truman Show, or Being John Malkovich. It's not a masterwork like Citizen Kane, and it doesn't have the glamour or passion of Camille, nor the funky and gritty verisimilitude of Stephen Frears's movies. It doesn't suggest the peculiarities of personality of Chameleon Street, or the connections beyond cultural barriers of Grand Canyon. It is not as eccentric nor as energetic as Those Who Love Me Can Take the Train, or as richly comic and serious as My Sex Life…or How I Got Into An Argument. Melinda and Melinda is not Whit Stillman's Metropolitan, nor Francois Girard's 32 Short Films About Glenn Gould—and it's not Kathleen Collins's Losing Ground or Theodore Witcher's Love Jones—and it doesn't have to be, as those films already exist: a film only has to be itself.
Allen has talked about how very much he enjoys writing, creating, and selecting music for his films, and has said, "I've never thought about money. I'm very generous and I never think about it. I only think about my work. If you ask me, would I like to be very, very wealthy, the answer is that I would. I'd love to be extremely wealthy, but I would never do anything to obtain wealth. I mean, I would never make a movie or write a script to do that. If somebody comes along and asks me to act in a movie and offers me a lot of money and it's a silly movie, I will act in it. I don't care about that. But in my own work, I'll never do anything for money" (Woody Allen on Woody Allen; 219).
It's interesting that Woody Allen (born 1935), Jean-Luc Godard (born 1930), and Michelangelo Antonioni (born 1912), some of the older filmmakers, have each had new films released in the last year, and that common to the criticism their films have received is—as Andrew Sarris has suggested—a kind of exasperation that they continue at all, that they maintain their own style and point of view, and that exasperation is accompanied by the odd suggestion that these directors should be reflecting the more new but less fresh culture surrounding them, a culture that cannot compare with their best work or even their current work. I thought Godard's Notre Musique and Antonioni's short film "The Dangerous Thread of Things" were two beautiful, intriguing, and satisfying films. Antonioni's film, appearing as part of Eros with films by Wong Kar-Wai and Steven Soderberg, assumes human relationships have value, assumes that individuals can represent significant meaning. (That is also something Woody Allen assumes, despite his own great pessimism. In one of his interviews Allen talked about the primacy of relationships for himself and others—love can come to everyone, the best things in life are free; and, very interestingly, the much younger Radha Mitchell said in one of her interviews that she thought relationships were valued too much, that one has to be devoted to one's own development and happiness: and that may be a difference in generational concerns, as writer Ken Tucker speculated.) Antonioni's film ends with two naked women on a beach, and their nakedness emphasizes their being female, and as one had been involved with a man she had a tumultuous relationship with—they separated—and the other had a brief encounter with the same man, a brief ideal sexual encounter, it is easy to believe that these two women are—symbolically—the same woman at different stages of a relationship (they also could be different women whose possibilities include friendship, lesbian sex, or rivalry). Sexuality in Antonioni's film is as natural as the land or the sea. Antonioni's film is filled with dynamic colors, landscapes—country, woods, farmland, and beach—and the gently rippling waves of the sea, as well as unique architecture (almost pyramid-like towers). Antonioni's art director was Stefano Luci, cinematographer Marco Pontecorvo, and editor Claudio Di Mauro for "The Dangerous Thread of Things." When the film begins we see an angry couple, a man and a woman, talking outside, and they drive away together and have lunch, and he sees a woman enter the restaurant they're in and she says the woman is in the tower not far from them, the other tower, and he, unknown to his longtime love, visits the strange woman and the two have a very sensuous affair. Old-fashion eroticism—nudity, movement, pleasure. (In Wong Kar-Wai's short film in Eros, sexuality is frustrated, manipulative, and commercial; and in Soderberg's film it is distant, vague, possibly silly, and certainly lacking in focus or sensuality.) There's nothing sad or sinister about sexuality in Antonioni's "The Dangerous Thread of Things." Is the insistence on beauty, on knowing and feeling, on a belief in meaning, a part of what makes these filmmakers, Antonioni and Allen in their different ways, irritating to an age in which people are too intimidated, or too frivolous, to make claims of value?
The Antonioni film is the last piece in Eros. What of the other two short films by Wong and Soderberg? Wong's film is first, then Soderberg's; and Wong's is very dramatic and engaging. It features Gong Li and Chang Chen, and seeing Gong Li in the film, I thought of the characters portrayed frequently by Garbo and Dietrich, women of easy virtue but intelligent, complex, seductive. Wong presents a courtesan, Miss Hua (Gong Li), who hires a tailor's apprentice, Zhang (Chang Chen), who has little experience with women. She decides to give him sexual experience, so he will better imagine a woman's body and the clothes he must make; and she immediately uses her hand to massage him to a climax that seems painful and satisfying (the man seems to be both fighting and submitting to his own excitement—pleasure is coming through layers of confusion, fear, reticence): Wong presents eros as imaginative and astonishing, as tormenting and sympathetic. This revelation may be close to what Pauline Kael predicted when she celebrated Bertolucci's Last Tango in Paris—that the confusion of feelings that drive us toward sex and get expressed in sex would be presented onscreen; and such a view is still, decades later, different from the pallid scenes—lacking excitement and friction and anything but surface beauty—that we get in most films. The eroticism is palpable partly because it is disturbing. Wong Kar-Wai, through use of the tailor, endows a woman's garments with a special glamour and also suggests an unusual male generosity when the tailor provides clothes the woman cannot afford. Her planned marriage to a wealthy man is cancelled; and she herself has a neglectful gigolo; and she becomes ill. There's a lot of pathos in the film having to do with the tailor's frustrated love and female vulnerability, all of which Wong and his cinematographer capture with dark, elliptical imagery that suggests both nostalgia and unhappiness. We see dark nights and dark rooms. We see parts that suggest the whole—a dress, fingers, shoes, dirty feet, a face, a head; and early in the film we see the lady's hand move between the young tailor's legs and onto his buttocks rather than an emphasis on any frontal jerking motion; and later when things are going badly for her we see her foot hanging off a bed while a customer brusquely has sex with her, and the visual indirection and restraint increases rather than diminishes our sense of what is happening. (William Chang Suk Ping is credited with the production design, editing, and costume design; and Christopher Doyle with the cinematography.) The film, which can be described simply, becomes deep, intense, vivid—and about innocence and experience, money and poverty, elegance and degradation, and desire and indifference. Wong's film and Antonioni's film are separated by the comic film of Soderberg, "Equilibrium," which takes refuge in intelligence, in irony, in cynicism about human behavior, whereas the other two are about emotion. For "Equilibrium," Phillip Messina did the production design, Mary Ann Bernard the editing, and Soderberg his own photography. Soderberg's film is mostly black and white, suggesting seriousness and distance—Wong's color seemed artificial too, with only Antonioni's being realistic (one might call Antonioni's beauty romantic too)—and Soderberg presents an advertising man who visits a distracted therapist (Alan Arkin), who makes paper airplanes with messages, enticements to women, he flies out the window as his patient (Robert Downey Jr.) faces away from him on the couch, telling his worries and dreams, which include images of a bathing woman and a man with a bad toupee. I enjoyed all three films.
Allen's film does not have the spoken wisdom or social resonance of Godard's Notre Musique, nor the natural beauty and poetry of Antonioni's "Dangerous Thread." Melinda and Melinda has an intelligent premise—which is really a question, not an answer—and its look is pristine and inviting, and its actors are among the more appealing or interesting of their generation(s): and the film is amusing, pleasing. If a film is about human existence and the social order—about who we are and how we should live, to put it simply—and challenges or explores what we consider fundamental feelings, facts, ideas, or perceptions, and offers original or unique insight or approaches, new ideas and new forms and new acts, and does these things effectively, we can call it major. If those are the standards, Melinda and Melinda is a minor work; but I think it is good. When I was a young man, I thought the most important thing was to transform instinct into intelligence—and recently I have thought that it was more important to transform intelligence into instinct; and I think that last maneuver is what Woody Allen has accomplished: he has made Melinda and Melinda, a film with two different visions, because he can, because it is what he does, making films, naturally using his talents and exploring his interests. There's someone else whom I admire: he is a well-known literary intellectual, a social creature, a business entrepreneur—and an African American. I joked once with a friend that the man was living my life in a parallel universe. My friend laughed, and I laughed, but there is something in that joke that hurts. Yet, it's balm for me to see Chiwetel Ejiofor as a man of color and quality and accomplishment with more to come, and I thank Woody Allen for that.
Woody Allen is, of course, not African or African American, but he is a world class filmmaker, an international artist, an American figure of Jewish descent; and his sensibility—a mind that thinks through the fractures and fragments of the psyche and of our culture, suggesting coherence, knowledge, and wholeness, while being as inclined to laugh as to moan—is itself an achievement of consciousness and style but one with precedence and context: film artists Billy Wilder and Otto Preminger; playwrights Lillian Hellman, Arthur Miller, David Mamet, and Wendy Wasserstein; visual artists Ben Shahn, Lee Krasner, Roy Lichtenstein, Peter Max, Louise Nevelson, Larry Rivers, Julian Schnabel; musicians Gustav Mahler and Arnold Schonberg; writers Arnold Schnitzler, Franz Kafka, Saul Bellow, Jane Bowles, Nathanael West; poets Joseph Brodsky, Louise Gluck, Jorie Graham, Marilyn Hacker, Anthony Hecht, and Philip Levine; critics George Steiner, Lionel Trilling, Susan Sontag, and Pauline Kael; and such great thinkers as Einstein, Freud, Marx, Wittgenstein. These persons are all of Jewish descent—"I declare with perfect faith/that prayer preceded God./Prayer created God,/God created human beings,/human beings create prayers/that create the God that creates human beings," wrote Yehuda Amichai, an Israeli poet, in Open Closed Open, Harcourt, New York, 2000 (40)—and their contributions, in different countries, in various fields, have not simply interpreted and improved the world but have created worlds: that is what first-rate artists and thinkers do.
Times change, and tastes change: and I was reminded of that when I read philosopher-critic Arthur Danto's assessment in the May 9, 2005 issue of The Nation of Jean-Michel Basquiat (1960-1988), a painter whose work I always thought lacked skill and thought: "Basquiat's painting was close to the best the art world had to offer in his day, and his achievement only grows more impressive with time." However, such changes do not mean that we give up work that we know is good. I saw the Basquiat exhibit that Danto wrote about at the Brooklyn Museum, and I preferred other work I saw there to Basquiat's primitive scratching and scribbling and textual references, without insight, to social issues and to people of genuine achievement: I liked Alexander Iacovleff's "Model Washing Her Hair," Randy Dudley's "Gowanus Canal from 2nd Street," Malvina Hoffman's "Martinique Woman," John Koch's "The Sculptor," and William Merritt Chase's "Moorish Warrior," as well as work by Auguste Rodin, Pablo Picasso, Claude Monet, John Singer Sargent, and Bob Thompson. I like the idea of (there being a) Jean-Michel Basquiat, who became an art world star before dying of a heroin overdose; and certainly I would love to see an artist whose work could genuinely embody Basquiat's more favorable reviews; but I did not see beauty or brilliance in any of Basquiat's work; and I did not see myself or my experience in his work —not even in his "Philistines" or "Obnoxious Liberals". I only saw one or two things I liked by Basquiat, such as his "Native Carrying Some Guns" for its three-color look (brown, black, and white) and organized design, and "Jawbone of An Ass" for its references to the ancient world, though the painting is ugly. And, of course, nothing of Basquiat's came close to the fine, lovely, and inspiring picture I saw months ago of Joseph Boulogne, the Chevalier de Saint-Georges, in the Metropolitan Museum. History has many cunning passages, as Thomas Stearns Eliot once wrote in "Gerontion"; and some people are intelligent and inventive enough to be more than its victims: and Woody Allen is one of them, an independent man, a survivor—and he's funny. When asked by Chaunce Hayden how he'd like to be remembered (Stepping Out, March 23, 2005), Woody Allen answered that it didn't matter—and said, "I just want everything to go right while I'm here, and then when I'm dead it won't matter. Forget about me or don't forget about me, because it won't do me any good. The whole world standing over my grave singing my praises wouldn't mean a thing."
In an impersonal world, an intelligent man introduces intimate feelings; and in an ignorant world, memory and knowledge; and in a vulgar world, elegance and taste: and all that Woody Allen has done with the world he creates in Melinda and Melinda.
Daniel Garrett, a longtime New York resident, has published work in American Book Review, Art & Antiques, The Audubon Activist, IdentityTheory.com, The Review of Contemporary Fiction, 24FramesPerSecond.com, WaxPoetics.com, and World Literature Today, as well as Offscreen. The Compulsive Reader, an online magazine, has published his reviews of books on or by Louis Auchincloss, James Baldwin, Henry Van Dyke, and Nietzsche, and his reviews of the films Schultze Gets the Blues and In Good Company. Garrett has written about the films of Spike Lee, Alfonso Cuaron, Abbas Kiarostami, Eric Rohmer, Oliver Assayas, Luchino Visconti, Jane Campion, Denys Arcand, Bernardo Bertolucci, Lars von Trier, Alexander Sokurov, Guy Maddin, Ousmane Sembene, and Jean-Luc Godard, among others.