On Love, Family, Class, Sex, and Conflict: Notes on Maurice Jamal's comedy film Dirty Laundry, starring Rockmond Dunbar
When life pushes us to our limits, do we maintain or surpass those limits?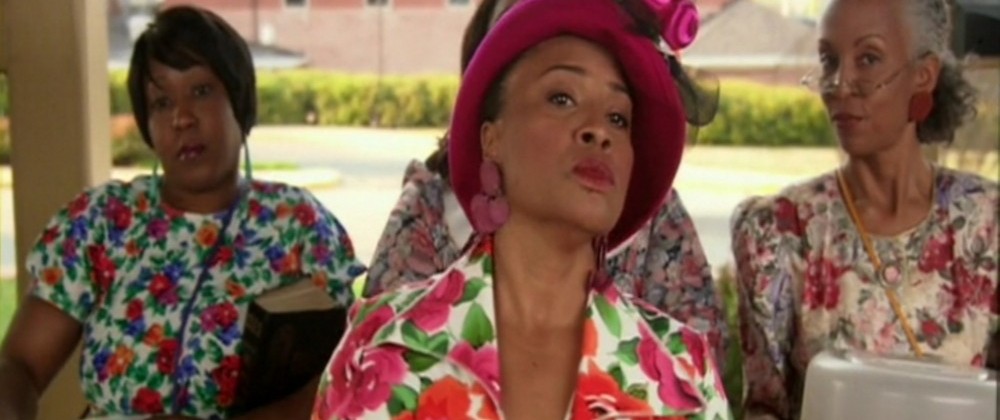 Dirty Laundry, directed by Maurice Jamal
Starring: Rockmond Dunbar, Loretta Devine, Jenifer Lewis
(Copyrighted; and screened at festivals, 2006)
Fox, 2007
One of the most elegant images on film is of Will Smith dancing with another young man, a white male, in Six Degrees of Separation, a work about class, fantasy, and deception. There is nothing in Dirty Laundry, which also features a man of color attracted to men, to compare with that image; nor can Maurice Jamal's comedy Dirty Laundry (2006) be compared to more serious and memorable fare, such as My Beautiful Laundrette, My Own Private Idaho, and Happy Together, or Brokeback Mountain. Yet, there are glimpses of individual difference and human truth, suffused with both laughter and intensity, in it that most films do not give us.
The film Dirty Laundry was written, directed, and produced by Maurice Jamal, who directed The Ski Trip (2004), and is an independent film picked up by a major distributor; and Rory King was its cinematographer, and Norval Johnson production designer and Korey Washington the art director, and Gene Graham editor. I found Dirty Laundry surprisingly easy to watch. In cinema, it is for the film director to provide a unifying vision, especially if he is also a writer and a cameraman, but it is usually the director of photography and the editor who are greatly responsible for the look of a film. The sensitive cinematographer can create a look that engages the eyes and the heart, despite a film's other shortcomings; and a good editor can endow a film with order—and a sense of the natural—despite the frustrating behavior of characters or the illogic of plot. The comedy Dirty Laundry is about a sensitive and ambitious young African-American man's return to his southern home, ten years following his self-propelled exile, returning after he, Patrick, is told that he is the father of a son of ten years; and the look of much of the film is so easily likable that the film can be watched with the sound turned off. There are genuine differences—and loud arguments—in the film, much more than one would expect from a comedy, as the film presents conflicts and tensions: among the family and the individual, the cosmopolitan and the country, the generous and the selfish, the imaginative and the mundane, and the proud and the humble. Bingo is a big deal in the family's small southern town.
The best films convince one of their beautiful, logical, and unique qualities, of their originality and imagination, their deep perceptions and observational truth, their admirable and durable structure and inspiring spirit. Dirty Laundry is worth comment, though it may not be one of the most exceptional films featuring or by African-Americans: I would not place it on the same level with Antwone Fisher, Bad Company, Boesman and Lena, Boomerang, Chameleon Street, Claudine, Daughters of the Dust, Devil in a Blue Dress, Edge of the City, Eve's Bayou, Ganja and Hess, Get on the Bus, The Great Debaters, Lady Sings the Blues, Losing Ground, Love & Basketball, Nightjohn, Othello, The Pursuit of Happyness, A Rage in Harlem, Sankofa, Sidewalk Stories, A Soldier's Story, Sounder, and Things We Lost in the Fire. That is a film culture that can be begin to be spoken of in the same conversation as the artistic and intellectual work of W.E.B. DuBois, Alain Locke, Louis Armstrong, Duke Ellington, Richard Wright, Zora Neale Hurston, Wallace Thurman, Marian Anderson, James Baldwin, Bayard Rustin, Little Richard, Leontyne Price, Gwendolyn Brooks, Alvin Ailey, Arthur Mitchell, Toni Morrison, Samuel Delany, Jessye Norman, Luther Vandross, Martin Puryear, Melvin Dixon, Glenn Ligon, Percival Everett, Reginald Shepherd, Carl Phillips, Martha Southgate, and Kehinde Wiley. Who, with conviction, would say the same for Dirty Laundry? For whatever distinction it has, and it does have more intelligence and sensitivity about a rare subject than most films prepared for a general audience likely to include many African-Americans, Dirty Laundry is a broad comedy, and thus its elements are inclined toward instability and vulgarity.
Of course, vulgarity is not the worst thing, but, in truth, it is the flavor of much of the world; and if one reads Shakespeare or Jane Austen, one finds a lot of vulgarity—a lot of talk of power and money and love and sex, a lot of emotion—but there are also much poetic verse or prose and prestigious virtues, much that is grand and great—analysis, description, expression—and what is cruel, rude, or vulgar meets their match and is no more than accurate detail, part of the energy and fact, and part of the challenge, of the human condition. Dirty Laundry is not great African-American art, nor is it likely to become a western classic, but it can be compared to The Best Man and Jumping the Broom, two African-American comedies with a lot of personality.
Dirty Laundry is a story of love, family, and the conflicts of class and values among American blacks. The mother's work is that of a washerwoman, and the work is useful but the position of service connects her to a disreputable past, and to present circumstances that contain both difficulties and opportunities. Black people, inheritors of a painful history of enslavement and discrimination in employment, education, housing, and the justice system, in a country that prides itself on liberty and justice, try consistently to update their public image, making that image more accurate, modern, and positive; and that makes African-Americans carriers of both a troubling tradition and a promising modernism. The family in Dirty Laundry has aspects of both tradition and modernism, and the mother Evelyn Davis is a complicated figure, a woman of anger and love as well as of cultural resource and ignorance: she, Evelyn (Loretta Devine), has sustained the family but also injured its members, forcing them into the patterns she favors, and they feel compelled to leave her in order to grow.
Others have left the mother in Paris, Georgia, a small rural American town; and her son Sheldon Patrick Davis has left and been gone for a decade, not returning to his mother's neat, cozy house until his mother has sent a little boy, Gabriel, claiming to be Patrick's son, to visit Patrick in cosmopolitan New York. Patrick is a successful writer whose work has reached a dead end; and he has been involved in a romantic partnership with a young white man, who follows Patrick to the Georgia town (regrettably, Patrick's lover is slow to realize that when Patrick described his mother as living in Paris, that meant Georgia, not France). Patrick is played by Rockmond Dunbar, an actor who has been featured in television on "Girlfriends" "Grey's Anatomy," "Prison Break," and "Soul Food," and in the films Punks and All About You, Kiss Kiss Bang Bang, Love The Way, Misery Loves Company, Sick Puppies, and Whodunit. How is Patrick coded as gay before that word is spoken? His face is expressive, his standards precise, and he closes his legs while sitting down, he wears a night mask over his eyes and smells of something pleasantly fragrant even while sleeping, he wears a pink shirt, and he is polite; and the coding is so persistent, the revelation of his sexual (and social) orientation seemed rather slow-going. Is that coding accurate, or an invented archetype? It may be both, but the actor playing Patrick, Rockmond Dunbar, is personable, and one believes one is seeing a human being rather than an idea of one.
One of the film's central questions is whether Patrick, an independent man, wants to assume responsibility for a son, Gabriel (Aaron Grady Shaw), a cherubic, tie-wearing little gentleman, following the too-absurd death of the boy's mother. Patrick's mother Evelyn believes in the ties of blood relations, the care, loyalty, and obligation; and she assumes that, like many African-Americans before him, Patrick will do what he should even though that may be difficult or inconvenient. (Why did a decade go by before anyone notified Patrick of Gabriel's existence by telephone or mail?) Patrick, who first denies being able to have children, knows he does not have to take active responsibility, that he need not do more than write a check, and the question for him is, Do I want to rear a child? It is one of the funny, and quite bewildering, things about life that, no matter how prepared we try to be, life's events always push us to our limits; and we must decide then whether to maintain or surpass those limits.
Other characters include Patrick's brother, his sister, and his aunt. The two brothers are different; one a dreamer, one practical, one an artist and one a laborer (Patrick's brother Eugene is a butcher, and when he brings his mother large parcels of meat, it is hard not to be delighted for the good eating that is promised). The writer-brother's fragmented spoken narration of the story of his return cites sibling rivalry, Cain and Abel, and the Melendez brothers as reference points. The somewhat bigoted country brother, Eugene, is played, expertly and surprisingly considering his own personal profile, by the film's director Maurice Jamal, a gay African-American; and the sweet sister Jackie is played by Terri J. Vaughn. The sister is attractive, almost plainly so (and that seems right for the region), and she exudes care and decency; and she, Jackie, the mother of a plump daughter, secretly plans to become an air flight attendant. Jenifer Lewis's performance as Patrick's well-garbed aunt, a choir singer and the wife of a businessman, Aunt Lettuce, is forceful as always, usefully showy, but one wonders if there is more to her character and to the actress Jenifer Lewis than the external stuff that we see: she is simultaneously an assertion and subversion of self-confidence, a walking satire. Certainly, there are varied types of humor in the motion picture, including elements of camp and farce, and her character is a large part of that.
The supporting players in the film look right—which is to say, they do not look perfect: they are not glamorous and many are fat, especially the black women. Patrick's lover, Ryan, I thought at first look, seemed freaky, as did Ryan's best friend, but the more I saw Ryan (Joey Costello)—goofily wide-eyed, sweet, slimly muscular—I could see that he was intended to be a unique person, not an admirable mannequin: Ryan is not a trophy, but the man with whom Patrick has found comfort, encouragement, pleasure, and support. Ryan does not have the arrogance, the perverse sense of privilege, of some white homosexual men. One supposes that Patrick might have met other men, perhaps in New York's contentious queer black cliques; and that Patrick might have pursued a large and wanton sexuality in the city's bars or on its back streets, but that he chose something other than an animal existence: friendship and love. Ryan is first not welcomed by the mother, Evelyn—"A partner, a white boy, in my house, and on a Sunday?"—but a room and bed are prepared for his visit. Ryan does become a significant factor in the family, forcing Evelyn to compare Ryan's loyal love for her son with her own abrasive attitude.
The arguments in the film are about what kind of person and work and life are to be considered of significant worth: Patrick considers his mother and brother's childhood treatment of him—criticizing him for his sensitivity and attention to writing—as judgmental and cruel, and they consider his adult attitude—a concern for accomplishment and sophistication—as judgmental of them. I wish that we, in the audience, heard more of the "big ideas" Eugene accuses fancy Patrick of having, and that we knew more about the actual content of Patrick's work: apart for his youthful hope to write a great novel, is Patrick interested in the arts, in philosophy or politics, in science, architecture and interior design, or languages, in the roles of men and women, in public styles of self-presentation, in same-sex marriage, or minority groups and illness? The film's most fundamental questions are: Is it possible to live with, or near, people who disrespect your inner life and your chosen profession? Is it possible to have a dialogue with someone whose concerns seem foreign, impractical, and self-indulgent? It is gratifying that issues are engaged, without the insults being too wounding.
What kind of life can you have if the world—family, school, church, business, and cultural institutions—does not support you?
It may be interesting to look at the presence or portrait of black gay men in some of the American films preceding Dirty Laundry: in Shirley Clarke's Portrait of Jason, a talking, singing, bespectacled, well-dressed, drunken psychological case, Jason Holiday (also known as Aaron Payne), a singer, houseboy, and whore, is at the center of the 1967 Film-Makers Cooperative black-and-white film that Ingmar Bergman admired (Jason is a manipulator, a hustler, similar to that played by Will Smith decades later in Six Degrees of Separation: what else might one be with little practical regular support, in a world of plenty in which you have nothing?). Film critic Manohla Dargis, in an appreciation focused on rich girl turned dancer turned filmmaker Shirley Clarke, called Portrait of Jason "a stunning nonfiction film about a black gay hustler that's nearly all monologue and is alternately a confessional, a burlesque and a tragedy" (The New York Times, April 27, 2012).
After the civil rights movement of the 1950s and 1960s that brought greater liberty for blacks and inspired the feminism and gay liberation of the 1970s, skip ahead almost a decade from Portrait of Jason to Norman,…Is That You?, from documentary to fiction, with the latter a theatrical film in color starring Redd Foxx as a jilted Tucson dry cleaner who finds that his handsome, smart son Norman (Michael Warren) in Los Angeles is gay, and has a cross-dressing boyfriend, a film based on a Broadway play by Ron Clark and Sam Bobrick: calling the comedy lukewarm and junky, Roger Ebert praised Redd Foxx but wrote, "What happens then will set gay liberation back months. The movie claims one in six people is homosexual; after this, the ratio may go up to one in 10" (Chicago Sun-Times, October 4, 1976). The film Norman,…Is That You? features confusion, shock, outrage, and stereotype, rather than complexity or truth, with the parents—Redd Foxx and Pearl Bailey—scheming to bring their son back to heterosexuality; and, like Dirty Laundry, it is a broad comedy; and one must admit that many African-Americans like broad comedies, as do many Americans in the general population—and such comedies may fit the sensibility of persons who are inclined toward extreme emotion rather than subtle thought, people who really need to laugh; and the comedies are a genre, a delivery system, for the introduction and discussion of topics that may be too painful or volatile to handle in other forms.
The great and dignified Sidney Poitier of all people, and possibly out of misplaced populism, directed a Richard Pryor-Gene Wilder comedy, Stir Crazy (1980), in which two men are mistakenly sent to prison, and one, Pryor's character, finds himself the love object of an effeminate prisoner played by Georg Sanford Brown. It is a small digression in the film, but becomes significant for the artists involved: a certain acceptance and tolerance are suggested for the affection and female attire. (I recall thinking the film was amusing when I first saw it, as I loved Richard Pryor, though cannot imagine what I would think of it now: yet, Frederic and Mary Ann Brussat of Spirituality & Practice, decades after its original premiere, actually describe the film as being very funny.) Soon after appeared a more significant work: The Sophisticated Gents (1981), a three-part American television drama based on novelist John A. Williams's The Junior Bachelor Society; a film work written by Melvin Van Peebles and directed by Henry Falk that was released in European cinemas. The New York Times writer John J. O'Connor called it "one of the more fascinating television movies of the year" (September 29, 1981); and it featured Bernie Casey, Robert Hooks, Raymond St. Jacques, Paul Winfield, Rosalind Cash, Alfre Woodard, Janet MacLachlan, and Denise Nicholas among others, and focused on a group of men who met as boys and played sports together for a great coach, and reunite to celebrate that man. "It is about ambitious, talented, hard-working people making it into the middle class. It is about the dreams and disappointments that recognize no color barriers," said O'Connor. In The Sophisticated Gents, actor Raymond St. Jacques is the fur-wearing concert performer Dart Parks, who has homosexual inclinations but is married to a white woman, a sophisticated conception.
Following the British film The Crying Game by a few years was the American director Hal Hartley's film Flirt, which features a black gay man who seduces a heterosexually married white man, a rather provocative story that disappoints for its unusual casting. In Neil Jordan's much acclaimed film The Crying Game (1992), black American actor Forest Whitaker plays a British soldier that the Irish Republican Army takes prisoner, Jody, who introduces another man, Fergus (Stephen Rea), to the idea of a woman, his lover Dil (Jaye Davidson), who turns out to have something extra, a penis. The seduction of Fergus explodes assumptions of allegiance and identity. In Hal Hartley's Flirt (1995), there are several stories of love and conflict that take place in New York, Berlin, and Tokyo; and in the Berlin segment, the African-American Dwight (Dwight Ewell) becomes involved with Werner, a married painter, though Dwight is already in a relationship with an art dealer, Johan: Dwight, like the lovers in the other stories and cities, cannot quite decide what he wants. It is an intriguing scenario, but I just did not think that Dwight Ewell, though interestingly idiosyncratic, was attractive enough to distract a man from his beautiful wife.
In Spike Lee's Get on the Bus (1996), with a script written by Reggie Rock Blythewood, a bus leaves Los Angeles with black men on their way to Washington, the District of Colombia, for a march of a million men affirming personal responsibility and community, organized by a Muslim leader; however, there is inadequate discussion of how in the past both the black Muslims, with their talk of white devils, and the black arts movement, with its get whitey poetry and rhetoric, and their shared demonization of bourgeois African American success, have been divisive, promoting hatred and justifying ignorance in the name of a false pride, pride without achievement. The film Get on the Bus offers an intimate view of men usually seen in profile and pose, lacking poignancy: the multiplicity of perspectives is an affirmation of humanity. The San Francisco Chronicle_'s film critic Mick LaSalle, writing about _Get on the Bus, found that "The group represents a cross-section of the black experience in America, but it doesn't feel like a manipulated sampling. It's just a group of guys, and the clashes that spring up over the course of their three-day journey to Washington seem organic" (October 16, 1996). Among them is an attractive, complex, dignified, intelligent gay couple, men in a believable relationship; and it is a sign of progress that, though baited by a bigoted actor who may have professional or personal reasons for insecurity, the male couple are part of the diverse black male community.
It has been rare for a film to feature more than recognition of the fact of sexual difference and actually to articulate a consciousness of existence—complexity of mind, personal goals, social rituals, sustaining values. In its focus on Patrick's hurtful childhood, presented in black-and-white flashbacks, and his current confident and colorful life—his friends are a quirky bunch—but not an untroubled present life, there is the beginning of a meditation on a distinctive existence in Dirty Laundry. There are scenes of both Patrick and his son Gabriel alone, portraits of solitude that indicate the primacy of, and the respect for, an inner life. Ultimately, there is great regard for human decency in the film, regardless of differences.
"_Dirty Laundry_ is a family friendly comedy that doesn't portray African-Americans in any of those stereotypical characters, you know the gangsta, the killer, or the dope dealer. I mean, isn't that what we've been fighting for, more films that feature African-Americans in positive roles?" declared blogger Jasmyne Cannick, in a December 10, 2007 essay on the web log named after her. Cannick was writing regarding the failure of Magic Johnson's theaters to present the film in the black community in Los Angeles's Crenshaw or New York's Harlem: the film was marketed to blacks yet put in theaters in white gay neighborhoods. Jasmyne Cannick's longish piece is an uncommon example of accessible intellectual activism; and she noted that the black gay angle of the film was controversial (proof being the paucity of black gay characters in cinema), but that the film's pleasing elements, including its cast and particularly its lead actor, made it very appealing: "Rockmond Dunbar's character is an African-American openly gay male. And yes, this is the same Rockmond Dunbar who is best known for his leading role as Kenny Chadway on the critically-acclaimed television series 'Soul Food' and as Benjamin Miles 'C-Note' Franklin on the television series 'Prison Break.' He's also the same Rockmond Dunbar who starred in the independent feature film Punks, a romantic comedy about four Black gay friends living in L.A., which co-starred Seth Gilliam of the hit HBO series 'OZ.' He also made a guest appearance on the MTV Logo series hit 'Noah's Arc.'" Cannick named some of the past and recent films that do project a black gay presence: But I'm a Cheerleader, The Color Purple, The Fifth Element, Midnight in the Garden of Good and Evil, and Set It Off are films with characters that are gay by declaration or implication. Jasmyne Cannick concluded that the film Dirty Laundry, an entertaining work that does not indulge in sex or violence, should have been marketed to all audiences that might have been interested in seeing it; and she encouraged her readers to see it—but the film made less than twenty thousand in two theaters during its opening weekend, and yet it did, subsequently, receive distribution in different parts of the country.
Is it possible to see a man whole, or his work fairly, in a society in which that man is usually thought of as marginal rather than significant?
The industry publication Variety_'s Robert Koehler, who saw Maurice Jamal's _Dirty Laundry at a festival screening, was not impressed by the film, but found Loretta Devine satisfying as Patrick's mother: "Devine, by contrast, feels Evelyn's entire range of emotions, from shock and surprise to eventual acceptance, and with a masterful sense of how to make even the corniest lines work to her advantage" (August 7, 2006 in print; online July 26, 2006). Koehler's assertion that the film served no cinematic purpose made me wonder if he had an antipathy to the film, to its subject or technique; certainly, the story in Dirty Laundry is not common, there are not one hundred films just like it yet, and, regarding technique, technique exists to serve idea and story; and, with the exception of how Veronica Webb as Patrick's glittering editor Susan was filmed in her very short skirt, and the shifts between foreground and background in a kitchen scene with Patrick and Ryan, I thought the filmmaking technique was fine. It does make one wonder if film critics look for things to praise or for things to damn. Yet, Gary Goldstein in the Los Angeles Times recognized that the film contained some honest moments, and though Gary Goldstein's response was quite critical (he found too many plots, little developed properly), Goldstein disagreed with the Variety writer about Loretta Devine as the prodigal son's mother: "The normally engaging Loretta Devine as his mother, Evelyn, an ornery, tippling laundress coming to terms with her gay son as well as her hard-knock life, is also undermined by the unfocused script. Despite her obvious commitment, the actress is as uneven as her material " (December 7, 2007). What does that prove? That perception varies. The pronouncement of the New York Daily News, was rather mixed but more favourable, as Elizabeth Weitzman declared, "Looking for plot holes? You can't miss them. But if you go in hoping for a good time, you'll find that, too" (online December 6, 2007).
Although a reviewer, an eloquent but apparently anonymous one, for the web site After Elton noted that the motion picture inspired no excitement, no urgency, the reviewer also tried to account for his own response, making it one of the more interesting reviews: "Maybe this jaded urban viewer was blindsided by all the Southern hospitality, but everyone's just so… nice…That's the word that keeps popping into my mind when I think about this earnest low-budget family comedy: nice. The cast is nice, the characters are nice, the score is nice, the settings and dressings are all very nice and pleasant and likable. Chances are if you don't like nice, Dirty Laundry won't be nearly dirty enough for you…But if you're open to a change of pace in your gay films, this movie is worth a look for several reasons…For one, it is a rare gay movie that isn't oversexed or determined to sass, zhuzh, or bitch-slap the audience to death. If dining on the buffet of Jacks and Carsons and Marc St. Jameses has left you stuffed with camp and cliché, and you'd rather digest without the heartburn caused by blatant innuendos, badly simulated 'comic' sex scenes and thinly-veiled dick jokes, Laundry has just the recipe" (December 5, 2007).
Individuality is one of the ideals of American culture, but it is not without its controversy, as there is a daily, natural, strong inclination toward the most mundane habits of conformity of mind and practice. Why not go along to get along? There is a strain of pragmatism in American culture that makes ideas and ideals seem like an indulgence if they do not serve a practical or sentimental purpose: there is an inclination against change, against difference, against progress, until an argument can be made for individuality or difference on behalf of business or simple pleasure or common decency or the general welfare. To be part of a minority group in America sometimes keeps one away from the mainstream of culture, but also can intensity both the virtues and faults that the minority shares with the majority: for instance, literacy and writing have been very important to some African Americans, as can be seen by looking at the slave narratives, poetry, novels, and essays that have been produced; and at the same time other Negroes have been indifferent, and even hostile, to intellectual life.
To be a thinker is to respect and take delight in fact, perception, logic, and idea, and to delve beneath the obvious, below the surface of reality, beyond the realm of established knowledge and common understanding; and to be an artist is to recognize nature for its beauty, structure, and life force, but to imagine an order that nature did not provide, and to use craft and skill to create an object that embodies one's vision; and to be a writer is to be a witness, the maker of a record, and to be as well a thinker and an artist. It is, of course, easier not to think, not to feel, not to imagine, not to do.
To be human is to think and feel, and to attempt to live according to purpose and reason and morality; and there is more than one way to be human, and more than one kind of entertainment, obvious facts worth remembering in light of our sometimes vociferous attitudes to difference and dissent. The two brothers in Dirty Laundry represent different ways of being: one, a writer, is ambitious, imaginative, sensitive, sophisticated, a man full of changes, and the other is a laboring man in business, practical, tough, also a family man, a man of consistency; and their family and community, whether or not they know it, require all those qualities for health and prosperity. The conflicts in society are frequently created by an insistence on this over that: paradigms of white versus black, male versus female, straight versus queer, although the richness of experience, of culture, and of society depend on diversity.
What is bequeathed, and what is inherited? What is chosen, and what is found? Patrick relishes his elegant Sunday brunches in New York, and his mother Evelyn enjoys attending Sunday morning church service then picking up fried chicken for the family's lunch in Georgia. Part of the same family, they are different. The mother, at one point, says that Patrick always had too much pride, but he says that it took him a long time to develop self-esteem: they have divergent perceptions of who and what he was as a boy, and incompatible assessments of who Patrick is in the present. Evelyn says she tried to provide Patrick and his siblings with a house, a home, guidance, a good upbringing, and wishes that Patrick respected that effort more. Patrick's brother Eugene says that he is not worried about his brother as Patrick always takes care of himself, suggesting Eugene's sense that family members should and do sacrifice themselves more than Patrick does. The question is, How much do they sacrifice? Do they sacrifice dignity or sanity or happiness? The sister, Jackie, has told her daughter that her mother Evelyn means well but is destructive and wants everyone to be as miserable as she is. Is shared misery the price of acceptance?
By the close of Maurice Jamal's Dirty Laundry, Evelyn and her son Patrick have each chosen self-correction, coming closer to each other. The happier scenes, or at least the more relaxed scenes, in the film involve Patrick's stroll in nature with his son Gabriel, and some children speculating about Patrick as he sleeps wearing a night mask (a superhero? a cat burglar?), and Patrick and his sister Jackie walking together on a local bridge, and a backyard barbecue with Eugene and his wife, in which Eugene and Patrick share pit duties and talk (Eugene has the odd idea of developing a pork sausage that tastes like turkey). There are two harsh family scenes, one at the middle of the film and one near the end, in which difficult things are said, and they are actually very engaging: the truth of what is thought and felt must be seen and spoken. However, I am not sure that the film's ending, with Patrick considering remaining in town, is as happy as the mother thinks: boys leave home for more than one reason.
(Article submitted December 2012)