Light Keeps me Company: The Life and Art of Sven Nykvist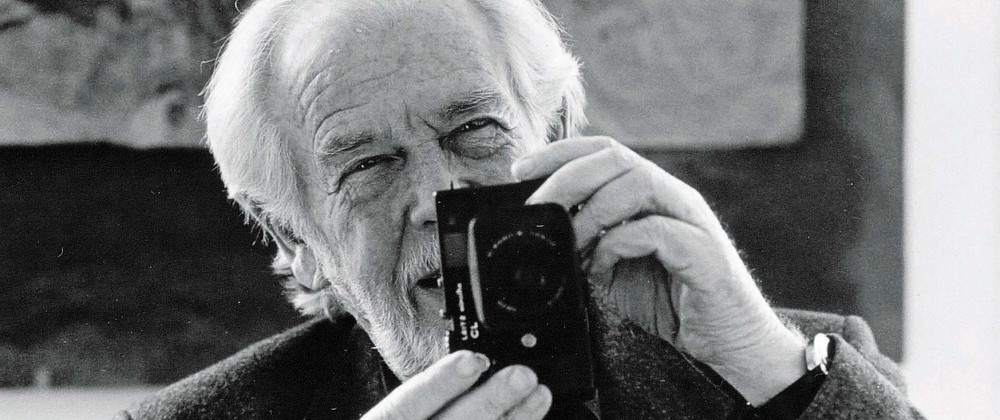 Outside of the marvelous Visions of Light (1992, Todd McCarthy, Arnold Glassman), documentaries of the art of cinematography are few and far between. I may be wrong, but I think Light Keeps Me Company (Carl-Gustaf Nykvist, 2000) may be the first documentary entirely devoted to a single cinematographer, the Swedish legend, Sven Nykvist. If so, it's not a bad place to start. However, given the dozens of documentaries on directors and actors, it seems a shame that cinematographers and their art have been given so little relative exposure.
While Light Keeps Me Company is nowhere near as interesting a piece of documentary as Visions of Light, anyone with a passing knowledge of Nykvist will learn much from this heartfelt account of Nykvist's life and art. The film is directed by Sven Nykvist's son, which may raise initial doubts about the film's ability to remain objective about its subject. But this never becomes an issue, since Carl-Gustaf Nykvist is well aware of this position, and makes no claim to being an outsider. That being said, the film does attempt a balance between Nykvist the man and Nykvist the artists.
Son/director Carl-Gustaf Nykvist with Ingmar Bergman
Formally, the film is your standard documentary, using film extracts, interviews, voice-over text reading, and photographs to explore its subject. Being his son, the film has a direct access to the personal side of Sven Nykvist, which means we get footage of Nykvist relaxing in his home and many home photographs which lend the film a quasi-home movie feel. However, the film is far from being a slavish home movie, as we get to hear from many of Nykvist's closest collaborators, including, of course, the single figure he is most identified with, Ingmar Bergman, and Swedish performers Liv Ullmann, Harriet Andersson, Bibbi Andersson, Erland Josephson, Stellan Skarsgård, along with international directors (Woody Allen, Roman Polanski, Sir Richard Attenborough) and performers (Julia Roberts, Susan Sarandon, Melanie Griffith, Gena Rowland) that he has worked with. All the interviews are brief, but the set of interviews that are most interesting in terms of reflecting on Nykvist's art and his contributions to the history of cinematography are, not surprisingly, the one's with his peers: Vilmos Zsigmond, Laslo Kovacs, Guiseppe Rotunno, and Vittorio Storraro.
Nykvist with Storraro
From a biographical standpoint, the film touches on some of the most traumatic and dramatic moments in Nykvist's life: his childhood experiences in the Congo with his missionary parents; the divorce with his wife of 16 years; the tragic suicide of his first son Johan, which occurred during the shooting of Pretty Baby (1978), his romance with Mia Farrow, and the onset of aphasia (a disease which effects the speech) in 1998.
As a huge admirer of Andrei Tarkovsky, I was hoping that the documentary would touch on the meeting of these two giants in The Sacrifice (1986). Although the section on his work with Tarkovsky is brief (two minutes), it is telling. It is well known that Tarkovsky and Bergman were huge admirers of each other's work, to the point of awe. So much so that, as Petrie and Johnson note, they never met even when they had offices in the same building in Stockholm during the shooting of The Sacrifice. Quoting Nykvist, they "avoided one another out of shyness."1 It is also well documented that the working relationship between Nykvist and Tarkovsky got off to a strained start. Nykvist was slightly perturbed that Tarkovsky insisted on always looking through the viewfinder. But once Nykvist understood why Tarkovsky did this, and accepted it, the relationship went fine.
He [Tarkovsky] makes his films by way of the camera. This upset me at first. I thought he was taking over my job. But we had a frank talk about it and he explained that he always builds up his scenes like this. And of course he trusted me with everything pertaining to the photography. It was the choreography itself he did through the camera. (Sven Nykvist, The Sacrifice press book)
In the presentation of their working relationship I did, however, note a contradiction between the documentary and previous written accounts, which I would comfortably ascribe to the overall context from which the claims are being taken. In the documentary, we hear Erland Josephson, who acted in The Sacrifice, say, "At the outset, Sven felt that Andrei Tarkovsky's picture composition was conventional. An actor had to be in mid-frame. He worked mid-frame. Sven said the Russian school did things that way." Meanwhile, in a written account Nykvist states: "Tarkovskij's ideas of a take are different from those of most other directors….His compositions are unconventional. His cameras move, his actors move, and there's an impressive amount of action in his scenes." The documentary continues with another person's (Nykvist?) voice-over speaking Nykvist's words (taken, as many of the Nykvist quote are, from Sven Nykvist's own book, In Reverence of Light): "Andrei surprised me. He wasn't interested in lighting. For him composition and movement in frame were of primary interest. He wasn't even interested in the actors. Tarkovski wanted to create mood, atmosphere, in images, not words. He wanted to give life to things and to nature." Anyone familiar with Tarkovsky's films will know that lighting was of extreme importance to his aesthetics. The documentary actually contradicts itself when it continues with the following comments by actor Stellan Skarsgård, over images from The Sacrifice: "What stopped me in my tracks was the light. It was as though you could grab hold of the lighting, which he had created. It was so enormously sensual, living its own life. It almost felt as though the lighting was closer to you than the set was –without its getting in the way of the actors in any way at all." Nykvist's written account is a more accurate reflection of what was said and felt: "Tarkovskij is enormously sensitive to light –but he's even more interested [my emphasis] in the picture itself, of the movement within it…" This difference in emphasis, between light and movement, is reflected in two phrases used to summarise Nykvist and Tarkovsky's relative aesthetic ideals: sculpting in light and sculpting in time. In the director's forward, a text included as a special feature on the DVD, Carl-Gustaf Nykvist writes of the relationship between Bergman and Nykvist, "Together they were pioneers in the art of sculpting in light [my emphasis]." This stands in contrast to Tarkovsky, whose book is appropriately titled Sculpting in Time.
Surprisingly, the visual quality of some of the film extracts on the DVD are average at best. The black and white films hold up best, while, most damagingly, the color extract from Cries and Whispers is dark and contains muted colors. In terms of overall approach, my personal preference would have been for a greater engagement with aesthetic and stylistic questions of lighting, at the expense of the personal/autobiographical, but it would be unrealistic to expect the latter to be given short shrift by a son. What does one learn about Sven Nykvist in this film? I'll conclude with a synoptic overview:
Art as self-expression: The novel Siddhartha, by Herman Hesse, had a profound impact on a young Nykvist, which remained with him for his whole life. The film emphasizes this with intermittent voice-over quotations from the novel. Nykvist makes a parallel between the character in the novel, Siddhartha, who leaves his Brahmin father forever for a journey of self-discovery, and his own decision to break away from his strict family upbringing (his father was a Christian Missionary) in search of his own calling. As the film suggests, rather than abandoning his father's religious zeal, Nykvist merely transferred this passion onto his art.
A Humble Artist: The single constant image we get of Nykvist across the interviews is a man of great humility. Sir Richard Attenborough, who regrets having worked with Nykvist on only one film Chaplin, points this out as his only fault, saying that Nykvist was too modest, too reticent to speak his mind on set. Roman Polanski, who worked with Nykvist on The Tenant, said that Sven emitted 'good vibrations': "Sven had perfect 'vibes.'"
The Centrality of Winter Light: It was on Winter Light (1963) that Nykvist learned of the importance of lighting ("the changing of the light") and on which the "Bergman" look was established.
The Art of the Close-Up: Bergman comments on another important aspect of what is now considered the Bergman style: "…the greatest, most significant achievement in cinematography, is that cinematography has conquered the human face, the moving picture of the human face."
Master of Light: "Light gives me a feeling of spiritual atmosphere. Light is with you –you do not have to feel you are alone." (Sven Nykvist)
International Impact: Vilmos Zigmond notes the historical importance of Nykvist in opening the door for international cinematographers to work abroad, especially in the US.
Light Keeps Me Company cuts back and forth several times to footage of Nykvist receiving an award from the Actor's Union Gold Medal for Artistic Achievement. We then see Nykvist at home placing the award on a chimney ledge already brimming with other awards and trophies. This inclusion is no doubt a nod to one of the greatest Bergman/Nykvist collaborations, Wild Strawberries, where an aging professor (played by the great Swedish director Victor Sjöström) travels to Lund to receive an honorary award for his 50 years of medical practice. Along the way the professor reflects back with remorse on a life empty of true meaning, while achieving some sense of serenity and redemption at the end by acknowledging the importance of love and family. The parallel to this film is there for anyone to see. Light Keeps Me Company is a son's love letter to his aging father (78 at the making of the film, 82 today), one which manages to instill love and respect for its subject as both a man, a father, and an artist.
First Run Features DVD Bonus Features:
• Director's Forward
• Sven Nykvist Filmography
• Scene Access
• First Run Features Coming Attractions
[1]Graham Petrie, Vida T. Johnson. The Films of Andrei Tarkovsky. Bloomington & Indianapolis: Indiana University Press, 1994, p. 30.