Angora Love (Lewis R. Foster, 1929)/Their Purple Moment (James Parrott, 1928)/ Sugar Daddies/(Leo Mccarey & Fred Guiol, 1927)/ That's My Wife (Lloyd French, 1929)
Laurel and Hardy Times 4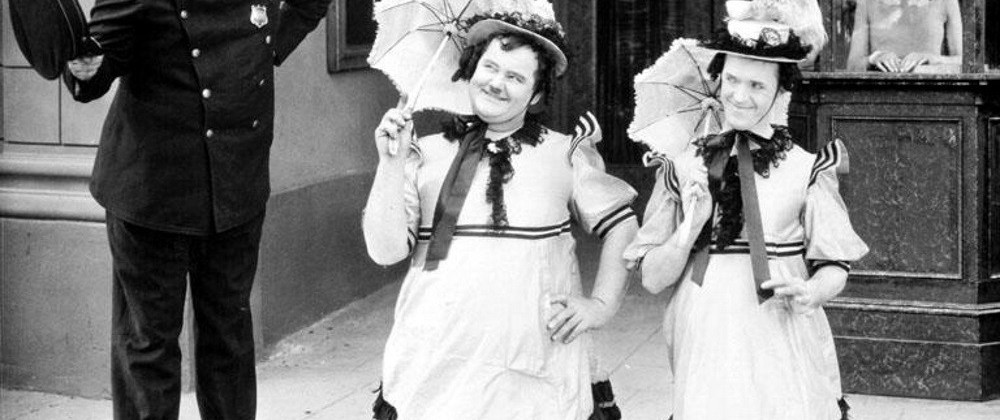 I used to occasionally catch the sporadic showings of Hollywood comedy duo (Stan) Laurel & (Oliver) Hardy's early talkie slapstick shorts (as well as the annual Thanksgiving presentation on syndicated television of that classic feature they were in, March of the Wooden Soldiers) while growing up and, while I was amused with their Vaudevillian shtick, I far preferred and, to be fair, was far more familiar with (as their numerous sound features played every Sunday morning, perfect for a lazy adolescent roustabout like myself), the manic pratfall pleasures of (Bud) Abbott & (Lou) Costello, who also started in Vaudeville and reversed the physical dynamic of Laurel & Hardy (the skinny nincompoop Laurel became the straight guy Abbott, and the disgruntled fat guy Hardy became the loveable Costello). While it's true Abbott and Costello's gags and routines (and their movies) varied wildly in quality, the plethora of unforgettable classic signature moments they did achieve were true comedy gold (the 'Susquehanna Hat Company!!' skit comes immediately to mind… and how many people still refer to the brilliant "Who's on First" routine?).
It wasn't only a few years back, that I caught some of Laurel & Hardy's silent physical comedy shorts at the Cinematheque and came to realize what accomplished physical comedians they were. In one of the 20 or so minute shorts alone, watching them jaw-droppingly dangle from, and stumble across, the dangerous heights of a building construction site while creating hilarious moments from the tension was brilliant. The program I watched it in also included shorts by well acknowledged and celebrated silent comedians Buster Keaton and Charlie Chaplin, and as far as daring do goes, they belonged right there next to them.
So it was with great excitement I took my daughter (who also saw and loved the previous silent 'physical' comedy program, also with live piano accompaniment) to this latest program of four silent Laurel & Hardy 20 minute shorts. This was the first time I noticed eventual Academy award winning filmmaker Leo McCarey (who would make one of the greatest screwball comedies ever made, one that every human being should see, The Awful Truth) was involved as both screenwriter and director in a number of Laurel & Hardy's early works (I looked it up after to discover McCarey, working at the deeply influential silent film Hal Roach Studios at the time, was instrumental in guiding and creating Laurel & Hardy's on-screen characters). However, as amusingly created as some of the situations the bumbling duo find themselves prat-falling through in the four shorts, the lack of the brilliant death-defying physical gags so prevalent in the previous shorts we had so thoroughly enjoyed left us occasionally straining a bit for laughs. Though I know it's a bit morally questionable of us to lament the fact that they weren't putting their lives on the line, what can I say? It's not our fault they weren't able to be as consistently brilliant as when they were dangling precariously over a precipice.