Korean Cinema in Montreal
Discovering Korean film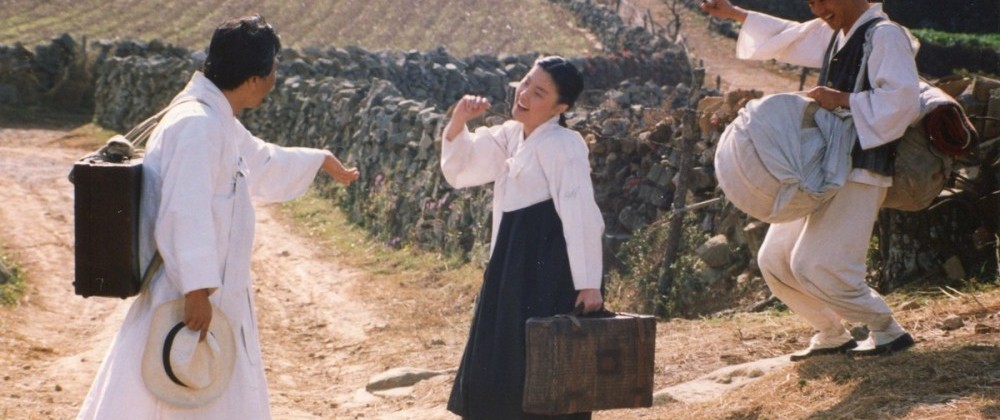 The first Korean film I saw was Im Kwon-Taek's Adada (1987) at Montreal's World Film Festival in August, 1988. Until David Overby programmed the magnificent retrospective of East Asian films at Toronto's Festival of Festivals the previous September, only a handful of Korean films had ever been screened in Canada (east of Vancouver). (Overby showed no less than eight films from the Republic of Korea in the special "Eastern Horizons" series.) But, with virtually no coverage of Korean cinema in the English language, nothing had led me to expect that Adada would be such an interesting work, thematically, stylistically, and in its narrative content.
Surrogate Mother , 1986, Im Kwon Taek
A historical drama about a high born, deaf, mute woman, Adada reflects the marginalised position of women in traditional Korean society, but also serves as an allegory for the relative subjugation of women in contemporary society (and perhaps for the historical colonization of Korea). Shin Hye-Soo's strong performance in the title role won her the Best Actress prize at the World Film Festival, and her personal appearances in high- waisted traditional Korean dresses (which she also wore in the film) helped to introduce Montreal audiences to Korean culture. It is very difficult to watch her character's demise—her husband mistreats her then leaves home to follow a prostitute; the man she then takes up with virtually drives her to suicide—but the bright colours of "Adada's" attire together with the splendour of the natural landscape lend counterpoint to the misery of her existence. While similar to the approach of Kenji Mizoguchi's "women's films" of the 1950s, Im's work here is faster-paced and more dynamic, suggesting that whereas Korean cinema shared attributes with earlier Japanese classic films, it was finding its own way in the 1980s. My next exposure to Korean cinema at the Toronto film festival, only a few days later in September, cemented this notion. I watched Lee Chang-Ho's A Man with Three Coffins (1987), a strange tale of contact with Shamanism, which is narrated through a fascinating, convoluted structure. It was clear to me from these two screenings that Korean cinema had been unfairly neglected, critically, in the "West," and following these two encounters, I have viewed films from Korea whenever possible. Small retrospectives were presented at Concordia University's Conservatory of Cinematic Art in May 1990 and November 1993, and a more extended series (selected from the major Korean retrospective at Paris' Centre Georges Pompidou) was presented there in July- August, 1994. (All three of these were supported by KMPPC and the Korean Embassy in Ottawa.) A few films have been shown at Montreal's other big annual film event, the Festival International du Nouveau Cinéma et de la Vidéo, but it is only at the World Film Festival, where Korean participation is regular, that reasonably large audiences have been exposed to new films from Korea.
As of this writing some 13 films directed by Im Kwon Taek have now shown at least once in Montreal, far more than by any other director. Clearly, through the 1980s he was Korea's most prominent director and probably, the country's most prolific—according to a publication produced for the 1st Pusan International Film Festival in 1996, Im directed 16 films in the decade. Montrealers have had more chances to see Adada than any other Korean film, but, needless to say, for those of you who haven't, it is essential viewing. Nevertheless, all of the other four films in the current series directed by Im are probably more directly revealing of Korean culture and history than Adada . Gilsodom (1985) is a good example of the director's ability to take on formerly taboo political subjects (probably due to his prominence as a "great" Korean director). Allegedly, it was the first film in a long time to deal seriously with the political divide between North and South. In it, a show on KBS television attempts to breach the divide of the 38th Parallel and bring separated families back together again. Daughter of the Flames (1983) is, for me, Im's second major work (after Mandala , 1981). Set in contemporary Korea, like Gilsodom , this film, however, investigates religion and has a trajectory of returning to the past, and the very south of the country, positing Shamanism as an essential part of national culture, while questioning the powers of Christianity. All three of these films were shot by the great cinematographer Chong Il-Song, and Flames , like Adada , has strong visual qualities, especially in its the use of the widescreen to frame shamanist ceremonies. Sopyonje , also filmed by Chong, is the most austere film in the group and like Flames has a remarkable musical soundtrack. Perhaps taking the recent Taiwanese cinema of Hou Hsiao-hsien as their partial inspiration, Chong and Im fashioned a beautiful visual and aural meditation on p'ansori, a traditional form of Korean musical story-telling (opera). Long takes allow the audience to witness uninterrupted narrative songs, while the filmmakers' choice to frame the subjects in long shot much of the time allows one to fully appreciate the figures in a Korean landscape. Sopyonje is one of Im Kwon-Taek's most beautiful films.
Much of Korea's cinematic history has been lost. Tragically, the oldest surviving Korean film was made as recently as 1946, and only two others made before 1955 have survived. The oldest, Chayu Manse ( Long Live Liberty ) and a 1956 film, Chayubin ( A Free Woman ) were shown in the Conservatoire, Pompidou selection, but only two films from the important decade of the 1960s were shown, both directed by Kim Su-yong, Kaenmaul ( The Village Beside the Sea ), 1965 and Sanbul ( Fire in the Mountains ), 1967. Both films are remarkable for their black and white cinemascope compositions of the landscape, inviting comparisons with contemporaneous Japanese and European "art films," and both deal with interesting subjects; Kaenmaul showing the collective resilience of the fishermen's wives (who are invariably widowed) and Sanbul dealing with people's struggle for survival in the mountainous borderlands during the Korean war. But, looking back on Kim's films from the 1990s, his casual treatment of rape and female suicide seems problematic, at best. Such is not the case with Shin Sang-Ok's The Guest and My Mother , 1961, a simple, elegant, gentle and beautiful treatment of unrequited love, viewed from the perspective of a young girl. This is the one film in the current series which is not to be missed: a recognised "classic" of Korean cinema which can be understood universally for its humanism, but, which can also be appreciated as being distinctly Korean in its subject matter and its style. Like Kim Suyong's films, The Guest and My Mother is in black and white and widescreen, but it has even more carefully composed framings that contain the serenity and warmth of Yasujiro Ozu's late work. Another revelation from Shin is Dream , 1967, which adds colour and action to the director's visual style. Similar to My Mother in that the story is told subjectively, and the same care is given to shot composition, Dream is otherwise quite different with its focus on a Buddhist monk who leaves the spiritual world for the physical world, in a big way. Set in a splendid old Buddhist temple and its surrounding wild, mountainous countryside, Dream is an extremely sensuous work, reminiscent by turns of Akira Kurosawa—for its majestic physicality—Mizoguchi—for its restrained treatment of intimacy; with foreground structures obscuring the background action—and King Hu, for its mixture of Buddhism and action. (King Hu may well have been inspired by Dream to shoot his late 1970s films, Raining in the Mountains and Legend of the Mountains in Korea, possibly in and around the very same monastery.) In any event, the mixture ultimately reveals something quite distinct, marking Shin as a director worthy of a major revaluation and retrospective. His tempestuous personal life, once the subject of a feature article in the U.S. Premiere magazine, would also make a great biography.
The third director being honoured in this series, Yu Hyun-Mok, is even less well-known outside of Korea than Shin Sang-Ok. I admit to having seen only one of his films, Pharmacist Kim's Daughters , 1963. Again, like many Korean films of the period, it was filmed in widescreen black and white and took aesthetic advantage of this format. Unlike Shin, though, Yu seemed to have a tendency towards complex narrative and controversial subject matter, and, in contemporary parlance, had an "in-your-face" style. Indeed, Yu's work may prove to be as interesting as Im's in its exploration of Korean culture and history. All three directors worked through the medium of melodrama, which could be a barrier to foreign spectators (by which I mean, us). Clearly, as well, in the work of all three directors there are elements of cultural difference with which we need to grapple. Hopefully, though, Montreal audiences and film critics will finally respond to Korean cinema and show up in large numbers for this major event, beginning to recognise its worth as others such as Tony Rayns in England and Adriano Aprà in Italy have already done.