An Introduction to Korean Cinema
Spotlight at Le Festival des Films du Monde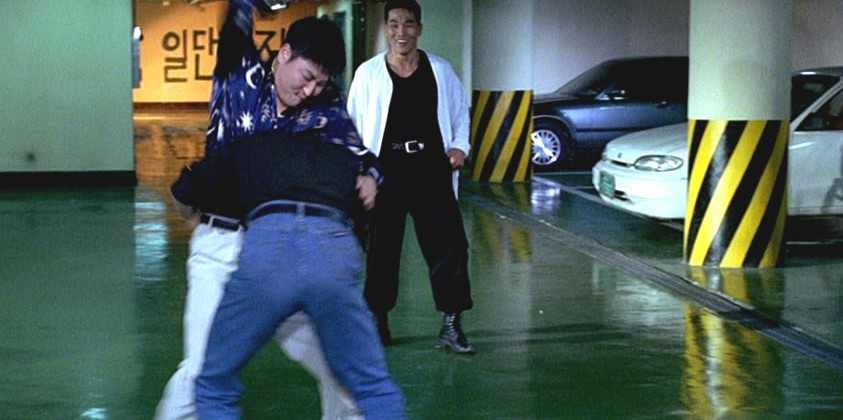 For the second year in a row, Le Festival des Films du Monde is putting the spotlight on a country in which the cinema is at the heart and soul of its nation's culture. Susan Sontag recently pronounced that cinema is dead because cinephilia is dead. Clearly she hasn't visited Iran (last year's country of focus) or Korea. One only has to watch the beginning of Mohsen Makmalbaf's Salam Cinema! where literally thousands of people show up for a casting call for a non-existant feature to recognize that Iranians are cinema crazy. And, by all accounts the same is true these days in the Republic of Korea (commonly known as South Korea). For the first edition of the Pusan International film Festival in 1996 almost all of the screenings were sold out. (Pusan is South Korea's second largest city after Seoul.) According to Korean film critic/filmmaker Lee Mijeong, young people were so enthusiastic about this film festival, they even chased British film critic Tony Rayns down the streeet, trying to get his autograph! Now, Rayns is almost certainly the most prominent non-Korean expert on Korean cinema. Yet, try to imagine a situation in Montreal, where any group of people other than a few industry insiders, film academics or students would know what a foreign film critic looked like, never mind be interested in getting his or her autograph, and you have some idea of how cinephiliac Koreans are these days. There are a number of current film journals published including the monthly, Kino , which regularly runs over 200 pages in which can be found a wealth of information about Korean cinema (obviously) and film news from around the world, as well as scholarly articles and close analyses of films. The picture I'm imagining here is Paris in the 1960s (magnified a little, perhaps). After a relative slump in attendance for Korean-made films following the sudden influx of Hollywood movies – which had been excluded from enacting a dominance prior to the 1988 Seoul Olympics – locally-produced films are now experiencing unprecedented commercial and critical success. The Gingko Bed (Jacky Kang, 1996) recently became the highest grossing Korean film ever, at $3.5 million. (It is showing locally at Fantasia '98.) The Korean film showcase at the 1998 edition of FFM (see separate sidebar) comes on the heels of a first ever Korean focus at this year's Berlin Film Festival and Canada's first major retrospective of Korean cinema in 1997, "Three Korean Master Filmmakers: Shin Sang-Ok, Yu Hyun-Mok, Im Kwon-Taek.
Historically, Korean cinema has been virtually invisible to the rest of the world, and, to some extent, to its own people. According to Adriano Aprà, only three films made in Korea before 1946 have survived, and all of those are, strictly speaking, Japanese films, having been made during World War II by occupation forces. 1 In effect, nothing has survived from the period 1926-35, known as the "Golden Era of Silent Films." 2 Included in this complete loss is the "masterpiece" of Korean cinema, Arirang (1926) directed by Na Un-gyu, which Lee Young-Il calls the "1st Nationalistic film." 3 Na was only 24 when he made this, his first film, and had been jailed for two years previously for his radicalism and involvement in the Korean "independence movement." He found a way to clandestinely criticize Japanese oppression by having his protagonist, a student, kill a rural landowner for attempting to rape his sister. Na was saved from having the film censored by the Japanese authorities, through making his young "hero" beset with mental illness, and using allegory-the brutal oppressor is not Japanese. The film was very influential on other Korean filmmakers and has been remade a number of times since. Surely, we would find in the Korean cinema of this "experimental" phase an early example of subtle political cinema, prefiguring that of Eastern Europe (notably Poland and Hungary) beginning in the 1950s, where filmmakers could not overtly criticize their own, or Soviet, governmental forces, and did so by suggestion. 4 Tragically then, not only is the first 25 years of Korean film history completely lost, but an entire movement, to boot. (Lee Mijeong has shown me a book, in Korean, on the history of Korean Cinema before 1946. It is hard to imagine the frustration of reading, or writing, a book which chronicles a period of film history which is completely lost to us!) The next phase of Korean cinema history, from the liberation (1945) to the end of the Korean War (1953) is not much better served. Aprà writes that only five films have survived, none which were made during the war. 5 ( The Guinness Book of Movie Facts and Feats , Patrick Robertson, 4th edition [Enfield, Middlesex: Guinness Publishing Ltd., 1991] lists 59 films made from 1946-49. An unknown number were made after this, during the war.) I have been lucky enough to see a print of the oldest extant Korean film (rather than a "film made in Korea"), Jayu Manse (Victory of Freedom, dir., Choe In-gyu, 1946), but it was in such bad condition to be virtually unintelligible. As its title suggests, it was the first of what Lee Young-Il calls "liberation films," and was understandably anti-Japanese; so much so that, apparently, it was very popular with Chang Kai-shek. 6 Only one film survives from the first year of film production after the war (1954, 8 films), but from then on the number of extant titles increases in sufficient enough numbers for the subsequent history of Korean film to be analyzed, and written. 7 Lee calls the period from 1955 to 1960 the "revival period": production grew rapidly from 15 films made in 1955, to 108 in '59 and 90 in 1960. 8 The vast majority of films produced during these years were melodramas. The first big popular success of the era was Chunhyang jon (The Story of Chunhyang, 1955), a remake of a 1935 hit film version of a Yi Dynasty novel which follows the struggle of a married woman trying to remain "faithful" while being harassed (even tortured) by a newly assigned county governor. The second, Jayu Buin (A Free Woman), which has been shown in Montreal, is uninteresting stylistically. Indeed, the film seems extremely reactionary today in its representation of women as willing victims of western consumerism, while men are the arbiters of trustworthiness and traditional (hence good) morality. Nevertheless, A Free Woman is quite sexually explicit (relative to other Asian films of the period), showing kissing, backs being stroked while dancing, and a couple dropping down onto a bed.
The evidence points to the 1960s as being the first significant decade of sound film production in Korea, and its industry's "classical" period. Korea's Motion Picture Law, which took effect in January 20, 1962 mandated that film companies must produce at least 15 films per year and that all films should be commercial by design. Production shifted from an artisanal practice to a studio system, and the number of production companies was immediately reduced from 71 to 16. A number of new genres began to appear "criminal mind dramas," a range of "war action" films, "spy" and "youth oriented" films_while melodramas tended to be situated more in working (rather than middle) class milieus and comedies were aimed at a wider audience (and perhaps a coarser sensibility). 9 But it took a while for the law to fully enact a shift away from realism in art film practice, where directors were encouraged through the "government's reward system for 'quality' films" to rely more on literary sources, in the second half of the decade. 10 I'm persuaded to believe, though, that a few leading directors continued to flourish as "auteurs" throughout the decade. Based on the few published Korean writings on the first fifty years of Korean cinema that have been translated, there is little discussion of "film style," and yet the work of at least three directors Shin Sang-Ok, Yu Hyun-Mok and Kim Su-Yong is very strong, stylistically, and for each oeuvre different visual parameters stand out. One could argue that all are deeply indebted to Japanese films in stylistic terms, and I have no doubt that a great many Korean film critics would consider their own cinema of this period to be dominated by Japanese aesthetics, but, I'm not sure that this is the case. Thematically, all three filmmakers had a tendency to be pessimistic and to be adept at what Lee says is Korean cinema's "specialty" in representing "the national instinct to recover from adverse conditions, and its cinematic specialty of expressing real human emotion deeply and strongly." The tendency in all three to follow the latter tenet could be regarded as a proclivity for melodrama, but rather, I regard it as a distinctly Korean contemporaneous approach (rather than Japanese) of being more emotionally direct. In fact, Shin was extremely adept at employing the close-up, not just on faces, but also on legs, feet and hands. In a word, his style was "sensuous" and he was able to combine camera movement and editing to engage the audience in the physical lives of his characters. His command of color was supreme and his placing of brightly colored, costumed characters in a natural landscape was uncannily similar to King Hu's, and in historical dramas such as KK'um (The Dream, 1967) and Naesi (Eunuch, 1968) his work with color in traditional Korean dress, clearly pre-dates Im Kwon-Taek's. Remarkably, in Yijoyoin Chanaeska (Women of the Chosun Dynasty, 1969), he switched from color to black and white footage at the bleakest moment of the first story (of three). A young woman is betrothed to a sick boy (he is much younger than her) who dies, but she still has to marry him! In KK'um , my personal favorite of Shin's films, he fashioned a relentlessly gripping work of oneirism, which manages to be serenely beautiful at times and jarringly physical at others: an errant monk imagines that he elopes with the governor's wife and experiences all of the sensations of the physical world in a "dream," enabling him to reject this world and become truly buddhist. Sarangbang Sonnim-Kwa Omoni (The Guest and My Mother, 1961) is generally regarded as being Shin's masterpiece, and is a much more subdued work than the three mentioned above. Shot on black and white stock and in widescreen, it resembles Ozu's films in its studied, gentle compositions of interior living spaces and the surrounding, natural landscape. And yet, characteristically for Shin, the story was told subjectively, through the consciousness of a young girl who wants her mother (a widow) to marry again. Shin's work is due a major revaluation for his command of the medium and the strength of his individual, sensuous (and sometimes sensual) style, even in Korea, where he may not be considered as great a director as he might, perhaps because of the scandalous "kidnapping" he endured at the hands of the unfriendly neighbor, North Korea.
Yu Hyun-Mok, on the other hand, is considered to be the key director of the period by many Korean critics. 11 His work is more obviously intellectual than others, but apart from his recognized masterpiece, Obaltan (The Aimless Bullet, 1961) which must have shocked audiences of the time with its harsh condemnation of Korea's post-war recovery creating marginalized victims_people who seemed to have no place in the new society_I find his work to be mannered, and uneven, and ultimately much more significant thematically than stylistically. Even Obaltan shamelessly borrows from Italian neo-realism, and has moments of painfully amateurish acting. But, it is redeemed by some genuinely moving scenes: a chase through a series of wonderfully cinematic, daytime cityscapes, and the depressing, slow demise of the central character; an alienated accountant, suffering from toothache throughout the film, who asks a taxi driver just to drive around at night (he is the "aimless bullet") after his wife dies in childbirth (amongst other dreadful mishaps).
Two films directed by Kim Suyong in the 1960s, Gaet Ma-Ul (The Sea Village, 1965), and Sanbul (Fire in the Mountain), which have shown here, also stand out. The filmmaker presumably wanted the spectator to identify with the plight of the female characters in both films, especially Gaet Ma-Ul which shows the solidarity of women, whose destiny is to be widowed when their fishermen husbands inevitably drown at sea. But both are also problematic in their treatment of sexual relations (with women being raped and falling in love with their rapists). Nevertheless, both films make wonderful use of natural landscapes (and in the former, seascapes). On the evidence of these two films, it would seem that Kim Suyong may have been the first Korean director to work in close relation to the traditions of Asian Landscape painting. They were filmed in widescreen black and white, and make full use of this format with long shot, and extreme longshot views, often accented by a panning camera. Even more physical than Shin's historical dramas, Kim's contemporary-set works engage the audience emotionally even against their will.
In the work of these three Korean film directors who produced their best work in the 1960s, we find the development of the art film during an industrial transition from artisanal realism to commercial studio entertainment. The special conditions of the Korean film experience at this time – the tenacious desire to create artistically while locally-made films began to enjoy unprecedented popularity 12 – helped to foster a unique "classical" period of Korean film style which has heretofore been totally neglected in North America.
Korean cinema declined in the 1970s and its revival in the 1980s led finally to some exposure in the West. Im Kwon-Taek's Adada (1987) was the very first Korean film I saw, at Montreal's World Film Festival in August, 1988. Until David Overby programmed the magnificent retrospective of East Asian films at Toronto's Festival of Festivals the previous September, only a handful of Korean films had ever been screened in Canada (east of Vancouver). (Overby showed no less than eight films from the Republic of Korea in the special "Eastern Horizons" series.) But, with virtually no coverage of Korean cinema in the English language, nothing had led me to expect that Adada would be such an interesting work, thematically, stylistically, and in its narrative content.
A historical drama about a high born, deaf, mute woman, Adada reflects the marginalised position of women in traditional Korean society, but also serves as an allegory for the relative subjugation of women in contemporary society (and perhaps for the historical colonization of Korea). Shin Hye-Soo's strong performance in the title role won her the Best Actress prize at the World Film Festival, and her personal appearances in high-waisted traditional Korean dresses (which she also wore in the film) helped to introduce Montreal audiences to Korean culture. It is very difficult to watch her character's demise – her husband mistreats her then leaves home to follow a prostitute; the man she then takes up with virtually drives her to suicide – but the bright colours of "Adada's" attire together with the splendour of the natural landscape lend counterpoint to the misery of her existence. While similar to the approach of Kenji Mizoguchi's "women's films" of the 1950s, Im's work here is faster-paced and more dynamic, suggesting that whereas Korean cinema shared attributes with earlier Japanese classic films, it was finding its own way in the 1980s. My next exposure to Korean cinema at the Toronto film festival, only a few days later in September, cemented this notion. I watched Lee Chang-Ho's A Man with Three Coffins (1987), a strange tale of contact with Shamanism, which is narrated through a fascinating, convoluted structure. It was clear to me from these two screenings that Korean cinema had been unfairly neglected, critically, in the "West," and following these two encounters, I have viewed films from Korea whenever possible. Small retrospectives were presented at Concordia University's Conservatory of Cinematographic Art in May 1990 and November 1993, and a more extended series (selected from the major Korean retrospective at Paris' Centre Georges Pompidou) was presented there in July-August, 1994. (All three of these were supported by KMPPC and the Korean Embassy in Ottawa.) A few films have been shown at Montreal's other big annual film event, the Festival International du Nouveau Cinéma et de la Vidéo, but it is only at the World Film Festival, where Korean participation is regular, that reasonably large audiences have been exposed to new films from Korea.
As of this writing some 13 films directed by Im Kwon Taek have now shown at least once in Montreal, far more than by any other Korean director. Clearly, through the 1980s he was Korea's most prominent director and probably, the country's most prolific according to a publication produced for the 1st Pusan International Film Festival, Im directed 16 films in the decade. Gilsodom (1985) is a good example of the director's ability to take on formerly taboo political subjects (probably due to his prominence as a "great" Korean director). Daughter of the Flames (1983), investigates religion and has a trajectory of returning to the past, and the very south of the country, positing Shamanism as an essential part of national culture, while questioning the powers of Christianity. All three of these films were shot by the great cinematographer Chong Il-Song, and Flames , like Adada , has strong visual qualities, especially in its the use of the widescreen to frame shamanist ceremonies. Sopyonje , also filmed by Chong, is one of Im's most austere works and like Flames has a remarkable musical soundtrack. Perhaps taking the recent Taiwanese cinema of Hou Hsiao-hsien as their partial inspiration, Chong and Im fashioned a beautiful visual and aural meditation on p'ansori, a traditional form of Korean musical story-telling (opera). Long takes allow the audience to witness uninterrupted narrative songs, while the filmmakers' choice to frame the subjects in long shot much of the time allows one to fully appreciate the figures in a Korean landscape. Sopyonje is one of Im Kwon-Taek's most beautiful films.
Following the new directions of Im Kwon-Taek and Lee Chang-ho, critics have dubbed the period of resurgence in the late 1980s as the "Korean New Wave." The two key directors are Jang Sun-Woo (born 1952) and Park Kwang-Su (born 1955). Jang's breakthrough film, Songgong Sidae (The Age of Success, 1987, also called A Taste of Heaven) showed a propensity for comedy and satire while Park's first film, Chil-Su and Man-Su (1988) carried a much more serious tone in its social criticism. Interestingly, though, both films end with virtual suicides. Two books in English have even appeared recently on the subject of the Korean New Wave: Seoul Stirring , written by Rayns to accompany a film series at the ICA in London and Korean New Wave , published by the 1st Pusan International Film Festival. 13 And, the "new wave" is clearly not yet over, as many new directors are emerging amidst the 1990s cinephilia. Amongst notable recent debuts are Lee Jae-Yong and Byun Hyuk's 16mm short on TV addiction, Homo Videocus (1991), Yeo Kyun-Dong's tragi-comic road movie, Sae Sang Bakuro (Out of the World, 1994), Lee Min-Yong's A Hot Roof (1996), which documents a group of women coming together to fight back against male violence, and Sechinku (Three Friends, 1996), a surreal look at three young male losers, directed by a woman, Yim Soon-Rye.
Perhaps the most notable first time directors have been Hong Sang-Soo with The Day a Pig Fell into the Well (1996) and Byung Yong-Joo with her documentary on Korean "comfort women" servicing Japanese troops in World War II, The Murmuring (1995). 14 Unfortunately, I have been unable to see either of these films, but at the 22nd Hong Kong International Film Festival in April of this year I was fortunate enough to see two remarkable new Korean films, both by first-time directors, Motel Cactus (Park Ki-Yong, 1997) and Chorok Mulgoki (Green Fish>, Lee Chang-Dong, 1997). Much was made of the fact that long-time Wong Kar-wai cinematographer, Christopher Doyle shot Motel Cactus , and, in truth it is wonderful to look at. Most of the interest in the film at the festival seemed to centre on Doyle's contribution, and yet it has a completely different look and aura from Doyle's hip jazzy earlier work in Hong Kong, with sensuous compositions employing foreground objects as obscuring, framing devices and with languid rather than rapid pacing. An overall romantic pessimism, though, clearly connects the piece with Wong's work.
Previously, Park Ki-Yong had been a successful producer (on, for example, Park Kwang-Su's To the Starry Island , 1994) and in co-writing Motel Cactus , he successively placed four couples in different stages of their relationship (from "yearning" for love to attempting a reconciliation via a beginning and an end) in the same room. Audiences are challenged to understand the film's fragmented narrative and recognize the continuity of its space. In the passionate desperation of its characters, Motel Cactus has a distinct Korean flavour, whereas Green Fish is nothing less than the definitive contemporary Korean film, and, arguably, the most disturbing (and possibly the most truthful) filmic representation of the world of gangsters. Before becoming a director, Lee Chang-Dong worked as a screenwriter (also for Park Kwang-Su) and it shows in the careful construction of Green Fish 's characters and plot. On returning home from military service, Makdoong meets up with a young woman, Mieh, who gets him a job, working for her gangster boyfriend. Similarly to Charles Aznavour's protagonist in François Truffaut's Tirez sur le pianiste (1960) Makdoong cannot extricate himself from the web of crime that envelops him, but, unlike the nouvelle vague predecessor, Green Fish 's realism works against any play with form or genre, and Makdoong loses his life without comic relief (while his own family unknowingly flourishes). The sudden, brutal explosions of violence which suffuse Green Fish and enhance its veracity simultaneously recall earlier, notable Korean films and highlight a Korean social problem. The openness of the emotions in both films recall differences between Korean and other East Asian cinemas of the past, and the casualness with which men abuse their power over others in Green Fish , in particular, provides a reminder that Koreans have had to withstand colonial oppression and other forms of emasculating dominance for centuries.
The prospects for more Korean film discoveries being made during this year's FFM look extremely promising. Hopefully, Montreal audiences and film critics will finally respond to Korean cinema and show up in large numbers for this major event, beginning to recognise its worth as others such as Tony Rayns in England and Adriano Aprà in Italy have already done.
PS: This essay first appeared in a French translation (trans. Elie Castiel) in Séquences # 198, Sept.-Oct., 1998
Notes