Inferno (Roy Baker, aka, Roy Ward Baker, 1953)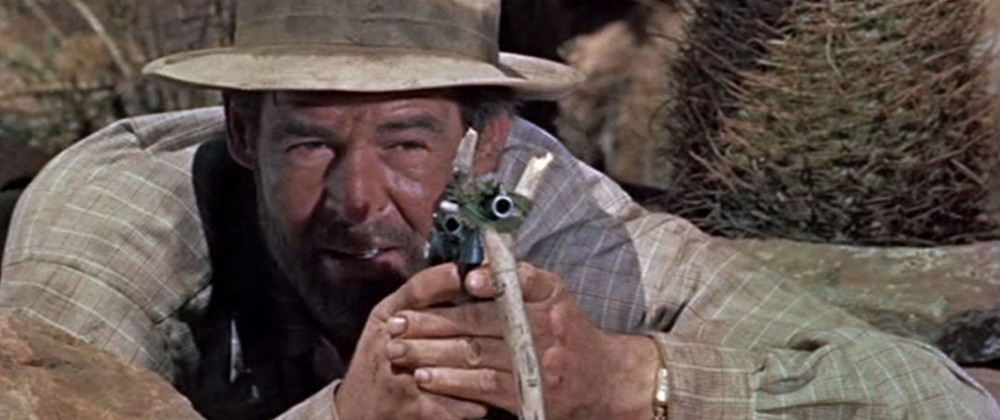 Desperate tycoon Donald Carson III (played by noir-friendly Robert Ryan), left for dead in the blistering Mojave Desert after a horse-back riding accident by adulterous wife (Rhonda Fleming) and conniving lover (William Lundigan), drags himself and his broken leg through the blistering hot, snake-filled landscape, driven on by a pure desire for vengeance.
Twentieth Century Fox's head Daryl F. Zanuck had little interest in cinematic trickery like 3D, created in a showy bid to woo people away from the growing domestic phenomenon known as television viewing, or even in the type of genre films – usually horror — associated with the technology, seeing all that type of dabbling as lower-rent pursuits not worthy of the classiness of the studio he ran (thank goodness that — similar to the case of Carl Laemmle Jr. basically single-handedly ushering in the entire now-classic line-up of Universal monsters over the huffy resistance of his high-falutin' father Laemmle Sr. who despised the idea of the beloved studio he created mucking about in monster-pictures, until the money starting pouring in, that is – Zanuck's producer son Richard had no such aversion to genre entertainment, otherwise we likely would never have had Jaws!), so when they did finally decide to enter the game, they did it late, during the quick decline of the fad… and, fortunately, with a genuinely solid film.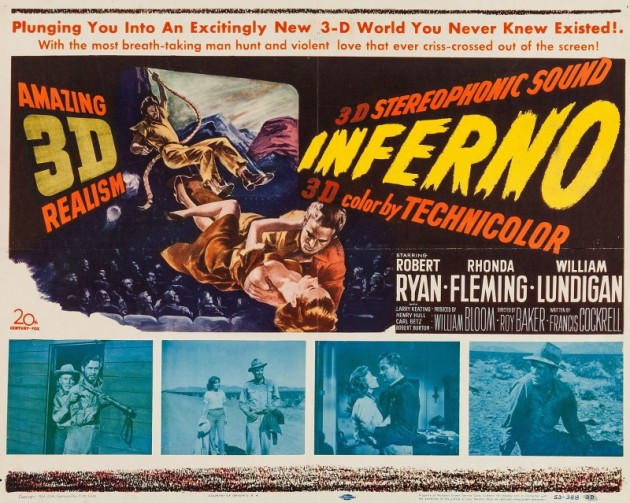 A gripping neo-noir survivalist tale, in vibrant technicolor (Zanuck's preferred cinematic audience lure), Inferno is not only the most adult film I've seen in the format, old or new (and that includes the relatively juvenile Mad Max: Fury Road, which is regardless soon up for another glance, also in home 3D, avec ex-wifey and daughter as the concluding entry in our four film shared retro of the post-apocalyptic Aussie franchise following the titular madman), but it's use of the technology to bring to blazing life the vast brutality of the desert landscape is so great I'm almost tempted to watch it without the showy format just to see if it holds up as effectively without the visual enhancement (I suspect it does, right up there with another brilliant example, though a non-3D one, of 50's color noir, Henry Hathaway's Niagara), but then I'd just be missing the wonderful (and rare) mature use of the technology — and I guess I'd be left momentarily thrown off by the occasional item on clear guard-wire thrown (now ineffectively) directly at the screen (for better or worse, even the most sophisticated-minded 3D films can't help but have a few of those)…
Starting in bold fast-moving fashion, with the accident already having occurred (with it never really described in detail exactly how it happened) — with the scared yet determined wife and lover covering up their desert tracks, impulsively deciding to take the opportunity to finally kill the old bastard, with the left-behind Carlson waiting under the sweltering desert heat for help he slowly realizes is never going to arrive — the film's narrative takes its form from a traditional noir-tale, centered as it is around star-crossed adulterous lovers driven by passion (and some 'femme fatale'-guided subterfuge naturally) to kill the cruel older husband of the sexy woman for reasons of both freedom from his clutches, as well as access to his money (with which comes first depending on which of the lovers you ask)… only cleverly turned on its head; the makers of Inferno re-invent the familiar tale, re-imagining it as if the rigid Dietrichson of Double Indemnity or the brutal Nick Smith of The Postman Always Rings Twice not only survives the murder attempt, but, through his strife – desperately dragging himself across the desert's harsh rock-faces and unforgiving white sand – begins to actually re-evaluate himself and the selfishness of his life… as back at the ranch (literally), the relationship of the two conspiring lovers begins to strain under the growing realization that outwitting the investigators may not be their only problem, as their intended victim might still be alive… and is assuredly coming for them…
While actor Lundigan comes across as a bit of a bland plank (surprisingly, considering physically he resembles a cross between Raw Deal noir actor Dennis O'Keefe and the handsome Richard Denning of the 3D Creature from the Black Lagoon … only without the chops of O'Keefe or even the second-tier handsome-ness of Denning), yet Fleming – with her vibrant red hair and lush figure – was a lovely creature made for technicolor, and for 3D (the better to experience all of those curves). There's a few nice character bits from some old studio thesps, the most fun being that of Henry Hull, an actor who seems to have been playing old men roles all of his long career (as well as having been Hollywood's first werewolf, just seven years before Lon Chaney Jr. would own the role forever, with 1935's less celebrated Werewolf of London), in this case as an old hermit living out in the desert who ultimately discovers the near-dead Carlson (coincidentally, I recently stumbled across another colorful cameo Hull performance in the eccentric, under-appreciated rural adventure film with Anthony Perkins as an axe murderer, The Fool Killer, a film made 12 years before, with Hull playing a similar, if more alcohol-soaked hermit-like character, living alone in the woods).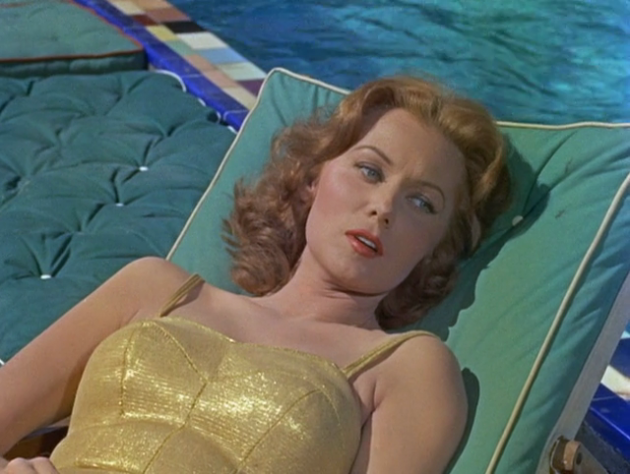 It's with Ryan, however, an actor gifted with both impressive physical presence and an underlying gravitas, where the film's emotional center really shines. Taking up most of the narrative space (including doing voiceover of his character's inner thoughts, another reference to the tradition of the noir, only instead of the man committing the murder, we're hearing from his intended victim), his Carson is initially unlikable, an unhappy man having been born into high society status, who, ironically through his current life-threatening travails, discovers an inner capacity for self-reliance and survival he never knew was there; as we watch his self-loathing (and desire for revenge) fall away, replaced by a simple desire to live, it becomes clear that, while it might be a low key performance (as is Ryan's wont), man, is it a good one.
Director Roy Ward Baker, best known to horror movie buffs like myself as the bloke who did a number of memorable Hammer horror entries – as well as that memorable 1958 Titanic film, A Night to Remember (though still not yet including the 'Baker' in his professional name in 1953, momentarily confusing me as to whether it was really him or not) – does impressive work here, managing to not only capture the sense of the vast hostile environment as oddly claustrophobic, but also the much more intricate emotional transformation of Carlson during his gritty survivalist journey.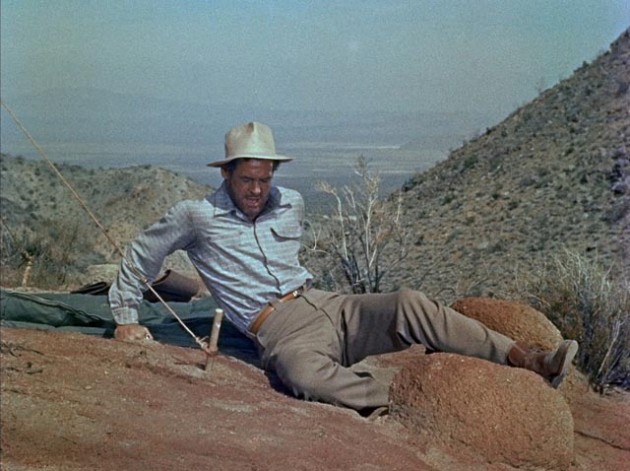 Watching the film reminded me… Baker deserves a spot on the short list for quality journeyman directors, filmmakers who aren't celebrated as auteurs, but rather are craftsman, capable of making good pictures in seemingly any genre you throw at them. He may be a few notches below the likes of, say, directors Robert Wise and Richard Fleisher, but, hell, those two are the acknowledged masters of the journeyman craft.