Hu Mei in Montreal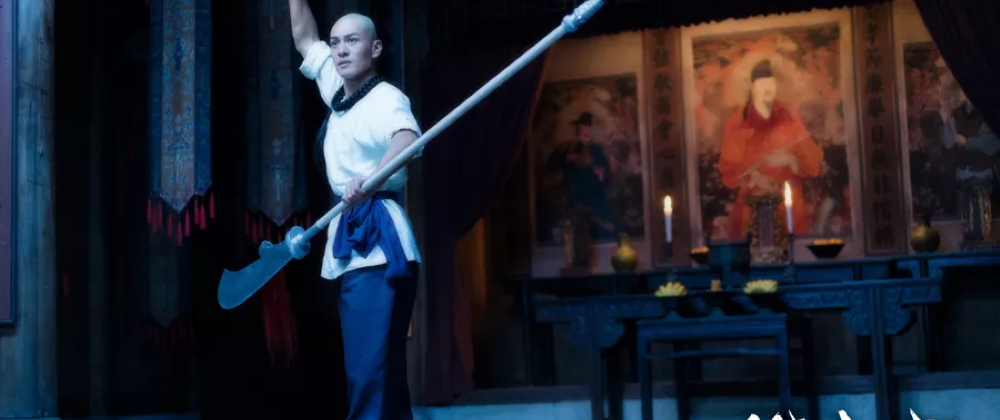 Hu Mei is one of the most successful and celebrated Chinese film and television directors working today. She was in the famous "5th generation" directing class of the Beijing Film Academy (BFA) who graduated in 1982. The Canada-China International Film Festival (CCIFF) is hosting her visit to Montreal, where her most recently completed film, Jin Huang Cheng (Enter the Forbidden City, 2017), a typically historical work, on the beginnings of Peking Opera will be showing in its Canadian premiere as the festival's opening film on Friday, 13 September. https://www.eventbrite.ca/e/cciff-opening-film-entrer-dans-la-cite-interdite-enter-the-forbidden-city-tickets-65138309437
In addition, Hu Mei's most ambitious film yet, and probably the most expensive, Kongzi (Confucius, 2010), with the Hong Kong film star, Chow Yun Fat in the title role, which received its North American premiere during the 34th edition of the World Film Festival in Montreal is being shown at the festival on Sunday, 15 September. https://www.eventbrite.ca/e/confucius-tickets-69230328777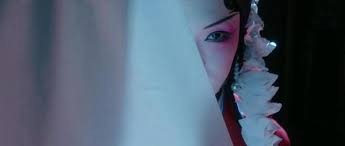 Enter the Forbidden City
Hu Mei was born in Beijing, and her parents —her father conducted the army symphony orchestra and her mother was a singing teacher— were encouraging Mei's interests in the arts. In 1973, during the "Cultural Revolution" she was admitted to the Modern Drama Troupe of the General Political Department of the People's Liberation Army (PLA), after graduating from high school. She wanted to become a stage actress, but her interests were diverted a little when she passed the rigorous entrance examinations of the BFA in 1978. Her teachers and fellow students at the BFA often deferred to Ms Hu on matters of acting, and she has indeed developed as being one of the finest directors of film and television acting, in the world. On graduation, she was assigned to the directing department of the Army's August First Film Studio in Beijing, which was notoriously the most "conservative" Chinese film studio, where individual, personal styling was discouraged. The credits of her first feature film, Nuër Lou (Army Nurse, 1985), show that it was co-directed by her male, BFA classmate, Li Xiaojun, although the sensibility of the cinematic treatment of the subject —the story of a young woman who, as an army nurse struggles to please her employers against her personal desires— is clearly feminine, perhaps, even feminist. Qiao Xiaoyu (played by Xu Ye) is in every scene of the film. She says very little, and yet we understand through her facial expressions and her body language that she is falling in love with a patient Ding Zhu (Hasi Bagen), whom she believes she can never marry. Eventually, she follows protocol and marries someone who has effectively been "chosen" for her.
Yuanli Zhanzheng de Niandi (Far From War, 1987), Hu Mei's second feature is very different in that the focus is on a male, rather than a female character: of a grandfather, an army (Yan'an) veteran (played by distinguished stage actor, Huang Zongluo), whose dreams and memories of the past lead him to look for the young peasant woman, whom he saved from rape by a Japanese soldier, during the Sino-Japanese war. Far from War (aka "Times Away from War" an alternate English title which better reflects the temporal distance, from the past) is also an interesting portrait of a contemporary Chinese family —the father is an army teacher of strategy, while the mother is an opera singer, and their young son is looked after by the grandfather. Stylistically, the film is very poetic, somewhat experimental, with flashbacks not clearly marked but triggered by the grandfather's consciousness, and with many detail close-ups, flash pans, and other subjective devices including tracking and panning movements.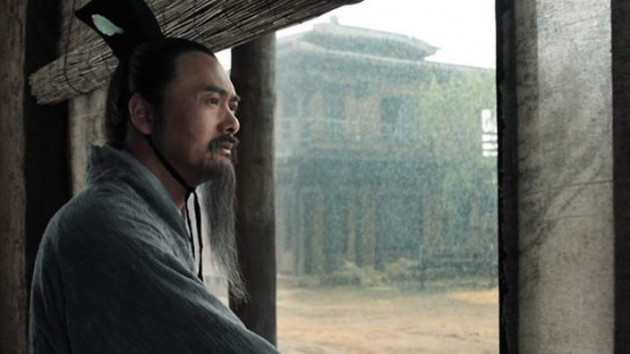 Confucius
In comparing Far From War to Chen Kaige's The Big Parade (1984), Britain's leading expert on East Asian cinema, Tony Rayns, wrote that both directors were "seeing military service as a cypher for nationality in the People's Republic." "But she is more concerned with specifics than Chen is, and her gentle, sympathetic portrait of the failing patriarch in Far From War represents the most constructive engagement yet [1989] from any member of the zhiqing* generation with the problems of their parents' generation." Unfortunately, both of Hu Mei's terrific first feature films as a director were censored by the army, and can no longer be seen in her original versions. As Rayns wrote, "Hu's [first two] films take it as a given that the army is synonymous with Maoist values, and explore the precise moments when individuals must choose between surrender to those values (and by extension, 'the good of the nation') and surrender to their emotional impulses (whether familial or sexual). It is not hard to relate this syndrome to the typical zhiqing trauma of being forced to turn against parents and friends on ideological grounds, or to the equally typical zhiqing struggle between self-sacrifice and self-sufficiency. In this light, the army background to both films takes on a very particular force…" (p. 35)
Both films are somewhat autobiographical, and during this period Ms Hu was becoming more and more interested in reading about human psychology —e.g., Freud— and western feminism —Simon de Beauvoir and Marguerite Duras— but her next feature film, Wu Qiang Qiangshou (Hitman [or Gunslinger] Without a Gun, 1988), was more conventional, and not much is known about this film or her next three features, Jianghu Bamian Feng (Wind Coming from 8 Sides, 1990), Luniao Qing (Love in Amoy, 1991), and Doushi Qiangshou (Gunshots in the City, 1992), the first of which was made at the Youth Film Studio and is a historical action film.
Hu Mei waited a long time to be able to direct another feature film, an opportunity made possible through co-production with Austria, Am anderen Ende der Brücke (The Other Side of the Bridge, 2002), which was based on a real life love story between Chinese police officer Du Chengrong and Getrude Waggner, who met while he was training in Vienna, and left to live in Shanghai to avoid the political/racist turmoil in Europe (not named as the rise of Nazism, in the film). For the film, the characters' names were changed to Ma Yunlong (played by Wang Zhiwen) and Fanny Eber (played by Nina Proll, and Susi Nicoletti as Fanny, in old age). The couple survives his imprisonment as a Kuomintang, nationalist sympathizer, but he suffers badly during the cultural revolution. The Other Side of the Bridge was included in the competition of Montreal's World Film Festival/Festival des Films du Monde, when it still deserved its status as a Class "A" competitive film festival, but unfortunately, the Austrian producers insisted on the mostly-dubbed German version being shown. (I feel that I have been deprived of seeing the original, bilingual version.) In between times, she began to direct episodes of television series, most notably, Yongzheng Wangchao (The Qing Dynasty of Emperor Yongzheng, 1997-99), which won numerous awards.
After directing The Other Side of the Bridge, she became an even more prestigious director of historical, imperial TV series, especially Hanwu Dadi (The Emperor Han Wu, aka "The Emperor in the Han Dynasty," 2003-05), which has won a number of prizes, including Golden Phoenix, Golden Eagle, and China TV Drama Feitian (Flying Apsaras) and Domestic TV Series awards for Hu Mei as Best Director. Hanwu Dadi is especially interesting because it focuses on one of the longest imperial reins of a Chinese emperor (born, Liu Che, 141BC-87BC), considered to be the greatest of the Han Dynasty. He doubled the size of the empire, to include parts of what is now Korea and Vietnam, even though he was much more bureaucratic than warlike, while developing Confucian principles and bringing something of a harmony of classes by undermining the aristocracy. Ms Hu showed all of this in her series, without neglecting to represent Wudi's despotic side. Kun Qian argues that Hu Mei allows the tension between filial piety and the law of the empire to drive the narrative of the 58-episode Hanwu Dadi, and that the series concludes with the "discourse of empire, Tianxia" (all-under heaven), informed by the "Confucian notion of harmony," i.e. the "incorporation of traditional Chinese thought" that has been introduced post-Mao, being left with the viewer, while the "evaluation of the emperor" remains "open." (p. 183)
One could argue that, as a series produced by the government controlled CCTV, and aired on its Channel 1 in primetime, Hanwu Dadi is very much a "main melody" work of Zhuxuanlü, a term that Wing Shan Ho writes was introduced by officials of the Ministry of Radio, Film, and Television, in 1987 to refer to "films that could invigorate national spirit and national pride and encourage Chinese people to construct the 'Four Modernizations,' " which contained "positive and healthy content." (p. 9) Nonetheless, Hu Mei clearly injected her own interests in character psychology, through the depiction of the emperor's struggles, and by leaving the audience open to make up their own minds. Such an approach continued with her next feature film project, Kongzi (Confucius, 2010). Any attempt at depicting the life of one of the world's greatest historical, philosophical figures is bound to be controversial, and Hu Mei should be commended on her focus on Kong Qiu's (Confucius') life in exile, when he struggled mightily away from his family, as a wandering teacher.
In his article on three 21st century films directed by 5th generation graduates that incorporate guoxue ("traditional Chinese learning") via reformist thinking —Zhang Yimou's Yingxiong (Hero, 2002), Chen Kaige's mei Lanfang (Forever Enthralled, 2008), and Confucius— Yun Zhu divides Ms Hu's film into two parts: "Confucius' service at the Lu court, and his fourteen year exile and final return." (p. 333) The film interestingly omits his early life and in showing the mortal, human side of Confucius, the second part is very different from zhuxuanlü dianying "mainstream melody' films. As Yun Zhu notes, "the film's portrayal of the defacto representative of guoxue [Confucius] still very much fits into the pattern, only a more humanistic version thereof, which incorporates the everyday side of the sage as part of his sublime nature, rather than treating it as an incidental weakness to be overcome." (p. 334)
*Literally "educated young people," also mistranslated as "urban intellectuals," but resists translation, since the term really refers to a particular generation of urban-dwelling young people at that particular time in Chinese history, when they —eventually 20 million— were uprooted and "sent down" to work in remote, rural regions of China.
References:
Chris Berry, Interview with Hu Mei, Camera Obscura, no. 18 (September, 1988): 32-41.
Klaus Eder, "Biographies of the 5th Generation Directors," in New Chinese Cinema, National Film Theatre Dossier 11, edited by Klaus Eder and Deac Russell (London: British Film Institute, 1993), pp. 84-127.
Hu Lidan, "Rescuing female desire from revolutionary history: Chinese women's cinema in the 1980s," Asian Journal of Women's Studies; Seoul, 23, no. 1 (2017): 49-65.
Kun Qian, "Tianxia revisited," in Bai, and Geng Song, editors, Chinese Television in the twenty-First century: Entertaining The Nation, Routledge Contemporary China Series (London: Routledge, 2014), 175-91.
Ni Zhen, Memoirs from the Beijing Film Academy: The Genesis of China's Fifth Generation, translated by Chris Berry (Durham: Duke University Press, 2002 [1995]).
Tony Rayns, "Chinese Vocabulary – an Introduction to King of the Children and the New Chinese Cinema," in King of the Children and the New Chinese Cinema, Chen Kaige and Tony Rayns (London: Faber and Faber, 1989), pp. 1-58.
Wing Shan Ho, "Introduction: How far Can We Go in Controlling and negotiating Cultural Production and Consumption," in Screening Post-1989 China; critical analysis of Chinese film and television (Basingstoke: Palgrave Macmillan, 2015), 1-16.
Justin Wintle, China: the Rough Guide Chronicle (London: Rough Guides, 2002).
Yun Zhu, "In search of an 'origin': Re-presenting guoxue in Chinese cinema of the new millennium," East Asian Journal of Popular Culture, 1, no. 3 (2015): 325-340.