Hong Kong in March, 2018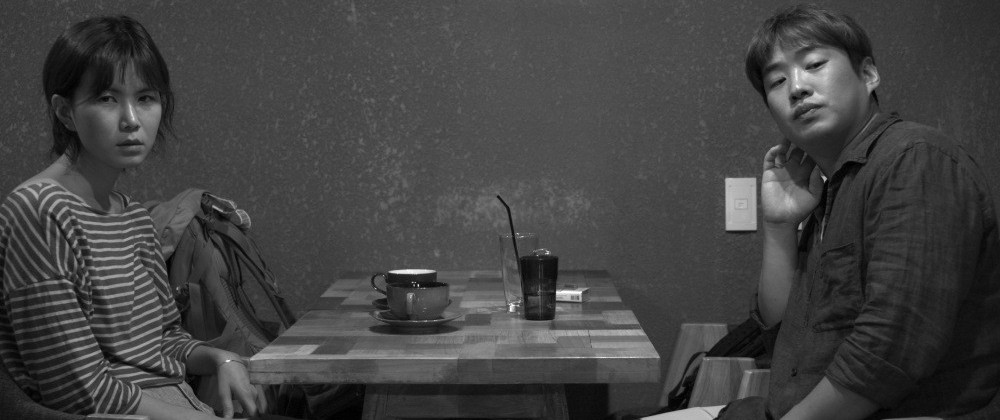 My 11th visit to the Hong Kong International Film Festival (HKIFF), in its 42nd edition was relatively brief. On sabbatical leave from Concordia University, I had been travelling a lot in the early part of 2018, including a third visit to evaluate the film program at the Ngee Ann Polytechnic in Singapore, and a short trip to Malaysia. Since I had a strict schedule for my time in Singapore, and because I wanted to attend both the HKIFF and the Hong Kong International Film and TV market (FILMART), I arrived in Hong Kong a few days early. This allowed me to catch up with some friends, and unexpectedly, through one of these, Sam Ho, a film historian/archivist, who was co-hosting an event with the Centre for Cinema Studies at Lingnan University, I was able to watch a digital copy, of what I now consider to be one of the most significant of all Chinese silent films, Fengyu zhi ye (The Stormy Night, aka "On a Stormy Night" or "Night of Wind and Rain," 1925), written and directed by Zhu Shouju for the Da Zhonghua Baihe (Great China Lilium) Film Company.
Nobody was aware of this film's existence until 2011, when Satô Akinari, a descendant of the Chinese filmmaker, Dan Duyu identified it in Tokyo. In 2006, long after the great Japanese director/producer Kinugasa Teinosuke (1896-1982) had died, his son donated his collection of films and other objects to the National Film Center of Japan. The Stormy Night originally comprised of nine reels, but the first reel had disappeared. There was some discussion at the Lingnan University screening amongst Sam Ho, director/producer Shu Kei, Lingnan University Dean of Visual Studies, (Emilie) Yeh Yueh-yu, and Shanghai University Professor Shi Chuan, who had returned the film to China, about this lost reel and the genesis of the digital copy that was shown. We believe that a 16mm print, rather than a 35mm print was what survived in Kinugasa's collection, in which case it would have been contained on no more than two reels. Shu Kei speculated that the first 35mm reel may have been deliberately "lost" to hide its Shanghai-Chinese identity from the Japanese. Up until 1932, when, perhaps co-incidentally Japanese forces invaded Shanghai, Chinese silent films had bilingual Chinese and English title cards. 1
1932 was also the year when "leftist" Chinese films became a kind of genre, and the concomitant rise of nationalism could have influenced the English-language requirement to be dropped. In any event, without being able to see the opening credits of the film, one could have surmised at the time that it was a British or American production.
Based in Shanghai, Zhu Shouju was the most prolific Chinese writer of "butterfly (and duck)" romance literature, and he was also a cinephile. In 1920, he "partnered with his cinematographer friend Dan Duyu to found the Shanghai yingxi gongsi (Shanhai Film Company)." 2 Zhou wrote two screenplays for films directed by Dan in 1923, and another for Xu Hu in 1924, before his first film as a director The Stormy Night. After this he directed 14 more films, the last of which was released in 1930. He also wrote the screenplays for most of these films and for three directed by others, including Ersun fu (Mother's Happiness, aka "The Descendant's Happiness," 1926), directed by Shi Donshan, an incomplete version of which was restored by China Film Archive in 1980. I was fortunate to see a 45 minute video of this film at Pordenone in 1997, and it was to some extent a "realist" work in its depiction of a mother who works hard and selflessly as a seamstress to feed her family, where a title card notes that when she is sick at the end of her life, it is the "only time children think of parents." However apart from this general sense of realism and my re-reading the notes I made at the time saying that there is "lots of editing," not much from this largely forgotten screening could have predicted how The Stormy Night would turn out to be such a sophisticated work of fictional filmmaking, that is in some ways more advanced than silent films made by the Shanghai studios of the 1930s.
According to Yueh and Tam, Zhou's influential "pulp fiction" novel, Xiepu chao (Tides of Huangpu), serialized from 1916 to 1921 was a hit sensation, and was attacked by May Fourth critics in its presentation of a "slice of the private lives of Shanghai celebrities (corrupt officials, reckless concubines, hapless opera performers, fickle revolutionaries, and dishonest dramatists) and their sexual indulgencies." 2 Although less scathing in its approach, The Stormy Night comically exposes the romantic transgressions of its Shanghai bourgeois characters and rural landowners, alike. Although the film ends with one of the Shanghai couples mutually confessing their intentions to commit adultery, but not actually doing so, throughout the film every adult lies to their partner, and only the young people are honest. Yueh remarked after the screening that Ernst Lubitsch's The Marriage Circle (1924) could have been seen by Zhou in Shanghai. It is almost certain that Charles Chaplin's A Woman of Paris (1924) would have been shown in China, and possibly, Mauritz Stiller's Erotikon (Sweden, 1920), both of which, arguably influenced Lubitsch in becoming the master of Hollywood adult farce and situation comedy in the 1920s. And, certainly one can see the Lubitsch touch in some of the Lianhua Film Company's films, including Bu Wucang's Yijian mei (A Spray of Plum Blossoms, 1931), where one character's gazing at another through a room divider suggests desire or longing.
Indeed, The Stormy Night is a precursor to Bu's work in its even more complex use of depth. There is a great deal of point-of-view (p.o.v.) editing in the film, and unusually for Shanghai silents, there are many exterior scenes shot on location. A Shanghai writer is sick and the family doctor recommends that he, his wife and young daughter (Chiao-no) move to the countryside so that he can recuperate. They stay in a house by a river that belongs to a professional Taoist (Old Pien). He has two daughters: the older one is clearly unattractive, selfish and rude – chewing all the time (betelnut?) – but she befriends the visiting wife, while the younger one (Yu-ching) is very cheerful and befriends Chiao-no. When the family arrive by boat, a panning shot represents Old Pien's p.o.v., showing them a beautiful view. The family go for a walk on the neighbouring hillside, and when they meet Chiao-no, she is introduced in a long shot as their p.o.v., and then, with the camera in a lower position representing a child's p.o.v., we see them in a 3-shot. In a later scene, the older sister, who is jealous of Yu-ching, whom she suspects is encouraging the love of the visiting writer, spots the two of them with Chiao-no in the far distance. In an extraordinary composition in depth, the spying older sister is framed in the foreground space with the other three characters, unaware of her presence, barely visible in extreme long shot.
I have written in the past on a perceived lack of Chinese landscape cinematography during the silent era, while I have also praised the use of the tracking camera by Zhou Ke for Sun Yu's Lianhua films, especially Xiao wanyi (Small Toys, 1933), but I have rarely seen so much expressive exterior cinematography in a Chinese silent film before, and certainly not in one made before 1931. 4 In one sequence on the river: a camera had been mounted on the front of a rowboat to view its passage under a bridge, followed by a view from the shore of this boat, followed by different camera positions on the same boat to view the two characters, paddling, followed by another deep tracking shot of the bow of the boat, showing another rowboat up ahead. When the two boats dock, we see a number of shots with different camera angles of the exiting passengers, from the side of the house. Another surprising aspect of The Stormy Night, stylistically, is how indoor scenes are broken down into establishing, group shots, medium shots, and closer framings on individual characters, à la Hollywood analytical editing, but unlike the framing and editing style of most of the surviving Shanghai-made films of the late-1920s and early-1930s. The re-discovery of The Stormy Night is indeed remarkable.
I was unlikely to be shaken-up more by any viewing experience at FILMART and the HKIFF. I planned to watch as many Asian films as I could, although, since there were no morning and few afternoon festival screenings until March 23rd, I took advantage of press TV screening access on the 22nd and 23rd to watch two much awaited non-Asian films, Argentinian Lucretia Martel's Zama (2017), and A Fábrica de Nada (The Nothing Factory, Portugal, 2017), directed by Pedro Pinho. Both films were only showing long after I was due to leave HK, and although viewing conditions were not ideal, it is clear to me that Zama is a visually and aurally complex film that I hope arrives on Montreal screens sometime, in the not-too-distant future, so that I can fully appreciate it. So far, this is the most impressive film from last year that I have seen in 2018.
The first of the new Chinese-language films I managed to see at FILMART, was Xun gou qishi (Looking for Lucky, P.R. China, 2017), directed by Jiang Jiachen, his debut feature. "Lucky" is a university professor's dog, which is entrusted in the care of a MA student, who immediately manages to lose it. The film is shot almost entirely in a series of single, long take scenes with an apparently hand-held camera, except for two cases, where a slight jump in time within the same space justifies an edit to a second shot. Apart from this unusual stylistic choice, for a relatively dynamic, contemporary tale, albeit one shot in a north-eastern Chinese dialect —it is not a Chinese "art film"— Looking for Lucky builds in narrative interest after promising little, initially. Another first feature, which was also showing in the festival, but which I decided for scheduling reasons to view during the market is Cai Chengjie's Beifang yipian cangmang (The Widowed Witch, P.R. China, 2017). Unfortunately, my choice of viewing experience was not a good one, because the copy on display at the market was poor. This is unfortunate because I could tell that, potentially, The Widowed Witch is a beautiful, original work of magic-realism, shot in Academy Ratio (1.33:1), alternating between black-and-white and colour. The winner of the Hivos Tiger award at this year's International Film Festival Rotterdam, The Widowed Witch is based on the director, Cai's knowledge of a woman in his hometown of Pinqquan in Hebei province, who had married three times, and all three husbands had died. Of course, unlike Erhao (played by Tian Tian), who after being accused of killing her husbands becomes a transformed shaman who helps people, the real-life model was not a "wicked witch."
I saw three other Chinese-language films at FILMART, two of which were also included in HKIFF programmes: a Hong Kong documentary about an outspoken and somewhat womanizing "underground" multi media artist, Yank Wong, I've Got the Blues (2017), directed by Angie Chen, and a mainland fiction feature, also directed by a woman, Yang Mingming, Rou qing shi (Girls Always Happy, 2017). The latter is yet another debut film for its director, who had made a celebrated short "mocumentary" film, Female Directors (2012) on a group of young women, herself included, who search for jobs (and love) after graduation. Girls Always Happy focuses coincidentally, like Greta Gerwig's debut feature Lady Bird (2017) in a darkly comic way on a mother/daughter relationship. Except that here, the daughter, who is very much an adult, is played by Yang Mingming, the director of the film. Also, it seems to me that although Girls Always Happy may not be more "feminist" than Lady Bird it appears to be more "political," with both mother and daughter struggling to keep employed, and to be able to have a decent lifestyle. In a surely ironic statement, Yang wrote in the HKIFF catalogue that "The film is chilling and sarcastic, a new interpretation of the tenderness and joy of modern day China." I am pleased to note that Girls Always Happy won the Firebird Award for the best film in the Young Cinema Competition and the FIPRESCI prize. Somewhat similarly to Michael Moore, the director Angie Chen is "up close and personal" in I've Got the Blues, to the extent that Wong says that the film is ultimately more less about him and more about her. Made over a number of years, it was clearly very difficult for Chen to get Wong to reveal himself to her camera, and he deliberately avoids such revelations. Nevertheless, I've Got the Blues provides an interesting portrait of the leftwing Hong Kong arts milieu, especially the musical jam sessions in Grace Ma's Club 71, which I have personally witnessed in the past.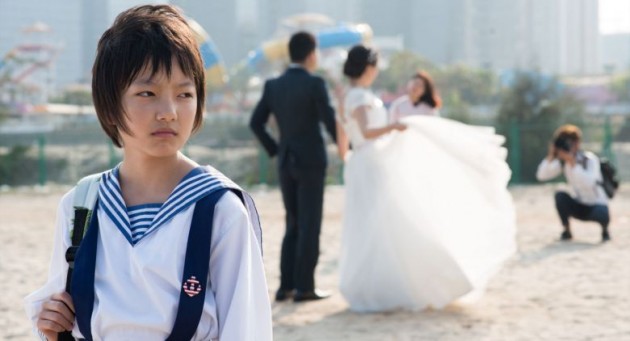 Angels Wear White
At the festival, I saw two excellent features directed by Chinese women, Jia nian hua (Angels Wear White, P.R. China, 2017), and The Rider (USA, 2017). Angels Wear White was directed by Vivian Qu, a celebrated producer of two films directed by Diao Yi'nan, Ye Che (Night Train, 2007) and Bai ti yan huo (Black Coal, Thin Ice, 2014), among others and winner of a number of awards for her first film as a director, Shuiyin jie (Trap Street, 2013), as well as this new one. The English title, Angels Wear White refers to the dress that one of the two pre-teen, schoolgirl victims of an unpunished rape by a senior official wears riding a scooter at the end of the film. In the HKIFF catalogue notes, Ms Qu also says that she chose the English title for the brides who have their photos taken on the beaches of the southern coastal town–setting of her film, where the "brides – wearing rented, often dirty wedding gowns – looked happy. They were sure that the stains on their dresses could be easily removed digitally, and that they would have a perfectly white dress in the photo, which they could keep forever." In the film, the principal illusion is that justice will be done, and the school's commissioner will be prosecuted, but the only witness, a 17-year old hotel worker, along with the girls' parents, and the doctors who initially confirmed the rapes, are all persuaded, by financial promises or threats to their jobs or their safety, to back off. Surprisingly, given its attack on patriarchy and its exposure of rampant corruption, Angels Wear White avoided Chinese censorship and even won Ms Qu the China Film Director's Guild Award for Best Director, this year. Hopefully, the film will be released in North America because of its timely approach to the sexual harassment of girls and young women. Chloé Zhao, the director of The Rider was born in Beijing, and studied filmmaking at NYU, after completing high school in London, England and a political science degree at Mount Holyoke College in Massachusetts. Her first feature film, Songs My Brothers Taught Me (2015) premiered at Sundance and was screened at Cannes in the Directors' Fortnight, but was never widely released in the U.S., after being picked up by Kino Lorber in 2016. It was set on the Pine Ridge Indian Reservation in South Dakota and featured non-professional Lakota Sioux actors. Zhao went back to the same reservation for The Rider, where she found a community of Lakota rodeo performers, including Brady Jandreau, who is suffering a severe head injury, and his best friend and mentor, Lane Scott who is terribly paralyzed, essentially playing themselves. I have no interest in rodeo culture, but this is now the second terrific film I have seen on the people who participate in these worldsthe other one being the Brazilian Gabriel Mascaro's Boi Neon (Neon Bull, 2015). I wonder if a U.S. male director (other than Terrence Malick, perhaps) could have presented such sensitive portraits of these young Lakota men (and women, with Brady's real-life sister, Lilly Jandreau playing his sister). 5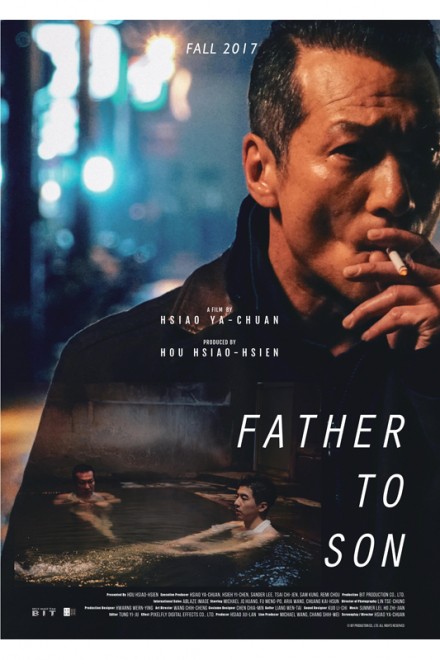 I saw one new film from Taiwan at FILMART that wasn't showing in the HKIFF, Father to Son (2018), directed by Hsiao Ya-chuan, which had premiered at Rotterdam, in competition for the VPRO Big Screen Award. Hsiao had worked as an assistant director on Hou Hsiao-hsien's Flowers of Shanghai (1998), and Hou has since produced all three of Hsiao's feature films. Father to Son has an interestingly complex narrative structure with the 60 yr. old central character, Van Pao-Te travelling to Japan accompanied by his son, in seeking the whereabouts of his father who had abandoned him many years ago, while a mysterious young man, also named Van (which is not a co-incidence) visits his mother in Taipei from Hong Kong. The plot is deliberately convoluted, making us work really hard to understand the connections between the two narrative lines, and identifying the characters in the black-and-white flashbacks. Ultimately, Father to Son is an extremely good-looking, complex film, but is perhaps a bit too "clever," narratively, and also old-fashioned in its sexual politics. Far worse in this regard, though is one of the two opening films of the HKIFF, Xiao Mei (Taiwan, 2018), directed by Maren Hwang. I watched the first half hour on a TV in the press centre, and although its narrative structure is also interesting: following around a young man looking for his former girlfriend, Xiao Mei and, like a documentary search, asking acquaintances, almost all of whom are male, if they have seen her or know what has happened to her. Apart from Xiao Mei's mother, the only woman interviewed is a drug-addicted prostitute, at which point I feared the worst and stopped watching. However, Taiwan's involvement in the festival was redeemed for me by the retrospective entitled, "Brigitte Lin Ching-Hsia, Filmmaker in Focus."
In this case, I was extremely fortunate in choosing to be attending the beginning of the HKIFF not the end, because I had seen all 11 of the Brigitte Lin films showing after I left, but none of the first three to be screened, all made in Taiwan. Lin Ching-hsia was only 17 years old when she starred in her first film, Chuang wai (Outside the Window, dir., Sung Tsun-shou and Yok Teng-hueng, 1973), and this story of a student who falls in love with her much-older teacher is extremely topical in showing how a young woman suffers, even though she is a "good girl," through the strictures of a rigid, patriarchal society. Lin was nothing short of sensational in Outside the Window, showing great maturity, and a toughness, which she carried on right through her career. The cinemascope print was nicely restored by L'Immagine Ritrovata in Bologna, Italy, but unfortunately the English sub-titles on the digital, DCP copy are huge and they weren't able to screen it properly to its full width in the (fine) Kowloon, Grand Cinema theatre. Gu jing you hun (Ghost of the Mirror, 1974) also directed by Sun, in which Lin made her fourth film appearance as the friendly ghost Su-Su, whom a chaste scholar (played by Shi Chun) tries to free, is clearly indebted in its period design, acting and cinematography to King Hu's wu xia epics. Shi Chun even plays the scholar role, familiar from Hu's films, and unfortunately Brigitte Lin was not allowed to do too much in the way of acting here, although she looks beautiful, and she is charmingly seductive, forthright and amusing. She was already something of a veteran by the time she appeared in Wo shi yi pian yun (Cloud of Romance, dir. ChenHung-lieh, 1977), having acted in more than 25 other films. Cloud of Romance is much more of a conventional romance/melodrama, albeit a tragic one, but is again, like Outside the Window very meaningful in this age of sexual harassment revelations by showing two young men (played by top Taiwanese male stars, Charlie Chin and Chin Han) who are far too demanding of Duan Wan-lu's (Lin Ching-hsia's) attentions, and whose jealousy leads to psychological and physical violence against her. They basically destroy her life. Cloud of Romance was also shown in a restored version.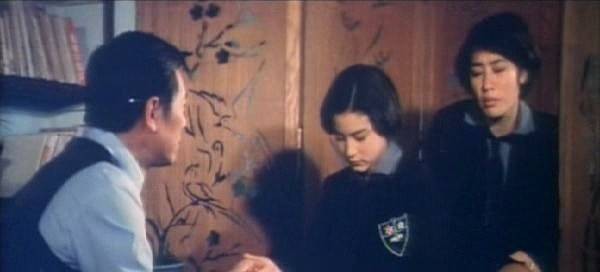 Outside the Window
On the first day of FILMART, I was invited to attend a "pitch" session, part of the 16th Hong Kong – Asia Film Financing Forum (HAF), running concurrently with the market, and held in the same Hong Kong Convention and Exhibition Centre. This was the "Work in Progress Lab Open Pitch" for films nearing completion. There were ten films being "pitched" in the three-hour session, where one representative of each project (either a producer or the director) was allowed a ten-minute introduction followed by the projection of a sequence or a trailer, followed by a Q & A. The entire session was brilliantly hosted by Joanna Lee, a great three-way translator (Mandarin/Cantonese/ English), who asked almost all of the questions —she had done her homework— but whose name, shockingly does not appear in the HAF catalogue. Surprisingly, not all of the projects were Asian, but with only one of the six Asian films being directed by a woman, perhaps the two Russian films and a Bulgarian one were included because they were directed by women. I was especially impressed by the presentation of Sister, directed by Svetla Tsotsorkova (Bulgaria), and it was clear that most of the representatives were hoping to get accepted into Cannes, although only The Little One, directed by Sergey Dvortsevoy (Kazakhstan), now entitled, Ayka, the name of the central character, an illegal immigrant in Moscow, has managed to be accepted there, into the official Competition, no less. Dvortsevoy had directed Tulpan, which won the award of the Un Certain Regard section at Cannes in 2008, and one of the Chinese co-producers, Zhu Li presented Akya at HAF. (It is also co-produced by German, Polish, Kazakh and French companies.) The sequence on view suggests that Ayka/The Little One has a real shot of winning something this year at Cannes.
I also managed to see a number of non-Chinese, Asian films at the market and festival, including two from Japan, a fine black-and-white, observational documentary, Minotomachi (Inland Sea, 2018), directed by Sôda Kazuhiro and a strange, quizzical first feature from a young, female director, Kiyohara Yui, Watashi-tachi no ie (Our House, 2017). Inland Sea premiered at Berlin, and was made over a number of years in Sôda's mother-in-law's home town, Ushimado, a fishing village, where he had also shot another documentary, Oyster Factory (2015), and where the new work interestingly focuses on a number of marginalized people. Impressively, Our House was Kiyohara's graduation film from Tokyo University of the Arts, and had screened at the PIA and Tokyo International film festival last year, before being invited to the Berlin Forum section this year. Our House is most interesting for its narrative structure where two completely different stories that are set in the same house, with near-identical décor, are intercut, but are otherwise not related. We wait to learn when they are occurring in time, but we must conclude that they are simultaneous, existing in parallel worlds, perhaps? Is one or both stories populated by ghosts? Given the film's mysterious, haunting nature, it is maybe not surprising that Ms Kiyohara's teacher was Kurosawa Kiyoshi.
Now that the World Film Festival has suffered a precipitous decline, it is almost impossible to see Indian films from the "other" cinema in Montreal i.e., not Bollywood (Hindi-language) and other popular, regional film productions, Tollywood (Telegu), Kollywood (Tamil), Pollywood (Punjab), Sandalwood (Kannada), etc. So, I was very happy to be able to see Ashwatthama (India/Korea, 2017), directed by Pushpendra Singh, set in the rolling hill, barren landscape of Chambal ravines in central India, where the director grew up. Based on the character of Ashwatthama, a cursed, wounded, bearded old man from the epic, Sanskrit narrative poem, Mahabharata, who haunts a young boy in the film, the final version of Ashwatthama is rendered mostly in black-and-white, with a few coloured dream/nightmare sequences. According to Singh, who was present at the screening, he had wanted to shoot the film on 35mm, but was unable to do so, and inspired by Víctor Erice's El espíritu de la colmena (The Spirit of the Beehive, 1973), both in its look and its subjective tale from a child's perspective, he decided to experiment with digital colour. I had wanted to watch at least one film in the retrospective to the late, great Philippine director, Ishmael Bernal (1938-1996), but as with Zama and Nothing Factory (mentioned above), the three films on view were not showing until I left Hong Kong. Nevertheless, I was able to watch the oldest of these, Pagdating sa Dulo (At the Top, 1971) on television in the press centre. Surprisingly reflexive, given that it was Bernal's first feature, At the Top is extremely critical of both the commercial Philippine film industry and the country's politics, with a stripper named Ching (Rita Gomez), and her taxi-driver boyfriend (Vic Vargas) becoming big stars only to fall heavily from grace. Bernal, who was extremely well educated, presented a sympathetic portrait of the character of the film director (Eddie Garcia) in At the Top who is dedicated to serious filmmaking against the commercial status quo and who supports the careers of these proletarian actors because he believes they can more realistically portray ordinary people. Hopefully, given that At the Top was restored by L'Immagine Ritrovata (from a 16mm internegative), this and other Bernal films may eventually become available internationally (on disc, or through a streaming service).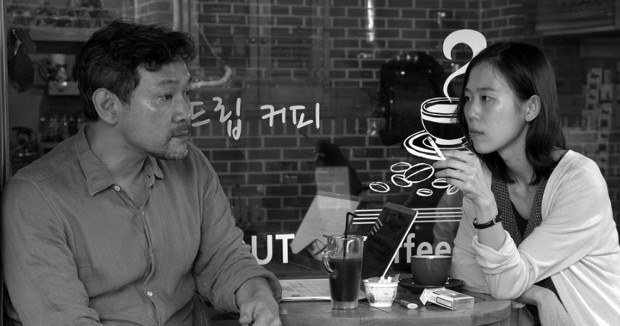 Grass
The best new (2018) film I saw in Hong Kong, at FILMART, was Hong Sang-soo's latest digital, black-and-white work, Pul-lip-deul (Grass, Korea). It is very difficult to keep up with the director's output because he is so prolific. In fact I have not as yet been able to see any of his three 2017 films. It is hard to believe how good Grass is, in fact. The English title would seem to refer just to the opening and closing shots —high angle views of vegetation; perhaps of garden allotments— since every scene is of people in-and-around a single cinema-dedicated café, where screen writers, in particular gather. One young woman who always has her lap top in front of her on the table (open or closed), seems to be observing others in the same space and listening to their conversations, as material for a script that she is working on. Perhaps, she imagines these conversations. In any event, Hong demonstrates yet again how astute his observations are of contemporary male/female relations, and especially how "film people" behave towards one another. Since almost all of his recent works have dealt with these situations, it is truly remarkable how he can still be fresh, both narratively —we cannot tell if events are "real" or imagined— and stylistically, with staging and editing within the space being similarly ambiguous. In addition, I should note that Hong's films are never too long —this one is 66mins.—and, he has a wicked sense of humour. I haven't smiled this much at a screening for quite a while,
The other really impressive new Asian film I saw is Abbas Kiarostami's final effort, 24 Frames (Iran/France, 2017). From the notes I had read about 24 Frames, I assumed that I would be watching some still photographs or paintings with barely any movement, and so I was very surprised to find how dynamic all of the 24 scenes turned out to be, beginning with Pieter Bruegel the Elder's Netherlands painting The Hunters in the Snow (1565). Kiarostami animated the painting, with falling snow, smoke emanating from chimneys, birds flying, and even some of the hunters' dogs walking around, although the men themselves don't move (an interesting distinction, given the apparent ambient sounds of nature that Kiarostami also added). All of the other "scenes" are based in reality —either beginning as photographs or film loops, mostly of natural, wintry land or seascapes— but all involve computer graphic imaging and processing, including the addition of colour to black-and-white, or vice versa. The misty look that is often achieved here through CGI is reminiscent of the German Romantic landscape paintings of Casper David Friedrich and the nature documentaries of Swedish filmmaker, Arne Sucksdorff, some of which were "staged," e.g., En Kluven Värld (A Divided World, 1948). In every case we are encouraged to think about movement in and of the frame, as well as the layering of depth. I am not sure quite how I feel about Kiarostami's final gesture to employ special effects, but the result is a fitting, contemplative eulogy and a reminder of his love of photography, the magic of cinema and the beauty of the natural world.
*Featured image from Grass.
Notes