Golden Exits (Alex Ross Perry, 2017)
Alex Ross Perry Retro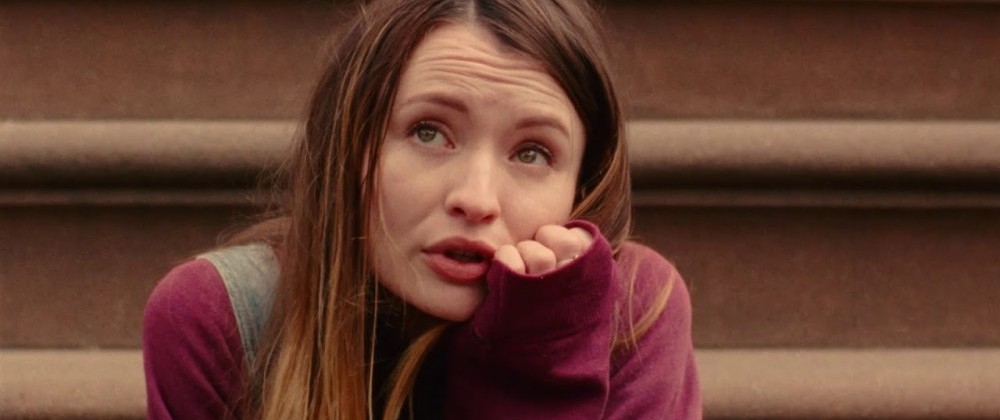 If his already tension-filled relationship with insufferably demanding sister-in-law Gwendolyn (Mary-Louise Parker, an actor of way too much face surgery, which fits her role perfectly here) wasn't bad enough, the arrival of summer intern Naomi (Emily Browning), a 25 year old Australian cutie, to assist uptight archivist Nick (a graying Adam Horovitz, more nebbish and low key than one would ever expect from a founding member of those 80's party-fighters The Beastie Boys) in cataloguing his late father-in-law's papers, brings immediate strife to his brownstone home and his practicing psychologist wife Alyssa (Chloë Sevigny), dredging up the bad memories of the unsatisfied introvert's previous infidelities (with cutie assistants, no less)… as, a few blocks away, urbanite (and looking smart in those rimless eyeglasses) Jess (Analeigh Tipton) frets over her self-involved slacker of a husband, recording studio owner Buddy (Jason Schwartzman), who takes her for granted, intuitively sensing someone is pulling him further from her, namely, the very same newbie-in-the-hood throwing Nick's life into turmoil — Naomi; only in this case, she's not just a fantasy for an aging archivist spending most of his days buried in repetition, organizing the lives of the deceased in quiet isolation, but is openly making moves on the wary, yet understandably interested, married Buddy.
It's the nicely swept sidewalks of Brooklyn, where imperialistic gentrification has made its relentless presence known, handing the streets over to all those whitey-tighties, in their comfortable dwellings and brownstones that only the privilege of trust-funds can afford, with the simple, almost romantic piano notes ever-present on the soundtrack reminding us — or most of us, anyway – like the 1930's sophisticated romantic comedies and their usual settings in the luxurious world of the Park Avenue elites, watched by an audience mostly suffering the effects of the Great Depression — that while we can see how dissatisfied many of these people living these lives are (healthy gym bodies and all)… it sure beats struggling to put food on the table and pay the bills… and who wouldn't mind all that free time with the greatest struggling being whether to have an affair or not?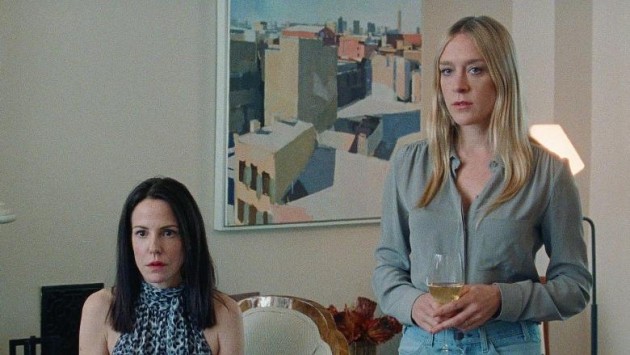 Golden Exits isn't a comedy however. Perry's fourth film (and the third I've seen as part of this retro), following interwoven characters (who are barely, if at all, aware of the connections) delivering dialogue operating at the level of the higher educated – with only Naomi, the outsider from outside the city confines, not coming across as entirely neurotic and/or self-involved – as they discuss and fret over whether fidelity is truly possible, or the attainment of a fulfilling life (or what that means), is his most like a Woody Allen film; only without the laughs (or the depth and resonance of the brilliant best of Allen).
As were the two earlier films of Perry's I've seen (a little less so with his earlier, though still highly enjoyable debut, The Color Wheel, and definitely so with his intensely controlled and dark Queen of Earth), Golden Exits is assuredly directed, with the confident cinematic formalism of the director's approach that much more impressive when realizing how few shooting days he had (in the case of Golden Exits, a startling 15 days). His camera eye varies with each film, and he does a nice job in Golden Exits holding onto the actors and capturing performance, though I found his preference in this one for often having the camera slowly moving in on characters a bit more than required, creating a false sense of 'importance' that often worked against the simplicity of what is really going on in certain scenes. Still, it's Perry experimenting with the form, working to find the proper aesthetic presentations for his story (something that's common to the Woodman as well – and which the legendary director, for all the accolades he has received in his career, doesn't get enough credit for). Even if it doesn't all work out hundred percent, the effort is admirable.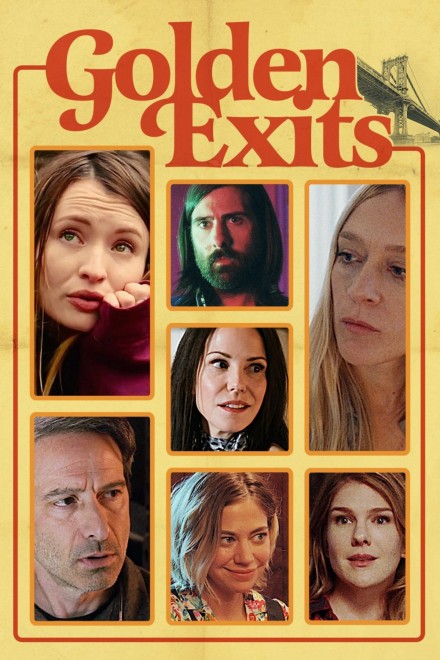 The easily-duplicitous men struggle with loyalty against the opportunities before them, as their spouses suffer for loving them… and the aging single women struggle with being alone. While the actors playing these privileged New York liberals are all engaging, Perry's dialogue this time out ends up on coming across as a bit too precious at times (as does Browning herself, who isn't helped out by having to start the film with an-off-the-cuff singing of "Back in the New York Groove" that doesn't play anywhere near as novel as it thinks it is).
Golden Exits is a comedown from the intense experience that was Queen of Earth from two years before, yet it's still an interesting film. Staying within his favored milieu of mostly unlikeable characters of a certain privileged status, the writer/director is enjoying taking different filmic approaches. From revealing painful emotion through – sometimes a bit clumsily – comic dialogue and situations in The Color Wheel, to the claustrophobic, almost expressionistic horror film-feel of Queen of Earth, to this attempted at a sophisticated indie drama, there's an impressive confidence showing though; it's the mark of a genuine filmmaker at work.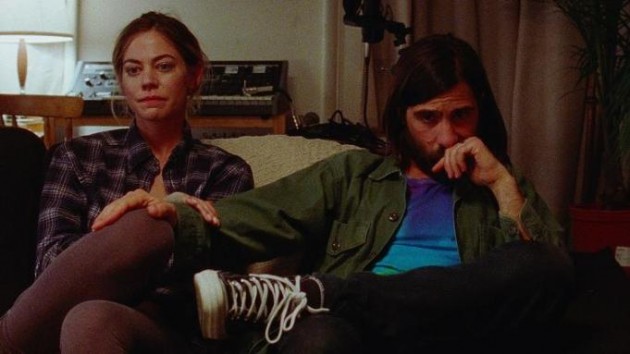 One more film to go in the program; his latest, Her Smell. With the director himself in the Q&A pronouncing it as his best film, good word of mouth from trusted cinematic allies, as well as just how enjoyable it has been to witness the obvious cinephile Perry's development, and playing with cinematic language, over the weekend of his films, I'm really looking forward to it.