Gimme Some Truth: The Making of John Lennon's Imagine Album (Andrew Solt, 2000)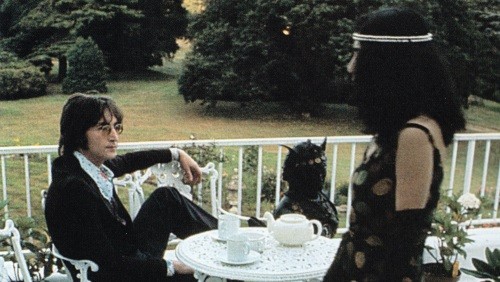 A glimpse into the white mansion in the English countryside where John Lennon (with the ubiquitous Yoko at his side) works with Phil Spector and musicians to record the legendary "Imagine" album.
Yes, yes, of course, with Yoko Ono listed right up there as executive producer, and the fact that the bulk of the 16mm footage on display comes straight from her personal archives, it makes sense to take in with a considerable grain of salt what has been likely carefully chosen for us to see (as well as what has been not chosen) in what amounts to an estate-authorized piece. Ono was likely as controlling over the presentation of the material as her reputation would indicate (and, to be fair, a gander at the doc and her relationship with Lennon itself reveals).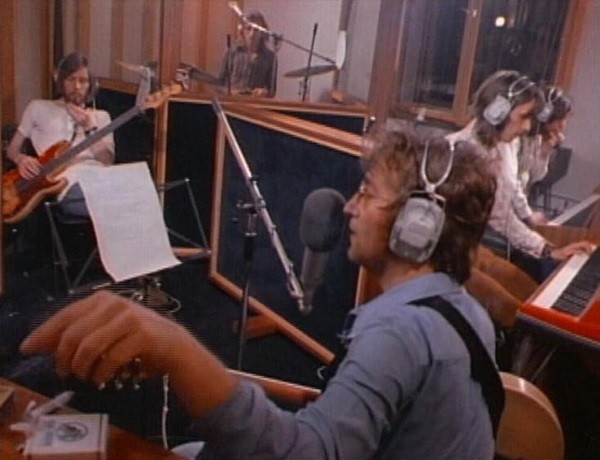 Yet, even saying that, watching musical genius Lennon, playing the clever clown to keep the troops energized, while also getting increasingly testy with the occasional fumblings from the audio engineers, then belt into the mic (or play on the piano) early developing versions of what's to come on this, his most famous solo album (though I wouldn't say the best – that would be, by far, the dark, profoundly raw and introspective howlings found on his and Yoko's "Plastic Ono Band" album, a record that was a practical seismic shift from Lennon as Beatles to Lennon/Ono as the new reality) is nothing less than a joyful experience.
There's a bit of 'celebrity sighting', with Lennon and Yoko entertaining a party that included the likes of Jack Nicholson, Miles Davis and Andy Warhol, but those are quick, with the doc thankfully focusing more on capturing some really nice glimpses of Lennon, with Yoko at his side, going about the recordings, mixing it up with the musicians — including another former Beatle, namely George Harrison, showing up as accompanying guitarist on another of Lennon's typically emotionally open (and brilliant) "Crippled Inside", with Harrison displaying his usual reserved and unassuming personality (a seriously admirable trait considering that the weight of his Beatles' song contributions, while nowhere near as prolific as Lennon/McCartney, were considerable – such as, to name a few that pop right to mind, the profound and beautiful mournings of "When My Guitar Gently Weeps" and the rocking, yet still emotionally powerful, "I Me Mine").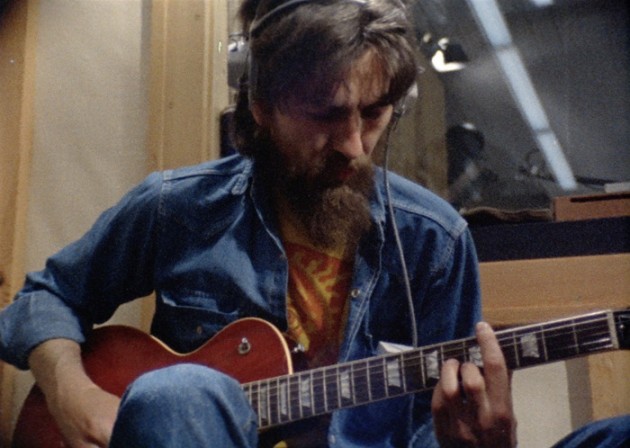 Lennon and Ono are shown to be as they were said to have been – inseparable and deeply in love (and perhaps equally in co-dependency… then again, I have a hard time ever separating those two concepts). Like two peas in a pod, with Ono sharing equal facetime with Lennon in any interviews they do.
There is an interesting moment captured, during the recording of what Lennon gleefully refers in-camera to as the 'nasty song' of the album (it's "How Do You Sleep?", which includes scathing remarks directed towards Paul McCartney in retaliation for what Lennon perceived as slights against him on McCartney's typically commercial style album "Ram"… it was proto gangsta-rap war!) in which Ono directly stops the recording during a musician jam and openly insists to Lennon that the accompanying players are being 'too casual and improvisational' for what should be a very hard song. Lennon gives her singular authority to individually direct each of them (though she isn't a musician herself) to play tighter, more direct. This might sound overbearing, especially to professional musicians, however, when you give a listen to the finished song, with its angry accusatory tone and harsh tone, it's hard not to recognize that her instincts were right… and that Lennon's faith in her perhaps well-founded (or so this doc is taking the time to point out).
Of course, when you consider The Beatles had played together with great success for over a decade before Ono suddenly showed up as this kind of fifth Beatle that no one had asked for joining the mix, with her very unapologetically upfront and vocal style, you could imagine the resentments that developed. Charges of sexism, with the four boys and her as the newly arrived intruder, are easy to immediately dredge up, but I'd say this kind of sudden addition — whether it would have been a friend, father or gay lover (not that any of them were gay, though Lennon was known to have had his dibble dabblings), would have understandably been met with the same sense of resistance.
For me, it's hard to hold any animosity towards Ono, or blame her for the break-up of The Beatles (which on face value — let alone looking at how tired they were of each other already as clearly seen in the "Let it Be" doc — seems absurd), especially as much of the greatest of Lennon's output, both with The Beatles ("Let it Be", "The White Album") and solo ("Plastic Ono Band", "Imagine", "Double Fantasy") were created during his time with her (okay, I will admit, her songs on "Double Fantasy", alternating with John's, still leave me scratching my head a bit – though the emotionally raw intertwined double piece they share on the album – John's "I'm Losing You", followed by Yoko's "I'm Moving On" — together is fantastic and powerful).
The "Imagine" album itself, while having its introspective and piercing moments (as well as the 'call to arms' political anger' of pieces like "Give Me Some Truth", which is a sheer joy to watch him working on belting out the main refrain again and again) is overall a more openly joyful album than "Plastic Ono Band", and watching this "Gimme Some Truth" doc, with its recordings of all the songs (including ending on the full iconic video version of the titular song "Imagine" with Lennon and Ono, all in white, in a white room, playing at a white piano) rekindled my deep love for it (and for Lennon), leading me to revisit its songs for days after.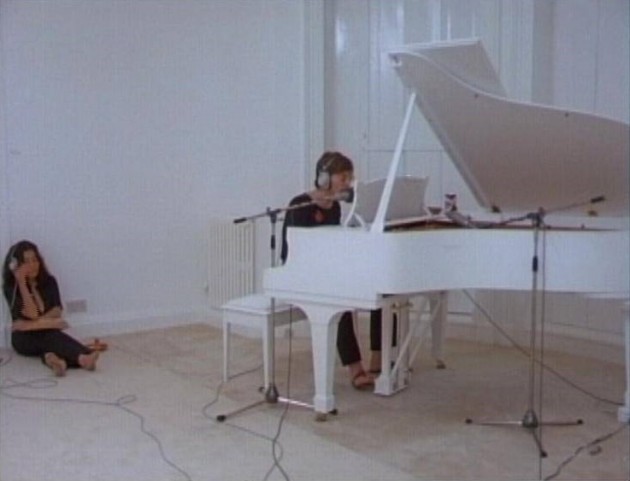 There's a moment in the film that acts as a bit of a scary premonition of what was to come in regard to the circumstances of Lennon's death, with the musician speaking with a bedraggled and slightly scary looking 'fan' who has arrived at his home. After calmly explaining to the clearly emotionally troubled boy (while keeping a slight distance – in fact, at first, I thought it was one of the more drugged-out musicians getting sacked for not pulling his weight) how he couldn't possibly have written the songs directly for him, Lennon then invites him in for some food. Did he do this often, or was it included just to make it appear that way? Who knows. Either way, it's interesting to see the glaze-eyed youth quietly sitting alone and eating a bowl of soup and some bread as the others mill about preparing for their day.
A quick aside: the song "Imagine" may be the most played of all the solo Beatles efforts, and it is a great, beautiful and idealistic imagining. My favorite song from Lennon, however, is the politically charged purity within "Working Class Hero" from the "Plastic Ono Band"… and while, sure, Kevin Spacey, may have harassed some underage kid at a party and been way too free with his hands at the Old Vic's bar (especially to the young boys), what I'll personally never forgive that fucker for? That would be for taking the bitter irony and truth of the song's repeating mantra ('A working class hero is something to be') and perverting it into a post-9/11 nationalistic call before a pack of frothing firemen screaming for blood. That sickens me far more.