Gator (Burt Reynolds, 1976)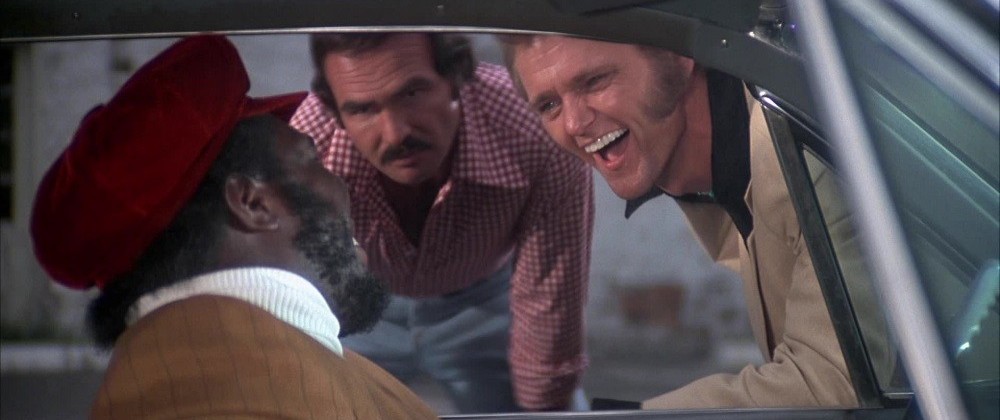 Finally released from the Arkansas pen of sweaty hard labor, Gator McKlusky (Burt Reynolds) moves in his with his father (John Steadman) in a backwoods cabin, only to find his plans of getting right back on the illegal moonshine biz horse are thwarted as a fed (Jack Weston) shows up (well, him and his men are actually led on a long, high speed chase through the swamps by boat and helicopter before cornering McKlusky) demanding the ex-con help him bring down a local crime lord (none other than Reynold's soon-to-be Smokey and the Bandit Snowman ally, good ol' natured, country-singin' Jerry Reed) otherwise they'll take away custody of his 9 year old daughter.
Nowhere near as good at capturing a gritty southern life of downtrodden characters running moonshine with corrupt politicians and law enforcement officials looking to capitalize and exploit them as the original White Lightning was, this sequel (directed by Monsieur Reynolds himself) plays more as a straight out action film. I'm not saying it's without considerable entertainment value (the bar for the many impressive stunts is raised to near-super hero level)… it's just that I miss Burt's much grittier, subdued — and far better — performance as the sullen ex-con moonshiner from the first one, as compared to the (now) superstar mugging he relies on here (with that signature 'look at me' laugh on endless display).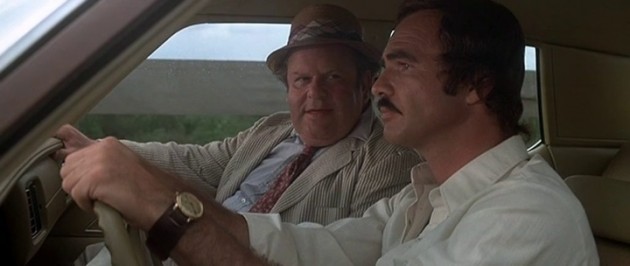 It's also kinda odd to haphazardly change Gator's father character so drastically from the original, as well introduced a daughter who clearly didn't exist just three years before, but the lack of concern for continuity is far from the worst crime (I could have easily overlooked it if everything else was working out okay). While Reed, as the charming, yet seriously dangerous, high-living criminal who owns the town is convincingly menacing in the part, his henchmen (including a super big guy who was originally supposed to be played by Richard Kiel, who was at the time enjoying his fifteen minutes as the silver-toothed villain Jaws to Roger Moore's James Bond and ended up unable to do it) are on the level of cartoon cut-outs. The usually reliable Jack Weston is out of his element as the visiting NY fed, clearly being directed to act way over the top into seriously annoying territory (and never mind Alice Ghostly as the eccentric town cat woman who ends up helping Burt and the love interest he picks up along the way, played by Lauren Hutton, break into Town Hall, with cats in tow, to steal records on the corrupt Mayor and the Reed character. Not good.).
While Gator is far from a painful experience to sit through, it's just too broad to really work. Burt, in his directorial debut, didn't have the chops of an old pro director like Joseph Sargent from the first film to pull it off (or to capture the faces and feel of the southern world). Saying that, it's not a complete fail – for instance, the bayou locations where the film starts off are evocatively rendered and that aforementioned exciting boat/helicopter chase, is rip-roaringly tough and exciting. Somebody should have just told Burt that having everybody loaded down with sweat alone, as in 'Lightning', would have gone a long way.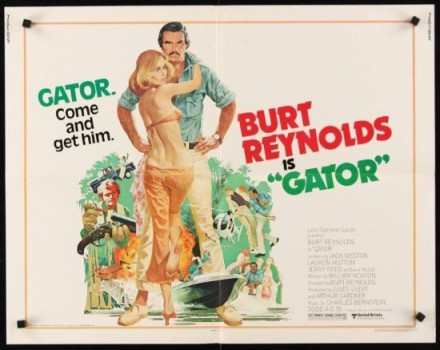 For all of the goofiness, though, the last fifteen minutes turn suddenly (and quite jarringly) nasty, which perhaps speaks to a tougher-minded film that was in there that Burt wasn't really up for capturing, or didn't have the chops to make tonally consistent.
Too bad. I missed the Gator Mccluskey from White Lightning.