FNC 2022: Reporting My Tastes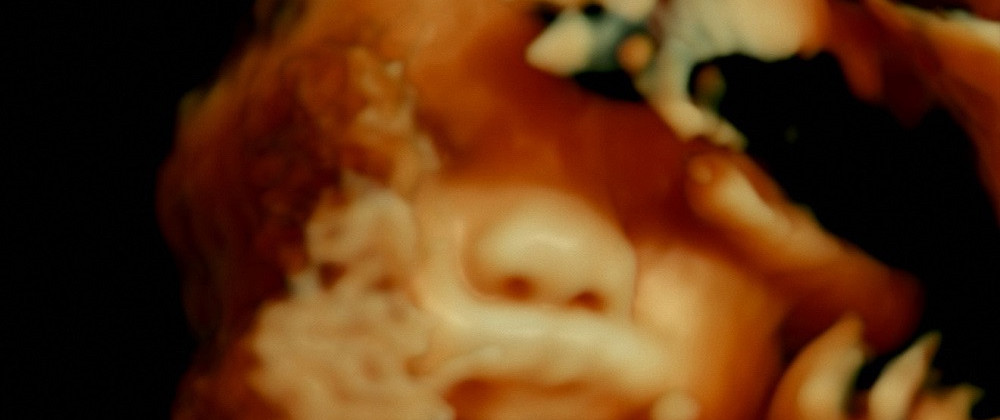 As we enter October and the leaves turn and fall, so must new cinema also take over the various film theaters strewn about between Concordia and UQAM. I'm of course referring to Montréal's premier festival catering to the arthouse, auteur driven cinema we all love and cherish, the Festival du Nouveau Cinéma, now in its 51st year. This year saw an array of titles from all over the globe, displayed across a number of sections ranging from the more experimental Les Nouveaux Alchimistes to the consecrated works of masters of the form in the Les Incontournables section. I, as always, made my merry way through all those titles picking out the best to share with you our dedicated readers.
Venturing into the national competition, this year offered a robust number of films from young voices on the indie scene of English Canada. The most impressive of these was The Maiden from Graham Foy, something like an adaptation of Beavis and Butthead if it was directed by the Gus Van Sant of 20 years ago. Following a duo of skater teens as they wile away the days in their small Albertan town, playing pranks, wandering and busting each other's balls, all captured with moving acuity and lived-in dorkiness. However, the film's early lyrical aimlessness explodes into something more spiritual and mysterious following a tragedy and an unexpected change in focus. Without spoiling too much, the film's real strength lies in the way it builds a space for two drastically different souls to meet and commune in a way that would be impossible in real life. Foy uses cinema to invoke that space turning this well observed teen movie into something much more exciting and inventive.
Also focusing on the strange meeting of two wayward souls was Queens of the Qing Dynasty (Ashley McKenzie), a strange kaleidoscopic object that builds on the complicated and thorny relationship between a neuro-atypical mental ward patient and her gender-fluid Chinese immigrant hospital sitter. The film comes alive when it zeroes into its characters perspective, sometimes to an uncomfortable degree, matching its rhythms and tone to their disorienting realities, lending the film a productive instability, always on the edge of falling apart. Underpinning all this is a warts and all depiction of the psychiatric care system in the Maritimes and the people who pass through it, which gives depth to the film's stylistic flights of fancy. Some will be put off by the film's deliberate weirdness, but its prickly tenderness is worth seeking out.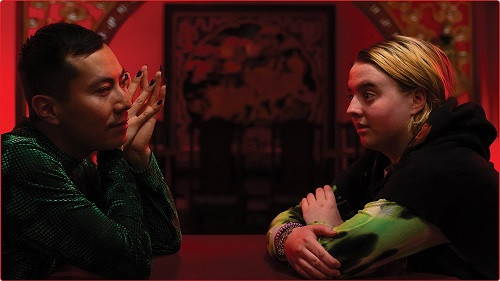 Queens of the Qing Dynasty
Closer to home we have Promenades Nocturnes from Winnipeg transplant Ryan McKenna; a pared down portrait of a woman dealing with dementia which perfectly balances its stylistic flourishes with its heavier subject matter. At only 63 minutes and with a low budget, McKenna makes a meal out his limitations, using ellipses and a fragmented timeline to plunge us into the disorienting reality of his main character, played with poise and honesty by Marie Brassard who harnesses her innate matante energy to instantly get us to care about the character. Clever stylistic choices like an inventive use of blur also leads to a deeper engagement with the material and saves it from merely being a miserabilist portrait of sickness to instead allow for moments of levity and grace to naturally nestle themselves within its harsher truths. It might be strange to say of a film with such an heavy subject matter, but it was one of the more hopeful films at the fest, a testament that a moment of beauty, even if lost within the flow of the mind, is worth living for.
Promenades Nocturnes
A duo of Iberian films flew us to the countryside for some summery pastoral goodness. Carla Simon returns us back to her native Catalonia with the Berlin Winner Alcarras about a family of peach farmers dealing with the pressures of small peasantry in today's Spain and the encroaching threat of the solar energy industry in their region. The film is well observed and honest about the complicated realities of modern agricultural life, lensed with flair and an eye for summer light, but I couldn't help shake the feeling that I'd seen most of what it had to offer before; the headstrong patriarch butting heads with a prodigal son, an aunt from the city come to muddy the waters, a cleansing natural event, etc. None of those are bad per se, but the film lacked moments of repose or grace notes that would make the story come alive and alleviate any fear that we're seeing rehashed faux-rural cinema. This is surprising given that Simon's last film, the wonderfully understated Summer 1993, was almost entirely composed of those small, shimmering moments. Perhaps, Simon's desire to integrate a more forceful social message into her work led to an unbalanced film. In any case, we'll continue to keep an eye on this talent, which even when it stumbles produces interesting work.
For my money however the better of the two was Alma Viva (Cristèle Alves Meira) a less deterministic portrayal of a small Portuguese village as experienced by a little girl back for the summer from France to visit family. The film is more sensitive to the folklore and lazy rhythms of rural life which mix to create a peculiar magic when seen through a child's eyes. Gorgeous images, a real sense of place and a deft touch with dramaturgy makes this a special title which sadly seems to have flown under the radar. Do yourself a favour and seek out this sensitive, gorgeously filmed portrait of the dog days where old magic and modern resentments collide to create a special little film.
Themes of vision and perspective were central to a number of films in the experimental Les Nouveaux Alchimistes section. The most extreme of these was De Humani Corporis Fabrica from Julien Castaing-Taylor and Verena Paravel, an immersive no-limits dive into the entrails of a Parisian hospital and its many patients. The directing duo behind Leviathan luxuriates in disorienting us, depersonalizing the bodies they are filming as both an act of cinema, but also of empathy towards the medical staff who have to stare at bloody bits of flesh and also talk about their weekend with coworkers as a matter of routine. To do this, they employ roving cameras which get us uncomfortably close and sometimes inside bodies in various stages of surgeries. And surgery, for all its claims to being at the forefront of human ingenuity, is a brutal, barbaric exercise conducted with saws and hammers and that breaks as much as it heals. Although not for the faint of heart, the film is never less than thrilling, constantly bombarding us with opaque, pulsating imagery, that for all its bodily content tends to disincarnate us, turning us into twisting eyes peering into crevasses and depths meant for no mortals.
Different perspectives were also central to the joys of A woman Escapes, a tri-cephalous movie from Sofia Bohdanowicz, Blake Williams and Burak Cevik, three of the more promising young directors of the fluid docufiction era. The film is told in the form of cinematic letters, each in their own format (16mm, HD and consumer grade 3D) and starring Bohdanowicz's alter ego Deragh Campbell as she wanders around Paris in a post breakup funk. In that way, it acts as a recipient of all the directors' divergent styles, ultimately coalescing into a lovely peon to the act of looking at one's surroundings. Largely observational with hints of narrative that act more as scaffolding than anything else, the film can appear slight, but especially in its 3D segments, there are some truly breathtaking images and new ways to use a film format that to be honest I always felt was gimmicky, if not just plain tacky. It might, if you're like me, lead you to look into buying obsolete consumer grade 3D cameras (a first, I assure you).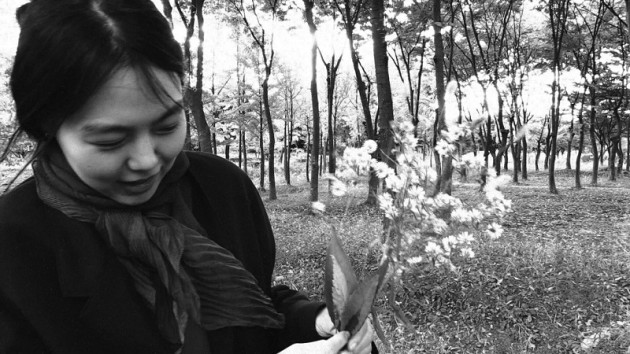 The Novelist's Film
Hong Sang-soo was also back to the fest with the light, evanescent The Novelist's Film, slyly one of his most personal and affecting film. Following a novelist as she meets a variety of old friends and artists over cups of Soju, their roundabout discussions leading her to tentatively explain that she wants to make a film, the movie unfolds gracefully, in line with its main character, an older woman who with maturity seems to have achieved a degree of self-assuredness. Hong's classic eye for boozy awkwardness is still here, this time observed at an amused remove from his main character, an artist taking a break from work but who still gazes with nuance and empathy upon life. The ending, however, turns the film into one of the more poetic works in the master's oeuvre. An act of such pure, intense love shouldn't be spoiled, but it's a reminder that for all of Hong's vaunted simplicity and modesty, he is still capable of taking our breath away. Sometimes the most minuscule gestures make the biggest impact.
The ending also elevated another work from an habitué of the fest in Jafar Panahi's No Bear, here to a much more somber, even pessimistic end. Following Panahi's metafictional adventures, as he still prohibited from filmmaking by the Iranian regime, the film shows the director attempting to direct a movie taking place in Turkey from a border village on the Iranian border. In his downtime, he wanders the village taking pictures and becoming embroiled in a dispute involving young star-crossed lovers. If at first Panahi mines this for moments of fish out of water comedy, the big city artist coming face to face with the antiquated traditions of a rural village, all told in his unobtrusive documentary style, a more sinister, violent undercurrent revealing itself turns the film into a potent meditation on the ethics of filmmaking, on what it means to record and for whom, and if the artist can ever be truly separate from his subject.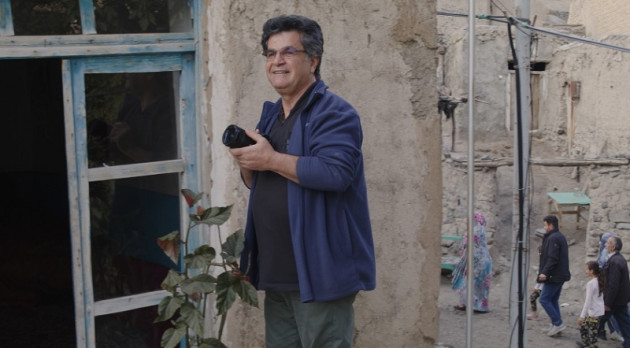 No Bears
Another gem was the lowkey boxing drama Small, Slow but Steady from Sho Miyake who had previously wowed us at Fantasia with the remarkable And Let Your Bird Sing. Here Miyake narrows his focus to one character, Keiko a deaf boxer, following her training and various hardships with a piercing, compassionate gaze. He also tailors his sound design to his character, turning the boxing drama into something more intimate, contemplative, stripping it of its bombast to focus on strategy and the sublime found within the routine of practice. The repetition creates a space of peace, letting muscle memory overcome the troubled mind if only for a moment, and change, incremental, slow, small begins. This elegy of the minute is complemented by the film's diaphanous cinematography and sober framing. There is an autumnal vibe to the film, a quietness and maturity that is comforting, like the filmmaker knows he has a good story on his hands and doesn't feel the need to boast or show-off. Don't let the film's austere exterior fool you, there is a deep well of wisdom and tenderness to be found within.
The festival also became home to a number of what I would call vibes-based films coming from young female directors that allowed us to simmer in our fresh memories of another summer gone. The most enigmatic of those was Human Flowers of Flesh from Helena Wittman, a free-flowing portrait of the Mediterranean that is gently traversed by texts as diverse as the films of Claire Denis and the words of Marguerite Duras. Following the crew of a sailing yacht and their growing fascination with the French Foreign Legion, the film touches (brushes might be a more apt descriptor) on a variety of fascinating topics like colonialism and its lingering effects on the region as well as more abstract ones like the various qualities of blues one can find in the Mediterranean. In that sense, the film is very open, some might say to the point of being diffuse, but I choose to see it as a strength, allowing multiple points of entry into its gently meditative heart. One can get lost in its sound design or marvel at its images of the fauna and flora of the region or pursue its links to another monument of Légionnaire cinema. You simply have to go with the flow.
Somewhat darker was Aftersun from Charlotte Wells, a sun-drenched portrait of a father daughter vacation bathed in true to life details and late 90s nostalgia. The film works particularly well at evoking the slow rhythms of adolescent summer, which are as much filled with boredom as they are merriment, as well as the changing parameters of the relationship between its main characters. Everything feels real, evocative of memories, lived-in and told with sensitivity and restraint from first-time filmmaker Wells. An unnecessary framing device in the present day drags the pacing somewhat, making it feel like the film is overexplaining itself instead of letting its mysteries simmer in the viewer, but those are ultimately minor gripes in a terrific first film.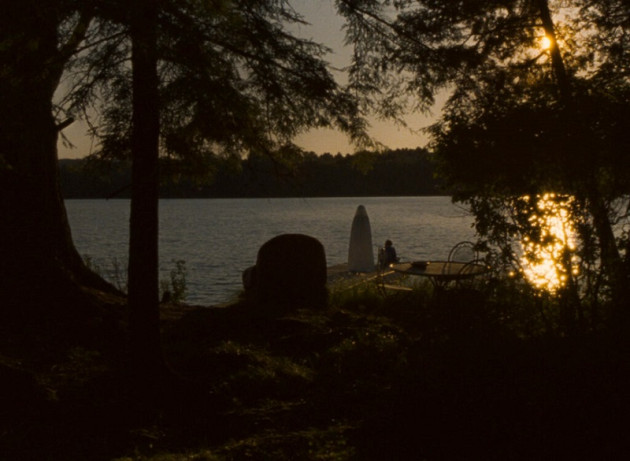 Falcon Lake
I could also vibe pretty hard with the nostalgic summery rhythms of Falcon Lake from Charlotte Le Bon, a low-stakes chalet film that cruises on its twilight of summer atmosphere and hormone-filled young cast towards a slight but enjoyable portrait of indolent youth with a few unneeded feints towards the eerie. The film gets most everything right, rarely overstaying its welcome in its story of a newly minted teen pining for an older girl while on vacation with his family. The characters behave like actual teens which is usually the big hurdle teen movies have to clear and most of the action is suitably low stakes making for an enjoyable piece of filmmaking that's bolstered by superb cinematography. I was less enamored with the darker tone the final moments of the film decided to pursue, feeling it unnecessarily unbalance what had been a light, breezy time at the movies. Not everything needs to become a cautionary tale.
Grand Paris (Martin Jauvat) also fit the theme. A pleasant weed comedy charmer was a nice change of pace from the drama heavy slate of the rest of the fest. The film gently chronicles the zany quest of a group of good-for-nothing friends on the outskirts of Paris for Alien artifacts, ultimately a metaphor for higher aspirations that seem forever out of reach. What elevates the film is the naturalness of the relationships at its center, a gentle surreal bent and a profound melancholy that will be recognizable for anyone who's ever wondered what the hell they're doing with their lives.
Perhaps the vibiest of them all however and one of the real highlights of the festival was Albert Serra's languorous, paranoid tropical noir Pacifiction, an intoxicating, hazy descent into realpolitik following a hapless French diplomat as he feels out the contours of the web of influences tightening around Tahiti as rumblings of a nuclear threat gather in the distance. Serra likes to let his scenes play out, in this case swapping the bodily malaise of Liberté for a more talky approach, giving his main character, a preening cocksure Benoit Magimel, enough rope to hang himself as it were. The film is an experience, seeping into the viewer languorously over its extended runtime, slowly amplifying the uneasy tone behind its picture perfect tropical backdrops until its deafening buzz overtakes you. In practice, the film juggles between scenes of meetings between men of varying levels of stoicism filled with veiled threats and empty assurances, and digressions where time seems to float away as in tenebrous club scenes where the film's strange vortex of intrigue threatens to completely swallow you. One of the few film's at the fest that felt like a totally novel experience.
As I look back at the selection of films I decided to write about, some things stand out immediately; less big names, more first or seconds films, especially coming from women (still mostly from the first world), a focus on atmosphere over narrative concerns. Of course, this is as much a comment on my tastes and my curatorial choices, but also on what the festival and its programmers chose to put forward. So many new voices meant a good number of new cinema, to refer to the namesake of the festival, but also some films that relied perhaps too heavily on well-trod territory, failing to distinguish themselves in the process. Some films also suffered from what I would call a hesitancy to fully take the plunge into the idiosyncratic, to trust the viewer to follow them along without feeling the need to explain themselves, in short, to trust our intelligence. I can only hope that in future films, those filmmakers can grow and gain in confidence and present an uncompromised vision. It's hard enough to get a movie made, why do it halfway?