Firestarter (Mark L. Lester, 1984)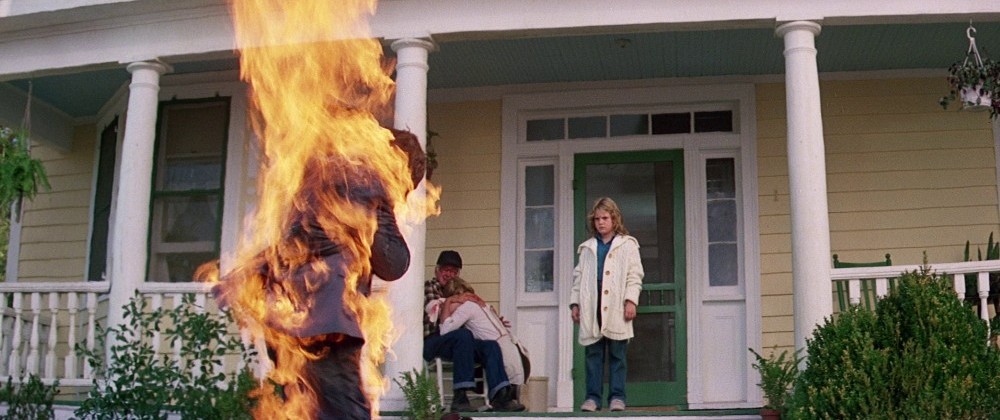 Young Charlie (ridiculously cute, nine year old scene-stealer Drew Barrymore, proving without a shadow of a doubt that little tyke's memorable 'They're here!' turn in Poltergeist from two years before was no fluke – alas, poor Drew's thesp skills faded to almost nil post- her messed up childhood, but that's another story, cuz in Firestarter? She's great!), her hair waving about in a supernatural display of wonky cinematic showiness, obvious wind-machines just off-camera (it just dawned on me… that's almost the exact same effect to sexy teenage Jennifer Connelly's long gorgeous locks as she summons her insect swarms in Italian madman Dario Argento's even more enjoyable – completely bonkers, in the best possible way — supernatural/ slasher/tripped out fever dream Phenomena the following year… ), indicating she's about to let out some of that barely controlled pyrokinesis ability (along with those extreme zooms into her eyes, everyone around her loaded up with glycerine sweat, pulling on their ties pretending at sudden waves of heat), unleashing the most jaw-droppingly impressive fireballs at the bad guys, burning bodies and exploding vehicles flying all over the screen, entire mansions engulfed in flames; especially impressive in that, as director Mark L. Lester rightly boasts numerous times on the bluray commentary, all the fiery pyrotechnics were done on set, without a hint of CGI (in other words, with stuntmen clearly risking life and limb).
How they managed these impressive production feats without burning down entire sets is anyone's guess… of course, the director recounts a few occasions where they almost (unsurprisingly) did just that.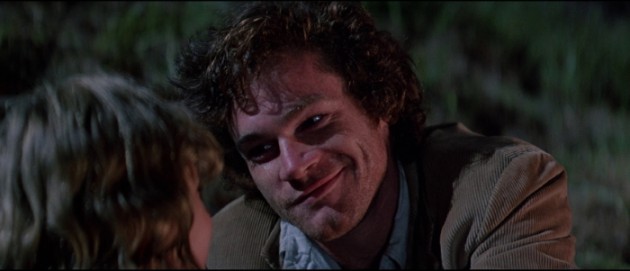 David Keith….or is it Keith David?
Then there's Charlie's father, Andy (David Keith… or is it Keith David? I know, I know… they're nothing alike but… am I the only one who never seems to get this right?), cursed with the ability to, as King called it in his novel, 'push' people, gaining temporary control over them, a surprise power gained after a series of college experiments led by a shady clandestine government organization with the (unfortunately relatively generic) name of 'The Shop' (I don't know…. I just think they coulda done a bit better there, no?) with a fictional hallucinogen called Lot-6, with King's (and the film's) story mirroring the terrifyingly real mind-control experiments done by the CIA that included administering doses of LSD to unsuspecting college students, emotionally traumatizing a number of people.
Hell, that ain't nothing with how nefarious and 'Manchurian Candidate'-like that some of these real-life clandestine government programs got… you ever hear of Ted Kaczynski? While attending Harvard, he was subjected to a three-year series of psychologically brutal and abusive experiments, meant to entirely breakdown his ego until he had nothing left, with the hopes of the government being able to attain mind-control over him a period Kaczynski referred to as the very 'worst of his life'… gee, any wonder he would eventually develop into the infamous Unabomber, with distrust of government so large and overwhelming he started planting bombs in official's mailboxes? Talk about a country creating its own enemies (or as Malcolm X would say 'bringing the chickens home to roost').
George C Scott as Rainbird, a higher-up psychopathic hit man, with a half-burn scarred face and bum eye, whose entire goal is to capture Charlie so he can look into her eyes as he kills her out of some notion of achieving Injun-lore transcendence, is all a bit vague (and kinda racist… but let's say, 'mildly racist' … so I can excuse myself for enjoying the colorful wonkiness of it nonetheless). And even with his long gray pony-tail, Scott looks about as Native American as Al Jolson looked African American while in blackface. Still, the mere presence of that man in your film manages to command some respect!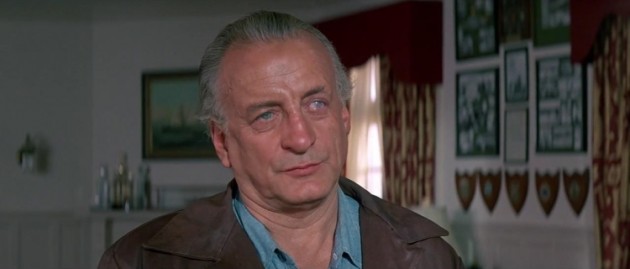 George Scott
While Martin Sheen's part as the Machiavellian head of the Shop doesn't offer much to sink his teeth into – it's certainly no Greg Stillson, the power-mad, egomaniacal political-aspirant character from David Cronenberg's King adaptation The Dead Zone from the year before – it's still nice to have him around, doing his best parrying off of Scott's Rainbird.
Rounding the cast out with Art Carney and Ellen Burstyn as an aging rural couple (King loves those homespun country folk, doesn't he) who cross paths with the on-the-run Charlie and Andy and try to help… I mean, wow, what a cast – three Academy Award winners (and one, in Sheen, who should have at least been nominated at some point!).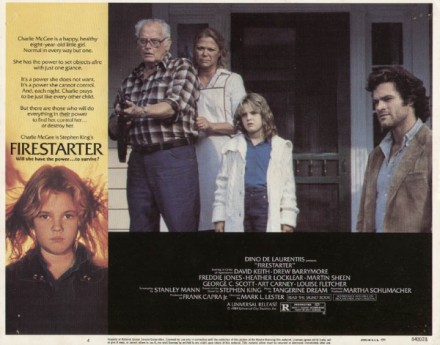 The first half of the film is mostly a cat-and-mouse chase, with the on-the-run Charlie and Andy up to all sorts of fire-burning gags and mental 'pushing' tricks (followed with a nose bleed, as each mental gymnastic causes dad's brain to painfully hemorrhage that much more), as the two evade the mostly faceless men in blue suits constantly on their tail — with the father/daughter stopping to catch their breath now and then, just long enough to allow for a nice sense of how emotionally tragic their plight is (no, little Charlie, sorry, you're never gonna have that normal life you and your dad keep pining for… and, alas, mommy's been murdered, child) – and the second half is them now in captivity, with the sociopathic Rainbird working to gain the naïve and desperate girl's trust and the rest of the Shop testing the limits of both father and daughter's power (as possible weapons of war, natch), Firestarter is a wild and fun ride, an unapologetic Corman-style genre mash-up, helmed by a gung-ho filmmaker walking straight out of that indie-spirited milieu (hell, his previous two films were the highly amusing populist dancing Roller Boogie and the violent school-punks cult item Class of 1984), only this time they've given him a substantial budget to play around with (and, giving props to where it's deserved, the extra cash certainly shows impressively up there on the screen).
It's slick widescreen photography, Tangerine Dream score (one of their more odd ones that took me a bit to warm up to – surprising for a TD soundtrack – such as the emotional pieces, like Charlie's theme, which play almost like easy listening music, while the action packed moments, such as the explosion-filled ending, are much darker and powerfully relentless) and unabashed (and unashamed) go-for-broke-genre-film approach give it the unmistakable feel of a John Carpenter effort (even more so in how much the trailing deadpanned men in suits act appear to have been plucked straight from the unspeaking robotic henchmen patrolling Santa Mira at night in Halloween III: Season of the Witch – to the point where they each have hard-not-to-notice famed stunt man Dick Warlock prominently amongst them!)…. no surprise, the Halloween director was initially attached to the project.
It's a little Scanners, with an ending clearly reverberating with the blood-drenched tragedy of Carrie. It's got the underlying exploitation heart of a Corman film… merged with the confident cinematic aesthetic of a Carpenter film. I mean, what's not to like? And that's not even mentioning the incredible weirdo government scientific experiments gone wrong scene (in a wildly captured moment of cinematic drug hysteria that includes a self-inflicted eye-gouging straight out of the novel, while tripped-out others falling in love around it).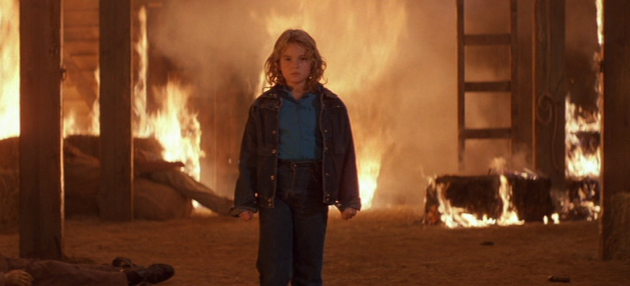 Drew Barryomore
Yeah, it's got it share of wonky elements that don't add up (what's with Charlie suddenly being able to 'sense' the approaching car loads of bad guys towards the farm house they're hiding out in… only once, never to be mentioned again?), but what does it matter? Just more fun genre elements to sweep us along into the fast-paced excitement and wild spectacle.
Firestarter rocks. Very well done, Mark L. Lester. And man, those shooting fireballs are impressive.