Fantasia 2021: Asian Offerings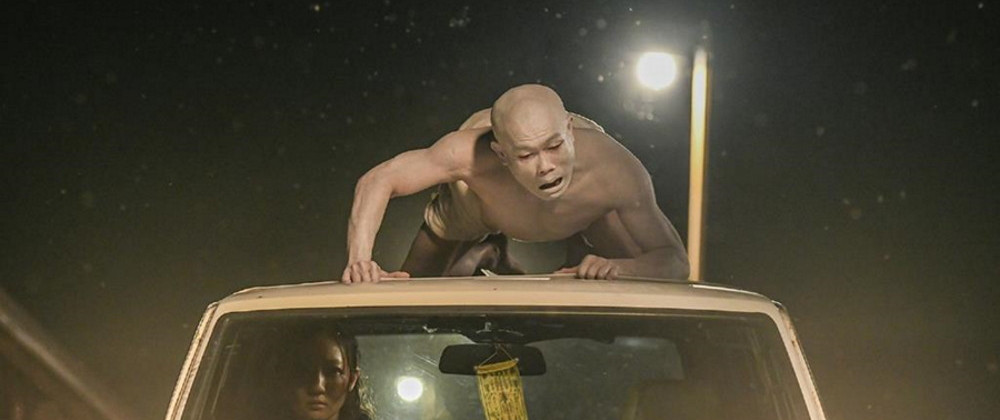 For this year's Fantasia Film Festival, North America's premier coming together of all things gore, goofs and genre, the power's that be at the venerable institution opted for an hybrid festival. Most of the program would be accessible from home, pandémie oblige, with a few bigger titles playing at the Impérial (maybe for the last time as the historic building suffered structural damage later in the year), mainly on the weekends. For a variety of reasons too fanciful to list here, I was unable to attend those screenings and so won't be able to relay whether or not Fantasia's fabled rowdy ambience lost any luster following our last few lean years. However, I did watch a number of films, some of them even good, from the relative safety of my bedroom. I like to think that the tropical humidity that settled in that hallowed temple of cinema added to the experience as I mostly focused on a selection of films from the great continent of Asia, always a good bet at this festival.
First stop; Hong Kong, for whom this year's festival seemed to host an unofficial requiem. You might cry heresy at the thought, but if Hong Kong's cinema is not dead, it seems to definitely be on life support (for a few obvious reasons). Some films like Time and Septet nostalgically eulogized an industry and its shining stars while keeping more pointed political questions at a definite subtext, while others preferred to forge full steam ahead with their influences firmly on their sleeves.
Time, a black comedy from Ricky Ko, takes a mournful look at Hong Kong and its aging population. Following a trio of senior former assassins forced to return to the blade by a society which has left them behind, the film oscillates between comedy and a darker core with relative nimbleness, luring us in with its cast's comedic chops only to slit our throats with its deeply melancholic tone. Its more somber moments do not detract from what is, all things considered, not anything new on the elderly criminal genre, with its expected jokes about being out of touch and gags around aging bodies abounding. The Hong Kong setting does mean a few decent fight scenes amid the laughs and an affectionate look at an aging, changing city.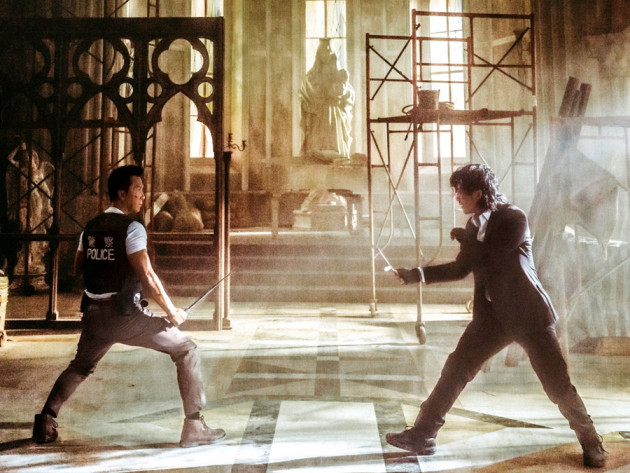 Raging Fire
More vital was Benny Chan's final film before his untimely death: Raging Fire, a barnburner like only Hong Kong used to do them, aligning breakneck action, megawatt star power with Donnie Yen and Nicholas Tse at their best and enough double-crosses to build a cathedral for a rip-roaring good time. Telling the story of two old partners now on opposite sides of the law, the film is a fitting if bittersweet goodbye for Chan who was always outspoken for the rights of his home, bringing us back to the glory days of 90s heroic bloodshed with its gritty tale of cops and robbers, bloody brotherhood and bloodier betrayal. Chan is at home in tense shootouts, kinetic wire-fu infused fight scenes and tense confrontations, lending the film an assured if familiar swagger. But if the story is somewhat recognizable to fans of Hong Kong action, the burning passion in front and behind the camera is palpable, with perfectly executed set pieces, outsized emotions and drama and an unrelenting pace. A requiem written in fire and blood. Some films, if not all explicitly dealing with the pandemic, did intelligently engage with our new internet centered life, finding clever ways to bring to the big screen our newfound relationship with the internet, communication and the elastic concept of time itself.
This is the case with the delightful Beyond the Infinite Two Minutes from first-timer Junta Yamaguchi, a low-budget high concept game of mirrors, that follows a group of Japanese thirty somethings who find their life turned upside-down when they discover a television screen that allows them to see two minute into the future. A gem of intelligent, low-key sci-fi which uses its central conceit and its single location to their fullest, the film consistently surprises, but it is its gentle beating heart and its affection for its lovable loser characters that win out in the end. Reminiscent of Fantasia favourite One Cut of the Dead for its low-budget magic, this is one of those pleasant surprises that remind you that good movies can come at any size.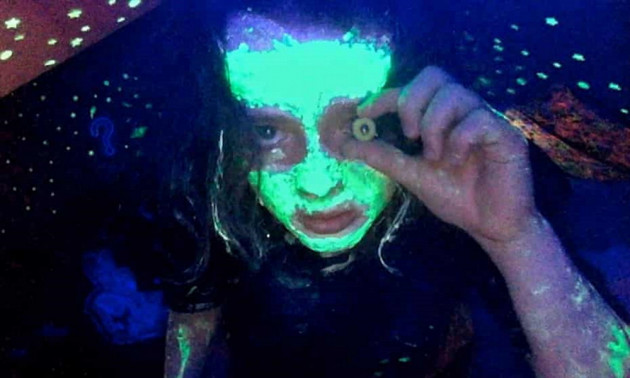 We're All Going to the World's Fair
Darker and more unsettling was Jane Schoenbrun's We're All Going to The World's Fair, a film that convincingly borrows the grammar of internet creepypastas and video essays to present the tale of a young girl who finds her world changed in strange and unexplainable ways following her attempt to participate in a viral internet challenge. Splitting its time between videos she uploaded, YouTube algorithm surfing and the recollections of an older man who came into contact with her, the film perfectly captures a kind of uncanniness that typified a certain strand of the internet around the late aughts. More than just an exercise in nostalgia for a moment barely gone, the film is genuinely unsettling in the ways it conjures up the darkest aspect of the web and manages to recreate the feeling of endless drift online wormhole sessions can take. The film would be interesting in itself as an act ekphrasis, cinema swallowing the internet after being forced to live on it for the last two years, but its hard to shake an aura that goes deeper than that. One of the more strangely alluring works at the fest.
South Korea, always a strong presence at the festival, proposed a number of lower key works focusing on marginal characters bouncing around the edges of genre conventions. Jero Yun's Fighter, following the dour day to day life of a North Korean refugee adjusting to life in Seoul and trying to put together the money to make her father join her, pays as much attention to the banal hardships of its heroine as to its boxing narrative, resulting in perhaps the most unvarnished take possible on a Million Dollar Baby type narrative. Lim Seong-Min plays Jina, the main character, at a constant remove, her tough exterior taking every hit in stride as Yun methodically builds out a dog eat dog world around her. For some the film will be too reserved, but there is no doubt a power to its circumspection, to its slow mapping out of a character that might appear too inscrutable at first glance, especially in a genre typically identified with a kind of macho melodrama.
Voice of Silence from Hong Eui-Jeong pushes at the edges of the lowlife crime drama with its story of a dim-witted deaf man who handles clean-ups for local gangsters and finds himself in charge of a kidnapped young girl held for ransom, pitting our affection for the lovable loser at its center against his horrible actions. The down on his luck fuck-up is something of a recognizable archetype in Korean cinema, populating the films of masters like Park Chan-Wook and Bong Joon-Ho, but more often than not, he occupies a more heroic position, coming to redeem himself by the end of the film. Voice of Silence complicates this in interesting ways presenting the decidedly unheroic actions of its protagonist with a clear confident style, building tension and empathy through a strong emphasis on space and the way it mediates character relationships. This kind of solid genre piece, which has become so rare in the West, is why we keep coming back to Korean cinema, which at this point can execute this kind of material in its sleep. Voice of Silence adds to this a group of compelling characters in tense, morally taut dilemmas.
One of the most accomplished films of the competition came from Malaysian Keat Aun Chong. The Story of the Southern Islet, an elevated horror take on Malaysian folk tales, perfectly captures the uncanniness of its milieu as it follows a city dweller who comes to the countryside to marry only for her husband to fall mysteriously ill following an altercation with a neighbor, the pressure slowly closing in on her as the legends and folktales of the area start to take terrifyingly real form. The film effectively balances between horror and psychological drama, providing a believable backdrop for a tale poised on the precipice between our world and the next. With masterful build-up and tight control of its atmosphere, the film sketches the psychological portrait of a woman and her new community as they clash, effectively dramatizing the sometimes fraught relationship between modernity and tradition.
Another interesting take on psychological horror could be found in When I consume You an American indie from Perry Blackshear that plunges us into the fractured mind of a Brooklyn layabout haunted by a mysterious and malevolent presence with ties to his troubled past. The film ingeniously uses its gritty setting to build out its central character and craft long-lasting scares. The film's striking use of shadows early on is especially impressive, building indelible images that lean on their low-budget roots. If the second half of the film somewhat gets lost in speechifying, the effective groundwork laid early-on ensures the scares remain long after the lights come back on.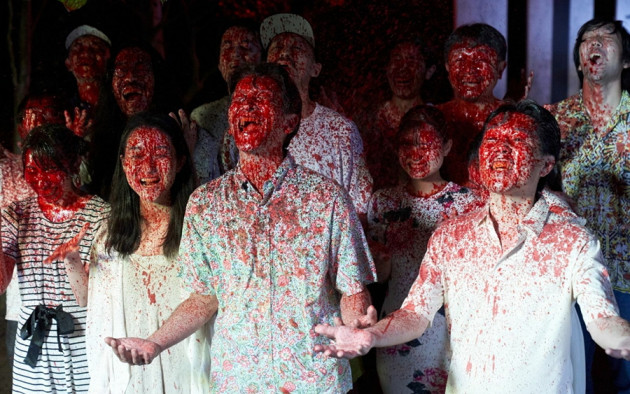 Wonderful Paradise
The title of most batshit crazy film of Fantasia is usually a pretty hotly contested one and this year is no exception with the over the top goriness of The Sadness (Robert Jabazz) or the absurd family drama of Wonderful Paradise offering fans ample space to be shocked, horrified or tickled. A suburban Japanese take on The Exterminating Angel, Wonderful Paradise from under-appreciated punk iconoclast Masashi Yamamoto takes us on a stream-of-consciousness tour through a progressively growing party at a house soon to be vacated by a seemingly normal family. The film starts relatively banal if always progressing out of its own off-centre narrative logic, each new character wandering into the house party's vortex adding to the absurd intensity of the proceedings. It's best not to spoil too much, but fans of straight-faced Japanese absurdity with a hidden wellspring of heart in the mold of Katsuhito Ishii should not miss this wild ride.
A number of Japanese dramas investigated the past and nostalgia in interesting and revealing ways. Remain in Twilight from Fantasia regular Daigo Matsui is perhaps too talky for its own good, betraying its origin in theater, but it does build to an emotionally resonant look at male friendship. Following the boozy reunion of six high school friends now in their thirties and interspersed with flashbacks with the actors humorously playing themselves as teenagers, the film does a good job setting up its characters and their life-long dynamics in long unbroken sequence shots where the actors are free to perform. And if sometimes we wish for the movie itself to explode, with most of the heavy emotional lifting left to the acting which sometimes seems pitched to the back-row, the film's strong grasp of the joys and hardships of male friendships makes it enjoyable throughout.
Less impressive was the new film from Hitoshi Yazaki. Sakura which follows a seemingly perfect family, (mom, dad, three siblings and the titular dog), that is rocked to its foundations after an accident puts the eldest son in a wheelchair. From this fairly basic premise for a family drama i.e. some incident coming to expose the fault lines at the heart of the typical Japanese household, Yazaki follows the expected story beats, sometimes managing to inject some more twisted elements, especially with the character of the younger sister who idolized her older brother to an obsessive degree. Those moments make us hope for a more outré confection, but most of the runtime is devoted to tired melodramatic histrionics that fail to burrow deeper into the heart of the drama. The actors all do a fine job, but the spark or the lived-in authenticity that made previous works like Strawberry Shortcakes so memorable are sadly lacking.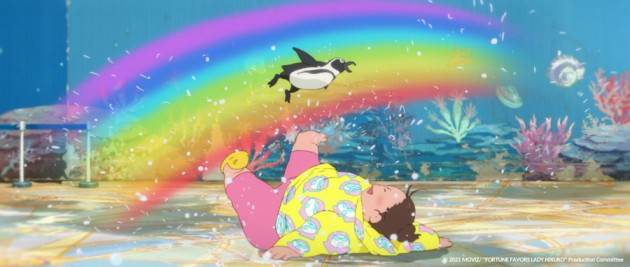 Fortune Favors Lady Nikuko
The animation side of things brought us a number of interesting titles. From The Children of the Sea director Ayumu Watanabe came a decidedly different film, the sweet if prickly coming of age, Fortune Favors Lady Nikuko; a laugh-filled look at the ups-and-down of a shy tween and her coarse, bawdy, overweight mother. The film's cartoonish art style, all deformed bodies and gravity-defying movements, bringing us closer to the universe of Masaaki Yuasa, underscores the sweetness at the core of this mother-daughter bond which is not without its painful truths. The film stands out for its decidedly female perspective on growing up, its gorgeous animation and its wild beating heart which helps pave over the harsher moments when the main character, and in some sense the film, seems ashamed of the flagrant, in your face, vitality of Nikuko, the mother. Nikuko, the name itself a meat pun, is often compared to meat in bravura, visual metaphor filled flights of animated fancy, which would read as mocking if the character wasn't so resolutely, unabashedly alive.
More outrageous was Takayuki Hirao's Pompo the Cinephile, a film that answers the age-old question, what if Day for Night was a shonen anime? Most of the fun, or sacrilege depending on the viewer, of this lithe zippy film lies in its presentation of the major steps of the making of a motion picture as coming straight out of a Dragon Ball manga. Everything from writing to editing can be overcome with enough passion and a well-deployed monologue. This reviewer burst out laughing at a particularly spirited PowerPoint presentation where a junior banker cries out that a banker's job is to make people's dreams come true. The bottom line is that the film is fun and is filled with inventive visual metaphor for the process of filmmaking and has its heart in the right place, but it might strike the committed film buff as being too simplistic a representation of the art form. For others, it is over-the-top enough to remain engaging throughout.
A sweet rumination on the act of filmmaking was also at the center of the light, subtly nostalgic It's a Summer Film from Soushi Matsumoto, which follows through on the promise of its title. The story of Barefoot and her gang of friends who decide to make a samurai film for their film club, in friendly rivalry with another faction making a romance, the film gently but astutely depicts the challenges and triumphs of amateur art. The film's low-stakes and general good vibes were a breath of fresh air in a festival more often focused on all things macabre.
Switching gear completely was Cryptozoo from underground cartoonist turned animator Dash Shaw. The film, a strange psychedelic twist on Jurassic Park, follows the creation of a zoo for cryptids, mythical creatures from around the world, a utopia beset by various forces of authority. The story takes place in the seventies, which might clue you in as to its central metaphor; the hippie movement and its ultimate, violent dissolution. The film in its peculiar and roundabout way is about a dream and its destruction, asking if its beauty was reason enough for its existence. A cast of maladjusted outcast and an animation style reminiscent of an underground comic come to life with visuals that seem to come out of the notebook of a particularly inventive comix practitioner will make it a must-watch for fans of this particular era of sequential art, but its mournful, elegiac invocation of a bygone era's lost dream marks it as more than a purely fetishistic object.
And as another festival comes to a close, having offered its share of discoveries, both good and bad, it seems like things will finally be coming back to normal. It seems unlikely, barring the emergence of yet another variant, that Fantasia will continue with its current compromise between the cinema and the home. Outside of economic concerns, such a return makes sense as the theatrical experience is very much a part of the Fantasia DNA. The long lines under the scorching July sun and screaming geeky public are of a pair with the deluge of genre goodness that is Fantasia. So those last few years where Fantasia had to become more circumspect, smaller if no less broad and eclectic in its programming, seem destined to become mere footnotes in the history of the festival. What will remain are the films.