Fantasia 2015: The Dirty Dozen (or so)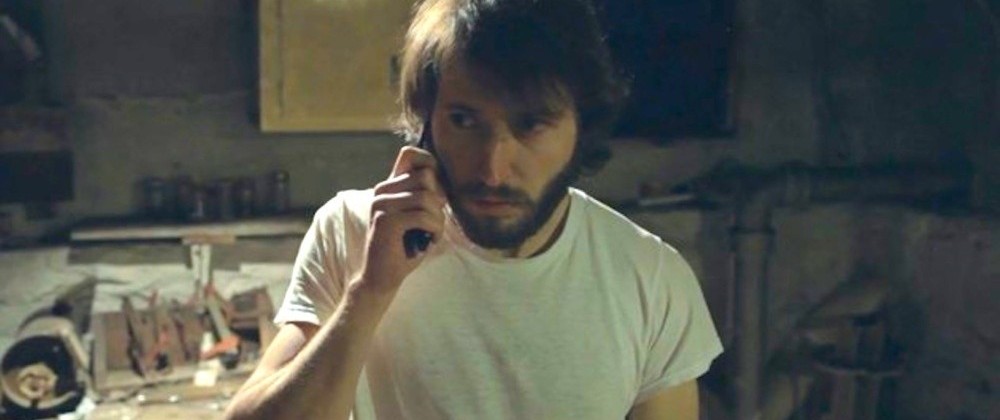 If I count the block of short films featured in Short Gauge Trauma as one, the following report looks at 12 of my favorite films of the festival. It is actually a baker's dozen of 13 because it doesn't contain my absolute favorite film of Fantasia 2015, which I have decided to treat as a stand alone review next month: Bridgend (2015, Jeppe Rønde, Danish), a poetic spin on the rash of teen suicides that has befallen the former mining community of Bridgend, South Wales. The unfortunate town has seen 79 mainly teen suicides between the years 2007-2012. Given how much I have to say about the film I thought it best to keep my comments on this film aside as a stand-alone piece, to be featured in the next issue. This will allow me to also review the recent official DVD release of Bridgend , which is part of the KimStim Collection and is being distributed by the valuable Icarus Films Home Video label. For those who want to see what the fuss is about before reading my analysis —always a wise move— the DVD can be ordered directly from their website. You will not be disappointed.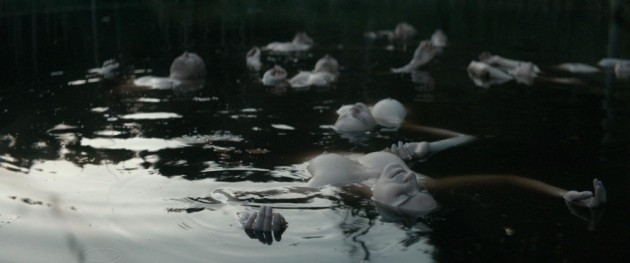 Bridgend
Office (2015, Hong Won-chan, South Korea)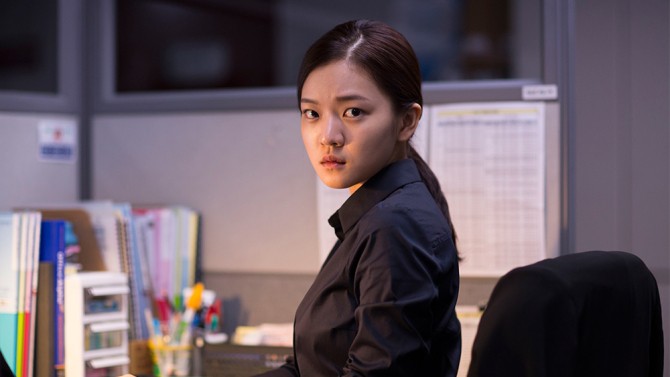 Office
Another strong entry that played during the first few days of Fantasia was the South Korean Office. What starts off as a pretty standard slasher film ends up distinguishing itself, in approach more than quality, with its incorporation of social critique. In this case the dog eat dog world of big corporate business. The opening scene is eerie in its quiet detachment. A salaryman who works as a manager at the Cheil Compnay, Kim Byung-Guk (Bae Seong-woo), returns home to his wife, invalid son and mother. A static long take of the family seated watching TV sets up the sense that this family is 'normal' on the surface but harboring a maliciousness at its core. His family barely acknowledge Kim's return, suggesting how he feels taken for granted. The father walks into the foreground holding a hammer. The wife looks at him and asks, "What is it with the hammer?" He promptly kills his family with hammer blows (all kept off-screen, with each blow counterpointed by sharp short cuts to adjoining apartment buildings, giving the proceedings a sense of the mundane ). The scene cuts to where the killer works, where a harried young intern Lee Mi-Rye (Ah-sung Ko) arrives late and is chastised by a slightly older female employee: "Since when can an intern arrive late," she asks sternly. The police are at the office investigating the "hammer murders," led by officer Choi Jong-Hoon (Park Sung-Woong). The employees act as if they are hiding something. The investigation yields two key facts: the killer returned to work after the murder, without any trace of having left; and a connection between the killer and the young intern, Lee (she has a knife given to her by the killer). While all the employees are reticent to speak about their Director Kim Sang-gyu (Kim Eui-sung) or speak ill of him, new intern Lee Mi-Rye admits that Kim Byung-Guk was the only person who was nice with her. This admission foreshadows the identity split of the killer that is revealed in the film's odd twist ending where the 'hammer killer' and the young intern appear to share an identity.
The film takes place almost entirely in the office space, which first time director Hong Won-chan represents visually and aurally with genuine menace (flickering florescent lights, grating noises, ominous empty spaces, etc.), as eager to please workers leave one by one. We learn that the killer was due for a promotion, but his mild mannered nature prevented him from being rewarded for his work —the killings perhaps a release of his pent up repression. Kim is never caught for his crimes and begins to appear at his office cubicle, as if he never left, a ghost of himself. One by one the remaining employees suffer suicidal like deaths. One comes crashing through an elevator shaft. Section supervisor Kim (Sung-Woo Bae) is found dead of poisoning. A woman is stabbed in a bathroom stall. Supervisor Kim Sang-gyu (Kim Eui-sung) is found lying in his blood at the bottom of the stairs. Kim (Bae Seong-woo) seems like the obvious choice, but the police are not sure. The young intern, Lee Mi-Rye (Ah-sung Ko) has something hidden in her desk drawer: a knife given to her by the killer Kim Byung-Guk. She too must bide her time for work promotion, but her path to permanency is blocked when a newer more savvy intern (Son Soo-hyun) arrives on the scene. While the officer takes a shine to the young intern, she shows more and more of her dark side, until the noted twist ending, which borrows a page from Haute tension, with the possibility that Kim and Lee are two interchangeable cogs in the corporate machine: the older milquetoast salaryman and the younger, aggressive intern.
A Christmas Horror Story (Canada, 2015, Grant Harvey, Brett Sullivan, Steven Hoban)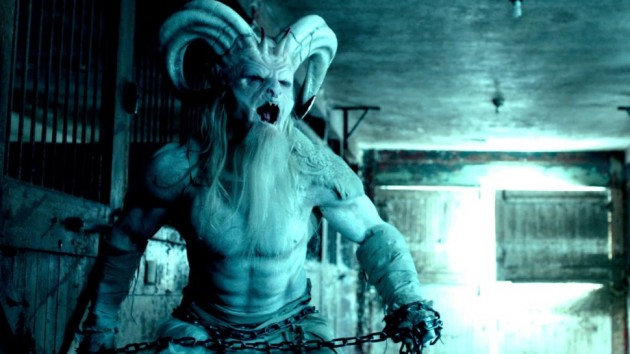 Holiday themed horror is always a Fantasia favorite, especially for fans who are always on the look-out for new films to add to their holiday viewing. This one, along with We Are Still Here, and She Who Must Burn (covered in depth in last year's Fantasia issue as a preview) reflect a current trend in genre toward a retro style, with the 1970s, 1980s as the period touchstone. A Christmas Horror Story harks back to the glory period of the Amicus anthology films of the 1970s. William Shatner pretty much steals the show as DJ Dan — in a role similar to Samuel L. Jackson's Dr. Love in Do the Right Thing— who holds the pieces together by being at its epi-center, a windowed radio station where he reports on the proceedings in Bailey Downs (a reference to the town in Ginger Snaps) on a creepy Christmas Eve. The film is unique as an anthology film because it intercuts between the five separate stories, rather than moving through them linearly. At the core is good, Santa Claus (George Buza) versus evil, Krampus, a muscular, goat-man Mr. Grich (Rob Archer). The stories are all well paced and laced with a color coding similar to the candy canes they were giving out before the screening (an 'artifact' that Randolph Jordan somehow forgets in his Fantasia report…and I know he has a sweet tooth) ; violence and startle effect takes precedence over mood and subtle horror, with each segment ending in violence before cutting to the next 'calm' intro which then slowly heats up to a climax. At times a segment ends with a cliff hanger and cuts away to a set of characters from another story. One story involves a family with a son who steals a Christmas tree and for their minor criminal indiscretion, their son gets switched out for a vicious changeling (a changeling also appears in The Hallow). Another story pits Santa Claus against crazed infected elves. Another sees a family trapped in a church, preyed on by Krampus. While certainly not reinventing the wheel, A Christmas Horror Story makes comforting horror fast food, and a nice companion piece to Krampus (2015, Michael Dougherty) and Tales of Halloween (2015).
German Angst (2015, Germany, Jörg Buttgereit, Andreas Marschall, Michal Kosakowski)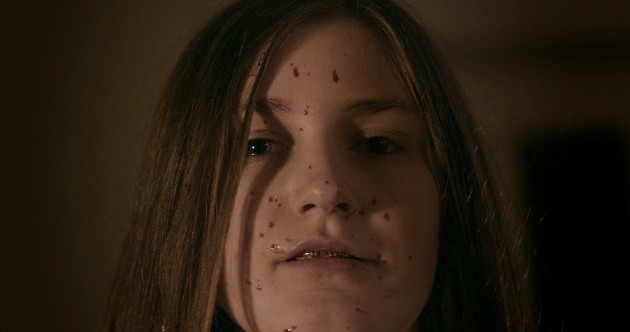 German Angst, story 1
German Angst is a trilogy film that elicited differing opinions from viewers on which segment they liked most. While I and a friend enjoyed the first story by Jörg Buttgereit the most, other people we spoke to preferred the second or third story. Although each story had its own particular social subtext, there was also a cumulative social critique. For example, the first story "Final Girl" is spoken in German, the second story "Make A Wish" (Michal Kosakowski) is split between English and German and the third story, " Alraune" (Marschall) is all in English. This evolution can be seen as a commentary on how Germany as a Nation is changing, being more and more conditioned by the English speaking world. Another sub theme is the influx of foreigners in Germany: there is the Turkish man in the first, the English, German, Anglo-saxon and Polish characters in the second story; and the third story is filled with odd accents throughout (Ukraine stripper, European short-haired women, and Americanized German fashion photographer).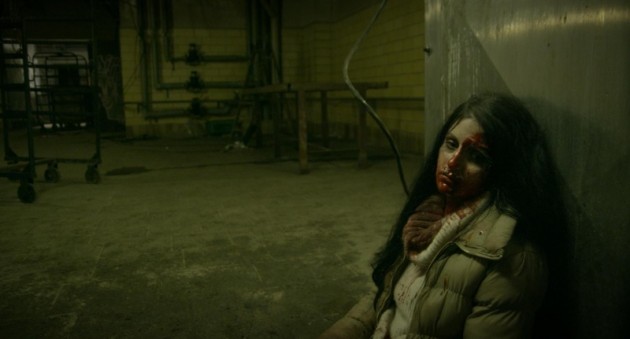 German Angst, story 2
In the first story a series of extreme close-ups keep us in the dark before we see a teenage girl waking up, and tending to her guinea pig. Before long we discover she is harboring a man –perhaps her father—tied to a bed in an adjoining room. In a methodical fashion she proceeds to torture and kill the man. We never learn of her motivation for her crime, but it feels framed as a revenge for a previous sexual assault given the nature of her torture: she castrates then decapitates him. During a scene she listens to a radio news broadcast that goes on in detail about a man, of Turkish descent, who dismembered his wife. This opening radio story forms a template for her actions. Buttgereit's representation of a cute, seemingly quiet teenage girl as a vicious, sadistic killer fits in with the recent trend of women who kill, but Buttgereit muddies the moral waters by making it impossible to condone or condemn the act —an act of sadism, or a vengeful act on a sexual predator? By the end she is seen moving from the apartment with two suitcases and then the film ends with a cut to the same man –I think– looking out the window, which can be read in two ways: she has his corpse in the suitcase and the shot of him is a flashback; or she was imagining it all. For fans of his previous films (Nekromantik, Nekromantik 2, Der Todesking, Schramm) "The Final Girl" will recall Buttgereit's tendency of portraying people trapped physically and/or psychologically in a small apartment.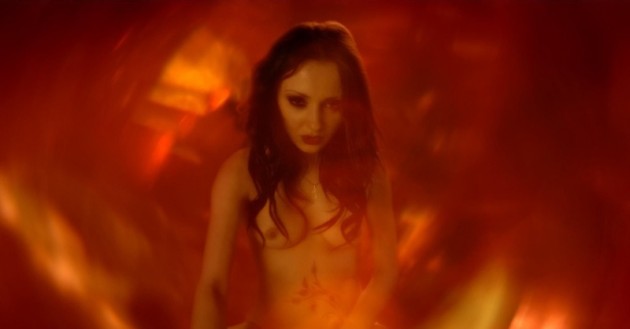 German Angst, story 3
The second story by Michal Kosakowski "Make a Wish" has a deaf and mute young couple stopping in an abandoned building to rest and share a few kisses. The woman shows the man an amulet with the figure of two people in inverted positions and tells of its magical power to switch the identity of people. The woman's story is told in a flashback to Germany circa 1943, filmed in sepia Super 8, and a Polish-German farm which is sabotaged by Nazis who attack and kill innocent civilians. A young girl, the narrator's grandmother, turns the amulet and it seems to have the desired effect, as the farmer takes the gun off the German and begins to shoot the Germans. The flashback ends and the film returns to the present where the couple are confronted by a gang of Clockwork Orange-like Neo-Nazis (one of them being an English Neo-Nazi) who torment them, beat them, kill the man by burning him in an oven-like container, and leave the distraught woman emotionally shattered on the ground. The violence in this story, set against a sparse, concrete car park, is brutal and hard to watch. The woman tries to invoke the magic of the amulet but without the same effect. At first the switch seems made, with the skinhead unable to speak, but eventually the spell seems to evaporate. The third story, based on the famous 1911 novel by German novelist Hanns Heinz Ewers, Alraune, is a messy supernatural tale that feels like a mish mash of Eyes Wide Shut and Possession. A satan style cult is involved, and a tentacle beast is summoned. A fashion photographer gets involved through the internet with a cultish sex group who smoke a drug out of mandrake root to get off sexually. Hallucinations intermingle with reality. Though less socially or politically engaged than the first two stories, the splendorous over-the-top style, with its vibrant colors and loud soundtrack, was probably a good choice to end the film on a more effusive and less nihilist note.
We Are Still Here (2015, Ted Geoghegan)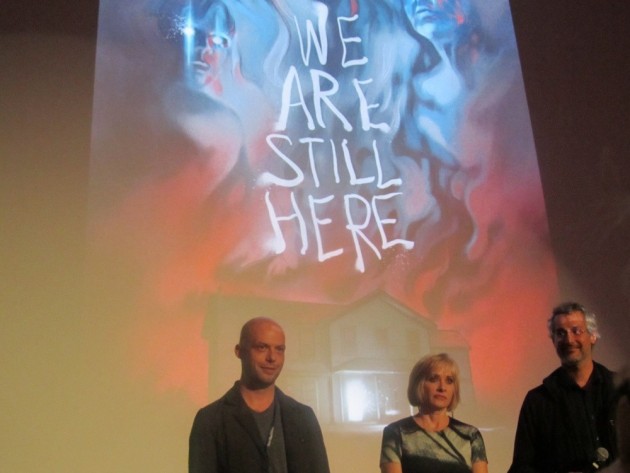 Ted Geoghegan, Barbara Crampton and Karim Hussain addressing the audience
We Are Still Here features a great cast, with Barbara Crampton, Andrew Sensening, Larry Fessenden, and Monte Markham, and some wonderful retro cinematography by DP Karim Hussain, with steely whites and autumnal browns dominating. Director Geoghegan delivers a film with a modern sensibility but with its heart lodged in the glory era of the 1970s, with its homage to Italian horror and Carpenteresque claustrophobic horror. The set-up of the evil house with a demonic past invokes The Amityville Horror, House by the Cemetery and Beyond the Door 2. It is also refreshing to watch a film with adult characters dealing with adult worries (the main couple, Anne and Paul, are dealing with the tragic loss of a child) rather than the snarky, tech dependent teens of most contemporary horror.
Anguish (2015, US, Sonny Mallhi)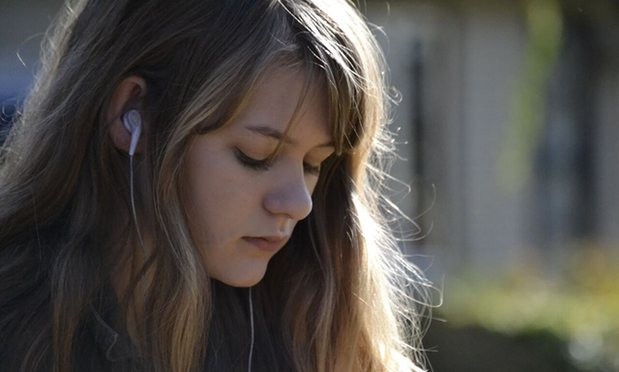 Tess (Ryan Simpkins)
Perhaps my second favorite film of Fantasia, after Bridgend was Anguish. There are not that many horror films that you can refer to as 'spiritual'. When you eliminate Christianity from the equation, and with it films like The Exorcist, Stigmata or The Omen, the list gets even smaller. Audrey Rose, which deals with reincarnation, is one, and a short list would include Sixth Sense, Sauna and The Dust Devil. And now you can add Anguish, a film which succeeds in flirting with the conventional possession film but leaves that outside the church door in exchange for a more generalized, secular notion of spirit. It is surprising to learn that the proverbial "inspired by true events" is more than token in this case, as writer/producer/director Sonny Mallhi (interviewed in this issue) admitted that the main plot was based on incidents he knew about as a child, and the India scene is based on something his mother experienced.
In the opening scene a mother and her teen daughter Lucinda (Amberley Gridley) are arguing while driving. The mother Sarah (Karina Logue) stops the car the daughter opens her door to abruptly exit the car and gets hit full on by a passing truck, killing her instantly. The film picks up with another mother-daughter set, this time the same aged girl is Tess (Ryan Simpkins) , and the family is moving into a new town for a fresh start (suggested in the walk they take to a beautiful meadow and lake). Tess is withdrawn, alienated and has been receiving treatment for 'mental' illness. Her father, like Lucinda's, is remote, seen only on a few Skype calls, until the end. Whereas Lucy's father is absent. Symbolically, since this is a female themed horror film (a "chick flick horror film" as Mallhi half-seriously called it in the post-film Q & period), and patriarchy plays second fiddle in this film to motherhood. Lucy's (as Lucinda is also called) body is marked by a burial cross and photo by the side of the road where she died. When Tess comes across this area she senses the spirit presence of Lucy, introducing the possibility of the possession plot entering the picture. For the first 40 or so minutes Mallhi treats Tess' condition as a medical illness, through moments like Tess' meandering skateboard through the town of Lamont, and mostly, the use of heightened and non-natural sounds to evoke her state of mind. At moments like this the film reminded me of a horror version of Michelangelo Antonioni's Red Desert, in the way Mallhi uses landscape, setting and sound and her aversion to human contact to suggest Tess' distanciation from reality, or her inability to connect to people. Throughout the film Mallhi uses everyday landscape, architecture, homes, small town streets, and suburban sameness to great emotional affect (I asked Mallhi about this and he admitted to not having seen Red Desert). One of the best shots is the noted long shot/long take of Tess skateboarding down a street downhill, with the camera up at a high angle. When Tess is hospitalized we get the by now proverbial "face at the window" shot, with Tess, in hospital garb, screaming with outstretched arms on the window. We see the shot intercut with interior shots of Tess banging her hands on the window. This moment echoes with a later flashback to when she was 5 years old and banged her head repeatedly on her room wall.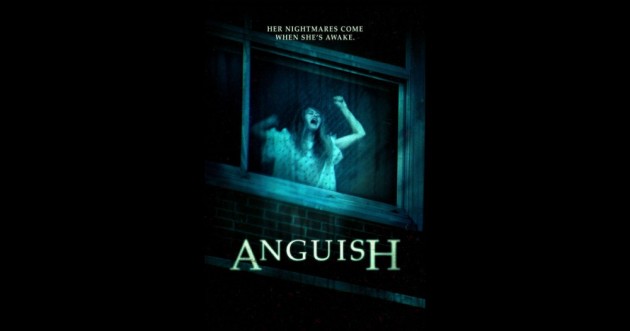 Face at the window
One of the strengths of Anguish is the strength of the female characters, both mothers, the older Sarah and the younger Jessica (Annika Marks), and the two daughters, especially Simpkins in the lead role of Tess (she was 15 when she started the role). As Tess grows more ill Jessica takes her to the priest, a great scene in which Tess essentially terrifies the priest by reciting the passage from the New Testament that he was about to read, then saying "that won't help". And then invoking something that happened in his past. Following the dynamism of The Exorcist, Jessica takes her next to the medical profession, where they give her more meds and diagnose her as having an extreme case of identity disassociation. She returns home with her mother but begins to behave oddly. In the car, Tess jumps out and runs away from her mom. She ends up knocking at a stranger's door, the home of the dead girl's mother Sarah, who she greets as 'Mom'. Sarah tells Jessica the story of a trip to India she took where she saw a woman who people would go to see to help them commune with a dead loved one. During a séance the lady's eyes would turn color, which meant she was being serviced by the soul of a dead person. It was a sign that she was being 'channeled'. She had the magical power to be a conduit for the soul of dead people. This story sets up the climax: a pyrotechnical battle for the spirit of Tess' soul. Although on one level the film's climax, which pits the two mother's in a spirit battle between Tess and the ghost of Lucy, is disappointing, it is a natural extension of the film's dependence on women. Instead of a male sanctioned Catholic exorcism defining the moral battle, it is the two mothers , not in competition for the soul of their respective daughters but trying to work together, to guide Tess between her own identity and Sarah's. In the Q & A Mallhi said this was an example of "spirit releasement therapy" which sounds like a profane version of an Exorcism. The ghost of Lucy wants to remain among the living to experience the physical world and Jessica tries to help her, regardless of how strong her desire is for Lucy to leave Tess alone. One scene shot in high contrast visualizes what is in Tess' head as Tess and Lucy meet and struggle. Lucy gives up her forced existence and gives Tess' shell, her body, back to Jessica. Or at least this is one possible reading of the ending (read the interview for Mallhi's own different reading of the end). What is most interesting about this spirit battle is how the struggle was downplayed and made less aggressive and confrontational than how it may have turned out if the 'priests' had their way. As they leave Sarah's house, Tess gets out of her car and runs back to give Sarah an amulet that belonged to Sarah's daughter, given to her just a few weeks before the accident. I asked Mallhi and he said this was not a conscious reference to the scene at the end of The Exorcist where Regan gives the cross to Father Dyer, Father Karras' friend. After a few quiet moments where Jessica and Tess move through the town, with a backdrop of gorgeous natural scenery, she returns home. The film ends on a close-up of Tess. Just before it cuts to black, we see her eyes change color to jet black, suggesting she is 'not cured' or at least able to channel dead souls.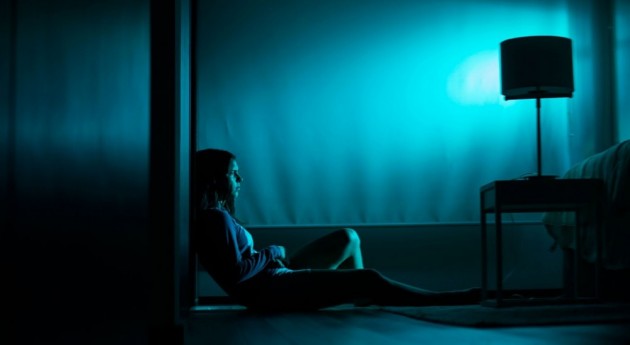 Lucinda (Amberley Gridley)
To return to the notion of a spiritual horror film, this idea can be approached in ways other than the obvious plot of mother's losing their child and the unsettled soul of the child trying to make contact with the material world. The notion of the spiritual as an internal space fits nicely with a formal understanding of spiritual art, which goes back to Walter Kandinsky's Spiritual in Art, and the first abstract paintings of the 1910s. Kandinsky spoke of color as a conduit for the spiritual realm. Later abstract artists, the post-impressionists (Cezanne) surrealists (Dali, Duchamp) and cubists (Picasso, Klee, Gris) spoke of form —light and color— as a means to attaining the real or internal truth. According to Robert H. Hinrich in his book Film & Art (1999, 2002), "Primitive and prehistoric art exposed the retinal truth….Modernism yearned for cosmic truths beyond the retina; from within the psyche rather than the prairie, from the dreamscape rather than the landscape" (p. 91). In this sense, Mallhi goes beyond a retinal truth through the use of architecture but more often and more directly through the film's sound design, which is always layered and forces us to hear much more than what we see. The sound design blends synchronous and diegetic sounds with asynchronous and non-diegetic sounds. Tellingly, when Tess seems to have recovered or at least survived being host to Lucy's tortured soul, she plays the guitar (poorly as a novice) and sings a song that reflects her inner state of mind. When she sings the song it is reassuring for the audience because it grounds the audience in reality, in "retinal truth": if she can sing, can express herself. It is synchronous sound, we know the source, so she must be OK. Or is Tess only channeling Lucy? (Again, read the Mallhi interview for his own take on this ending). At one level Mallhi uses sound conventionally, to scare the crap out of us with sudden sound edits, loud stingers, and startle edits laced with sharpened sounds. But the sound operates also on a more subtle level where it suggests Tess' mental space. When she is hospitalized and an off-screen doctor (never seen, symbolically, as the film downplays the role of authority figures in place of the mothers) asks her to explain the sounds she hears, Tess quietly forms a fist and slowly hits the side of her head several times, telling us quite literally that the sounds are in her head. Anguish is a wonderful debut for Mallhi and one of the more intelligent American horror films of recent years.
Marshland (2014, Alberto Rodríguez)
Marshland
The police procedural drama Marshland is set five years after the death of Spain's Fascist dictator Franco, September, 1980, and deals with a small town murder investigation by two police detectives, Juan (Javier Gutierrez) and the younger Pedro (Raul Arevalo). The film opens with some great extreme over-head angles shots of the marshlands, images which appear so alien as to be from another planet. Some of them are so still and from so high that it doesn't seem like they were taken from an airplane or copter. (Perhaps these were taken with a drone?)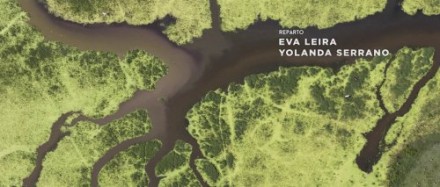 I later read that these almost surreal overhead geographical shots are based on photographs. Marshland, which won a truckload of Spanish Goya Awards, goes beyond its formulaic plot with a precise attention to detail, not only the stunning overhead cinematography, but the nuanced good cop/bad cop duality which reflects a fractured Spain coming out of Franco's dictatorship but with open wounds. The latter is suggested in Juan's mysterious stomach pains, where we see him urinate blood, and the few borderline supernatural touches, like the scene where Juan sees a tropical bird in his room and feints from surprise. The character of the psychic on the boat is also a nice touch, especially when she seems to tap into Juan's deathly past when she tells him "The dead are waiting for you. It is almost time," a line which at the end haunts us after we find out that Juan had tortured over 100 people while he was working for Franco. The main crime of the two missing girls, later to be four, is solved, but with as many loose threads as a soggy rope.
The Dark Below (2015, Douglas Schulze)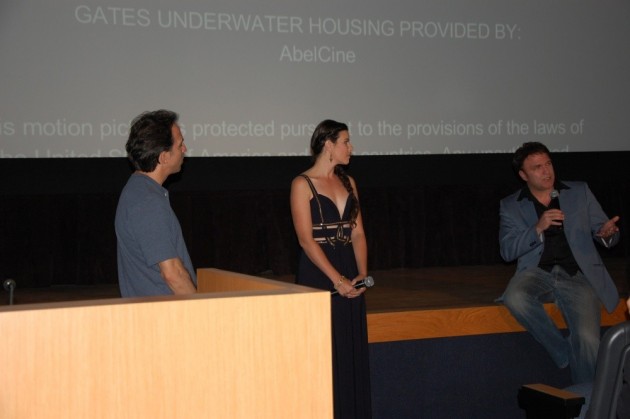 Anthony Timpone (l), star Lauren Schafer and director Douglas Schulze of The Dark Below
The Dark Below is a unique twist on the conventional survivalist horror film, told unconventionally, without dialogue, except for one line –echoing La Jetée— with music/sound giving voice to the main actress, Lauren Mae Schafer, who plays victimized heroine Rachel, kidnapped and pushed into an ice hole and left to die by, we soon learn, her vindictive ex-husband. The single line in the film is uttered by Ben (David G.B. Brown), the killer, as he drops Rachel under a frozen lake ("Love is cold"). As she struggles valiantly to search for an exit hole, or a hollow to rest and breathe, her male assailant, who has gone to extravagant measures to kill someone, leaves for warm cover once he thinks she is properly trapped. The non-linear structure, which slowly pieces together the motive for the killer's behavior, reflects the often assumed use of water as a metaphor for the unconscious or the past. Using cross cuts between Rachel (Lauren Schafer) and Ben (David G. Brown), we learn of a courtship and eventual marriage and child, making the two characters husband and wife. Veronica Cartwright plays the star attraction as Rachel's forceful mother. As the back-story gets filled in we learn that Ben is a serial killer, with water and drowning attractive young females as his MO. In one flashback at the lake, shot, as most of the film is, in slow motion against a bright, halo light, we see Rachel in shock and then cut to Ben walking out of the lake holding their unconscious daughter in his arms. The image to me suggested the opening of Don't Look Now (in its content though that too was in slow motion), and during the Q & A Anthony Timpone evoked the scene from Frankenstein where the monster walks with the little girl he had tossed in the water like a flower petal. The film leaves open the possibility that Ben had tried to kill his daughter, though it seems unlikely. But this moment causes a complete rupture between Ben and Rachel. Suspense is created in the present moments when Rachel manages to come out of her watery grave, only for the lights to turn on and Ben return to force her back into the ice hole underwater. In one case she manages to snatch her snorkel tube –which then becomes a symbolic umbilical cord when we see it floating down (or up?) in the water. This is one of two moments the film recalled Jane Campion's The Piano (also in a sense a female survivalist story). Here the snorkel tube functions like Ada's shoes floating in the ocean in the penultimate scene , a metaphor of her new found freedom. And then later, after the series of gun fires from Ben into the water, we see Rachel exit the hole with a missing digit, her ring finger of her left hand, echoing the same fate Ada (Holly Hunter) endures in The Piano. Water, rebirth, new found female strength, the use of muteness, a powerful female figure, all of these elements bond The Dark Below to The Piano. Director Schulze in the Q & A admitted that the film was filled with homages, citing Kubrick –the moment early on where Ben hits the ice with his pick recalling the ape with weapon in 2001. In terms of symbolism, there is also the daughter drawing on her bedroom wall, which in its subject –a drawing of Mommy in a yellow suit and Daddy in a red suit, against the water blue painted wall— acts as a mise en abyme. When I asked Douglas to expand on its meaning he cited a child's innate intuitive nature, being able to sense the danger ahead of her mother, drawing from his own experiences as a father and how his daughter will often surprise him with her 'scrawls' which usually let on more than he or his wife first thought. The film is a clever reworking of two popular horror sub-genres, the survivalist horror and the slasher film. In the latter case Rachel is the ultimate Final Girl, who becomes coded as that in the shot where she discovers a slew of missing woman police postings, all crinkled in Ben's possession. Rachel is one of the more resourceful women of any slasher or survivalist horror film, recalling the powerful women in The Descent. Her status as a Final Girl is cemented in the penultimate scene, where she fights off the killer and defeats him for good. After the cat and mouse game comes to an ultimate physical struggle between them, Rachel appears the victor, crawling out of the lake, with a finger missing and face and hands frozen. Suffering but reborn a new woman, she moves away from the hole. In Halloween style, the seemingly dead Ben comes to life in the background of the shot, inching forward toward the unsuspecting Rachel. Once again Rachel overcomes him. The film and Rachel deserve a happy ending, and this is what it gets. After all that she endured it would have been far too cruel, even for a hard-bitten Fantasia audience, to have seen Rachel suffer more. In the final scene she is in the hospital room with her mother, as they hope for their daughter to show signs of life. Hand in hand, hoping for a sign, the daughter moves her hand, sending a joy of recognition through Rachel and her mother. Rachel glances at the space outside the room, dreading to see Ben, but it is just a painful memory which will eventually fade from her consciousness, as she returns to greet her daughter.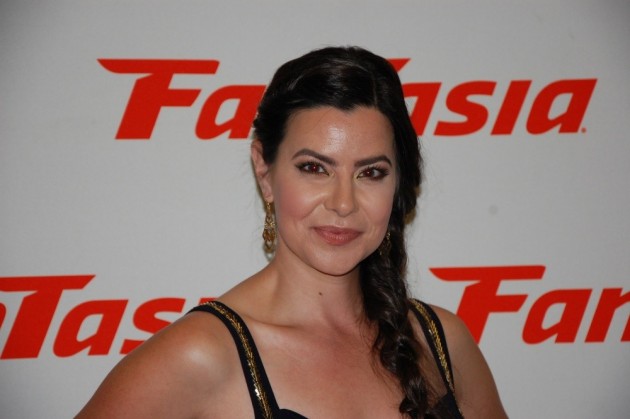 Lauren Schafer after the screening
Small Gauge Trauma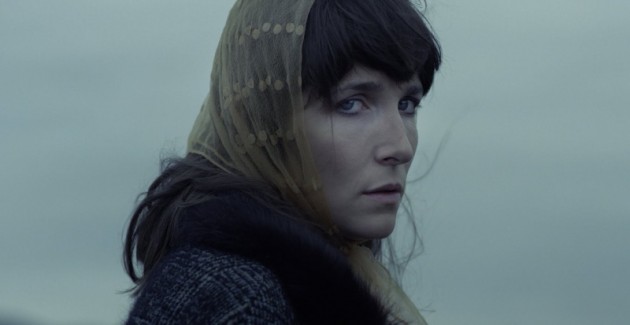 Skuld
Programmer Mitch Davis has for many years worked diligently trying to showcase the best the short film format has to offer with his brain child short film program, Small Gauge Trauma which was, again, very strong this year. A Boy's Life (Howard McCain, 2015), which started the program, is the slightest in length and content. An armed boy scales to the roof of his house. He is not a sniper, but a survivor of a zombie holocaust, and we see him shoot a male zombie, who we learn from the chalk markings he draws on the side of the house, is his father, which finishes his family off (mother was first). The setting is established with an impressive aerial panning shot of the town's destruction. Up second is the British oddity Stomach (Ben Steiner, 2014), a virus/possession story where people who cannibalize end up ingesting the soul of the people they eat; and the survivors listen in through a tube placed in the mouth to speak to the ingested. The creepily old school puppet animation The Shutterbug Man, a program highlight, is graced with the voice-over of Barbara Steele, and feels like an adaptation of ETA Hoffman's story "The Sandman," which Freud quotes extensively in his seminal essay "The Uncanny." The Blood of Love (Jeff Meyers, 2015, US) is a romantic revising of the great Les Yeux sans visage, with a woman being the figure who must hunt for victims to exsanguinate to keep her lover alive. Heir (Richard Powell, 2015, Canada) stars the same actor (Robert Nolan) and director team of Familiar, that Cronenbergian mid-life crisis horror short from two years ago. In Heir it is child abuse and pedophilia which is 'externalized' through body horror mechanism. Feeder (Christian Rivers, NZ, 2015) is a great theory film, as is The Shutterbug Man, (Chris Walsh, 2015, Canada) and fits well with the discourse of horror and art. In this case, the issue is creative block and a shoddy apartment block area which has a few apartments with supernatural tenants, and an unseen presence living under the floorboards. The tenants suggest an offering by a scribble shape on the floor, and when an offering is made the host is granted a creative burst of energy. One man writes great songs but must continually scale up his sacrifice: first a mouse, then a rat, a cat, then a dog. The woman next door has evolved to humans in her quest to paint, etc…..an ode to one of the classic themes of horror art, going back to Corman's Bucket of Blood and The Mill of the Stone Women. Slut (Chloe Okuno, 2014, US) which follows, has a retro vibe feel of a Slasher film with a serial killer who only kills 'sluts,' or women who act the part. The heroine, a bookish teen is overlooked by the boys at the roller rink, and this saves her from the clutches of the predator, who sees her as a "nice girl". Tired of her invisibility, she dresses 'down' which makes herself not only a victim, but the final girl who slays the monster, with a note of irony. Rightly placed at the end of the program is the longest and arguably best film in the set, the Danish Skuld (Guilt, Heiðrik á Heygum, 2014, Denmark), a great exercise in J-horror inspired chills. A nursemaid working in a remote coastal area is haunted by the tragic death of her child. Through a non-linear structure we learn the true reason behind the death of her child, a twist which, even if telegraphed, takes nothing away from the film's nocturnal atmosphere, a style which reminded me of the great British television M.R. James ghost story "Whistle and I'll Come to You" (1968), later repackaged as part of the series "A Ghost Story for Christmas" (1971-1978). One startle effect which involves a woman flicking a light switch and the figure of a boy is worth the price of admission alone.
Bite (2015, Chad Archibald)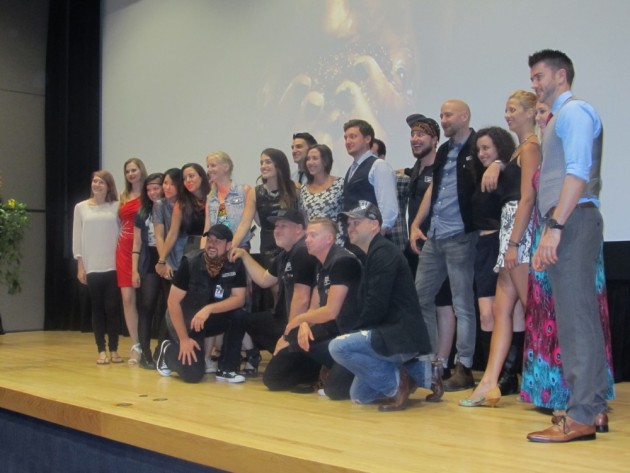 Cast and crew of Bite after screening
Director Archibald has been a mainstay of Fantasia since his first film, Never Lost played here in 2010. Archibald's home town Guelph Ontario was very well represented in the audience at the screening of Bite, with the full cast and crew –and a very attractive one at that— in attendance for this straightforward, but well made body horror/fear of transformation film. A young woman, Casey (Elma Begovic) on a bachelorette holiday at Costa Rica is bit by an unknown insect while swimming in a cove and begins to transform upon returning to Canada (sending bolts of fear through anyone with qualms about travelling to far off locales!). She has serious second thoughts about her impending marriage to preppy rich boy, and motherhood –while the fiancée wants children– making the 'bite' and its after effects a clear metaphor for her apprehension over marriage. She sleeps with him once, against both his and her future mother-in-law's wishes, and becomes pregnant. As she transforms she becomes pure abjection and the monstrous feminine. For feminists looking for substance, Casey does not become so much empowered as PURE, unadulterated abjection personified —her friends are repulsed and frightened of her. In the end she transforms Brundlefly-like into a barely recognizable human insect; and her apartment a moist fecal womb-like space. Like last year's Dys- the film plays out mostly in Casey's apartment, like another VERY similar film that played Fantasia, and also Canadian Thanatomorphose (2012) and Contracted (2013), and, one of the classics of body horror transformation David Cronenberg's The Fly. (Why are there so many Canadian horror films that deal with characters undergoing an ugly body transformation? Now that is a PhD thesis in the making!) After killing all her friends (her liquid can burn) the fiancée puts her out of her misery by crushing her by now barely recognizable head. The film ends with police exposing the lair and then cuts to two female joggers talking about an upcoming vacation in Costa Rica. One of the hundreds of flies hatched in the apartment bites her, ending with the by now cliché (and wholly expected) pregnant ending. Even if the film is a bit thin on substance, the special make-up and visual effects (ooze, goo, puss, luminous larva, etc.) edge this over as a film where spectacle wins out over content. Certainly the audience, especially with the cast and crew in attendance, gobbled this up wholesale and had a grand old time.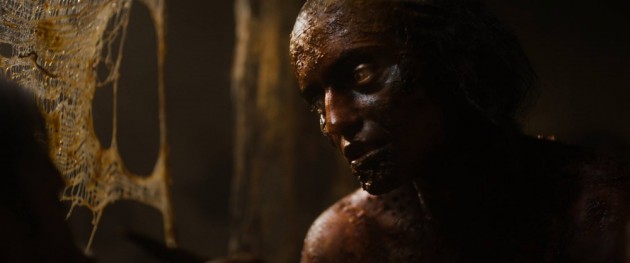 Female Brundlefly
The Editor (2015, Adam Brooks, Matthew Kennedy)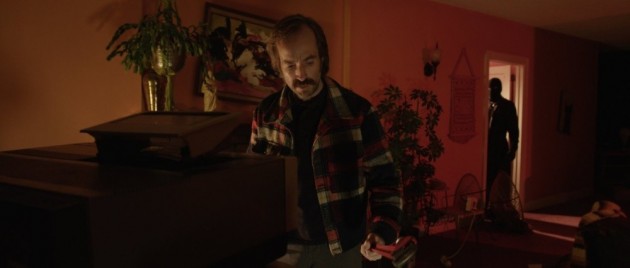 The Editor
The Editor is the latest offering from the crazy Canadians from Winnipeg, the Astron- 6 collective, who specialize in a retro brand of homage-parody and return to a subject they've dealt with in their short catalogue, Italian horror of the 1970s, 1980s, most hilariously with Inferno of the Dead, where a group of shuffling zombies more than wear out their welcome as apartment crashers. They certainly have the look and feel of the form down well, adding their own brand of goofy comedy to the mix; but the retro feel is hot, especially in a more serious and accomplished vein with the team of Hélène Cattet, Bruno Forzani (Amer, 2009, The Strange Color of your Body's Tears, 2013) and Peter Strikland's Berbarian Sound Studio, 2012, which also features an editor who slowly loses his touch with reality; these latter films take a more serious approach to the revisionist work and say more about the modernist sensibilities of the original work than the Astron-6 work, which nonetheless remains a heady trip for fans of the giallo and Italian horror, with loopy dubbing, bad Euro accents blending with a genuinely stylish visuals (think Suspiria/Inferno/Blood and Black Lace for color). But as Erich Kuersten of Acidemic Journal of Film and Media cleverly notes, " The weirdest thing about this final 2014 film of THE EDITOR perhaps is that it's almost as much a satire of the post-giallos made today as the old ones made yesterday that have become classics and been largely forgiven and absolved from charges of misogyny (charges I too once levied)" (Wednesday, September 9, 2015). The parody also extends to convoluted narrative and plot scenarios, with a reflexivity that continually turns in on itself. Making the lead protagonist an artist, in this case an editor who chopped his own fingers off in a moment of insanity, echoes one of the most defining aspects of the giallo: the artist-as-protagonist. For example, the musician in Deep Red and Four Flies on Grey Velvet, writer in Tenebre and The Bird with the Crystal Plummage, painter in The House with the Windows that Laugh, Opera singer in Opera, etc. Another element that gets played over the top is the inherent misogyny of much gialli. To the point where slapping a woman is what every woman expects from a REAL man. Misogyny becomes a running gag, culminating in a scene where a macho leading man rips off a woman's face believing it to be a mask, and then tries to squirm it back on as if it was a mere blemish. One female character gets so frightened that her eyes turn eggshell, and then she becomes the blind woman from The Beyond. Rey Cisco (Adam Brooks) is the lead character, with a wife who loathes him (Paz de le Huerta) and a female assistant Bella (Samantha Hill) who loves him, but he abides by his stringent moral code to resist her advances. Astron-6 also get the sounds of the giallo down pat, with a euro 1980s synth vibe from beginning to end. The film also flaunts its Canadian chest with constant homages to John Paisz, who has a cameo and whose poster for Crime Wave appears liberally throughout the film. Of all the films at Fantasia this is the one I think will gain the most from a second viewing on Blu ray.
They Look Like People (Perry Blackshear, 2015)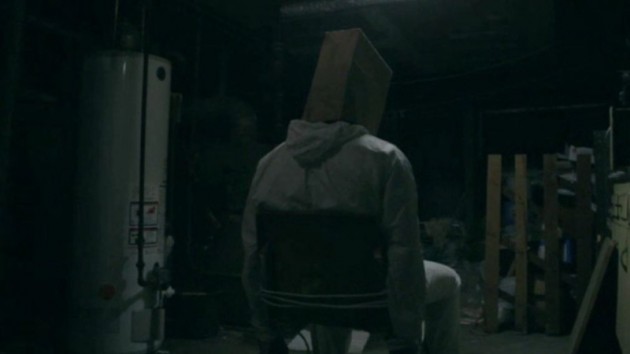 This psychological horror film makes an interesting companion piece to Anguish, in the way it announces itself as a film treating a specific mental illness, schizophrenia, but then uses that as a way to invoke human drama with (very) thin layers of genre/horror tropes. In Anguish it is a young teenage girl who suffers from depression and possible schizophrenia, who then slips into a likely supernatural situation when she begins to make contact with the spirit of a dead girl of around her age. These two films can also be joined by the recent The Babadook which also treats a boy's real mental issues –anti-social behavior, perhaps autism– with supernatural touches. This wave of new indie horror films demonstrate how the Russian literary theorist Tzvetan Todorov's seminal The Fantastic: A Structural Approach to a Literary Genre (1973) still holds critical and theoretical and explanatory value. These films invoke Todorov's analysis of how Freud's work on psychoanalysis robbed Gothic literature of its thematic meat. Todorov noted, "…psychoanalysis has replaced (and thereby has made useless) the literature of the fantastic. There is no need today to resort to the devil in order to speak of an excessive sexual desire, and none to resort to vampires in order to designate the attraction exerted by corpses: psychoanalysis, and the literature which is directly or indirectly inspired by it, deal with the matters in undisguised terms. The themes of the fantastic literature have become, literally, the themes of the psychological investigations of the last fifty years" (Todorov, 160-161). But the need for a gothic spin on scientific explanation of mental issues has come back in recent years, with films such as Absentia by Mike Flanagan —who has a new film at Fantasia 2016, Before I Awake— which director Blackshear cited as an influence), Take Shelter (also cited by Blackshear), Anguish and The Babadook, which all begin by citing a character with a mental health preoccupation and then use that mental health condition to either suggest, play on or invoke genuine horror tropes (to another end, this occurs with Rod Ascher's documentary Nightmare by dramatizing real life waking nightmares). So if not a pure gothic spin (as is the case only with The Babadook) the results are meant to invoke an element of dread and fear. In They Look Like People two young men, Wyatt (MacLeod Andrews) and Christian (Evan Dumouchel), friends for a long time, rely on each other, one more than the other, as the world crumbles around them. Wyatt receives phone calls, and later subjective voice-overs, telling him that people are not who they appear to be and that an alien conspiracy to take over the world is afloat. Wyatt arrives in Brooklyn to hook up with the long time friend he has not seen in years, Christian, after losing everything: job, girlfriend, and apartment. Christian sets him up in his flat. Christian is the anchor of the two, even contemplating an amorous engagement with an attractive co-worker Mara. But he too is losing a grip on his reality; his dream to succeed in his hip tech firm is shattered when Mara fires him. Meanwhile when Christian is out of the apartment, Wyatt prepares for the final combat with EVIL in Christian's creepy basement, accumulating shop tools —nail guns, wood, hammers, saws, axes— to defend himself. Here we can see the influence of Take Shelter, and the character's obsession with saving his family against an apocalypse by building a bomb shelter (rather than hiding in the basement). The basement becomes the cliché creepy space where the subconscious lets out and is free to roam. After Christian loses his job he gets into a funk. Mara, unlike the typical weak female, knows judo and can fend for herself. When Wyatt tries to intimidate her in the basement she simply tells him, "Wyatt move or I'll hurt you," and we feel she would. Most of the film takes place inside Christian's apartment, but even this is treated with astute rigor that adds an edge of uncertainty to the everyday blandness of their lives. On one level, Christian and Wyatt are two sides of the same coin, two approaches to life's problems, one attempting a rational approach the other an irrational (blaming things on shape-shifting aliens). Christian seems well adjusted but just a year ago had contemplated suicide; he works out and tries to build himself a psychological wall of strength through self-help guides, but is fragile himself. If the film had pushed more in this direction, it may have evolved into a male Persona! They play old juvenile games, eat together, play a bit of hoops, but ultimately Wyatt's mind begins to overcrowd his social commitments. The creepiest part of the film is the sound of the dominant, dark, slowed down voice Wyatt hears that gives him the bad thoughts. And in fact the sound design is where all the horror elements are found. The actress even going as far in the Q & A after the film to say that they were using subliminal sounds that they knew would upset people (loud buzzing insects). Wyatt lets the inner voice get to him and ties Christian up in the basement, hood over head ready to pour sulfuric acid over his head. Surprisingly, he refrains from pouring the acid and when he removes the hood we see a relieved Christian, not an alien or a monster. They hug and friendship wins out over the evil of his mind. A happy ending at this point in the game feels fresh and brave. It also carries emotional weight through the power of friendship and holds hope for people in distress. It adds sustenance to the 'bromance' part of the equation; or makes the film feel like an "Invasion of the Body Snatchers" for the jaded set.
Tag (Japan, Sion Sono, 2015)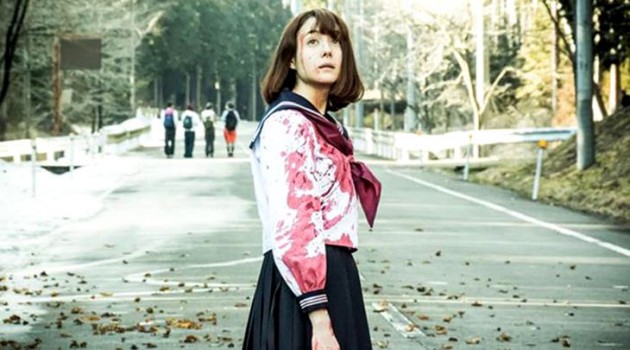 Tag is best described as a Japanese take on Cabin in the Woods, with the world of the video game replacing the world of the slasher film. And director Sono tries valiantly to make a feminist tinged or at least femme themed fantasy couched in real world entertainment. A set of teen female students, most prominent among them Mitsuko (Reina Triendl) and friends Keiko (Mariko Shinoda) and Izumi (Erina Mano), become prey to a cosmic joke where reality seems to be in a state of flux. First Mitsuko survives a bizarre event where a powerful wind blows off the top of a school bus, and decapitates everyone in the bus except her. Then in the film's most playful and liberating and femme friendly moment, the four friends skip home room session to run free to a nearby lake. The moment recalls Picnic at Hanging Rock in the way it suggests eroticism (one girl seems to have a crush on Mitsuko). Then when they return to school, two teachers open fire on them for "missing class." Mitsuko turns to discover she has a new face, and is taken to a wedding that turns out to be a horror show planned for her. Mitsuko hits a reality pocket and comes across a man's world: shirtless men stare at a poster of Tag, with Mitsuko center framed. A man tells her she is in the future. A snowy landscape gives way to a cave, where Sono reveals the twist: Mitsuko comes across an old white-haired man playing the Tag video game. Are the girls merely pawns in a man's game? Do only men play video games in Japan? Mitsuko gets her revenge by planning a mass suicide off all her personas, hence empowerment through death –an odd way for Sono to circle back to his first film to play at Fantasia, the wonderful Suicide Club (2001). In the end Mitsuko lies on a snowy field, gets up and acts of her own free will, for the first time in the film. Although the twist ending may seem pedestrian, there is nothing bland about Sono's imaginative attempt to 'feminize' the (I assume) male dominated world of video games.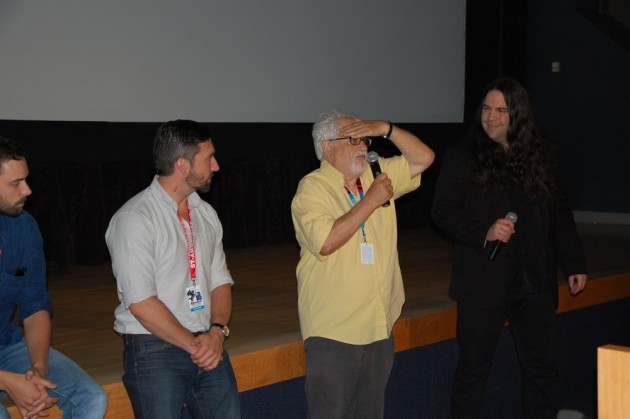 Actor Shane Twerdun, Larry Kent and Mitch Davis, after the screening of She Who Must Burn (covered extensively in last year's Fantasia issue. We love you Larry!)
Feature image from They Look Like People