Eyes Without a Face (aka, Les Yeux sans visage) (Georges Franju, 1960)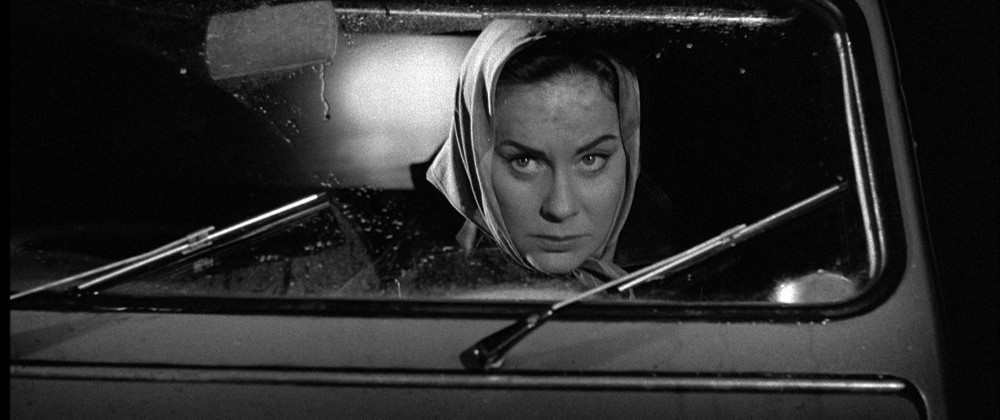 A sinister doctor (the stiff, tight-lipped, very French Pierre Brasseur), haunted by guilt, obsessively determined to perfect skin grafts through shady means. The disfigured daughter (Édith Scob), floating about the hidden halls of his vast mansion, her mournful eyes visible through the eerie mask that allows the imagination to run wild at the horrible damage from the car accident the doctor caused. The aging yet still stunning loyal female assistant (Alida Valli), so in awe of the doctor, owing him for saving her life (or, more likely, her beauty), she's willing to do anything for him. And the clinic, part of the mansion, the grounds dotted with ghost-like bandaged figures.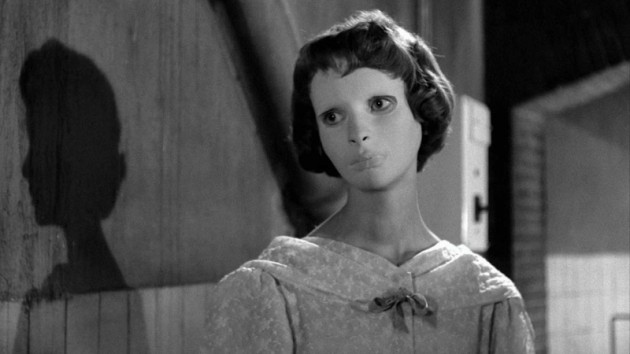 Edith Scob's enchanting performance
It was as part of my on-going (though nearing the finish line) retrospective on all-things Dr Mabuse (well, all things 'cinematic', that is, with the addition of a reading of the English translation of the original 1923 Norbert Jacques book on the good megalomaniacal doctor that started it all), staggered concurrently with an equally satisfying retrospective on the cinematic Mabuse creator himself, the almost equally mad (though, in this case, real-life) genius Fritz Lang (with a lot of film entries still to go on this one – 'cuz while Lang might have been burned a ton of bridges along the way, he managed to remain impressively prolific) that brought another look at the acknowledged art-horror classic Eyes Without a Face (and this one is up there as any as far as number of times seen, having been a perennial favorite during both my college years and the ensuing film school period that followed, with random return viewings afterwards not unusual, on screens both big and small, in mediums from evocative, scratchy film prints to restored digital presentations) for reasons perhaps as obsessively byzantine as the world of Mabuse itself (or at the least my own OCD qualities are allowing it to get it there). I'll explain.
With the latest entry in my Mabuse retro, the 1972 The Vengeance of Dr. Mabuse brought to us by notorious genre filmmaker Jess Franco (with his oft disreputable works a clear favorite of Blu-ray label Severin films, as they've unearthed and released an absurd amount of his films, with founder David Gregory clearly revealing, perhaps unwittingly, his own perversely sweaty obsessions) being said to have been one of the eccentric director's many remakes of one of his few financial successes, The Awful Dr. Orloff and which the creation itself was said to have been influenced by Franco having seen both the 1939 urban horror/crime London-set programmer The Dark Eyes of London and the French Eyes Without a Face, I decided to catch up on these three films before jumping into "Vengeance".
So, after checking out "Dark Eyes" (one highly enjoyable – and surprisingly nasty – little number, with Lugosi's maniacal crime-lord not only named Orloff, but his labyrinthian criminal network clearly directly inspired by Lang's German Mabuse films), I happily plunged back, yet again, into the seductively hypnotic, while alternately clinically cold and unsettling, violent black and white world that Eyes Without a Face inhabits.
No matter how many time I revisit it, it never loses its ability to hypnotize (though I did think this time while watching, I wouldn't dare travel to a rep cinema to watch it in today's environment, as the ageist hipster hyenas would almost assuredly be out in force to belittle, with the film's magical wonders flying way over their myopic-minded ADD-addled heads – though perhaps I would at a Cinematheque, where their numbers are lessened, and the full herd of the elders, a group valued in many cultures outside of Western consumer ones for the experience accumulated over actual lifetimes lived, can hush them the fuck up).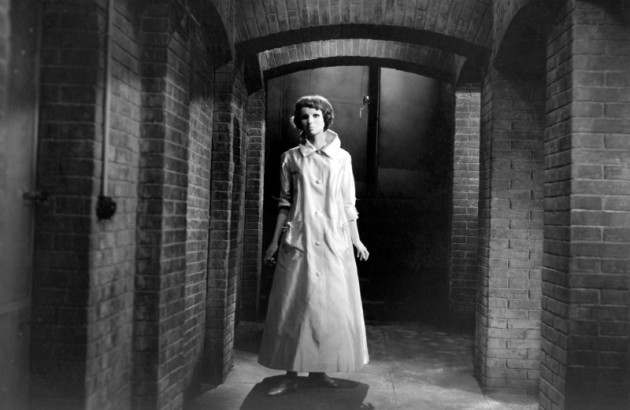 Cocteauesque imagery
"Eyes" is a film of daring incongruity. From its high-wire carnivalesque score playing against the startlingly clinical nature of much of its storytelling (a few examples being the entire police procedural angle, or the precise way in which Valli's Louise chooses and seduces her young female victims to bring to the doctor, or the series of still examination photos revealing the horribly failed experiment over time of skin grafts on a face, with the young woman's face rotting away more in each image), to the mashing together of the more fable-like influences of traditional magical 'French' tales, such as Cocteau's surreal classic of the fantastique La Belle et la Bête (with the very notion of detaching the face from one person and grafting it on to another as absurd as it is in John Woo's wildly cuckoo Face/Off… though equally as effective in its own way) with equally traditional (and equally 'French') cold, suspense-driven fare like Henri-Georges Clouzot's Les Diabolique.
It's as if Franju decided to recreate the experience of Cocteau's magical fable of love… only through the lens of a detached (and more than slightly perverse) documentarian. It isn't a surprising approach for the director — also on the Criterion DVD, I was able to watch Franju's notoriously harrowing and unforgettable short documentary Blood of the Beasts, which contrasts peaceful scenes of the Parisian suburbs with absolutely shocking, in-your-face images straight from the slaughterhouse, where horses, cattle and sheep are brutally butchered before our eyes.
"Eyes" is a beautiful, haunting film (with that one famous, squirm-inducing scene of face surgery), with the theme of destructive male control lingering over the entire film (from the crazed doctor controlling his daughter, keeping her locked up, forcing away her lover, operating on the level of something out of the crazed, incestuous-minded island father in Shakespeare's "The Tempest", to the police themselves, comfortably manipulating a young girl into unknowing danger, almost getting her killed in the process). It's a film exploring voyeurism, allowing us to excitedly engage through the gaze of its secretive characters (often in the pursuit of attractive young women), with constant references to hiding behind masks (a very Mabusian concept, that one) with the motif of terrified eyes looking out from bandaged faces, or sad haunted ones out from faceless visages some of the many memorable ones Franju creates.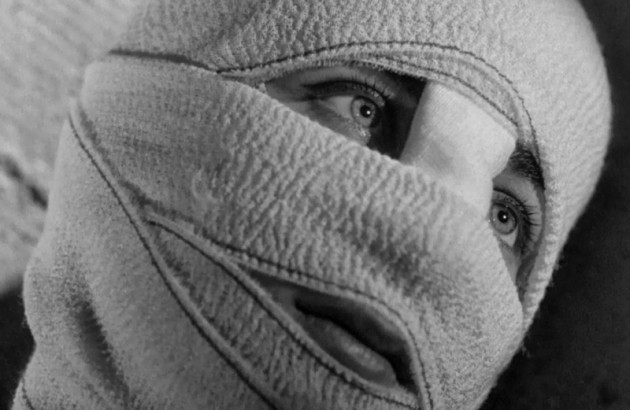 One of many 'sad' victims
If there is a single awkward moment in the film, it's the understated reaction after the first act of shocking violence we see from the disfigured daughter, an act to free herself from the tyranny she's taken part in and enabled. It plays so without any emotion it's almost laughable. And I stress almost, because it remains nonetheless an interesting, if failed, moment to contemplate in a great film. Though for today's young audience, desperately looking for any indication to allow mocking and jeering? Forget it.
Just another reminder you'd never catch me in that crowd. I'll just stay home. Alas, the cackling hyenas have taken my dark temple, my sacred viewing ground, away from me. And not to celebrate it, or bask in its glory, but to mock anything that doesn't fit exactly into their current societal norms.
Eyes Without a Face. Great movie? (Not something the cackling hyenas will ever understand though.)
The human 'monster' Dr. Génessier
Next up, let's see how it, and Dark Eyes of London, influenced Monsieur bad boy sex- and violence-obsessed director Jess (full name, Jesús, which I kinda like) Franco in the making of his The Awful Dr Orloff… and then on into Franco's "Orloff" remake (supposedly one of many remakes and quasi-sequels the director understandably did of his most famous film) where it all started (and continues)… that being back into the Mabuse fold, with Franco's entry The Vengeance of Dr Mabuse, which I'm quite sure will be one of the loopiest Mabuse adventures yet.