Civilization and Savagery: Painter Joseph Mallord William Turner, the subject of Mike Leigh's film Mr. Turner
One looks at the work of an artist and notices things small and large—the colors and shapes, the scene and story, the feeling and thought that create a vision: together a painting's elements inspire new understanding of matters familiar and strange, natural and constructed. Joseph Mallord William Turner was a painter of landscape and light, of water and wonder; and in his life and work an observer can see some of the lasting complexities of human existence—complexities of perception and mind, of passion and ideals, of liberation and duty. His work reflected not merely craft and observation but the revelations of perception and consciousness given order and meaning. There has been a new opportunity to think of Joseph Mallord William Turner's efforts and accomplishment again, with the creation of a gorgeous digital motion picture by the director Mike Leigh, focusing on the last years of the painter's life. The photoplay Mr. Turner begins with a single image—of sun, country plain, windmill, stream—and then across that landscape two women move, and the focus of the image itself begins to shift, showing a man in the distance, standing—and the man is Turner. The motion picture ends, too, with an image of the solitary artist. It is rare for a work to suggest as crucially how much of art and philosophy come out of solitude. Mr. Turner is an object of cinema that is beautiful and true, smart and amusing, and full of fact and ruminations, as the camera moves to and from a solitary walk in a foreign field to a busy London street, to and through a private home, an artist studio, an art supply store, an aristocratic estate, a city townhouse, a seaside rooming house, and an art academy exhibition hall, with a gifted, difficult man at its center and its margins. The motion picture captures the grace and tawdriness of human interactions, as they occur in the life of Joseph Mallord William Turner, a very private man whose transcendent art gave him a public life.
Mike Leigh, the director of Mr. Turner, has made motion pictures that capture the struggle, conflicts, and pain of ordinary life, despite whatever attempts at pleasure or success his characters pursue, including Bleak Moments (1971), a feature film about family, love, and sacrifice; and the teleplays Nuts in May (1976) and Abigail's Party (1977); and the theatrical films High Hopes (1988), Life is Sweet (1990), and Naked (1993), featuring David Thewlis as an angry though intelligent sexual being deluged with misery; and Secrets & Lies (1996), a film that presents an unusual family connection, in which Timothy Spall appeared, Career Girls (1997), and Vera Drake (2004), focused on a woman who helps other women with abortions; and Happy-Go-Lucky (2008), about an optimistic London teacher, and Another Year (2010). The biographical film Mr. Turner (2014) was written as well as directed by Mike Leigh, although the making of the cinema feature, like most of Leigh's projects, involved the collaboration of his actors in a process of research, rehearsal, and improvisation. Mr. Turner is a work in which images and scenes are of exceptional mastery, in a production designed by Suzie Davies and photographed by cinematographer Dick Pope, and edited by Jon Gregory. The costumes were designed (or found) by Jacqueline Durran; and the film's music is by Gary Yershon. Mr. Turner, produced by Georgina Lowe and released by Sony Pictures Classics, is one of the best films ever made about an artist.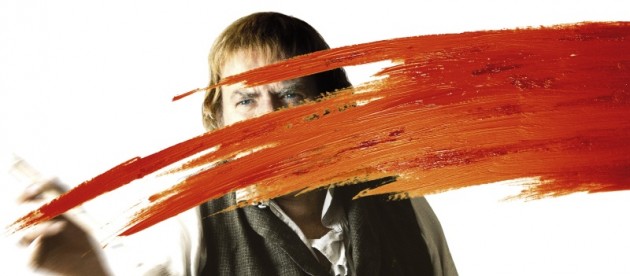 Joseph Mallord William Turner (1775–1851) was a great painter. The son of a father who was a barber and wigmaker, William Turner, and a mother, Mary Marshall, who suffered mental illness, the artist Joseph Mallord William Turner was born in Covent Garden, London; and, when very young, Joseph Turner went to live in the country, in Brentford (Middlesex), with an uncle. Joseph Mallord William Turner studied for a few years in the coastal town of Margate, and began to draw as a boy; and his work was displayed in his father's shop, where it found buyers. The young artist studied at the Royal Academy of Arts, where he began showing his work at fifteen years old—and, at seventeen, Turner received a silver prize for a landscape drawing. J.M.W. Turner was influenced by Henry Fuseli, Thomas Gainsborough, Claude Lorrain, Philippe Jacques de Loutherbourg, Thomas Monro, Nicolas Poussin, Michael Angelo Rooker and Richard Wilson. Turner worked in watercolors and oil paint, and took mythology, history, and natural life as his subjects. J.M.W. Turner sold designs to engravers and gave private lessons, and became an associate, then a full member, of the Royal Academy of Arts, before becoming one of its professors. Turner travel throughout England and Europe—part of his ongoing education. His work, which began with a concern for realism and exuded perceptible control, was expressive with light and energy, and finally approached abstraction. Yet, it is impossible not to detect emotion in his work, suggested by the depicted force of nature. Turner would receive the necessary support of artist and arts administrator Sir Joshua Reynolds, and landowners Walter Ramsden Fawkes and George O'Brien Wyndam, and critic John Ruskin.
Joseph Mallord William Turner is part of the foundation of early British art, along with John Bettes, Nicholas Hilliard, William Dobson, Allan Ramsay, William Hogarth, Joshua Reynolds, Thomas Gainsborough, George Stubbs, Henry Raeburn, Thomas Lawrence, Paul Sandby, William Gilpin, John Robert Cozens, Francis Towne, Thomas Girtin, John Sell Cotman, David Cox and Peter de Wint. Joseph Mallord William Turner's works include such paintings as "Tintern Abbey" (circa 1795), a haunting picture of an 1131 Monmouthshire monastery in ruin, and "The Sun Rising through Vapor" (1807), "Hannibal Crossing the Alps" (1812), in which men are small within a towering wilderness, and "Dido Building Carthage" (1815), "Bay of Baiae" (1823), featuring Apollo and a prophetess conversing beneath the shadow of two trees on a hilly plain with a blue bay in the distance, and "Ulysses Deriding Polyphemus" (1829), a hazy picture of gold and white and blue, of troubled journey, and "The Snowstorm" (1842), "Peace—Burial at Sea" (1842), "Rain, Steam, and Speed" (1844), "The Fighting Temeraire" (1839), "The Sun of Venice Going to Sea" (1843), and "The Approach to Venice" (1844). Turner's achievements are both foundation and peak for the tradition of British painting.
One can see "Tintern Abbey" and think human accomplishment is great and beautiful but does not last, or accept that "Hannibal Crossing the Alps" is a vision not merely of shrewd military strategy but of relentless vanity, or that seeking eternal life—as in "Bay of Baiae," in which a woman is granted long life but continues to age until she is nothing but sound, remains one of the lasting, hopeless human fantasies. Turner saw interesting objects and imagined wondrous scenes but he had a moral sense too—and he created work of both impression and expression. It takes time and thought to understand form, the particular shape and structure of a place, thing, or person, and its relation to the larger world. It takes time and thought to learn the discernment to see and understand the differences among things—and then it takes even longer to see the similarities among different things. It is possible that few people can tolerate the discipline and intensity of concentration, imagination, thought, and feeling and craft that artists and intellectuals sustain. It is possible that few people could create lives or even works that embody that knowledge and the principles revealed by such discipline in a society of constant competition and conflict. Does that level of consciousness, both deep and high, make one more human or less human? Or just differently human? It takes time and thought to learn the discernment to see and understand the differences among things—and then it takes even longer to see the similarities among different things. The final revelation is seeing how boundaries blur—and this final revelation is what Turner painted.
The pursuit of knowledge and intriguing subjects, of materials and patronage, of rest and rejuvenation, of pleasure and solace, of the freedom to be oneself and do one's work are all there in the film Mr. Turner. The compliments and the derision that art inspires are there too. There have been fascinating films about artists, their lives and works: Artemisia and Basquiat and Camille Claudel and Caravaggio, Carrington, The Draughtsman's Contract, Factory Girl, Frida, Girl with a Pearl Earring, The Hypothesis of the Stolen Painting, I Shot Andy Warhol, La Vie de Boheme, Local Color, Losing Ground, Lust for Life, The Mill and the Cross, My Left Foot, Museum Hours, The Pillow Book, A Quiet Place in the Country, A Sunday in the Country, Those Who Love Me Can Take the Train, Utamaro and His Five Women, and Vincent & Theo. What Mr. Turner does is to give the artist the same kind of independence in the film as he insisted on in his life—one does not feel compelled to adopt any particular intellectual, spiritual, or social attitude to what is shown.
Variety's film critic Scott Foundas saw Mr. Turner at the Cannes film festival and wrote (in his May 15, 2014 report) of the beauty and joy of the Mike Leigh film's portrait of a difficult artist, Joseph Mallord William Turner, and Turner's movement from a classical aesthetic to experimentation, within a complicated world of art, business, and society. Scott Foundas wrote, "Despite the fact-based characters, Mr. Turner was developed through the same improvisational workshop process as all of Leigh's motion pictures, and the results have same acutely researched and lived-in feel. That's especially true of Spall, who so fully internalizes Turner that he doesn't seem to be playing the part as much as channeling it. With his great squashed-in face, Spall shows you every flicker of thought that flashes across Turner's mind, and every wince of pain that courses through his wearying body. He conveys the sense of a man driven by a talent and passion even he doesn't fully understand—a raging, difficult, gruntingly inarticulate soul who finds in pictures the clarity of expression that otherwise elude him. And in the motion picture's final moment, as Turner lays hovering between life and death, Spall discovers a particular pathos in the dilemma of a man in love with light confronted by the fading of his own." In his Cannes diary (May 16, 2014), Grantland's film reviewer Wesley Morris wrote of the motion picture's emotion and style, of its beauty and astringency, its large scale, astonishing light, and abundant detail, as the film presented a unique subject, declaring, "It's bringing cinema as close to painting as it's come since the silent era."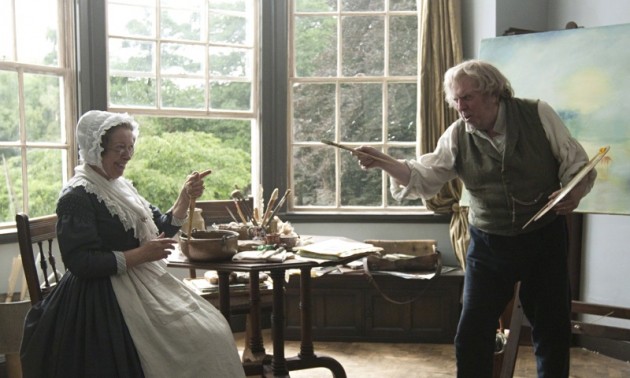 In Mike Leigh's Mr. Turner, Joseph Mallord William Turner visits Holland, where he walks the land and visits exhibitions of works by Rembrandt and Rubens. Turner, like other artists and connoisseurs, looked to Europe: it had taken time for the English painting tradition to develop, and many English nobles had patronized European artists, such as Hans Holbein and Anthony van Dyck. In portraits the young Turner looked attractive—alert, a little distrustful and watching, and somewhat sensual—but we meet him in middle-age and he is plain and portly. When Joseph Mallord William Turner (Timothy Spall) returns home from his trip to Holland, his housekeeper Hannah (Dorothy Atkinson) asks how his trip was, noting that there was worry because of an explosion that occurred within his vicinity; and Turner (Spall), when pressed for an answer about his journey home, says the trip was execrable—and Hannah asks if Turner needs anything else, stops near him, and he caresses her, suggesting they have more than a master-servant relationship. (Hannah, who lived with the artist for a long time, and had a skin affliction—a growing eczema—was a beneficiary in his will.) J.M.W. Turner's father William (Paul Jesson), who lives with his artist son, purchases art supplies from a store full of bright paints, and visits a street market to get pork for dinner, and returns home; and father and son share a friendly welcome, full of hugs and kisses and a more relaxed recounting of the Holland trip, with the son noting the irritating difficulties of travel and mentioning the great art he saw. J.M.W. Turner's father William (Jesson) mixes paint for the artist, and will later give him a shave—and they laugh together easily about the presumption of others. Tired, J.M.W. Turner—whom his father and other longtime acquaintances call Billy—tells his father and housekeeper, "I'm going to throw myself into the arms of Morpheus," leaving them to go to bed. J.M.W. Turner's language can be very eloquent—and other times he just grunts (knowing something of country life, I find myself wondering if that is where the painter found grunts and sighs as part of his expressive vocabulary).
Joseph Mallord William Turner had a special viewing gallery for his work in his house. The approach to the gallery is darkened for effect. The life—which is to say the work—of J.M.W. Turner is disrupted by a visit from an old woman and the unclaimed daughters of Turner—the old woman is full of complaint about what Turner has not done and is not doing for them. The complaint may be deserved, but it is repulsive. Constant complaining rarely get women what they want from men, but that is a lesson that seems impossible to learn. A more pleasant interlude is the visit to the estate of an aristocrat, a patron of Turner. There, Turner (Spall) speaks with a woman pianist performing Beethoven's "Pathetique," and confesses that he likes Henry Purcell, and then she plays the music "Dido's Lament" and Turner sings it—Turner's voice is rough and he forgets some of the words, which the accompanist remembers—but it is a genuine moment for both of them: the love of art. When, later, a woman watching Turner paint asks about the difference for Turner in painting a sunrise and a sunset, Turner gives a simple answer—one is going up and one is going down—but when the lady persists, asking if it has to do with the angle of the light, Turner gives a more attentive response, citing other variables. It is a distinct recognition of genuine interest in another person's response to art: art connects.
Art separates too. While they both visit an aristocrat's home, an idiosyncratic painter of topics in history and religion, Benjamin Robert Haydon (Martin Savage), a querulous man of profound self-pity, asks J.M.W. Turner (Spall) for a loan—and Turner offers half of what is requested, which Robert Haydon quarrels with. (Haydon—sad and absurd—is one of the little bursts of comedy and tragedy in the film Mr. Turner.) It is fascinating to realize that Turner knows better the actual story of the death of Saint Sebastian, a frequent art subject, than does Robert Haydon: Sebastian, a soldier in the Roman army and a Christian who converted others to his faith, was to be executed by arrows, but the arrows did not kill him; and Sebastian was nursed to health but subsequently beaten to death with cudgels, his body thrown into a sewer. Robert Haydon wants to be accepted into the Royal Academy of Arts but, although some of his work is shown there, Haydon is not accepted as a member—he claims to be a gentleman, but it is said that he is not of the right temper.
Joseph Mallord William Turner takes a boat trip to Margate, where—identifying himself only as Mallord—he rents a room from the Booths, a married couple. J.M.W. Turner (Spall) goes on long walks: we see an elemental image of sand and sea, a natural elegance. Turner as Mallord talks with the Booths, accepting a drink—but Mr. Booth (Karl Johnson) does not drink: Mr. Booth had been a worker on a slave ship, but was distressed by the suffering he saw and found his way back to the church, giving up the usual vices. J.M.W. Turner—who paints a picture inspired by the sick slaves thrown into the sea for the insurance money—makes an oblique comment about humanity. (The 1840 Turner painting, "The Slave Ship," shows a ship sailing in the distance, and nearer to the observer's eyes, the foreground, are depicted people thrashing in or sunk below the water, and devouring fish nearby. The Zong case of 1781— Gregson versus Gilbert —was featured as well in the beautiful, intelligent 2013 film Belle, written by Misan Sagay and directed by Amma Asante, focusing on the mixed-race niece of the judge who decided the court case.) Turner as Mallord remembers part of his childhood spent in Margate, and Mrs. Booth (Marion Bailey) recalls the teacher Turner names.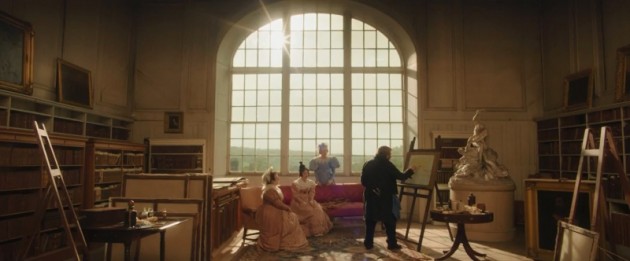 Knowledge remains a concern for J.M.W. Turner, and he encourages a science experiment—involving light, color, and magnetism—by an acquaintance, a watercolorist, Mrs. Mary Somerville (Lesley Manville), whom Turner (Spall) calls a natural philosopher. (She is also the daughter of a vice admiral and the wife of a doctor.) "Nothing exists in isolation," says Mrs. Somerville (Manville), who describes herself as an uneducated Scots woman (she was, of course, one of the distinguished women of her time—a published writer and a member of the Royal Astronomical Society, and a college at Oxford would be named for her). "The universe is chaotic and you help us to see it," she tells the esteemed painter. It is always fascinating and stimulating to have intelligent conversation in cinema—in which thought is allowed its full implication and importance. J.M.W. Turner himself attempts a lecture on water and reflection and color but his father William (Paul Jesson) has a coughing fit that is distracting, a sign of coming deterioration and death—and, later, when his father is on his death bed, the two men lament and curse and laugh at Mary Turner, the lunatic wife and mother who had made their lives difficult before being committed to an asylum. Such a complicated response might frighten or offend a simple mind, but it is a wonderful thing—honest and liberating. Following his father's death we see J.M.W. Turner alone in a boat, fishing, thinking, surrounded by trees—the comfort and torment of solitude. Turner visits a brothel and asks a young woman to pose for him in a gesture of despair—and Turner sobs like a baby. Turner has known and lost love and found grief, a terrible knowledge. His nature trips offer contemplation and creativity; and Mrs. Booth, Sophia Booth (Marion Bailey), once her husband has died, offers Turner acceptance, intimacy—love: the two people are kind and generous with each other, he seeing in her, and she seeing in him, things that other people may not see.
J.M.W. Turner is a revered painter, and when Turner visits the Royal Academy in preparation for an exhibition (the film's score accompanies the conquering painter with martial music), Turner is greeted by the artists there with respect and warmth; and Turner gives his attention to the work of others as well as looks at his own—and the assembled artists accept Turner's suggestions, although his relationship with John Constable seems cool. When Turner sees Constable's elaborate landscape painting—full of dynamic red paint—Turner adds a blob of red paint to his own depiction of boats on the sea, then Turner walks away, leaving dismay in his wake, only to return to turn that blob into a buoy. J.M.W. Turner, who would face the confusion, doubt, and mockery of others as his work became more complex, knew what he was about—and Turner, looking at nature, at art, and at the developing world—at steam ships and trains, at photography, at tall buildings—had a sense of what was to come: modernity. The film Mr. Turner, taking as its subject a solitary but important man, with its cast of eccentric characters, scenes of life in country and town, artist adventures, and accomplished works, allows us to comprehend the worlds that J.M.W. Turner saw.
Mr. Turner is more than a parade of images and ideas that floats on currents of emotion and energy; the film allows us to consider human existence and its inevitable construction as history—it gives us a portal through which we can see. Armond White, writing for the National Review (December 18, 2014), perceptibly found Englishness and empire among the film's subjects, noting one character's direct observation of slavery and revulsion, as well as more mundane attributes: "How far Leigh extends this intimate examination of human oddity can be both astonishing and exasperating, but few filmmakers do it so well. The horror of Turner's maid/concubine debilitating before our eyes, like a house-bound corpse or Jacob Marley's ghost, inscribes the misery of social inequity and the pain of unequal love. (This puts Tim Burton's Big Eyes to shame.) It makes Turner's personal cruelty surreal. Leigh dissects the malady of social hierarchy in scenes at London's Royal Academy of Arts where paintings line the walls floor to ceiling as artists compete for patronage and honor. Here, the economic exchange of cultural production is made with almost jubilant clarity, along with the snobbery and ostracism of elites. 'He is not of our temperament' a clique says about a struggling artist whom Leigh shows walking away, into the distance and obscurity. Observation, critique and compassion in one shot." The artist, Robert Haydon, pursued his own vision and suffered imprisonment for financial debt and eventually would commit suicide. What is the price to be paid for art? Is there a sacrifice too great?
Who can stand to look again and again at the beauty and terror of nature, and at the nobility and savagery of human existence? It is arguable that in J.M.W. Turner's dedication to his work, his respect for knowledge, his love of beauty, and his contributions to culture, as well as in his rise from poor boy to rich man, J.M.W. Turner was among the most admirable of men. "Through this ever-changing kingdom of light strides Spall's vibrantly curmudgeonly Turner, a full figure of fleshy contradictions, both abrasively insular and gregariously outgoing, simultaneously loving and callous, sensitive yet animalistic. For all his authentic 19th-century turns of phrase (the film's Dickensian language is a joy), Spall's most expressive utterance is not a word but a growl—a guttural sound that speaks poetic volumes," observed critic Mark Kermode, online at The Guardian (November 2, 2014), in a review that noted the film's craft, attention to historical detail, and sense of artifice and performance in life as well as art. Mark Kermode casts a disapproving glance at the independence and solitude an artist or thinker needs to survive and prosper. It is interesting to consider how hard it is to describe the film, or the artist, without the use of words infused not merely with observation but with judgment. (Does one person's freedom inspire—nervously, hostilely—another person's judgment?) "While his art engages, Turner's personal life is depicted as increasingly insular and alienated, particularly in relation to the women who fall into his selfish circle. An early abrasive encounter with Mrs Danby (Ruth Sheen), by whom he has fathered two neglected daughters, establishes the artist as cruelly unwilling to acknowledge his adult responsibilities, preferring to be pampered by his own father rather than shoulder the burdens (and bereavements) of paternity," wrote Mark Kermode in The Guardian. What might be selfishness in an ordinary man is a necessity of art: art, like philosophy, requires great concentration and energy as well as singularity of vision—especially when it is cultivated in the lives of people who do not inherit community and wealth. Are not the responsibilities of artists and intellectuals different from those of the ordinary citizen? Or do artists merely have additional responsibilities? "On the canvas there is great beauty, while in his life there is ugliness aplenty," judges Kermode. Is it really ugliness, or just the facts of life—of almost any life, once the diplomatic or false representations, customs and conventions, and good intentions, are stripped away to reveal the basic human needs and wants?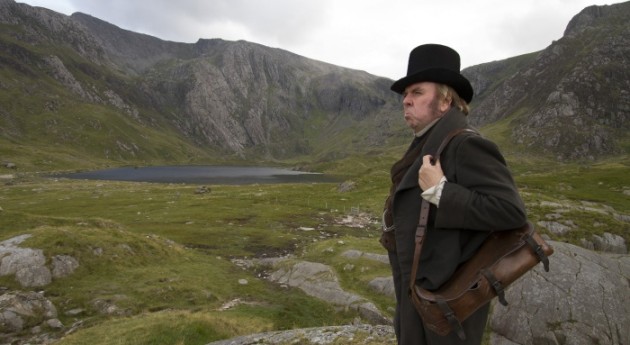 Are beauty and ugliness, or kindness and cruelty, merely the words we use to describe what pleases and displeases us? Robbie Collin in October 31, 2014 London periodical The Telegraph celebrated Timothy Spall as Turner, anticipating others would do the same—particularly members of the British and American film industries, via awards from the British Academy of Film and Television Arts, and the Academy of Motion Picture Arts and Sciences: "Turner is played by Timothy Spall who gives the finest performance of his career to date, surpassing even his work in Leigh's Secrets & Lies 18 years ago. It won Spall the best actor prize at Cannes this year, and the question now is just how far the role can take him: the Baftas, almost inevitably; as far as the Oscars, very possibly. It's a musty performance, one that gets in your clothes and hair, and that's absolutely meant as a compliment. Spall coughs and shambles about the place like a moulting, phlegmy Gruffalo, eyes bright and hungry, bottom lip jutting proudly forward like the spout of a custard jug." Robbie Collin appreciates the film's attention to the act of painting, a demanding and transcendent practice which Collin thinks has been filmed as if it were an occult ritual. "It's a beautiful film because it isn't afraid of beauty's uglinesses. Artists don't personify the ideal or dazzling worlds they envision. They are the workshop, not the work," commented Nigel Andrews of The Financial Times (October 30, 2014), listing the "paint-smeared hands and clothes; the unkempt love affairs; even the magicianly misbehaviour of the moment when Turner, outwitting John Constable at a Royal Academy 'varnishing show,' plants an ugly-seeming gob of red paint on one of his own seascapes—horror, vandalism (we think)!—and then transforms it, with the sweetest and simplest brush flick, into a sea buoy so real you could touch it." It is possible that Mike Leigh has given us one of the most truthful representations of an artist that we have—make of it what we will. The motion picture Mr. Turner may be more evidence—if any were needed—that just as life is not enough—life leaves us wanting more, the more that art and philosophy and political activism as well as spirituality seek to gives us—art alone is not enough. Maybe the film goes further to reveal to us—and finally to convince us—that art is part of life, and life part of art: inevitably, inescapably.
In the film Mr. Turner, the young critic John Ruskin (Joshua McGuire) dismisses a painter, Claude Lorrain, whom J.M.W. Turner and other artists admired. John Ruskin finds the Claude Lorraine work too placid, but Turner argues that Claude Lorrain was a man of his time and was painting a calm scene—it was not Claude's intention to paint tumult. John Ruskin, who respected Turner's work and would be one of his champions, argues for attributes beyond the concerns of the artist Claude Lorrain, and Turner—who in later life would know misunderstanding as well as grief and love—argues for an artist being accepted for himself in his own time. When Turner and his friends see a small steamboat tugging an old war ship, they glimpse the past, the present, and the future—and Turner gets a new, important subject. Turner painted tumult and change, as well as the most sublime nature, because that is what he saw.
(Article submitted July 2015)