Cinema, one hundred years ago: 1920
And the best of 2020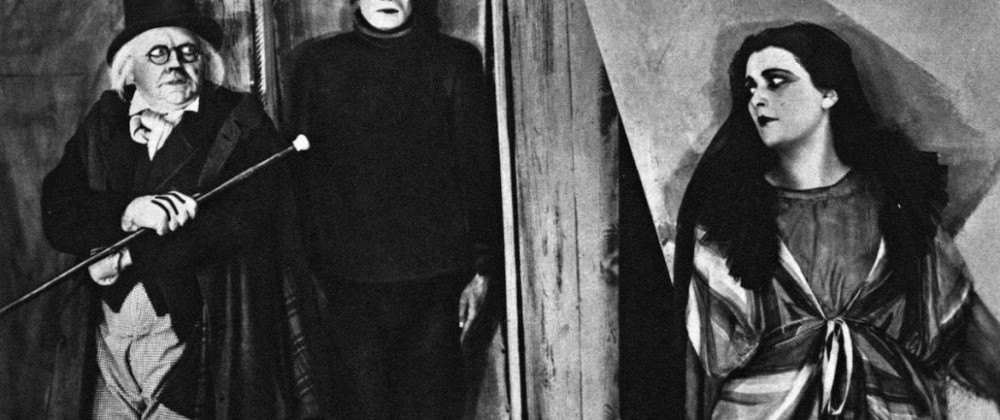 At the end of this truly horrible year – annus horibilis, indeed – it is a good idea to look back to 1920, less than two years after the end of the "Great" War, WWI, when the only way to watch films was to visit the cinema, and see beautiful nitrate prints on a big screen, invariably with musical accompaniment, often from a piano or an organ. We were not yet at the heyday of Hollywood silent comedy, or at the time when film style truly flourished in France, Germany, the UK and the U.S., especially, when filmmakers realized that the art of film could die with the coming of sound (1924-1929). (It did for a short while at least.) 1920 was still a great time for Scandinavian cinema – Sweden and Denmark, in particular – and film production had bounced back spectacularly in the new Weimar Republic of Germany.
For me, the best feature-length film of 1920 is Erotikon (Svensk Filmindustri, Sweden), directed by Mauritz Stiller. He had already directed some clever comedies, starring his friend and fellow director, Victor Sjöström as the patriarch, Thomas Graal, whose family and friends make fun of him. But Erotikon goes much further, in lightheartedly showing extra-marital affairs, and in its dissection of scenes, involving point-of-view editing (and spying), that surely influenced Ernst Lubitsch in his later Warner Brothers comedies of seduction, beginning with The Marriage Circle (1924). Near the beginning of the Erotikon, Professor Leo Charpentier (Anders de Wahl) lectures his students, illustrated by slides of three different species of striver beetle —one of which is monogamous, one is bigamous and the third is polygamous— while his niece, Marthe (Karin Molander) watches on through a doorway. The professor's wife, Irene (Tora Teje) is in love with Preben Wells, a sculptor (Lars Hansen), but is having an affair with Baron Felix (Vilhelm Bryde), a womanizing aviator. She and Wells eventually get together, suggesting that she is the polygamous one, while (monogamous) Marthe is enamored of her uncle, the entemologist (perhaps the bigamist). The desires and affairs are all represented very lightheartedly, which was very much in contrast with U.S. films that were already affected by the industry's self-policing in advance of the implementation of a rigid "production code" in 1934.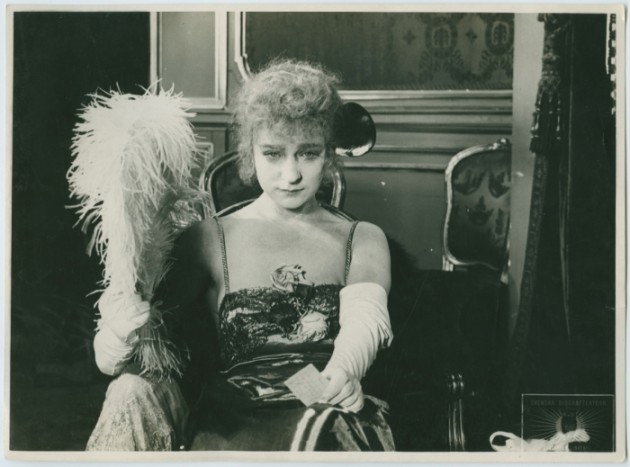 Erotikon
The centerpiece of Erotikon is a scene at the Royal Opera House, where the protagonists attend a ballet. Great depth is achieved on the sets (designed by Axel Esbensen) combining the stage and the audience, and the tinting and toning of yellow and green on the ballet and sepia and pink for the spectators is cleverly reversed when the action turns violent. The Baron uses his binoculars to view the Charpentier family and Wells in their balcony, and in turn, Irene spots him. There are cuts on glances within the balcony (singles, two- and three-shots), and although the 180° "rule" is not yet strictly adhered to in Swedish films, it is always clear who is looking at who. I had initially seen Erotikon on a Svenska Filminstitutet print, with Swedish intertitles and simultaneous French translation at the Cinémathèque Québécoise in May, 2002. The screening featured wonderful piano accompaniment by Gabriel Thibaudeau, and the audience loved it. After this, I acquired a Kino Video DVD (2006), which was made from the Swedish Film Institute's 2005 Desmet colour print, which had used surviving frames from an original nitrate print as a colour reference. I was then able to see this 35mm print at the 2016 Giornate del Cinema Muto, in Pordenone, Italy, projected at 16 frames per second (97 minutes), with piano accompaniment by John Sweeney. Like everyone else from this continent, I wasn't able to visit Bologna for the in-person Ritrovato festival, where they showed a new 2020 chemically tinted print, which apparently corrected some of the earlier colourings.
An interesting U.S. film from 1920 that treats marital infidelity is Why Change Your Wife?. Everywhere I've looked, the director is noted as being Cecil B. DeMille, and yet on the (poor) copy that I have been able to watch, a Passport DVD, from a 16mm print, the credits note that "Why Change Your Wife" is "by William De Mille." Presumably, this refers to Cecil's older bother, William as having written the "story", since Olga Prinziau and Sada Cowan are credited as having written the script. Also, Cecil B. is not credited as "director" – nobody is – but as "Producer." I suspect that William was responsible for more than just the "story," because the film's approach to divorce, especially through the roles played by Gloria Swanson and Bebe Daniels, is much more light hearted than one would expect from the younger brother, Cecil B. Indeed, similarly to Erotikon, the women are much more motivated and dynamic than the men. Beth (Swanson), who is married to Robert Gordon (Thomas Meighan) is initially portrayed as being prudish, but after he is seduced by Sally (Daniels), she dresses wildly and plays the field, eventually attracting Robert back, and they re-marry. The relatively conservative re-union, and the understanding that the Gordons will be sleeping in separate beds, which have been deliberately moved closer together, prefigures the Hollywood "screwball" comedies of "remarriage" that were popular in the late-1930s and early 1940s when censorship was at its strongest, e.g., The Awful Truth (1937), directed by Leo McCarey with Irene Dunne and Cary Grant, and His Girl Friday (1940), directed by Howard Hawks, with Rosalind Russell, and Grant. (See Stanley Cavell's book, Pursuits of Happiness: The Hollywood Comedy of Remarriage [Cambridge, Mass.: Harvard University Press, 1981].)
The big difference between the films of 1920, especially Erotikon, is that some characters were actually divorced, whereas in the Hollywood "remarriage" genre, they rarely, if ever were technically divorced, rather they separated with an interest in-, perhaps being "in love" with someone else, but certainly not "sleeping with" them. Another 1920 film, which explicitly represents a legalized divorce – actually an absolvement of Catherine of Aragon's marraige (Hedwig Pauly-Winterstein) — and then leads up to the execution of Henry VIII's next wife, Anne Boleyn (Henny Porten), is the historical drama, Anna Boleyn, directed by Ernst Lubitsch. While lacking the finances to build really lavish sets, the casting of the film, including Emil Jannings as the King, and the period costuming (by Ali Hubert), smack of an authenticity lacking in similar Hollywood epics. Lubitsch's forte in this period was in directing contemporary comedies, but, initially, Anna Boleyn also contains comic moments, before becoming much more serious, and the film is not nearly as dated as one of the director's other 1920 efforts, Sumurun. Theodor Sparkhul's cinematography also looks really good in the Masters of Cinema BluRay edition (2017) from the restoration by the Friedrich-Wilhelm-Murnau Stifftung.
Sjöström was a very prolific director in this period. His best known work, and the only one readily available on disc (Criterion) is Körkarlen (The Phantom Carriage), which although made in 1920, was not released until January 1921. The brilliant cinematography was by Julius Jaenzon, whose subtle use of lighting and superimposition was probably the most advanced in the world at that time. Jaenzon's brother Henrik shot Erotikon and that film's art director (Esbensen), also worked on Körkarlen (uncredited) and designed all three of Sjöström's films that were released in 1920: Klostret i Sendomir (Secret of the Monastery), Karin Ingmarsdotter (Karin Daughter of Ingmar), and Mästerman (A Dangerous Pledge, aka "A Lover in Pawn."). Unfortunately, I have never seen the first of these, but the other two, which I was fortunate to see on 35mm prints in Sacile, during the Giornate in 1999 are remarkable examples of visual collaboration revealing vast exteriors (J. Jaenzon), and studio-shot, low-ceilinged interiors (Esbensen and Gustav Boge on Karin, and with J. Jaenzon on Mästerman). In my notes on the former I wrote that the visual collaboration was a "tour de force," and for the latter that Sjöström's work with his art director and cinematographer was just about the "best" I had seen. Mästerman, written by Hjalmar Bergman, features Sjöström as a miserable pawnbroker who is transformed by his unrequited love for a much younger woman, Tora (Greta Almroth), who becomes his maid on a pledge/pawn ticket held by her beloved, Knut (Harald Schenzen). Tom Gunning has written a magnificent close visual analysis, "'A Dangerous Pledge': Victor Sjöström's Unknown Masterpiece, Mästerman," in which he argues that the actor/director combined his development of the long take tableau style (in Ingerborg Holm, 1913) with that of "Hollywood" analytical editing, culminating in a mastery of exchanging glances between characters. 1
Mästerman is certainly worthy of inclusion in a 10-best films of 1920, but since I am reluctant to choose two films by the same director, I will go with Karin Ingmarsdotter, partly because of its beautiful landscape cinematography and partly because it was adapted from the third and fourth chapters of Selma Lagerlöf's most famous, epic, two volume novel, Jerusalem 1 – I Dalarne (1901). Lagerlöf's first novel, Gösta Berling's Saga was written in 1891, and she was the first woman to win the Nobel Prize for Literature, in 1909. The term saga is Icelandic in origin, and initially referred to Viking stories, but in contemporary usage, it most often refers to historical stories spanning generations, and Lagerlöf's writing exemplified 20th century Swedish "sagas" in literature and film, especially Jerusalem, which resulted in five films, the first three directed by Sjöström, and the next two by Gustav Molander in 1925 and '26, when Sjöström declined from working on Jerusalem 2– I det helige landet (1902). Initially the first chapter of the novel was going to be the first film in the series, but, being so long it was divided into two Ingmarssönerna 1-2 (The Sons of Ingmar/Dawn of Love, 1919), and in the sequel, Karin Ingmarsdotter, Sjöström continued to play the patriarch Ingmar Ingmarsson, who is now called Stor Ingmar, "Big Ingmar," But he dies after saving three children from a flooded spring river. His daughter, Karin (Teje) is betrothed to the village storekeeper, Halfvor (Tor Weijden) but refuses to marry him when he follows his father into drunkenness. Unfortunately for Karin, the man she does marry, Eljas Elof Ersson (Nils Lundell), becomes a much worse drunk than Halvor, Eljas breaks his back and dies while in the care of Halfvor, after which, the film ends with a comic scene, where Karin and her young brother, Lill-Ingmar (Bertil Malmstedt) entertain three suitors, who are all rejected by her, when she finally take a stand and declares her love for Halfvor. Karin Ingmarsdotter was poorly received on its Swedish release, and I wonder if this was because, unusually for a Sjöström film, a woman is the central character. Indeed, her point-of-view is central to the narrative, and Teje's relatively expressionless face shown in many glance exchanges, makes us wonder what she is really thinking, and it is only in the final scene that she smiles broadly, and rigorously embraces Halfvor. In the hallway outside, young Igmar holding a coffee pot, looks directly at the camera and a dialogue title declares "I don't think they need any coffee."
Before the wave of comic feature-length films in the mid-1920s, the short film comedy was at its peak in 1920, and the best of them all, perhaps Buster Keaton's finest short is One Week, co-written and co-directed by Eddie Cline. Keaton's films were championed by the Surrealists in Europe —Spain in particular— 2 and in general terms One Week is also a fine example of "sight gag" comedy, because as an audience we understand that the do-it-yourself house building kit has been re-arranged, so that we are always one step ahead of Keaton knowing that things won't fit together properly. The absurd instructions for the construction of the house enable situations where, for example, he opens a bathroom door thinking it will lead to another room, but it leads to the outside and he falls to the ground (unharmed because of a barely visible cushioning mattress). Typically, Keaton reveals his dangerous stunts in long shot, so that we can appreciate that he is actually doing them – no special effects were used. One example is when he is half way up a ladder and it moves away from the wall: he spins to get on the other side of the ladder and eases it back to the wall. More dangerously, near the beginning, one wall with two doorways, swings on a first floor pivot, bringing Keaton to the ground, after which, in another shot, the wall falls on him, but he is saved by being in the position of the upper doorway opening. Remarkably, for the first of these gags, his wife, played by Sybil Seely is dragged up to the top floor. Throughout, she is a game, and useful help mate. At the end of the film, she stands with him, close by a third and final, expressionist/surrealist version of their house, as a train smashes through it. This comes right after an amazing long shot, where the house, straddling a track, hides the fact that an oncoming train, seen in the far distance, approaching the foreground, will change direction and travel behind the house. Always the engineerbut unlike the later films, when he figures out how to succeedKeaton had nailed his Model "T" Ford to the house to pull it off the train track, but the front half of the car detaches from driver and passenger half.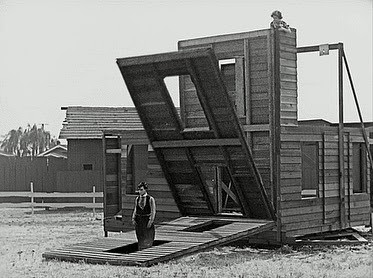 One Week
One Week was the first of Keaton's independently made shorts to be released, after he had left Roscoe "Fatty" Arbuckle's team. But before this he had made The "High Sign", together with Cline, for which he had constructed a two-story house interior with two rooms on each floor and an staircase connecting them, with trap doors and rotating partial walls allowing for a continual play of sophisticated slapstick, all seen within single long takes. This film was not released until 1921, because Keaton was unsatisfied with the final version. However, although Keaton only constructed single room sets (on location) for One Week, similar gags with floors and ceilings collapsing were employed. The centerpiece of the film, where friends are invited to a house-warming party, concludes with a cyclone causing the (2nd version of the house, mounted on a motorized turntable) to turn at faster and faster speeds, with Keaton, outside, trying to stop it. The interior views of the guests being thrown against walls was achieved with a rapidly panning camera, and perhaps with a turning, single-room set. Keaton directed three other films in 1920, one of which, Neighbors was released in January 1921, and will almost certainly appear on my 1921 list, next year. All are included in a magnificent three disc BluRay set of Keaton shorts, put out by Kino in 2011.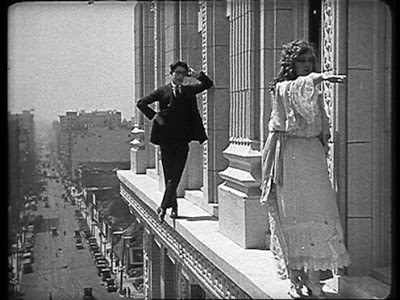 High & Dizzy
The most prolific of the major U.S. comedians in 1920 was Harold Lloyd. He starred in six Hal Roach produced and directed shorts, of which I have seen five. From the rather slow-moving, and unusual His Royal Slyness, to Haunted Spooks (co-dir. Alf Goulding), where the titles tend to be funnier than the live action, and after the entertaining, and action-filled An Eastern Westerner, Lloyd really hit his stride in High and Dizzy, his second film to use height for thrill effects. Look Out Below (dir. Roach, 1919), his sixth of no fewer than 40 films he made in that year, was the first. High and Dizzy features Lloyd's glasses character as a young doctor in need of patients. He goes on a drunken binge with his friend and takes many pratfalls, including in the lobby and elevator of a hotel where the young woman of his dreams (Mildred Davis) has been ironically ensconced by her father to keep her away from Lloyd. She sleepwalks from her bed to go outside on a ledge, and when Lloyd goes to rescue her, he is left stranded out there, and the scary thrills begin. Downstairs in safety, they are married by a priest. Kristin Thompson chose High and Dizzy as one of her best films of 1920, when she looked back 90 years in 2010, and I could easily have done the same, here. 3 But I will choose his sixth film, Number Please? (co-dir. Fred Newmeyer), which was considered lost until a 16mm print was found in the 1980s. Set in and around the Venice, Hollywood amusement park, Lloyd's character is in competition with a tall, heavy-set rival (Roy Brooks) to get Davis' character's mother's permission to take her daughter up in a hot air balloon. The funniest gags involve animals, beginning with the young woman's dog whose leash is attached by Lloyd to a merry-go-round while it is stationary, and Lloyd then chases it with the camera attached to the ride, tracking back in front of Lloyd, in circles. The longest gag, at the end of the film also involves another dog, where Lloyd is suspected of stealing Davis' purse, and, pursued by police, he keeps throwing it away, only for the dog to retrieve it. The purse contains the balloon ticket, but it is eaten by a goat, after which Davis (unusually) chooses Brooks over Lloyd. The title of the film refers to a central series of gags, where Lloyd is trying to call the mother, but he is continually beaten to any open phone booth and when he does succeed, the operator manages to connect him with the wrong person. Davis appeared in 15 of Lloyd's films and they married in 1923, staying together until she died in 1969.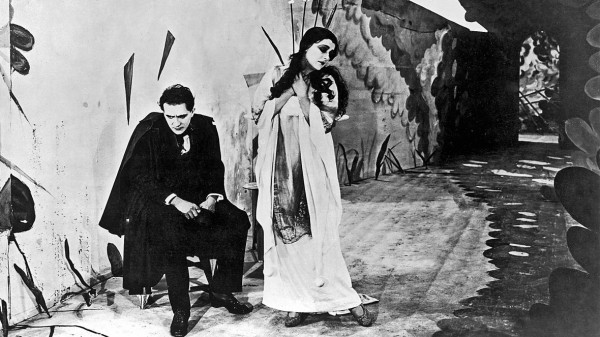 Cabinet of Dr. Caligari
Undoubtedly, the best-known film from the period around the world is Das Cabinet des Dr. Caligari (The Cabinet of Dr. Caligari, Germany), which although begun to be made in 1919, wasn't released until February, 1920. The director was Robert Wiene, who had already directed over 20 films (including seven shorts), and he was probably not the person most responsible for ushering in German Expressionist film style. Indeed, one of his earlier films, Furcht (Fear, 1917) was very cinematic in its use of superimpositions and a panning cameramore "impressionist" than "expressionist." Credit for the remarkably stylized look of Caligari should probably go to the production designers Walter Reimann, Walter Röhrig and Hermann Warm, with their crazily distorted painted sets, mostly backdrops. (Warm was also credited as Set Decorator and Reimann as Costume Designer.) And, of course, Conrad Veidt's rigidly angular acting as the somnambulist, Cesare, lives forever in the memory. Although it wasn't necessarily a box office success, and although some film theorists and professionals in France and the Soviet Union were highly critical of it, critics in Germany and the U.S. tended to be highly supportive, and to this day, it remains as being one of the most important films ever made: as one of the first "horror" films, the definitive "expressionist" film, and a big influence on the development of the horror film genre, and film noir in Hollywood. Since 1977, when I was a student at NYU, I had watched Caligari six or seven times on poor quality, 16mm black and white prints, so I was excited to be able to see a Kino DVD (2002), from a Bundesarchiv-Filmarchiv 35mm print. It is certainly interesting to watch a coloured version, but this digital copy had cranked up the colour to such an extent that a lot of the detail is missing. Unfortunately I have not seen what appears to be a more subtle rendition of tinting & toning, with more detail, through a 2014 restoration by the Friedrich-Wilhelm-Murnau-Stiftung, although, quite honestly, I look forward to eventually seeing a beautiful black and white 35mm print. 4
Another highly expressionist German film released in October 1920 was Der Golem, wie er in die Welt kam (The Golem: How He Came into the World), actor/director Paul Wegener's second effort at adapting the medieval Jewish tale of a man-made monster protecting the Jewish people from being expelled out of the Prague ghetto by the Holy Roman Empire. His first version, which has only survived partially, is Der Golem (1915), while this one was co-directed by Carl Boese. But again Wegener plays the giant Golem made out of clay by Rabbi Loew (Albert Steinrück). The curved, conically shaped buildings and their interiors, designed by Hans Poelzig and Kurt Richter (along with the uncredited Edgar G. Ulmer, possibly), are as expressionist as the Caligari sets but here they are more volumetric and the deep space is more "realist." There is a great deal of depth in Caligari, also, but it is reminiscent of slices of tableau staging, e.g., in late George Méliès films.
My favourite German film from 1920, though, is die Der Gang in Nacht (Journey Into the Night, aka "The Dark Road"), directed by F.W. Murnau, now his earliest surviving film. It wasn't released until January 1921, but after a press screening in December, critic Willi Haas wrote a rave review for Film-Kurier, and so I will consider it as being a 1920 film. At the 2017 Giornate del Cinema Muto, I saw a surprisingly beautiful DCP from the Munich Film Museum. Through the 1960s and 1970s, an incomplete version of the film had been shown, after which Enno Patalas learned that they had a complete copy of the original negative in Moscow, which became the basis of the new restoration. The very subtle colouring was achieved by referring to the "conventions of the time." [Stefan Drössler, DVD booklet, 2018] The first of five acts is absolutely brilliant. Helene (Erna Morena) is about to be married to Dr. Eigil Börne (Danish-born, Olaf Fønss), when she encourages him against his will to visit the cabaret. On the stage, in the deep background, the crude dancer, Lilly (Gudrun Bruun Stephensen, also Danish) notices that the foreground doctor, in his seat, has his head turned away, and she becomes determined to seduce him. It seems that it is more likely that he didn't want to be in danger of being seduced rather than wanting to avoid being entertained by low class performers. Off stage, Lilly learns that Börne is a physician and back on stage, she fakes a leg injury so that he will attend to her. After he agrees to meet Lily at her dwelling, and still not suspecting her mischief, he falls madly in love, and immediately visits Helene to call off their marriage. Helene never recovers from the shock, and in the rest of the film, the emotions of love and heartbreak are heightened, especially after Börne sets up a country practice close by the ocean with Lily, and she meets the blind man, Der Maier (Veidt), after he arrives dramatically, standing up, in a small boat. He seems connected with the sea and the rugged coastline, and exterior shots featuring him, and other empty shots of land/seascapes are tinted yellow and toned dark green, creating a decidedly poetic aura. Whereas the sets (Heinrich Richter) and the costuming remain relatively realist, the acting becomes increasingly stylized and operatic (more "expressionist", perhaps), perfectly matching the heightened drama, and tragic conclusions. Although Danish scriptwriter Harriet Bloch is credited with co-writing the film, it is Carl Mayer whom Haas recognized as the "script writer," saying that it was "nothing less than a work of poetry. The film follows his words painstakingly." [Drössler} Hass went on to consider Mayer as the real auteur of the film —not surprisingly, perhaps, since he had been the principal writer of Caligari, and directors were not yet regarded as highly as they would later become. Film Museum Munchen produced a sparkling DVD in 2018.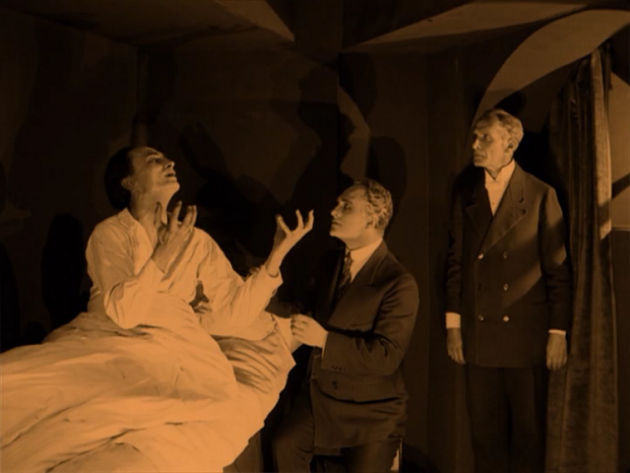 die Der Gang in Nacht
Der Gang in die Nacht could be considered a German/Danish co-production. So many Danes were working in the German film industry, including the world's first movie superstar, Asta Nielsen (from 1912), who no doubt will show up on a 1921 list with her audacious performance as Hamlet. Never a prolific director, Carl Theodor Dreyer only completed eight feature-length films from 1924 to 1964. But all of his first three features were released in Denmark in 1920. The first of these, Præsidenten (The President, 1919) was made in 1918, The others are Blade af Satans Bog (Leaves From Satan's Book) and Prästänkan (The Parson's Widow), which was actually a Swedish film, produced by Svensk Filmindustri, Stockholm. Based on a short story (1901) and set in 17th century Norway, when it was ruled by Denmark, The Parson's Widow recounts the tale of a young man, Söfren (Einar Rød) who is in competition for the job of a country parson. He has a sweetheart, Mari (Greta Almroth), but he can only be appointed if he agrees to marry Margarette Pedersdotter (Hildur Carlberg) who has been widowed by three previous parsons, and is old enough to be his grandmother. Dreyer shot the film in Norway at an open-air museum near Lillehammer, where he was able to shoot in and around actual 17th century houses. Rød was Norwegian, while Almroth and the 77-yr. old Carlberg (who died shortly after the shooting was finished) were both Swedish. On the first occasion that I saw The Parson's Widow in 2002, I regarded it as being strictly a comedy. But, in 2018, on seeing a fine newly restored 35mm print, with tinting and toning reproduced from master notes, I found it to be much more subtle, where Mari's "quiet distress reminds us of the fundamental cruelty of the situation, the way the social order thwarts true love." 5
I am missing having watched the most important French films from 1920. Unfortunately, I have never been able to see any of Louis Feuliiade's serial, Barabas, and because I was unable to travel to Bologna this year for the Ritrovato, I didn't get to see Germaine Dulac's La belle dame sans merci (The Beautiful Woman Without Mercy), which showed in the annual, "100 years ago" series, even though, technically, the film wasn't shown until 1921. However I have seen an 8 minute fragment of La fête espagnole (The Spanish Fiesta), directed by Dulac, which was based on a "stream-of-consciousness" script by Louis Delluc; a film which had been termed the very first "impressionist" film by George Sadoul in 1927. The fragment consists of two dance sequences, featuring Delluc's wife, Ève Francis, along with a few establishing shots of a Spanish village, and the film's final shot (apparently). Interestingly, it was filmed entirely on location in Spain, and although one cannot be sure of this, when only a tiny part of a film survives, it has the flavor of a documentary. I saw these fragments last year in Bologna, during the "100 years ago" series, because it was made in 1919 (but never screened at all until 1920). As much as I would like to include Dulac, I am choosing another early example of the French narrative avant-garde to represent the emerging "impressionist" movement, L'homme du large (Man of the Sea), directed by Marcel L'Herbier, and based on a short story written by Honoré de Balzac. I saw the film on a 35mm print at the Giornate in 2018, which featured impressive multi-coloured title designs by L'Herbier and alternations between the deep blue shots of the Atlantic ocean and the sepia-toned rocks and landscapes of Brittany. Following Balzac, the characters tend to be archetypes, but whereas the writer has the central character of a fisherman kill his own son, in the film, despairing that his child is too pampered, and is too desirous of living a city life, he sets him adrift at sea (but the boy survives). Having an interest in filming in Brittany, L'Herbier wasn't the first Gaumont film director to do soLéonce Perret made many films thereand another French avant-gardist, Jean Epstein turned his attention to making docudramas on the islands of the Brittany coast at the end of the decade. Mixing Parisian actors (including Charles Boyer in his first film role) with Breton locals, L'Herbier prefigured Epstein and others. Along with the use of flashbacks, superimpositions, split frames, and various stylized framing devices, L'homme du large becomes a truly vanguard work when delirious movement and rapid editing, combined with red tinting and toning are used to accentuate the aggressive nature of a night out on the mainland. The same restauration of the film by the Centre National du Cinéma (CNC) s available to be watched on a Gaumont DVD (in a box set together with L'Herbier's El Dorado and 13 short films), without sub-titles [2009, FG 316 597].
André Antoine's L'Hirondelle et la Mésange was shown this year at the Ritrovato, and as it says in the program notes, the film "is the stuff of legend: it was never screened in a cinema and only the rushes survived. Judged too much like a documentary by Pathé Consortium, who feared a financial failure, the film was only shown to a few insiders at an event held in November 1920 at the Théâtre de la Gaité…" 6 Twenty three boxes of Antoine's film negatives were discovered at the Cinémathèque française (CF) in 1982 and Henri Colpi was assigned the task of editing the material along the lines of Antoine's original screenplay and the surviving intertitles. The result is remarkable in its mixture of documentary and fiction, bridging French "realism" of the 1910s and the emerging "impressionism" of the 1920s, especially because almost the entire film was shot on two sister barges, in movement, and the minimal plot becomes focused on the villainy of a man who lusts after a young woman, prefiguring three great, canal-set works of French cinema: Epstein's La belle Nivernaise (1924), Jean Grémillon's Maldone (1927), and Jean Vigo's L'Atalante (1934). In 2012, a 2K restoration was performed by the CF on its 35mm (Colpi) print. This is the version that was shown in Bologna, and which I was able to watch on the CF website.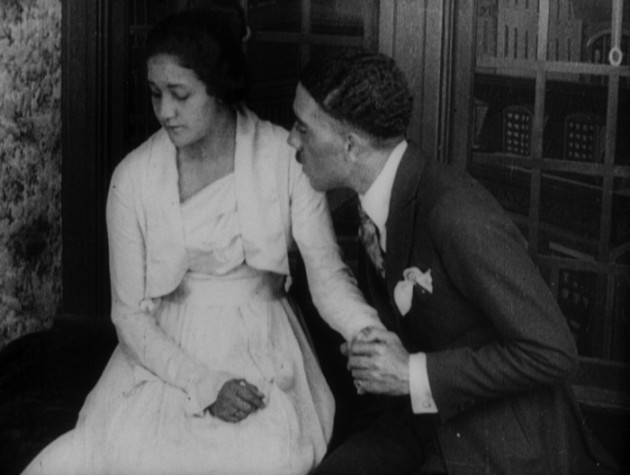 Within Our Gates
For the tenth spot on my list I am compelled to include Oscar Micheaux's Within Our Gates, the oldest surviving feature film directed by an African-American. In this terrible year of 2020, when Black Lives Matter became a rallying cry, we discovered that the belief in "white supremacy" is much more prevalent in the U.S. than any of us knew, and that the issues dealt with so dramatically in Within Our Gates of extreme racism (leading in the film to lynchings, burnings and rape); the poverty of the south compared to the north, where black children lacked a decent education; while the voting rights of people descended from slaves were virtually non-existent; are so meaningful today. Striking use was made of cross-cutting to highlight contrasting ideas and of dissolves to dreams, thoughts and memories of the central character of a young woman, Sylvia Landry (Evelyn Preer), whose father is revealed to the film audience and the man she loves, Dr. Vivian by her cousin Alma (Flo Clements) as being a white man. It is recognized that Within Our Gates, was made partially in response to D.W. Griffith's racist epic, Birth of a Nation (1915), while two contributors to the book published in commemoration of the "Race Cinema of the Silent Era," Michelle Wallace and Jane Gaines, also argue that Michaux's film contradicts the 19th century ethos of white U.S. literature and film dealing with race relations, and offers alternative character types and narratives. 7 The film is available on BluRay in a box set entitled "Pioneers of African American Cinema," from Kino Lorber (2016).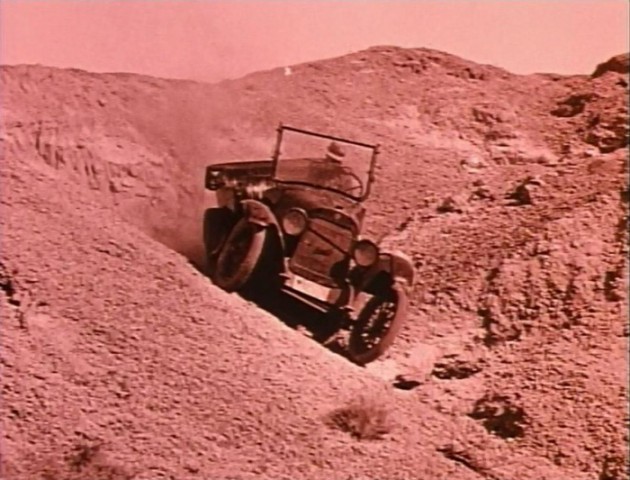 Somethign New
I have seen many more U.S. films from 1920 than those from other countries, but I feel that three of the best ten is just about the right ratio. Nevertheless, the next two to be added, so that we have one film for each month, would be American, I have chosen one for the future and one for the past. Canadian film producer, and star auteur of 1919's great Back to God's Country, Nell Shipman co-wrote and co-directed (with her lover, Bert Van Tuyle), Something New, a short feature celebrating the Maxwell, four-seater convertible automobile as an off-road vehicle. In the beginning, she is seated outdoors next to a tree, typing a manuscript. She has an idea for a new, exciting story, set in Mexico, where she arrives in a "stagecoach" —car, of course— to meet up with her father, who is with his good friend (Van Tuyle), his dog, and his Maxwell car. As expected, the dog takes to her immediately —Shipman famously had a special relationship with all fauna— but she and her father are kidnapped by bandits. Over incredibly rocky terrain, the friend and the car come to her rescue, but when the Van Tuyle character is shot, Nell takes over at the wheel. Women played very prominent roles in the U.S. film industry until the Major studios consolidated at the end of World War I, and it has taken almost a hundred years for them to recapture this prominence. My choice of a film that looks back is The Last of the Mohicans, co-directed by Maurice Tourneur and Clarence Brown, who allegedly took over the reins when Tourneur became ill. Based on a historical novel (set around Lake George, New York, and in the Adirondack mountains, 1757), written by James Fenimore Cooper in 1826, the story is dated in its favouring British military forces over French, and especially in its championing a "noble savage, Indian." And the film is dated in its casting white actors as First Nations people, with Wallace Beery as Magua, the very bad Huron and Alan Roscoe as Uncas, the "last of the Mohicans," but brave in recognizing that a white woman, Cora (Barbara Bedford), the daughter of a British Colonel, could love an indigenous man. Also, the cinematography by Philip R. Du Bois and Charles Van Enger in its elegant framing, and use of dark foregrounds linking interior and exterior (no doubt aided by Ben Carré's art direction), is reminiscent of Tourneur's beautiful films of the previous six years. Indeed, pictorially, The Last of the Mohicans is very closely related to the Hudson River School of U.S. landscape painting, where foreground space tends to be civilized and backgrounds depict a rugged wilderness. I first saw this film on 35mm at the George Eastman House, Rochester, together with a group of students in 1984, and watched the same print again a few years later. My most recent screening was of an EYE Museum 35mm restored print from a tinted and toned nitrate original, in Pordenone, 2018, where reddish brown colours dominated. Unfortunately the only respectable version on DVD (from 1999) is out-of-print.
In addition to the films mentioned above that were not included in the (bolded) best-12, it is important to mention a few other excellent films that I have seen from 1920, including the experimental documentary short, Manhatta, directed by Paul Strand and Charles Sheeler, John ("Jack") Ford's charming Just Pals (Fox), starring Buck Jones, and D.W. Griffith's Way Down East (United Artists), starring Lillian Gish, as well as Lubitsch's amusing version of William Shakespeare's Taming of the Shrew, Kohlhiesels Töchter with Henny Porten playing both of Kohlheisel's daughters, Irish-born, Herbert Brenon's underrated Italian film, La Principessa Misteriosa, and a really interesting, virtually unknown documentary on the restaging of The Taking of the Winter Palace, directed by Nikolai Evreinov, Aleksandr Kugel', Nikolai Petrov, Boris Sanin, et al."
Postscript
A Ten-best list for 2020:
1. All five Small Axe films, directed by Steve McQueen (streamed on Amazon Prime)
2. Nomadland, dir. Chloe Zhao (streamed from Fox Lorber screener)
3. First Cow, dir. Kelly Reichardt (actually seen in a film theatre – Cinéma Moderne) the rest in the order in which I saw them
4. Bacurau, dir. Kleber Mendonça Filho & Juliano Dornelles (2019) – streamed (rental)
5. It Must Be Heaven, dir. Elia Suleiman (2019) – Cinéma Moderne
6. Canción sin nombre (Song Without a Name), dir. Melina Léon – Cinéma Moderne
7. Nadia, Butterfly, dir. Pascal Plante – Cineplex Forum theatre
8. Ta fang jian li de yun (The Cloud in Her Room). dir. Zheng Lu Xinyuan – streamed Festival du Nouveau Cinéma (FNC)
9. Krabi 2562, dir. Anocha Suwichakornpong & Ben Rivers (2019) – BluRay disc
10. City Hall, dir. Frederic Wiseman – streamed Rencontres Internationales du Documentaire de Montréal (RIDM)
Notes