Suspense, Shock, and a Horrifying Family: the film Stoker, written by Wentworth Miller, directed by Park Chan-wook, and starring Nicole Kidman
Forgive us our trespasses as we forgive those who trespass against us?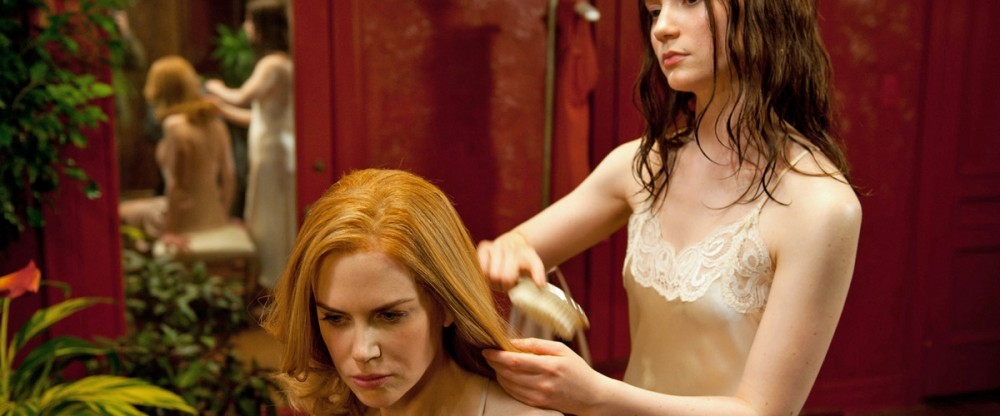 Stoker, directed by Park Chan-wook
Screenplay by Wentworth Miller
Starring Mia Wasikowska (India Stoker), Matthew Goode (Charles Stoker), and Nicole Kidman (Evelyn Stoker)
Cinematographer Chung-hoon Chung; Editor Nicolas de Toth; Composer Clint Mansell; Production Designer Thérèse DePrez
Fox Searchlight Pictures, 2012
(Released 2013)
"Weren't you supposed to love me?" asked the mother, Evelyn Stoker (Nicole Kidman), in the film Stoker, written by Wentworth Miller and directed by the South Korean filmmaker Park Chan-wook (the English or American presentation of the name is Chan-wook Park). That perplexed question reverberates throughout the film, though it is only spoken toward the end. Stoker is a film of alienation, desire, conflict, jealousy, and pain within a family; and it has elements of mystery, suspense, shock, and horror. The family in Stoker is a startling nightmare: a father dies, and his brother returns, and the widow and daughter are charmed and threatened. The film has a fairy-tale simplicity—and yet it has more than one wolf. It has several lambs. And the little girl in the story can take care of herself. The Stoker family is mostly isolated, rich, austere, feminine, and alienated; and observing them, it is hard to predict what its members will or will not do to themselves or others. The mother is both grief-stricken and pleasure-seeking; wanting to make contact with her daughter but aware of the distance between them; decent but directly angry when offended. The mother Evelyn Stoker is complicated in a casual, believable way. Charles Stoker (Matthew Goode), the dead husband Richard's brother, a middle brother, has an indifference to the value of other people's lives that is brutal. Charles, the brother-in-law and uncle, sees others purely in relation to his own needs and security: the uncle is a thinking man with evil intent—mysterious, dangerous, destructive; fascinating and frightening.
Civilization stands apart from wilderness, stands apart from chaos; stands apart from madness: or so we are led to think. And in a grand house may be books and classical music, gourmet food and carefully selected wines, and the French language, along with surprising flirtation—as well as the threat of something that promises to destroy that beauty, morality, and order. What is the nature of evil; what are the expression and the effect of evil? The uncle is a thinking man. Charles (Uncle Charlie) Stoker has boyish and sophisticated aspects, masculine and feminine (in the car, when Charles is presented with money and passport and maps, and thinks he will not be accepted into his brother Richard's family, Charles is crushed; and, later, Charles labors in the estate's garden, and defends his niece with violence). Charles has a complicated masculinity. He seems free of social constraint, but compelled, driven by personal obsession and will: free and not free. What are the nature and expression and effect of evil? It inspires speculations of dread and fear. In Stoker, incest hovers just beyond the drama that we see. In youth, a boy's attachment to his older brother and jealousy of that brother's affection for a new baby boy leads to a cruel act; and later, grown, the middle brother has a seductive attitude toward his brother's wife and daughter.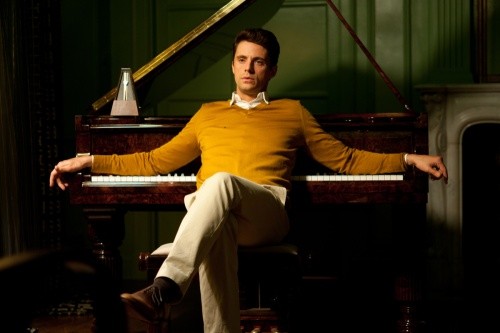 Matthew Goode
The middle brother, the uncle, is the sensitive boy and man who is a problem for society: the male whose emotions may make discipline difficult or impossible. The flawed man, a thinking man but a violent man, is yet a glamorous figure. Charles returns from an institution that the family's money helped to secure (his sister-in-law and niece do not know his history). Much becomes exaggerated—and significant—in isolation (if not the exact opposite: dull, meaningless): and, even shadows are heavier, more menacing, in isolation. The uncle, with the glamour and threat of the stranger, and the perversity of the frustrated familiar, is the return of the repressed; and repression can make desire fierce—absolute, raging. The mother Evelyn sees Charles and thinks of her husband when they were first married. Charles is seen by young people, the daughter's schoolmates, as very attractive, as he stands near then drives his convertible. The uncle is reactive, offensive; and the daughter, the niece, is withdrawn, defensive. Sometimes you have to do something bad so you don't do something worse: those are the words of the father who takes his daughter, Charles' niece, India (Mia Wasikowska), on all kinds of hunts. Did the father Richard recognize something in his daughter, something odd, something destructive; or did Richard, with his fear and training, create something strange and destructive in his daughter? The father Richard's belt—which Uncle Charlie wears, a sign of his taking over the dominant role in the family—becomes a talisman, personal, functional, symbolic, dangerous, an object that will be claimed by the daughter. The father-trained daughter is revealed as ascendant and amoral.
We have not seen the parents or much of the home life of the brothers Charles and Richard when they were young: we do not know what kind of nurturing the boys had. Was the pathology in the family cultural, or emotional, or genetic, or individual? Is there a moral to the story of deception and desire and rage that we see? What we do see is the surrounding world of Evelyn, India, and Charlie as the stage for the family's diabolical drama. The director Park Chan-wook is known for work that finds expression in excess, vibrantly wild, violent, films that explore taboo and transgression; and here he fills in moments with oddities—the excruciating sound of an egg shell cracking as the daughter listens, during a reception after the funeral of her father. A long-legged spider crawling up the girl's leg. And later, the daughter brushing her mother's hair—that hair suddenly becomes the thicket of natural shrubbery found by daughter and father on a hunting trip. The production design features a large but mostly austere house, and on the surrounding grounds of the mansion, in the garden, sculptural metal balls, large and heavy. The girl's bed has a yellow headboard with some kind of scaly design. The mother's room is red—torrid, tropical. Society has limited effect on the intimate life of a family: it is there and not there. The other young people find India Stokes strange (she is); and she is taunted by boys, taunts that are a blend of envy, hostility, and sexual interest. The visiting aunt is a person who failed to welcome another, failed to welcome the wife and mother, Evelyn, at the beginning of her marriage; and, as the person who showed disbelief and disrespect, she forfeits welcome, belief, respect. The housekeeper is utilitarian: employed by the family; and used by the brother/uncle and dismissed with finality. She grasped only part of the evolving plan—as laborers often do, no more. While she may be somewhat distrusting of Charlie, she does not suspect his full intentions. Does she confuse her own good intentions with his future prospects? Of course, there is sex and death in the film: in an attempted rape; and in a shower scene, in which violence is remembered and found erotically exciting. The film could be read as a repudiation of all the expectations of normality. Is there an insight that others can take away as explanation or guide, some wisdom?
The film has drawn attention for being the first English-language film of the Korean director Park Chan-wook, the director of Oldboy and Sympathy for Mr. Lady Vengeance, but he did not write it. Park Chan-wook directed it, while using an interpreter to communicate with his actors. The screenplay was written by the English-born but American actor Wentworth Earl Miller III, a Princeton graduate in English literature, and a writer; and as an actor featured on television (Buffy the Vampire Slayer, E.R., Dinotopia and in the Fox television program Prison Break, as the inventive Michael Scofield, who was determined to free his brother Lincoln from prison) and in the 2003 film interpretation of Philip Roth's novel of interracial passing, The Human Stain, as the young Coleman Silk. Wentworth Miller is the son of two Americans, a teacher mother of Dutch, French, Middle Eastern and other heritage and a lawyer father, a Yale graduate, of African-American and Caribbean heritage. The writer-actor Wentworth Miller grew up in New York and Pennsylvania, a biracial child who discovered he had feelings for other boys. He admitted that he considered and attempted suicide when young. (Why consider suicide? The cultural logic of difference can be one of knowledge and respect, or ignorance and disrespect; and if an identity has been invested with mockery and shame, then murder or suicide is not illogical.) Wentworth Miller, at once ethnically ambiguous and ideally handsome, and something of a mystery, revealed his sexuality in 2013 when he rejected an invitation to the St. Petersburg Film Festival in Russian, in response to the Russian government's increasingly hostile reproach to homosexuality. Wentworth Miller, in the December 2013 issue of Out magazine, declared: "What I would say to that younger self — what I'd say to anyone who's walked a similar road — is to focus less on the fact that you nearly ended your life and more on the fact that you survived, that you lived to tell the tale. And then tell it…I'd say: What you think of as scars are medals. They're badges of honor, testifying to something inside you that is determined and tenacious and enduring." Wentworth Miller has written another film work, currently entitled The Disappointments Room (and also Uncle Charlie, which takes places before much of the action in Stoker).
Park Chan-wook, a good-looking man of style and substance, a student of philosophy and film critic, has directed Moon is the Sun's Dream (1992), Saminjo (1997), Sympathy for Mr. Vengeance (2002), Oldboy (2003), Sympathy for Lady Vengeance (2005), I'm a Cyborg, But That's Okay (2006), Thirst (2009), and 60 Seconds of Solitude in Year Zero (2011); and his films are known for expressionism and violence. Park Chan-wook appreciated the fact that Wentworth Miller's script left room for interpretation (although the final film would be shorter than the director imagined, in response to studio wishes): "What I liked about [Wentworth Miller's] script was that it wasn't full of car chases or things blowing up, it wasn't full of people chattering away. The remarkable thing about the script was that it was very quiet. There are opportunities to use sounds other than dialogue, and opportunities to bring in a lot of visual elements. There was a lot of room for me to breathe in a lot of my own into the script, and while being quiet, it was still full of palpable tension and fright," Park Chan-wook told Jacob Templin of Time magazine (March 5, 2013). Park Chan-wook added in that interview that he likes to talk with his actors and plan the look of his films in detail before production begins. He also connected the themes of the film—alienation and transgression—to those that he and others have felt: "When I was going through puberty, I had all these feelings of being unstable through those years, and being uncontrollably drawn to things of beauty and things that are bad. The outcome of such seductions we don't know as teenagers, and that's why it makes us scared. And this is something I thought anyone could identify with."

Mia Wasikowska
Nicole Kidman, the mother in Stoker, has played an admirably great variety of roles: in Bush Christmas (1983) and Flirting (1991), To Die For (1995), The Portrait of a Lady (1996), Eyes Wide Shut (1999), Moulin Rouge (2001), The Others (2001), The Hours (2002), The Human Stain (2003), Cold Mountain (2003), Dogville (2003), Birth (2004), Fur (2006), Margot at the Wedding (2007), Rabbit Hole (2010), and The Paperboy (2012). As Isabel Archer in The Portrait of a Lady, Jane Campion's film of Henry James's wonderful novel of love and deception, Nicole Kidman played a woman most betrayed by her own obscure expectations of love and integrity: a woman who knew what and whom she did not want to marry (she refused to marry for a title, or out of lust or merely friendship), leaving her open to what was eccentric—and she found herself married to a small-minded aesthete who did not love her. Osmond, her husband, was a man whose glance at the world was appreciative but cold, shallow and selfish; and he was an evil she had not met before, did not predict or understand. Isabel became a wealthy girl caught as a prize by a sophisticated, impoverished man, a bounty hunter. Kidman portrayed the intelligence and hope and honesty of that girl, and the cool, diverting glamour of the lady she became—and the decency and regret the remained underneath.
Nicole Kidman was an elegant but direct young American in The Portrait of a Lady, and a tormented mother in Alejandro Amenabar's The Others, and a glamour queen in Baz Luhrman's Moulin Rouge. She was a photographer intrigued with human anomalies in Fur and a self-centered author in Noah Baumbach's Margot at the Wedding and a prison groupie in Lee Daniels' The Paperboy. Nicole Kidman, the daughter of a doctor father and a mother who was a nurse and feminist, has spoken of the importance of women supporting each other and of her affection for husband and children; and Kidman has said that the most terrifying part she has played was that of a mother losing her child in John Cameron Mitchell's Rabbit Hole, the film of a play by David Lindsay-Abaire (Daily Mail, December 8, 2012). It is hard to imagine what Kidman cannot do. Park Chan-wook told IndieWire's Drew Taylor (March 19, 2013), "If there was some script and the only role was a midget on Mars, I'd still send it to Nicole. That's how much I wanted to work with Nicole." Nicole Kidman has spoken of liking to work with filmmakers of expansive vision, and of doing work she finds challenging, even frightening. About Stoker and her director Park, Kidman said, "I mean this script was good, but the way he elevated the material is … I think it just shows his strengths as a filmmaker" (February 28, 2013 to James Rocchi of the social entertainment log of the online MSN). As Evelyn Stoker, Nicole Kidman is alert and tremulous at her husband's funeral; charmed to meet her husband's brother; wounded to realize again that her daughter does not like to be touched, not even by her; humorous at the prospect of being poisoned by her brother-in-law's tasty dinner; chastising of a concerned but intrusive older female relative; and, much later, sharp when complimenting Charlie's performance. It is shocking when Kidman as Evelyn in Stoker tells her daughter India (Mia Wasikowska) that she thinks people have children in the hope that someone else will be able have a good life—to get it right—but that she, Evelyn, cannot wait for life to tear India apart. Kidman's acting collaborators have their own respectable credits: Matthew Goode has been in Match Point, Copying Beethoven, Brideshead Revisited, and A Single Man; and Mia Wasikowska in Defiance, Alice in Wonderland, Jane Eyre, and Lawless.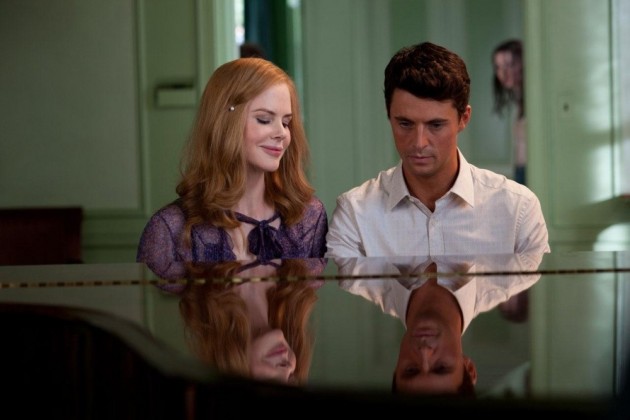 Stoker has in its cast Dermot Mulroney as the father Richard Stoker, and Jacki Weaver as the aunt, Gwendolyn Stoker, and Phyllis Somerville as the housekeeper, Mrs. McGarrick, with Alden Ehrenreich as a good-bad boy (Whip), and Ralph Brown as the sheriff, whose visit encourages further complicity between Uncle Charlie and his niece. Why did the father not trust his wife with the truth of his family's history, of his brother's murderous childhood act and current location? Although the father and aunt and housekeeper seem rather benign figures, the dominant sense is that most people cannot be trusted. (The face of the actress playing the housekeeper reminded me of someone I used to know—someone with a complicated history: a lesbian feminist artist who married a younger male rock musician—and I wondered what this sweet old lady might have done when she was younger.) The good intentions (intelligent, protective) of father Richard, aunt Gwen, and the housekeeper do not prevail over the aggression of mad, selfish desire. A decent attitude, or a sensible plan, can be subverted by a more adaptive sensibility. In Stoker, no good intention or effort seems strong enough to survive evil maneuvering.
Genuine culture comes out of many things—daily life, intellect, and imagination, out of both want and need. It is very particular, and yet the richer it is—the more beautiful and thoughtful and necessary—the more translatable it is likely to be. It can be received by people of different experiences, without regard to age or other class. Is that not so? Does traditional culture still have the power to enlighten and entertain? Or is extreme action the only thing that can shock us into contemplating anew our assumptions about normality? When Stoker's India is harassed by a male classmate during art class and after school, that is predictable, so predictable it is nearly acceptable; but when she fights back—stabbing the harassing male in the hand with a pencil—that is shocking: one realizes again that harassment should not occur or be tolerated, even as one finds oneself recoiling from—after briefly cheering—the violence. I relish many things—books, film, music, friendship, laughter, country walks, metropolitan museums, foreign cuisines, ice cream, public radio, history, justice, genius, and the promise of a good future—but I usually do not relish displays of violence in art, whether those displays are deliberate or impulsive, nihilistic or significant. The defense for demonstrating or dramatizing violence is that it occurs in the world; and that means that we repeat the limitation of life within the freedom of art. Violence is a repression of thought, a repudiation of civil humanity. It seems to achieve power, to express will, but it merely delays the ordinary flow of being. Whatever it seeks to destroy returns in a different form (in memory, in legend, if nothing else). The chaos and confusion, the mess and trash, the hatred and violence. of modern life are facts but they are not the only facts: compassion and decency and elegance and intelligence and love and order and tradition and manners and transcendence are also facts.
Our feelings and instincts overwhelm logic and reason in dreams: the pain and rage we feel bubbles up, often without restraint. We can strike out—once or again and again. Some films are like those nightmares in which we do: nightmares rooted in will and wish, nightmares that are fragmented, moving from emotion to emotion, from act to act. Stoker has been compared to the dream master and filmmaker Alfred Hitchcock's Shadow of a Doubt (1943), a film that writer Thornton Wilder worked on, in which Joseph Cotten played Charlie Oakley, a charming but odd man suspected of being a serial killer of rich widows, a man who returns to his family in a small town, and both intrigues and repels his niece. Much of the work of Alfred Hitchcock offered suspense, shock, and horror, showing cracks in our expectations of human decency: the pressures of modern life were displayed. Hitchcock's still pleasing forms were shaped by a particular time and taste and are vivid to us now as our time and taste are different (our differences help to define his); and some of what was taboo in his time are no longer taboo in ours—such as rage against mother; adultery; and homosexuality. Yet, when Shadow of a Doubt first appeared Bosley Crowther had cheers and doubts: "Yes, the way Mr. Hitchcock folds suggestions very casually into the furrows of his film, the way he can make a torn newspaper or the sharpened inflection of a person's voice send ticklish roots down to the subsoil of a customer's anxiety, is a wondrous, invariable accomplishment. And the mental anguish he can thereby create, apparently in the minds of his characters but actually in the psyche of you, is of championship proportions and—being hokum, anyhow— a sheer delight" (The New York Times, January 13, 1943). Bosley Crowther went on to say that despite the warmth of the small town atmosphere and its contrast with the increasingly difficult Uncle Charlie, the expected fulfillment of the story did not occur. Crowley sensed some vaguely anti-social message.
One of the strange things in Stoker is the fact that Evelyn and India Stoker are both very pale; and Uncle Charlie, who has been limited in his movements, though he claims to have traveled widely, is quite tan. The eerie complexions of mother and daughter made me wonder initially how deep into horror this film might go: would we find out that mother and daughter are vampires? (Park Chan-wook had made a vampire film: Thirst. The pale complexions in Stoker may have something to do with filming in Nashville during cold weather. I do not know what accounts for actor Matthew Goode's deep tan: is it a British or Hollywood preference; or is he the film's symbolic black man—as black men have been often the historical, practical, and symbolic other?) Stoker presents one of the most chilling depictions of family ever. (I watched it with dread; and then reflected upon it with discomfort. Seeing it a second time allowed me to appreciate the craft of it.) Stoker does not read or screen like reality but rather like a strange story with a provocative thesis, one it is interesting to ponder. Its people and their lives are attractive without being nice.
The film Stoker received some appreciative reviews, but more skeptical ones. Christopher Orr in the March 15, 2013 Atlantic wrote: "With Stoker, Park—best known for his Vengeance Trilogy and in particular, its middle installment, the 2003 stunner Oldboy —has created a macabre neo-gothic thriller, elegant in its malevolence. There are moments of near-camp, such as a piano-duet seduction (written specifically for the scene by Philip Glass) that fairly winks with self-awareness. But Park never descends into parody. This is Dark Shadows without the whimsy and the werewolves, a tale of deep family rot and of past sins that cannot be redeemed, only repeated or repaid." Orr noted the recurrence of burials in the film. However, Wesley Morris, writing in the online Grantland (March 7, 2013) had said, "Once or twice Kidman threatens to start a fire, but the movie's been assembled in a way that denies her any emotional continuity. It's too safe, too knotty, too wastefully handsome, too dull."
Is there a moral to the story of deception and desire and rage that we see? Is there an insight that others can take away as explanation or guide, as wisdom? Is it safe (logical, true) to say that the good person cares about his effect on others; and the evil person does not? If that is safely asserted supposition, it remains difficult to tell who is good and who is not. Sometimes goodness disturbs an indifferent status quo. If society balks at the idea and fact of a sensitive man, fearing the worst—disloyalty, perversity, and weakness—it balks as well at the idea and fact of an insensitive woman, fearing her too. What is to be done with the sensitive man, the insensitive woman? In film, suspense is an apprehension of what might happen, of what could happen; and shock is surprise at what does happen—with horror at its appalling effects. "We don't have to like each other; we're family," India Stoker tells her Uncle Charlie after he has cooked a delicious dinner for her and her mother and shared wine created in the year of her birth. The uncle had sent letter after letter to India, full of drawings and musings, letters that his brother Richard did not share with India. Charles Stoker claimed India from a distance, from the place of his exile. Uncle Charlie says that they are connected by blood but his claim seems all-encompassing; and when he plays the piano, sitting next to India, it is a scene of seduction—musical, spiritual, sexual. The four-handed Philip Glass musical composition is then an instance of beauty and error. The family's activities are cultured—classical music, literature, the French language—but that does not penetrate deeply enough to be protection against the wildest impulses. Would it make a difference in the family if each member had more to do in the world, something beyond the cultivation of private thought and pleasure? When India refers to the mother's having been busy, her mother asks, "With what?"
There are social facts—age, financial status, ethnicity, gender, and sexuality—that have been invested with moral virtues and vices: it is easier to judge by social categories than by character, ideas, and mission. The arts, like philosophy, allow for a renewal of one's openness to experience and to knowledge. Baroque, gothic, modern, expressionistic—all these words can be used to describe Stoker. Baroque – dramatic, exaggerated, grand, ornamental. Gothic – a terror that delights, a drama featuring women in romantic and physical distress. Modern – aware, self-knowing, sophisticated, with recourse to industry and technology. Expressionistic – an interpretation from an individual point of view, a perspective of colors and moods; a saturation of feeling into form. Yet, Stoker lacks the great thesis that would make it a truly exceptional work. It is more suggestion than thought or the testing of a principle.
What happened in the family of Charles and Richard Stoker before Charles did the irrecoverable thing? There is painful love—and firm resolve to separate—in Richard's eyes when he sees his brother after many years. And something is revealed when Charlie steps away from, and then awkwardly embraces, his doctor, a pretended normality, before leaving the institution in which he has lived. Once she begins to understand Charles Stoker's machinations, Evelyn Stoker, after cursing her daughter, offers to replace daughter India in Charles's plans: her love survives her own hurt at her daughter's disregard for her feelings. Such intense shifts can inspire disbelief. Audiences can respond with pleasure, indifference, and disdain or rage at what they see; and there is often disdain when artists refuse to gratify the most common and predictable wishes—despite the fact that news reports have caught up to the most perverse imagination of art, with details of incest and matricide and patricide.
To repress knowledge can maintain the semblance of calm, of health, of normality, but the lack of knowledge can leave individuals without specific preparation—without enough protection. To discover our true individuality, we have to grapple not only with our ambitions and hopes but with our true experiences, what is past and present. Many young people go through depression and doubt, discovering emotions within themselves that cannot be expressed or fulfilled in the world; and they are alienated by the world's inadequacy or incompatibility, and feel anger or sadness that is turned toward the world or the self. Provocative talk, angry music, political protest, and seduction of or by the other are ways of rebelling. Stoker suggests some of that—although incompletely, imperfectly.
The people who want to reassure us that all is well with nation, community, business, and family are people who dislike dissent, whether dissent is expressed in philosophy, literature, political speech, or ordinary conversation. It is dishonest to pretend that families do not both damage and enable their members, offering food and shelter, love and guidance, disapproval and intimidation and prejudices. Does Stoker incline us to think of what we know of our own families, of our own lives, and the families and lives of those around us? Who has looked at us with calculation or cruelty, with indifference or inappropriate longing? Who has touched us with brutality or lust? Who has inspired amoral or immoral thoughts or action in us? Is forgiveness or reconciliation possible? Does the film Stoker suggest that troubled being is a fact—and nothing more?
In the March 10, 2013 City Arts the often intemperate but occasionally insightful critic Armond White referred to Nicole Kidman as a culture vulture and denounced Stoker, declaring, "Park may not be sensitive to the blather in Wentworth Miller's script ('To become an adult is to become free') that seems to be working out the same transgressive vengeance against 'the family' as The Deep End and Savage Beauty but he's not a realistic director anyway. The death of the American family means less here the death of meaningful movie archetypes. Park specializes in sadistic montages, devising elaborate fantasies of torture and brutality–even when his set-ups are stylishly hokey: in a chic but shabby motel room, a country road outside a retro diner or a mother/daughter hair-brushing scene that match-dissolves into a reed-filled wilderness." Armond White is right to be wary of cynicism: some people expect and relish conflicts and tragedies in both entertainment and life—and yet that is cause to be more careful in one's consideration rather than forbidding of artistic exploration.
Sometimes illumination seems to come too late: and that can be because we are not looking or listening in the right places: we are not looking and listening everywhere. The New Republic's film critic David Thomson, on March 15, 2013, has expressed disenchantment with "this stupid but pretentious film" and Stoker's director, screenwriter and best known actress; and has gone as far as suggesting a different story line, with Kidman as a nasty stepmother. It is a rather precise suggestion, as if only one kind of family story is to be shown as diabolical to children. Of course, there is nothing like being young and alone, exposed to dangers horizontal and vertical, the wounds from authorities and peers: certainly some of us can recall, have heard of, or can imagine: a bitter, depressed mother, a distant father, an indifferent stepparent, a molesting uncle or aunt or cousin, a censorious school principal without sympathy or understanding, a teacher who was mocking or suspicious or discouraging, and fellow students whose allegiances were to cliques, harassment, and differing styles of ignorance. There are horrors in families and in society that emerge from darkness into light: a husband who rapes or shoots a wife; a mother who prefers an ordinary dead child to a creative living one. Adulthood is no paradise, peopled as it is by amoral powers and fragile relationships; and, of course, the arts and entertainment that is put down in one generation is raised up in another.
Writing in the New York Times (February 28, 2013), A. O. Scott, observed, "We find ourselves in a world of lurid, saturated colors; languorous camera movements; temporal displacements; and jagged shards of sound: an atmosphere that replicates the inner experience of India Stoker, a Connecticut teenager who manifests the funereal demeanor of Wednesday Addams and the seething intensity of a poem by Sylvia Plath." The critic caught the image and color and feeling of the film. He understood that he was watching a film and interpreting it, rather than reading a story or essay. Scott concluded: "Ms. Wasikowska has a remarkable ability to use the watchful stillness of her features to hint at the girl's emotional turmoil; her eyebrows, widening in alarm or contracting in fury, may be the film's most potent effect. She faces appalling and occasionally preposterous circumstances with a mixture of innocence and skeptical intelligence that is close to heroic. That goes for the actress as well as the character she plays."
To be civilized is not merely to be educated and interested in culture and thought, but to attempt to think and act decently in all circumstances—and to succeed at being decent more often than failing. Maybe people in families should try to like each other, cultivating the cordiality and humor and sympathy with which each is likely to treat friends. The intimacy and the distance. Maybe. The daughter India protects her mother Evelyn at the end of the film Stoker, but, after what the daughter does next in discouraging the sheriff from further investigation, it is hard to guess what will become of the daughter or her mother. Will it be possible for the two to live together? Will the daughter live the life of an ordinary woman, of a gifted and independent person, or of a sociopath? India is finally too peculiar: her triumph is one of will but also one of destruction, a triumph that can be witnessed but not shared, not even by her mother.
(Article submitted November 27, 2013)