50 (non-Palme d'Or) winning films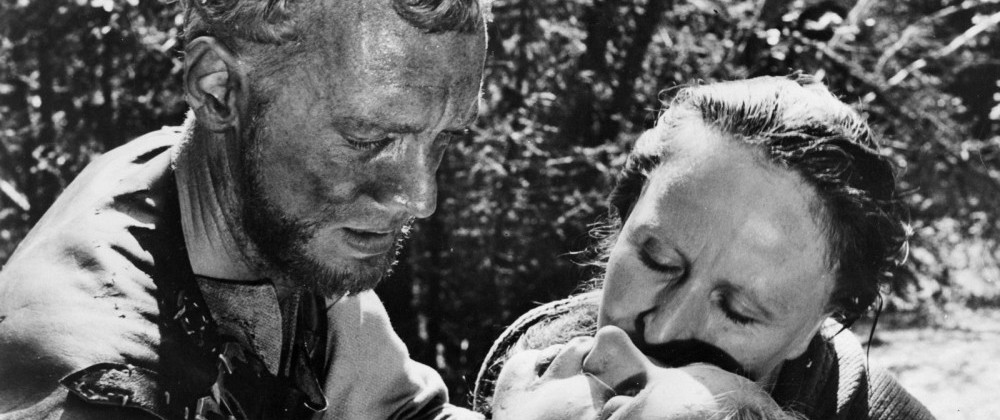 A great deal of attention has been paid in 1997 to the 50th anniversary celebrations of the Cannes International Film Festival, which began in 1946, took two years off (in 1948 and 1950) and was disrupted in 1968: thus this is only the 49th year of awards. Naturally, most of the focus is on the winners of the festival's first prize, the Palme d'or, but a stress on winners also leads to an opposite focus, on the losers. Indeed, this year, a special prize, La Palme des Palmes, will be awarded to the filmmaker whom the winners collectively believe to be the most deserving non-winner of the past, Ingmar Bergman (forgetting, of course, that the 1960 jury felt that his The Virgin Spring and Buñuel's The Young One were too good for the competition!). It seems to me, though, that this award should be going to the single most significant filmmaker of the last forty years, Jean-Luc Godard, although, no doubt he would give it to Robert Bresson. In any event, the Palme d'or of non-Palme d'orists could easily go to anyone of a number of Francophone directors. Surely, Alain Resnais, Jacques Rivette or the late François Truffaut would be as deserving as Bergman.
My own take on Cannes, as well as almost all film awards competitions, is that really outstanding work rarely wins the top prize. Invariably, great works of film art break new ground and cannot be fully appreciated on a first screening. And, rarely will a jury or group agree to recognize challenging, experimental or truly original work, and will often reward a more mainstream alternative. The most obvious and extreme example of this "lowest common denominator" tendency is the annual U.S. Academy Award Oscar balloting. For me the last really great film to win the Best Picture Oscar was Sunrise in the event's first year, 1927–28, and this was for a one-time-only award, Most Artistic (Quality of) Production. On the other hand, the Canadian Film Academy, Genie awards would appear to be an exception, where, for the last ten years, the most creative Canadian-made fiction features have been nominated, and, have often won the Best Picture award.
So, I have selected fifty films that are my choices for the best films to have competed at Cannes. I have tried to choose only films that were invited to the official competition section, and all of my choices since 1979 were definitely in this category. However, a few of the films from previous festivals which won the International Film Critics Prize (FIPRESCI) may not have been. But my only selection of a film which I know for certain wasn't in the competition is Andrei Rublev . It was shown in a special out-of-competition screening because the Soviet authorities refused permission for it to be officially included (while the Cannes selectors rejected the other candidate Soviet entries). Indeed, since I haven't been able to check many full entry listings, there may be other "great" films that I've missed because I didn't realise they were in competition at Cannes. In any event, only about ten of the films which have won the Palme d'Or over the years are in the same league as my choices here (see below). Where a film appeared on my 100 best films of all time list, compiled in 1994, I've preceded the entry with an asterix*:
1946;
Brief Encounter , David Lean, director (UK)
Rome, Open City , Roberto Rossellini (Italy)
Maria Candelaria , Emilio Fernandez, dir., Gabriel Figueroa, cinematographer (Mexico)
All three of these films were amongst a group of "best films," but the top award, the Prix spécial du jury went to René Clément's La Bataille du rail . Understandably, the jury wished to reward a film dealing with the French Resistance in World War II, which, mercifully, had recently ended. But, in so doing they slightly lowered the profile of three highly ambitious films. Brief Encounter is arguably the most "British" of films, and, it is certainly the quintessential middle class British film. It is also, in my view, Lean's best work as a director. Although Rossellini's next film, Paisà is a better example of Italian neo-realism, Roma, città aperta is simply the most influential film made since Citizen Kane . Clearly, Maria Candelaria can't possibly be as important, but it does stand as a typical example of one of the most beautiful series of collaborative creations in the history of world cinema, between director Emilio Fernandez and cinematographer Gabriel Figueroa in Mexico, from 1943 until 1951. Unfortunately, none of their later works were to be showcased at Cannes, and I suggest that the festival selectors missed out on recognizing the peaks of the Mexican "golden age." The compositional and photographic beauty of some of Figueroa and Fernandez's films has to be seen to be believed: e.g., in the pre-feminist comedy, Enamorada (1946) starring Maria Felix, the politically astute Río Escondido (1947), the baroque remake of their Cannes' winner, Maclovia (1948), the incredibly melancholic Pueblerina (1949) and two astonishing film noir's, Salón México (1948) and Victimas del pecado (Victims of the Slums, 1950) starring the greatest of all female "spitfires," Cuban-born, Ninón Sevilla.
1951;
* Los Olvidados , Luis Buñuel, dir., Figueroa, cin. (Mexico), Best Director
Clearly, Buñuel's film was far too "dangerous" to win the Palme d'or. This honour was saved for the more obviously humanist, Vittorio de Sica ( Miracle in Milan ) and the Swedish classicist Alf Sjöberg ( Miss Julie ). In other years, three films richly deserved their top prizes, The Third Man (1949), Orson Welles' Othello (1952) and Clouzot's La Salaire de la peur (1953).
1956;
* Pather Panchali , Satyajit Ray (India), Best Human Document
A very appropriate prize, to be sure, but, why not give the Palme d'or to this landmark film, ushering in the New Indian Cinema, and introducing the world's premier humanist and realist filmmaker of the next twenty years. What on earth did the jury find so special about Cousteau's Le monde du silence ? Presumably, in 1956, his documentary underwater footage had as spectacular an effect on the audience as Lumiere's train entering a station in 1895.
1957;
Un condamné à mort s'est échappé , Robert Bresson (France), Best Director
Nights of Cabiria , Federico Fellini (Italy), Best Actress (Guilietta Massina)
Kanal , Andrzej Wajda (Poland), Special Jury Prize (shared)
A great year for the competition, so, why couldn't one of these three films (or Bergman's Seventh Seal ) win the top prize? Friendly Persuasion (a lesser William Wyler) won!! We're not kidding! Bresson's A Man Escaped remains his key work in its ascetic stylistic restraint (here perfectly matching the subject matter), while Kanal was the first film in Wajda's powerful Polish wartime trilogy. The Fellini entry is perhaps my favourite amongst all his films.
1958 ;
Mon Oncle , Jacques Tati (France), Special Jury Prize
This year saw a very deserving winner, The Cranes Are Flying (USSR), directed by Mikhail Kalatozov, whose career is now being reappraised in the light of his restored I Am Cuba . Yet, once again, the jury chose not to give its top prize to a deserving French film by the unique Jacques Tati, while rewarding unremarkable French films in other years.
1959;
Les Quatre cents coups , François Truffaut (France), Best Director, Catholic Film Office Award
Hiroshima, mon amour , Alain Resnais, dir., Marguerite Duras, screenplay (France), FIPRESCI, International Film Critics Prize (ex aequo, shared)
Araya , Margot Benceraf (Venezuela), FIPRESCI (ex aequo, shared), Prix de la Commission de la Superieure Technique
Ditto, the very next year, the year of the nouvelle vague. The Palme d'or recipient, Marcel Camus' Orfeu Negro , has since gained the reputation for being the best-known (and loved) Brazilian film, without strictly being Brazilian. It was a Franco-Italian-Brazilian co-production, and later won the Best Foreign Language Film Oscar for France. In my opinion, the best Latin American film at Cannes in 1959 was from Venezuela and directed by a woman. A docudrama on the saltworkers and fishing folk of three villages, Araya is a striking precursor to the New Latin American cinema. Needless to say, either Truffaut or the "Left Bank" team of Resnais and Duras should have received the Palme d'or (although I'm not completely sure that Hiroshima, mon amour was in competition).
1961;
La mano en la trampa (Hands [sic] in the Trap) Leopoldo Torre Nilsson, dir., Beatriz Guido, scr., (Argentina), FIPRESCI (shared)
* Chronique d'un été , Jean Rouch (France), FIPRESCI (shared)
I would never want to take any award away from Buñuel, who won for Viridiana , and yet, in the light of film history, either of the above would have been more appropriate winners. Chronique is the seminal work of cinéma verité, while the Argentinean film is a fine representative example from husband and wife team, Torre-Nilsson and Guido who constructed haute bourgeois melodramas/art films with even more visual flair than Bergman and Nykvist.
1962;
* L'Eclisse , Michelangelo Antonioni (Italy), Special Jury Prize, Catholic Film Office Award
Quite simply, Antonioni's greatest film, which is saying something, since from Il Grido (1957) through to The Passenger (1975) almost all of them were "great." Not forgetting that on his Cannes debut only two years previously, L'Avventura was soundly jeered by the audience. It also should have won the Palme d'or, rather than Fellini's La Dolce Vita .
1963;
I Fidanzati (The Fiancés), Ermanno Olmi (Italy), Catholic Film Office Award
1964;
* Vidas Secas , Nelson Pereira dos Santos (Brazil), Catholic Film Office Award (shared)
Visconti's win in 1963 was well deserved, for his career if not for the particular film on display ( The Leopard ), while Jacques Demy's Palme d'or for Les Parapluies de Cherbourg has stood the test of time much better than other French honorees. Nonetheless, I admire Olmi's resurrection of neo-realism more than Visconti's saga, and I cite the Brazilian film not for being "better" than Demy's (it isn't), but as being a much more central example of the first phase of Cinema Nôvo than Anselmo Duarte's 1962 winner, The Given Word . Dos Santos is also the premier director of the new Brazilian cinema, often called the "father" of the movement.
1967;
I Even Met Happy Gypsies , Alexander Petrovic (Yugoslavia), Special Jury Prize (shared)
Accident , Joseph Losey (UK), Special Jury Prize (shared)
Again, my choices here are not necessarily more worthy than the 1967 winner, Blow Up , but the Losey film provided a more perceptive analysis of British society than Antonioni's and was more experimental in nature. Blow Up , of course, was a lot more trendy with its veneer of "swinging London." Happy Gypsies shared the 2nd prize with Accident , but the awarding of a Palme d'or to Petrovic would, perhaps, have drawn valuable attention to the Yugoslavian cinema of the mid-1960s, which was exhibiting a brilliant, black comic edge.
1969;
* Antônio das Mortes , Glauber Rocha (Brazil), Best Director (shared)
Z , Constantin Costa-Gavras (France/Algeria), Best Actor (Jean-Louis Trintignant)
Andrei Roublev , Andrei Tarkovsky (USSR), FIPRESCI
A great year for the Cannes competition, but a surprise that Lindsay Anderson's most impressive film, If … , beat out the favourite, Z for the Palme d'or. Not surprisingly, however, Glauber Rocha's strangely edited and densely encoded Antônio das Mortes only won the director's prize. It is a representative film of Cinema Nôvo's "tropicalist" phase. Thank goodness that the International Film Critics Jury saw fit to award Andrei Roublev a prize. Without it, Tarkovsky's name could have disappeared, like many of his Soviet contemporaries, who chose, similarly, not to tow the party line.
1972;
Red Psalm , Miklos Jancso (Hungary), Best Director
Solaris , Tarkovsky (USSR), Special Jury Prize
1974;
Ali: Fear Eats the Soul , Rainer Werner Fassbinder (F.R. Germany), FIPRESCI (shared)
1975;
Les Ordres , Michel Brault (Quebec/Canada), Best Director (shared)
Every Man for Himself and God Against All , a.k.a. The Enigma of Kaspar Hauser , Werner Herzog (F.R. Germany), Special Jury Prize, FIPRESCI (shared)
* A Touch of Zen , King Hu (Taiwan), Grand Prix de la Commission Superieure Technique
1976;
Kings of the Road , Wim Wenders (F.R. Germany), FIPRESCI (shared)
1978;
Man of Marble , Wajda (Poland), FIPRESCI (shared)
1979;
Days of Heaven , Terence Malick (U.S.A.), Best Director
The 1970s saw eleven of the thirteen Palmes d'or go to Italian, British or American films (in 1972, '73 and '79 it was shared). The only exceptions were 1975 when the festival's top prize went to Algeria—Mohammed Lakhdar-Hamina for Chronique des années de braise —and 1979, where The Tin Drum shared the Palme d'or with Apocalypse Now . The early years of the decade were excellent ones for Italian and American cinema, and, it is good that the festival finally recognized African filmmaking. But, Eastern Europe (especially Hungary) continued to produce challenging work and the Federal Republic of Germany was certainly the most important European site of "new wave" filmmaking in the 1970s. Hence, I have included one film each from Herzog, Fassbinder and Wenders and work by Jancso, Tarkovsky and Wajda to point out the jury's lack of foresight at this time. Of course, the Cannes jury can't be faulted for not honouring films that weren't included in the line up, but it is important to note here that Cannes largely ignored the development of filmmaking in the "3rd World". Brazil continued to be an interesting production centre and in the late 1960s and early '70s Cuban films shook the world (but not Cannes). India was also under-represented and the other Asian industries were almost entirely ignored. The one clear exception was the magnificent epic Touch of Zen , in which director King Hu combined spirituality and action with rare cinematic beauty. This film, which was completed in 1969, developed somewhat legendary status over the years following its winning a prize at Cannes in 1975, (which some reports incorrectly note was the Grand Prize). However, the film, like most of King Hu's oeuvre, is still largely unseen, and the director has yet to be accorded the status in film history that he deserves.
1983;
* Kharij , Mrinal Sen (India), Jury Prize
L'Argent , Bresson (France), Best Director [Grand prix du cinéma de création] (shared)
Nostalghia , Tarkovsky (Italy/USSR), Best Director (shared)
1984;
Naplo , Marta Meszaros (Hungary), Special Grand Prix du Jury
The first half of the 1980s saw a number of the finest directors from the previous two decades being awarded the Cannes festival's highest honour: Kurosawa (1980), Wajda (1981), Costa-Gavras (1982), Imamura (1983) and Wenders (1984). But, they had all made more significant films in the past, and typically, for Cannes, the tendency was to reward filmmakers past their prime. The industries of Yugoslavia and Turkey were accorded a surprise Palmes d'or, in 1985 and '82, receptively. But the opportunity to recognize the resurgent New Indian cinemas was missed (e.g., Kharij) as was that of recognizing women filmmakers (e.g., Meszaros). 1983 was a great year for the competition, but the jury's decision to award a special prize for "creative cinema" jointly to Bresson and Tarkovsky clearly marks that the most creative filmmaking is not the "stuff" of the Palme d'or. Indeed, more often than not, the Best Director prize goes to a more "creative" film than the Palme d'or.
1987;
Yeelen , Souleymane Cissé (Mali), Jury Prize (shared)
Wings Of Desire , Wenders (F.R. Germany/France), Best Director
1988;
Thou Shalt Not Kill , Krzystof Kieslowski (Poland), Jury Prize, FIPRESCI (shared)
Sur , Fernando E. Solanas (Argentina), Best Director
* King of the Children , Chen Kaige (China), no prize
1989;
The Time of the Gypsies , Emir Kusterica (Yugoslavia), Best Director
1990;
Ju Dou, Zhang Yimou (China), no prize
1991;
Europa , Lars Von Trier (Denmark/Germany), Jury Prize (shared), Technical Award
1992;
El sol del membrillo , Victor Erice (Spain), Jury Prize (shared)
1993;
Naked , Mike Leigh (UK), Best Director, Best Actor (David Thewlis)
* The Puppetmaster , Hou Hsiao-hsien (Taiwan), Jury Prize (shared)
1994;
Under the Olive Trees , Abbas Kiarostami (Iran), no prize
1995;
Ulysses' Gaze , Theo Angelopoulos (Greece), Grand Prix du Jury (2nd prize), FIPRESCI (shared)
Good Men, Good Women , Hou Hsiao-hsien (Taiwan), no prize
1996;
Breaking the Waves , von Trier (Denmark/UK), Grand Prix du Jury
The last ten years have seen the continuation of conservative decision making by Cannes juries. English language films have continued to dominate—6 of 11 Palmes d'or—and where this was not the case, some very conventional European films have been chosen. The Danish director Billy August even managed to win the top award twice. It was good to see a woman win finally—Jane Campion for The Piano —and in the same year, 1993, a Chinese film also shared the Palme— Farewell My Concubine . But Chen Kaige's film was an attempt at finding a larger audience (it succeeded), which disappointed the director's admirer's (myself included) who had respected the artistic challenges presented by The King of the Children , a film about education, which simultaneously taught us how to "see" anew. The most challenging films of 1993, though, were Naked , for its raw portrait of British misogyny, and The Puppetmaster , for its brilliant mixture of documentary autobiography and historical narrative. Mike Leigh has since gone on to win the Palme d'or for his audience-pleaser, Secrets and Lies , but Hou Hsiao-hsien has come up short with his subsequent Cannes entries, Good Men, Good Women (1995) and Goodbye South, Goodbye (1996). Neither won a prize.
There is a pleasant postscript to all of this. The intelligent 1997 Cannes jury, including Paul Auster, Michael Ondatje, Mike Leigh, Gong Li, Tim Burton, and headed by Isabelle Adjani, gave the Palme d'or (ex-aequo) to two Asian directors, Japan's Shohei Imamura (for the second time) and the great Iranian humanist, Abbas Kiarostami. In addition, veteran Egyptian director Youssef Chahine was recognized for his entire career and Atom Egoyan (a Canadian of Armenian descent, born in Egypt) won more prizes than anyone else: the Grand Jury Prize, the FIPRESCI award and the Ecumenical prize. On top of all this, the person who is arguably the most exciting young talent working anywhere in the world today, Wong Kar-Wai, was given the Best Director prize. While most observers were complaining that the Cannes line-up was one of the weakest in the festival's history, the jury saw fit to hand out prizes to genuinely creative filmmakers, from all over the world. Bravo!