By Brakhage: An Anthology
Criterion Does Brakhage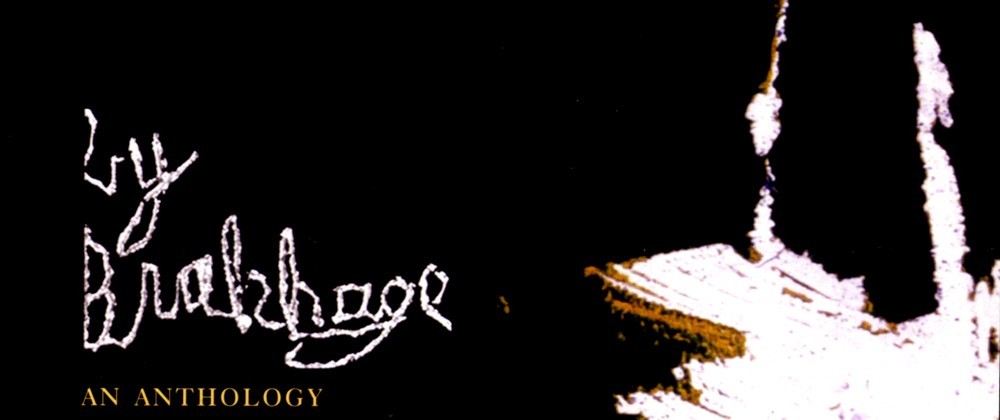 The legendary American avant-garde filmmaker Stan Brakhage (1933-2003) once described his milieu as more living room scale than underground. Believing that "all movies are home movies" Brakhage sought cinematic intimacy (and immediacy) through the rigorous documentation of his daily life and a direct, first person engagement with the medium itself. By developing an impressive array of strategies and techniques for affecting an independent, personal cinema (including fluid handheld camera movements, rapid inconsistent editing rhythms, and the use of abstract imagery), he severed film from its industrial ties by conceptualizing the filmmaker as an individual artist. With his short lyrical films, his 30-part, 8mm film cycle, Songs (1964-67), and more recently, his hand-painted corpus, to name just a few instances, Brakhage aspired to create cinema analogous to poetry and music: in other words, films that could be returned to again and again within the comforts of the home, and which would inspire and reward multiple encounters. The arrival of home video in the early '80s made this goal increasingly possible; 1 however, it wasn't until the advent of the DVD format in the mid '90s that quality video "translations" of film prints could be experienced in the domestic setting. So it was with great anticipation that I welcomed Criterion's new two-disc DVD release, by Brakhage: An Anthology.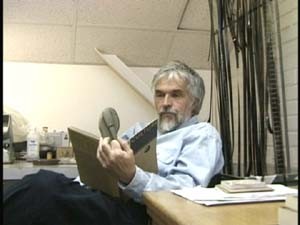 Collecting together twenty-six of Brakhage's films (ranging in length from nine seconds to seventy minutes) produced between 1952 and 2001, by Brakhage serves up a hardy sampling of his massive 400-plus-film oeuvre. Comprising this compilation are such well-travelled titles as Window Water Baby Moving (1959), Mothlight (1963), the epic cycle Dog Star Man (1961-64), and the verité documentary The Act of Seeing With One's Own Eyes (1971); lesser-screened gems such as the early experimental drama Desistfilm (1954), the transitional montage-study Cat's Cradle (1959) and the camera-less nature film The Garden of Earthly Delights (1981); numerous hand-painted pieces including (deep breath now!) Nightmusic (1986), The Dante Quartet (1987), Rage Net (1988), Gaze of Cathexis (1990), Delicacies of Molten Horror Synapses (1991), Untitled (for Marilyn) (1992), Stellar (1993), Study in Black and White (1993), Black Ice (1994), The Dark Tower (1999), and Love Song (2003); as well as some sweet surprises. Among these: the painterly-landscape hybrid The Wold Shadow (1972), the odd, quirky sound film The Stars Are Beautiful (1974); the noir-soaked psychodrama Wedlock House: An Intercourse (1959); the slender, hypnagogic Eye Myth (1972); the anamorphic home movie Kindering (1987); the dark, subtle electro-inflected Crack Glass Eulogy (1996); and the sparkling water etude Commingled Containers (1997), all of which only accentuate the quality of Brakhage's range.

The Garden of Earthly Delights
By Brakhage's boldly diverse material, selected by Marilyn Brakhage (his wife) and Bruce Kawin with the input and advice of the filmmaker, is one of the noteworthy qualities of this compilation. Pristine high-definition digital transfers are another, marking the first time that Brakhage's films have been released on DVD. Watching this DVD on my television monitor and computer screen is the closest I have come via video technology to the experience of viewing rushes on a Steenbeck flatbed: with the ability to slow down, speed up or freeze the image, while still maintaining a high level of quality, DVD is an ideal format for the intricate, frame-by-frame construction of Brakhage's films. Special features, including homey video encounters with the filmmaker and audio reflections on selected films by Brakhage himself, as well as an effective introductory essay and film capsules by the critic Fred Camper, provide an expanded context for the work.
My main disappointment with by Brakhage concerns what wasn't included on the compilation, namely any of the 8mm Songs. Considering that they were intended for home viewing, and given the twofold fragility of 8mm film stock and the scarcity of (operational) 8mm equipment, it's unfortunate none of those wonderful, rare moving pictures could be featured here. However, it's a minor quibble, one that can be easily resolved though future DVD releases. A final caveat: Although Brakhage encouraged folks to watch his films in their homes this DVD shouldn't be seen as a replacement for viewing the actual prints, or discourage institutions, including, in particular university media schedulers and film professors, from renting them. By Brakhage will function best as a research tool in tandem with his films, hopefully stimulating interest and further study, thereby bringing uninitiated viewers closer to his life's project: the very material of film itself (symbolized, of course, by his signature hand-scratched titles!)
The vividness of Brakhage's films corresponds to a child's fresh perspective, while the organization of his experience according to "moving visual thinking" 2 reveals the presence of the artist as a mediator of vision. It is clear when looking at by Brakhage: An Anthology (as Brakhage would want it, again and again) that he was a filmmaker possessed by the very idea of film. In his discussions he makes no doubt about this desire: "I am now trying to find out what it is that film can do that's purely film. I really wish to open myself to that difference." 3 The prevalence of hand-painted films on this compilation demonstrates his will to break new ground and unearth new forms of cinematic expression.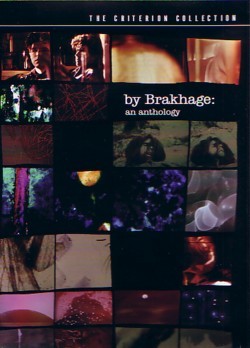 Notes
16mm film has always been difficult to view at home because of the prohibitive printing costs, material fragility and expensive, specialized projection technology.  To combat this problem Brakhage used to sell 8mm prints of films such as Mothlight with the hope that they would occupy a place on the shelf next to LPs and books. ↩
Brakhage describes moving visual thinking as "a streaming of shapes that aren't nameable – a vast visual 'song' of the cells expressing their external life."  See Suranjan Ganguly, "All That is Light: Brakhage at 60," Sight and Sound 3, no. 10 (1993): 21.  ↩
Quoted in Suranjan Ganguly, "All That is Light," 22. ↩