Bradford International Film Festival, March 2008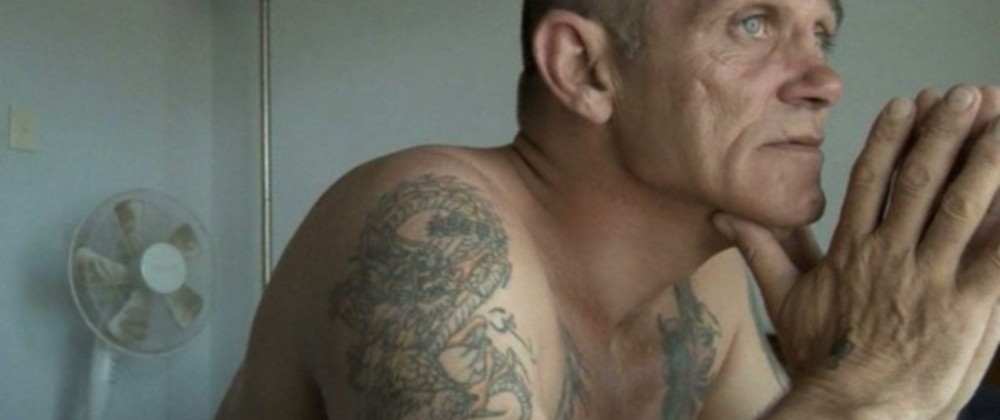 The core of the fourteenth festival was a selection of premieres and previews from around the world. This was supplemented by the Cinefile strand of documentaries about film-makers, a continuation of last year's Uncharted States of America project introducing low-budget indie films, a film and music conference, an industry weekend for aspiring film-makers, the Shine Award for the best short, retrospectives, talks by actors and directors, and the Widescreen Weekend which as usual attracted enthusiasts from around the world (the National Media Museum is that rare beast, a location which is equipped to screen Cinerama). Seeing more than seventy films in two weeks can resemble an endurance test; the annoyance is how many I missed.
The Cinefile strand provides an opportunity to proselytise for neglected figures; the danger is that advocacy dwindles into hagiography. I was conscious of the line being crossed in Brando (Leslie Greif and Mimi Freedman, US, 2007), an overlong documentary in which the likes of Martin Scorsese and Dennis Hopper eulogise their hero. Hints emerge of an alternative story –the actor who failed to learn his lines, who was paid off by his studio and who never bothered to attend editing sessions for the only film he directed– but they are never followed up. Equally problematic is Martin Scorsese Presents: Val Lewton –The Man in the Shadows (Kent Jones, US, 2007), which gives us a troubled, brooding figure who brought his own vision to the films he produced. As Lewton never directed a film, this interpretation dents the notion of the director as auteur, but the implications of this are not considered. The directors of his later films are not even mentioned. More satisfying is Spine Tingler! The William Castle Story (Jeffrey Schwartz, US, 2007). Schwartz never claims too much for his subject, whose achievement was as a showman. Castle lost his prestige projects to Welles (The Lady from Shanghai) and Polanski (Rosemary's Baby). What would William Castle be doing today? His career poses the conundrum of how far the prevailing culture shapes those who work in it as opposed to artists shaping the culture.
Two films in the Premieres and Previews strand offer despairing glimpses of Japanese youth. Dog Days Dream (Ichii Masahide, Japan, 2006) follows Nakamura, a young man so apathetic that his wife has to brush his teeth. Gradually there is a role reversal as he resumes work and seeks an air conditioner for their flat. There are some striking images such as the wife sitting among the chaos and the young man stealing the hospital air conditioner before fleeing on a motor cycle, his bandages flying. The trouble is that apathy can infect the audience. The characters need fleshing out if they are to hold our interest.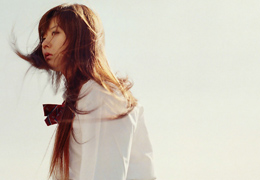 This World of Ours
In a case of life mimicking art, Nakajima Ryo confesses to have been a hikikomori (so socially withdrawn and depressed that he never left the house). In his film This World of Ours (Japan, 2007), youth is not so much apathetic as alienated. We start with school bullying and proceed through rape and murder to the blowing up of an office block. With each twist of the story, the victim becomes an aggressor. Even the teacher who should stop the bullying is flawed. This is a state of the world film such as Godard used to give us, though the violence is nearer to that of A Clockwork Orange. This World of Ours is stuffed –perhaps overstuffed– with ideas. I'd like to see it again.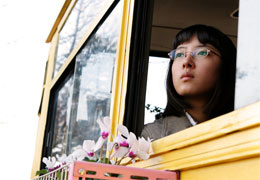 The Wonder Years
A gentler portrait of confused youth is found in The Wonder Years (Kim Hee-jeong, S. Korea, 2007). Su-ah is a quiet girl of thirteen who has trouble choosing her friends and who falls out with her mother when they are forced to leave their home. A trip to a rock concert in Seoul (where 'Greensleeves' is sung in Korean) brings matters to a head. The performance of Lee Se-young as the girl makes teenage angst seem fresh and interesting. You care about how she copes in Seoul on her own and how she gets on with a new stepfather. An affirmative glimpse of everyday life, unlike many Korean offerings.
I'm a Cyborg, but That's OK (Park Chan-wook, S. Korea, 2006) follows an older girl being treated in a mental hospital after a suicide attempt. The location provides opportunities for an array of bizarre behaviours, not least from the heroine who charges herself from batteries in preference to eating and in fantasy sequences transforms herself into a cyborg, shooting staff and patients indiscriminately. This is a quirky film which has things to say about anorexia and mental illness. The theme of patients taking over the asylum is familiar and the ending drags, but Young-goon's plight lingers in the mind. This is a film which grew on me.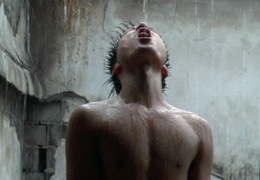 Xiaolin Xiaoli
Two Chinese films confront the problems of those left behind by industrialisation. In Xiaolin Xiaoli (Miaoyan Zhang, China, 2007), a young couple are beset by debt, which forces the husband to go to Shanghai for work. His wife, Xiaoli, drifts into prostitution to support herself. Meanwhile, a casual labourer, Xiaolin, becomes dissatisfied with his routine of eating and masturbation and seeks a prostitute. There are longueurs, but the film's ending when the two main protagonists are brought together recalls Wedekind's Lulu in its power and sense of inevitability.
Little Moth (Peng Tao, China, 2007) is the story of a paralysed girl nicknamed Little Moth who is sold to provide her new owner, Luo, with an income from begging. Luo discovers that breaking into the begging industry in a big city is not as easy as he anticipated. Little Moth escapes, but this proves no relief from her plight. There are moments when melodrama threatens to take over and passers-by seem fascinated by the camera, giving the film a dimension the director probably never intended, but this is another angry statement about the dispossessed.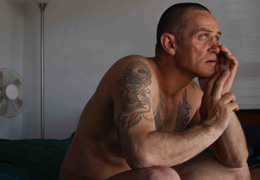 Boxing Day
Australia is represented by two films. Boxing Day (Kriv Stenders, Australia, 2007) is a spare drama which charts the boxing day of Chris, a former prisoner and alcoholic. His niece brings her partner and daughter to lunch, but a drug-dealer from Chris's former life turns up and recognises her partner as a child molester he met in prison. The film has twelve cuts; the snag is that you keep looking for them, while the restless camerawork can be as distracting as excessive editing. You should be held by the content, not the process. What redeems the film is Richard Green's visceral performance as Chris. You never know whether to admire him or pity him, but you can't forget him.
Burke & Wills (Oliver Torr and Matthew Zeremes, Australia, 2004/2006) is another low-budget drama in black and white. Wills is a chatty loser, while his new lodger, Burke, seems in control of his life. When Burke's grandmother dies, the roles are reversed as Burke descends into depression and Wills gets a job and a girl. We have encountered ill-assorted house mates before, but the personality of Wills in particular (played by Zeremes) and the dynamics between the couple were intriguing enough to keep me watching.
From South America comes City of Men (Paulo Morelli, Brazil, 2007), which cashes in on the success of City of God. A rival hood tries to take over the favela and a gang fight ensues. The saturated colours, handheld camerawork and frenetic editing become as tiresome as the confused shoot-out. Personal stories intersperse the macho posturing –Wallace tracks down his father, while his friend Ace faces the responsibilities of fatherhood– but the characters are crudely drawn. I can see why Disney picked up this film, but I wish they hadn't.
Far superior is XXY (Lucia Puenzo, Argentina, 2007), the story of fifteen-year-old Alex, who struggles to come to terms with being hermaphrodite. The arrival of family friends with their teenage son brings matters to a head. This is a sensitive treatment of a difficult and unusual theme, helped by the performance of Ines Efron as Alex. If will be a pity if this film becomes ghettoised –it is already on the programme of a gay and lesbian film festival. XXY works as a coming-of-age drama.
Among films from the United States, the big name director is John Sayles, whose latest work is Honeydripper (US, 2007), set in the Alabama of 1950. The Honeydripper is a rundown bar operated by Pine-Top Purvis (in homage to pianist Pinetop Perkins?). A musical evening meant to turn around the bar's fortunes seems destined to be cancelled when the star artist falls ill, but an itinerant guitarist is hired to impersonate him. The problematic element is how a film about poor blacks should be approached –from a present-day multi-cultural viewpoint, making a nod to Hollywood cinema in 1950, or from the perspective of the participants. Sayles seems uncertain and the religious element is poorly handled, but this is warm-hearted film in which social comment is kept in the background, allowing the music to come to the fore.
Shotgun Stories (Jeff Nichols, US, 2007), set in rural Arkansas, is bleaker. The death of a father precipitates a conflict between two sets of half brothers who are his children. This is a slowly-burning drama of Shakespearean gravitas as the hotheads of the family move from words to violence, while their siblings who want a quiet life are drawn into the dispute. The family tensions are convincing and the film's message about conflict and its resolution never overwhelms the story.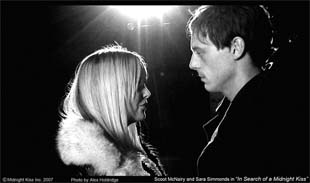 In Search of a Midnight Kiss
My favourite among the American films was In Search of a Midnight Kiss (Alex Holdridge, US, 2006), a story of boy meets girl in the internet age. The girl is a brash, aspiring actress, but the facade slips over the course of the evening the couple spend together. Like Honeydripper, this is a film with heart. The dialogue sparkles, you care about the characters and downtown Los Angeles is captured in luminous black and white photography. The look and feel of the film reminded me of Manhattan. There can be no higher praise.
Some of the American films appeared in the Altered States strand –the distinction appears to hinge on the size of the budget. In Search of a Midnight Kiss was in the Premieres and Previews strand and was made for less than US$25,000, so the distinction seems arbitrary. Aaron Katz made his first feature, Dance Party USA, for less then US$2,000. I rated this highly last year. His second film is Quiet City (US, 2007), which resembles Holdridge's feature in charting the relationship of a young couple who come together by chance in the big city, in this case New York. Though Katz provides some striking visual images, he devotes less attention to the cityscape and finds less humour than Holdridge, but the warmth and wonder of a blossoming relationship is conveyed with a sure touch. His ear for dialogue never lets him down. You can imagine the characters staying together after the film ends. I look forward to seeing more of Katz's work, but is it time he tackled broader themes?
Three buddy films were screened in the Altered States strand. The oldest was The Whole Shooting Match (Eagle Pennell, US, 1979), which has been newly restored. This is the film which prompted Robert Redford to create the Sundance Institute. Two jobbing builders from the backwoods of Texas look for fame and fortune, but fail to find either. There is some good country music along the way and the lyricism of the final scenes as our heroes go on a shooting expedition recalls The Deerhunter (1978) and the recent Old Joy. The film is rough and ready, but Redford's enthusiasm is understandable. This is real indie cinema.
Also set in Texas, this time in suburban Austin (where Holdridge made his first films), is When Is Tomorrow (Kevin Ford, US, 2007). Ron is a poet who has made a name for himself in New York. He returns to visit Jake, who has no career and dabbles in drugs as he did in their student days. The two men's lifestyles collide and Ron finds that he no longer has anything in common with his old friend. This is a bittersweet film which most people can relate to. It is convincing and compulsive as an exploration of the nature of friendship.
The third Texan film, which certainly does not look low budget is Broke Sky (Thomas L. Callaway, US, 2007). Two men collect roadkill for a living. One kill found in a well is human; the older man conceals the body to avoid being accused of murder. This threatens the two men's friendship as another secret is revealed. Though Broke Sky stars Terrence Malick's stepson, Will Wallace, this is Coen Brothers territory, with black humour juxtaposed against an everyday background. A subplot about the younger man's marital difficulties is as involving as the main story and less convoluted. A refreshing film which belies its jaunty opening.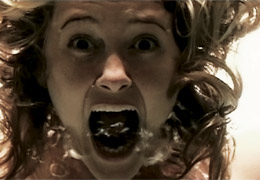 All the Invisible Things
One of the most impressive of the European offerings was All the Invisible Things (Jakob M. Erwa, Austria, 2007). Partly improvised, this begins as another story of disaffected youth, with teenagers indulging in petty criminality. Where the film diverges from the predictable is that their parents' lives are drawn into the story, letting us become involved in the families' problems. A seemingly tangential plot line concerning a stripper who helps a victim of the delinquency becomes crucial to the denouement. This is a complex, involving story and an assured debut which has won awards at Oldenburg and Austria's Diagonale 07 festival.
Saviour's Square is a piece of social realism from the husband and wife team of Krzysztof Krauze and Joanna Kos-Krauze (Poland, 2006). Bartek, Beata and their two children are forced to share a flat with Bartek's mother. Relationships become strained. Bartek has an affair and leaves, while Beata sinks into suicidal depression. This is a bleak picture of family life in a society grappling with capitalism (the couple's savings are lost in a speculative building project) and experiencing the tensions between a traditional patriarchal society and personal fulfilment. A bleak but impressive drama.
A lighter touch is found in Outside Love (Daniel Espinosa, Poland, 2006), set in Copenhagen. The Jewish Shmuli dreams of a new life with his son in New York. To earn extra money, he works in the store run by a young Muslim businesswoman, Amina. Eventually he sleeps there when relations with his parents break down. The couple grow closer, in spite of religious and racial problems. If the theme of love across the divide is hardly original and the opening drags, Espinosa's treatment, the performances and the portrayal of a little-known side of Copenhagen combine to make this film rewarding.
When French directors make a foray into costume drama, the results can be dire (think of Rohmer). Catherine Breillat has succumbed with The Last Mistress (France/Italy, 2007). This 19th century tale of a libertine who goes back to his mistress looks sumptuous and has a committed performance from Asia Argento to commend it. Breillat provides her trademark sex scenes, but I find costume drama distancing and she failed to win me over. Costumes and period props overwhelm the drama.
The opening of Garage (Leonard Abrahamson, Ireland, 2007) establishes the film's leisurely pace, as befits the story set in a small Irish town. Josie looks after a rundown garage. The owner asks him to initiate the teenage David into the work. The unlikely pair get on, until Josie's naivety proves his undoing and events spiral beyond his control. Pat Shortt as the shambling, amiable Josie is rarely off screen and gives an understated performance. Dialogue is sparse and apparently inconsequential –scenes in the pub and the store are economic but telling in showing Josie as a tragic figure in his failure to empathise with the people around him. He seems more comfortable in the company of the horse he feeds on his way home. This quiet, intense film has been compared to Bresson's Mouchette. The comparison is apt.
Really (Daniel Mitelpunkt, GB, 2006) is one of those offbeat British domestic dramas which get screened at festivals and find a natural home on DVD or late night television. The self-absorbed, thirty-something Eleanor lives in London and is discontented with her life. A documentary film team follow her as she takes financial advice, consults a lifestyle counsellor, moves to a new flat and finds a boy friend. Alas, the changes don't go as planned. The intriguing aspect of this mockumentary is how the people around Eleanor react to the camera; its presence does not stop them getting annoyed. The film's sharp observation and sly humour are appealing as pretensions come tumbling down.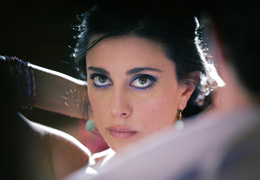 Caramel
A film which slips through the cracks in this geographical survey is Caramel (Nadine Labaki, France/Lebanon, 2007). It is set in and around a Beirut beauty salon, with men playing subsidiary roles. Muslim and Christian, straight and lesbian –the girls accept each other, attending a wedding ceremony together. This is a soufflé of a film, accessible and witty, revealing a side of Beirut which never makes the news. Labaki, who stars as well as directs, avoids labouring the message that for women, community is more important than conflict. Aristophanes made the same point two thousand years ago, but it bears repeating.
Two films aroused controversy among Bradford audiences, as they did at other festivals. (I missed Brian De Palma's Redacted, which might have come into the same category.) Some Photos in the City of Sylvia (Jose Luis Guerin, Spain, 2007) is minimalist film-making. A silent film, it comprises a sequence of black and white photographs, with captions explaining that this is a search for a girl glimpsed years ago, but never forgotten. Photographs of Strasbourg give way to photographs of women who are followed through its streets. One question is whether this is a film at all, or a video installation which rightly belongs in an art gallery. I'd opt for the latter. The other issue is whether the film is romantic or exploitative. A face glimpsed once can linger in the mind (remember Bernstein's reminiscence in Citizen Kane about the girl he saw on a ferry), but here the camera can seem voyeuristic. And is the voyeur the photographer or an imaginary character?
The other film which split the audience is Funny Games (Michael Haneke, GB/US, 2007), an English language remake of Haneke's Austrian film from 1997. A well-off couple (Tim Roth and Naomi Watts) and their son holiday at a lakeside villa, where they are terrorised and killed by two polite, upper-class young men. Haneke bemoans screen violence, but is he being disingenuous in seeking to lure a multiplex audience to his film and precisely what message are they supposed to take from it? Aside from these questions, the film brushes aside inconvenient details in the interests of keeping the plot on the rails. The victims ignore the obvious strategy of trying to set the two young men against each other, while it stretches credibility that having escaped into the night, both the wife and son allow them to be recaptured. Why do the young men temporarily abandon their victims and why are the family unable to secure their home from the inside? Haneke seems determined to subordinate everything to the plot like the maker of any exploitation movie. Characterisation is superficial –the family are passive victims and their terrorisers sadists. This is an unrewarding film which leaves an unpleasant taste. Haneke would doubtless claim that this is his intention, but I was left wondering whether Funny Games amounts to anything more than William Castle's shockers.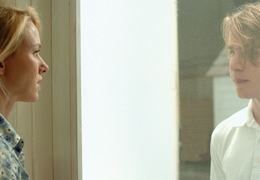 Funny Games
Visitors to the festival included Mike Figgis, Michael Palin, Julien Temple and Kenneth Branagh. Christian Petzold introduced a retrospective of his work. He is a reluctant member of the Berlin school of social realism –he dislikes being categorised. He works with a stock company of actors, eschews studios controlled by money men and cites Lang, Hitchcock and Wenders among his influences. I kept thinking of Antonioni when the main protagonist in Cuba Libre (Germany, 1996) assumes another man's identity and acquiesces in his destiny like Jack Nicholson's character in The Passenger, while a glimpse of an assault in a park which begins Ghosts (Germany, 1996) recalls Blow-Up. Women in Petzold's films keep disappearing, like characters in L'Avventura or Identification of a Woman. Preoccupations weave through the seven films –car crashes, a fascination with mundane jobs, the wary friendships of disparate people who drift into crime and how the desire for vengeance becomes an obsession. Crucially this is examined in a moral context, so that women do not take their revenge when the opportunity comes. For me, this retrospective was the highlight of the festival. My pick of Petzold's films is Something to Remind Me (Germany, 2002), which I saw on its first release and which looks even more impressive second time around. I should have included it in my list of the best films of the last ten years.
The story echoes Vertigo –a man becomes obsessed with a mysterious girl who has her own agenda for befriending him– but Hitchcock's unpleasant mixture of self-obsession and gleeful showmanship is absent. Like Antonioni, Petzold draws us into a world of intense feeling while maintaining intellectual control over his material. I cannot agree with those who find either film-maker cold.
Most features were screened with a short film –over four hundred shorts were submitted. The improving quality of British entrants was noticeable. Lullaby (Kevin Marwick, GB, 2007) follows a mother coming to terms with the loss of a child. Haydn Gwynne's monologue to her dead son lifts the film, which might otherwise seem mawkish. Trip (Harry Wootliff, GB, 2007) won the Shine Award, as well as previously winning the Orange North Star Short Film Award. This is a predictable story of an estranged husband who takes his daughters on a seaside holiday without telling his wife. The film's appeal lies in the performances coaxed from the two young girls. Flatshare (Jason Yi, GB, 2007) looks at the problems of sharing a flat. This again is well-trodden territory, but the characters have veracity and the tensions between them are believable. This is a good story, concisely told. My favourite short missed the shortlist for the Shine Award. This was Silver Tongues (Simon Arthur, GB, 2007), in which a middle-aged couple visit dementia sufferers in a nursing home. There is a hint that the couple are confidence tricksters. One resident plays his own confidence trick on the wife, exposing the flaws in her marriage. The story is told with a clarity which does not preclude ambiguity and it depends on character rather than relying on a plot twist like so many shorts. An incidental virtue is that we see old people –few films of any length have a leading character who is over thirty, let alone over seventy. Among shorts from abroad, La Quela by the actress Liz Lobato (Spain, 2006) was noteworthy. This story of a girl in 1920s Spain who yearns for a cardboard doll is austere and beautifully simple. You know that it will end in tears, but it is still moving.
I'd like more films to be given a repeat screening and my recurring plea is for more formal arrangements for audiences to discuss what they've seen. But these are quibbles. Bradford is seeking to become a UNESCO City of Film, which is a measure of how important film has become in its regeneration. This is the happiest of festivals, as Alex Cox said at the closing gala. There was a moving presentation to Bill Lawrence, who is leaving his post as Head of Film at the National Media Museum. The festival was Bill's brainchild and he nursed it through its early years. This year's programme was the strongest yet, which is a tribute to his vision and consolidates Bradford's place among the leading British film festivals.
I'm left with two thoughts. Firstly, a lot of the films are virtually two-handers. This is inevitable when budgets are tight, but it can draw attention to technical and financial constraints. The skill is to invest events with a wider resonance, which In Search of A Midnight Kiss does so triumphantly. Secondly, humour does not always travel well. Far Eastern films suffer in this way; so does Jasminum (Jan Jakub Kolski, Poland, 2006). This will be a hurdle for the organisers of the International Comedy Film Festival to be held in Torquay in September. It will be interesting to see how they meet the challenge and how this newcomer among festivals fares against its established rivals.