Best films of the decade (by women of colour)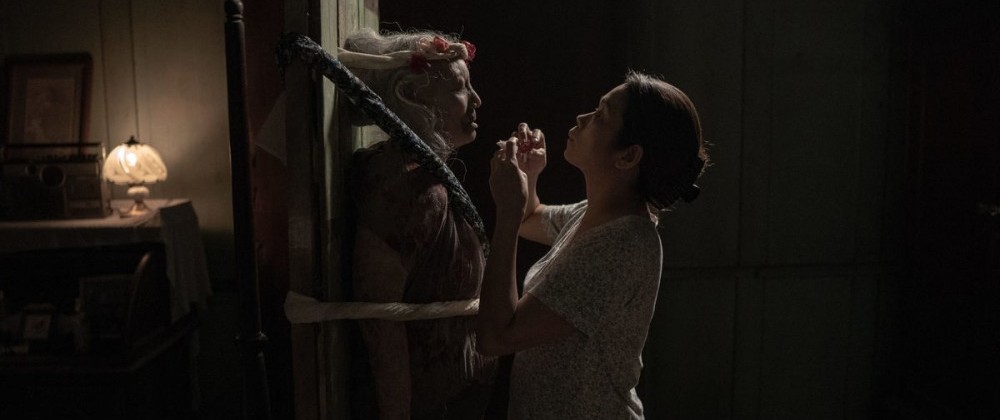 We are at that time of year when film critics, their media outlets and associations make their 10-best of the year lists. But, since we are near the end of 2019, a lot of "best films" or movies "of the decade" lists are being produced. The first one that I was aware of was a "Top 75 Movies of the Decade" (actually 82, because 19 tied at number 64, with four votes each), published by World of Reel as early as May. Given that they claim to be "Your place for alternative movie news," I was really surprised that 47 of the films on the list – well over 50% – were U.S. films, and that only seven were directed by women (and four of those were in the English-language). I went on Facebook to complain about these statistics, only to discover a bit later that all except one of the female filmmakers was a person of "colour": Chloé Zhao, who placed 47th= with The Rider. Unfortunately these tendencies: to favour English-language, especially U.S.-made films, and to ignore the work of non-white women have continued to be typical of the lists that have followed.
The Guardian put out a list of the best 100 films of the 21st Century in September, of which 50 had appeared in the last 10 years. https://www.theguardian.com/film/2019/sep/13/100-best-films-movies-of-the-21st-century
(That division into equal halves by decade was probably deliberate.) A progressive sign is that 15 of these had been directed by women, but no fewer than 33 of the 50 are in the English-language, with just nine slots going to non-U.S., mostly British films.
The Guardian
is, of course a British newspaper, but they rely on a large U.S., online readership. I also find it very strange that, even though one presumes that very few
Guardian
writers contributed to the list —only four, in fact— they find it necessary to rank the works from 1 to 100. Later-on, I caught up with
Indiewire
's list of the best 100 films of the decade, which had been published on 27 July.
https://www.indiewire.com/gallery/best-movies-of-2010s-decade/
Again, I can't believe that the editors found it necessary to rank the works from 1-100, although a lot more critics were involved than was the case for The Guardian. For me, it is an interesting list because I counted 17 films that I had never seen, but all except two of these are in the English-language, and 11 are U.S.-made. It is understandable that this particular list favors U.S. films, because they support the U.S., "Independent" film scene more than any other, and they always devoted a lot of attention to Sundance, every January. Nevertheless, to only have 1/3rd of the films in another language is not appropriate, and, even worse, only 19 of the 100 were directed by "people of colour." This statistic is very surprising given that Indiewire is very supportive of African-American filmmakers, and although there are 21 films on the list directed by women, only one woman of colour, Ava DuVernay is represented by her great Netflix documentary, 13th (2016). The Guardian was a bit better in this regard with 15 of their 50 films directed by women, including 13th and Capernaum (2018), directed by Nadine Labaki, from Lebanon.
In November, the A.V. Club released its 100-best of the decade, which was also dominated by English-language films (67), and only one film was directed by a woman of colour, Dee Rees' Mudbound (2017), which placed 75th
https://www.avclub.com/s/best-of-the-2010s
Another British newspaper, The Independent produced its 40-best films of the decade, which included an astonishingly high 34 films made in English, and once again, we can now say that "typically," only one film was directed by a "woman of colour," DuVernay's Selma (2014).
https://www.independent.co.uk/arts-entertainment/films/features/best-films-decade-2010s-paddington-moonlight-carol-ranked-a9213966.html
I was interested in all of these lists, because none of the outlets are in any way considered to be mainstream. Hence my disappointment at their choices is magnified.
Individual lists began to appear in November, including Stephanie Zacharek's, with her ten-best choices in Time Magazine (13 November), which also included Selma, but which, more understandably given the magazine's widespread North American readership, included a majority of English-language films (7/10). In the Sunday New York Times (24 November), one of their two leading film critics, A. O. Scott included films directed by three men of colour, and two directed by women, Greta Gerwig's Lady Bird and Maren Ade's Toni Erdmann (Germany, 2016) in his best 10 films of the decade, but the other of their top critics, Manohla Dargis presented my favourite list so far of the last decade; unranked, and listed in alphabetical order. It includes, The Assassin, Hou Hsiao-hsien (Taiwan, 2015), a documentary, Faces, Places, Agnès Varda & JR (France, 2017), another one, No Home Movie, Chantal Akerman (Belgium, 2013), Poetry, Lee Chang-dong (Korea Republic, 2010), DuVernay's 13th, and Jia Zhangke's A Touch of Sin (China, 2014). She found room for only three feature-length films directed by white men, including the World of Reel's number one film, Australian George Miller's Mad Max: Fury Road (2015) —the only film on both lists— and Richard Linklater's Boyhood (2014). Her other two spots went to a fourth documentary, Frederick Wiseman's In Jackson Heights (2015), and most interestingly of all, she included the "cinema of Nathaniel Dorsky and Jerome Hiler," championing the 16mm "experimental" films of the former that she had watched over a number of years and In the Stone House (2015), by Dorsky's partner, which Hiler made as a "transcendent ode to their life together."
https://www.nytimes.com/2019/11/24/movies/best-movies-2010s-decade.html
So, for my own attempt at making a "best films of the decade" list I have decided to present a list of work by "women of colour," only. This is not to say that there haven't been great films made by white women —e.g., Lucretia Martel, the late Varda and Akerman— or by men of all stripes —e.g., Hou, Hong Sang-Soo, Pedro Costa. Of course, there are many such films, but I have witnessed Asian, African and indigenous women (and those of Asian or African descent) doing such wonderful things recently, that someone, at least, should recognize their achievements.* In any event, if I were to compile a "best-100' list, all of these works and quite a few more that have been made by "visible minority" women would appear on it, I am sure. They are listed in the order in which I saw them, not by the year of their first public screening (which is revealed in parentheses).
Guan yin shan (Buddha Mountain), directed by Li Yu (China, 2010), starring the sublime Sylvia Chang as a retired opera singer, and with a supporting cast of much younger actors, Fan Bingbing, Chen Bo-Lin, and Long Fei, whose characters learn to be nicer people, and help one another, under Chang's character's tutelage, not unlike the 1930s Shanghai studio, Lianhua's filmic representation of youthful co-operation. I saw this at the Vancouver International Film Festival in October 2011, and it was the most emotionally moving experience I had in the cinema, that year.
Ma'a al-Fidda (Silvered Water, Syria Self-Portrait), directed by Wiam Simav Bedirxan with exiled filmmaker Usama Muhammad (France/Syria, 2014). Brave, Syrian Kurdish elementary school teacher/female documentary filmmaker, Bedirxan filmed the siege of her hometown Homs, and sent the often-shocking footage by e-mail to Muhammad. She escaped and was able to attend the film's premiere in Paris. This poetic work remains the most powerful work I have seen on the war in Syria. I saw this in October 2014, in Montreal.
13th, directed by Ava DuVernay (USA, 2016). Inasmuch as I am not a "fan" of Netflix, when they don't allow theatrical releases of their films, this was still an amazing experience watching it at home, on television. My reaction, in that I truly learned something about how the incarceration of African-American men deprives them of the "freedom" that they were promised by the 13th Amendment's abolition of slavery, is almost identical to Ms. Dargis'. An extremely important, albeit depressing work on the history and continuation of racism against black people (men in particular) in the USA.
Dao Khanong (By the Time It Gets Dark), directed by Anosha Suwichakornpong (Thailand, 2016). This was one of the two best new films I saw in 2016 (at the Festival du Nouveau Cinéma in Montreal, October). (The other was Another Year, see below.) With her second feature film as a director, Ms Suwichakornpong has crafted a more complex work, even, than any of the great Achichatpong Weerasethakul's films. Along with its deep reflexivity on filmmaking, Dao Khanong comically reveals gender imbalance in the Philippine film and television industries, cleverly represents societal dependence on women's work, and bravely recognizes a bleak time in the country's history, when many students were killed at Thammasat University in 1976. I was honoured to be invited to introduce the director and her film in 2019 at the magnificent new Cinéma Moderne in Mile End, Montreal.
You yi nian (Another Year), directed by Zhu Shengze (China, 2016). The winner of the top prize at the Rencontres Internationales du Documentaire de Montréal (RIDM) in November, after also winning the top prize on its premiere at the Cinéma du Réel festival in Nyon, Switzerland, Another Year is both formally rigorous —13 dinners were filmed, a month apart, in single, static long takes, from a different camera position each time— and emotionally engaging the viewers to understand the difficulties faced by a migrant Chinese family of three generations, who live together most of the time. For me, along with Dao Khanong, it was one of the two best films of 2016.
Angry Inuk, directed by Alathea Arnaquq-Baril (Canada, 2016). I saw this as part of the TIFF "Canada's Top 10" series at the Phi Centre in Montreal, January 2017, and it placed in my best of the year list that was published by Senses of Cinema. It is rare these days for me to see a film that I learn so much from and which also changes my views on the world – see 13th, above – but this one made me completely rethink seal hunting. Although Angry Inuk is very much like Michael Moore's films in being both autobiographical and rhetorically non-fictional, it spans a whole decade in the director's life and feels like it represents her entire life's dedicated work.
The Impossibility of Knowing, directed by Tan Pin Pin (Singapore, 2010). At the November 2017 edition of the RIDM, I was very fortunate to meet Tan Pin Pin and see her introduce and talk about most of her films. I learned that she is not only, arguably the best of all Singaporean filmmakers, but she is also a significant innovator of dialectical, documentary form. Her most admired film is the feature length, To Singapore, with Love (2013) because it deals with the political exile of Singaporeans in the 1960s and 1970s; people who can never go home. It remains a banned work in Singapore. However, her other films and videos are often deliberately ambiguous and questioning, especially the 11½ minute, Impossibility, which juxtaposes brief verbal accounts of strange and gruesome, but factual, anonymous "stories" with static shots of apparently benign buildings and spaces in and around the city, which are labeled with specific addresses, but completely empty of people. https://vimeo.com/34982743
The Rider, directed by Chloé Zhao (USA, 2017). Surprise winner of the (U.S.) National Society of Film Critics Prize for the Best Picture of 2018, The Rider is probably the film that I have had the most success at recommending to my friends. I had seen it at the Hong Kong International Film Festival in March, 2018. I have virtually no interest in the sport of rodeo, and yet I found this treatment of the lives of indigenous Lakota rodeo riders from South Dakota, and their families, all played by the people themselves, to be an extremely sensitive group portrait. It also stands as an example of why we need films directed by women to not just be "about" women, but men, as well.
Microhabitat, directed by Jeon Go-Woon (Korea Republic, 2017). Programmed by Ariel Esteban Cayer at the 22nd Fantasia international film festival, Montreal (July, 2018), for the Camera Lucida competition, Microhabitat was a revelation. A first feature for its female director, the film foregrounds the social problem of the very high cost-of-living in Seoul, by focusing on the plight of a 30 year-old Korean woman who choses to be homeless, rather than give up cigarettes and whiskey. It won the Camera Lucida jury's prize.
Oda sal wala (Ode to Nothing), directed by Dwein Baltazar (Philippines, 2018). The film that I was hoping would win an award in the Camera Lucida competition at the 2019 Fantasia film festival in Montreal —and so did one of the jury members— Ms. Baltazar's third feature film is a sublime mixture of the static, long take, "slow cinema" art film and the genre of the fantastic. A lonely, retired maid, who is keeping her family's funeral home business going, develops an interesting relationship with an old woman's corpse. Totally original.
Hottamaru biyori (Hottamaru Days), directed by Nao Yoshigai (Japan, 2016). A medium-length, 38 minute short film showing a strange series of performances by young women dancing as "nymphs." The film though, is in no way sexualized, but is truly magical, and totally original. Nao Yoshigai and her young dancers would often perform live together with a screening but I saw it as part of a program of her shorts at the 23rd edition of Fantasia in Montreal, July 2019. Thanks again to Ariel for programming this and three other of her films.
Atlantique (Atlantics), directed by Mati Diop (Senegal/France, 2019). This is the "film of the year." It is very rare for both of the top films at Cannes to be great films, which was the case in 2019, with Bong Joon-Ho's Parasite winning the Palme d'Or and Atlantique winning the Grand Prix du Jury. I was fortunate to see Mati Diop's film on a big screen (Cinéma Impérial) during the November, Cinemania Festival (de films francophone, subtitled in English), before it was released on Netflix, because the visual detail is extraordinary; so many questions, for example: is that huge modernist tower, built by oil money, seen through the mist off the Atlantic ocean, real or imagined? A film that begins in stark realist mode with construction workers demanding their back pay turns into an amazing work of the fantastic, with every shot composition and edit brilliantly designed.
As a footnote to my choice of ten features and two short films directed by women "of colour", I would like to give a special mention to yet another documentary, that I have just seen (2 December) in the Cinema Politica series at Concordia University: Merata: How Mum Decolonized the Screen, directed by Heperi Mita (New Zealand, 2018). The director is Merata Mita's youngest son, who discovered many outtakes from her finished films as well as "home movies" and footage from films and videos that were never finished. Seeing the film was a very moving experience for me. I met Ms. Mita, the first acclaimed Māori filmmaker in 1984 at the Guelph [Ontario] International Film Festival, where she had befriended the great indigenous Canadian filmmaker, Alanis Obomsawin. Well into her 80s, Ms Obomsawin hosted the q & a after the screening of Merata. It is rare that I see a film about someone who I myself had known, albeit briefly when she stayed at my wife, Shelley's apartment, to show her work in London, Ontario, especially Patu! (1983), a remarkable documentary feature that followed (mostly young) New Zealand anti-apartheid protestors who were demonstrating against the visit of the (all white) South African rugby team. I was unaware before seeing Merata that her life had been such a constant struggle against poverty, racism and sexism. She hadn't complained to me about anything, but seemed such an optimist, who was so happy to be discovering links with other "first peoples," all over the world through readings and screenings. Merata had died suddenly almost ten years ago, on 31 May, 2010.
*I have chosen not to consider Latin American women, even though many have indigenous, or Asian or African roots. For example, Article 2 of the Mexican Constitution states that "the nation is pluricultural," imagining that all Mexicans are part-indigenous, even if they are not.