Plus belle que la beauté est la ruine de la beauté
Decasia
The fact that Decasia (USA, Bill Morrison, 2002) has had many screenings at an equal amount of very diverse feature and documentary film festivals is testament to its slippery nature. The film has also been screened at contemporary art institutions, including those where part of its footage originated. It has been broadcast on television, distributed on DVD and has been bought by the Museum of Modern Art and the Netherlands Film Museum (Nederlands Filmmuseum) for their permanent film collections.
This film has –apparently– elicited strong opinions: the audience at Le Giornate del cinema muto (The Pordenone Silent Film Festival) 2003 either loved it or hated it; very strongly. Personally, I left the theater in Sacile totally thunderstruck and baffled after an intense physical experience. I wondered why I felt this mix of melancholy, excitement and perverse enjoyment. I found myself anxiously looking for a plotline that couldn't have been there in the (original) source material: the film's images seemed to fit into a new thematic category no matter how unrelated their original contexts might have been. I wondered what I had just experienced and why I had seen it here. Was programming Decasia at the Giornate del Cinema Muto 2003 a daring choice, or is Decasia nowhere more at home than at this particular film festival that is committed to supporting and encouraging the safeguard and restoration of our cinema patrimony?
Decasia demonstrates that the natural phenomenon of decay creates new forms. It also shows that film has this particular quality as a medium, whereby, like a biological process, it can be re-edited and give birth to new works. This film has been born from the collections of several film archives and, ideally, these institutions are a place for cinematic heritage to become rough material for new products.
It is precisely this new amalgamated state of Decasia that is interesting. The viewer's attention constantly shifts from the photographic content of the found footage to the textures, colors and rhythms of the film's surface as the decaying nitrate obstructs the narrative flow of the scene. Through limitation, the decaying footage has been aesthetisized: the (original) source footage has been unified by re-photographing all the fragments in black and white and by slowing them down to a speed at which the decay's fluid motions are highly perceptible, and somewhat perversely, enjoyable. No employee of a restoration department in a film archive will be happy with, for example, a decaying negative when trying to make a new preservation print, but being such an employee, I find the friction between trying to preserve moving images while being able to enjoy the beauty of their deterioration provocative.
Decasia is a film that really stood out amongst the rest of the programming of the 2003 Giornate, not only because its completion date is 2002, but primarily because it is an entirely new film constructed from decaying archival footage. At a festival that celebrates the art and restored beauty of silent cinema, this was a remarkable programming choice, to say the least. A comparable film that immediately comes to mind is the more literal Lyrical Nitrate, screened more than 10 years ago at the Giornate. Since its first screening, this film has been embraced by the international archive community and, on a very personal note, opened up a world of images I didn't know existed, which highly influenced my further choice of study.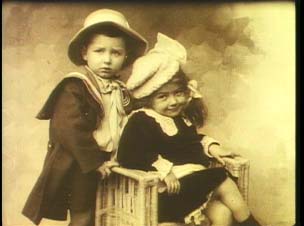 Lyrical Nitrate
Lyrical Nitrate (The Netherlands, Peter Delpeut, 1991) is a compilation film that assembled silent nitrate archive footage of the Nederlands Filmmuseum, more specifically of the Jean Desmet collection. The films made up to the transition from silent to sound cinema (and later from nitrate to acetate film stock) were considered redundant because of this 'permanent improvement,' and consequently lost their commercial interest. The fact that Jean Desmet, one of the earliest pioneers of Dutch film distribution, held on to his films after they had become commercially unviable, is the most important factor behind there being, at the time of his death in 1956, a remarkable corpus of films found hidden in the attic of one of his theaters in Amsterdam. The collection portrays a perfect cross-section of the 1910s commercial film supply.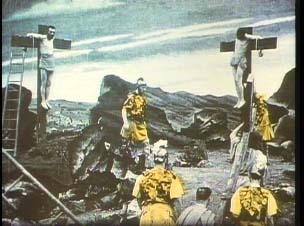 Lyrical Nitrate
While Lyrical Nitrate shows the artefact film dying over the course of the film, the story tries to right several misconceptions about silent cinema. Contrary to popular belief, films from the silent cinema era were exhibited in some form of colour (hand-painted, tinting, toning), but they often were preserved in black and white. Furthermore, silent cinema portrays an unexpected fluidity when projected at the right speed; the practice of projecting silent films at the 'sound' speed has convinced generations of viewers that the films were meant to look that way (sped up). And inextricably linked to projecting films at the wrong speed, silent cinema is thought to consist mainly of comedies. Lyrical Nitrate is not only an ode to the art of silent cinema but also an ode to the film material itself: at the end of the film, a flickering pattern of decaying nitrate slowly replaces the photographic image. The irreversible process of decay and the strip of film itself becomes the principal object of interest.
Decasia was originally commissioned as a visual component to accompany an original symphony by composer Michael Gordon. As opposed to Lyrical Nitrate's footage, which had all been preserved at the time of compilation, Decasia is compiled of bits never meant to flicker again: nearly all the clips incorporated into this film are from footage that has been damaged due to poor storage, neglect, or by the passage of time. They were fading away in archives, removed from the cinema, and deemed unworthy or unsuitable for the purposes of further commercial exploitation. Bill Morrison did not do anything to accelerate the decomposition process.
Peter Delpeut is a film director who often re-uses archival footage to tell a story, whether an ode like Diva Dolorosa (The Netherlands, 1999) or an adventure story that combines fact and fiction like The Forbidden Quest (The Netherlands, 1993). Although the element is film preservation, the issues it raises and the love for the film material is ever-present in these films; only at the very end of Lyrical Nitrate does he explicitly refer to the materiality of the film strip's deterioration by letting it decompose off the screen. Bill Morrison, on the other hand, is a visual artist who re-uses archival footage much more focused on the palpable materiality of the film strip and its irreversible decay. The "broiling" emulsion is the subject developed from The Film of Her (1997), to Decasia (2002), to Light is Calling (2004).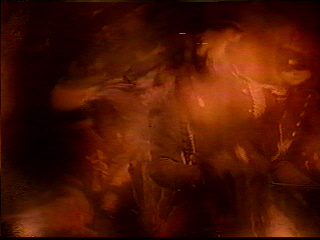 Morrison's Light is Calling
Extinction increases status. The extinction of nitrate increases its status to the extent that it is mythologised. It is the impossibility of avoiding this extinction that troubles us. In this context, both Lyrical Nitrate and Decasia have to be seen as propaganda films for film preservation. Both projects began on the cutting table and, in a self-reflective way, show us that film is a very fragile medium with a transient character, which, in order to hold on to, needs to be preserved. They both raise the specific questions of film preservation by portraying this need in a more or less romantic way. Romance is the conviction that somewhere else and in previous times things were better. The fact that it is impossible to find out whether one who is homesick will be disappointed when actually getting home, increases this sense of romance and powerlessness. It is this untouchable memory, like knowing one's way around a house that doesn't exist anymore, that creates a light state of insanity. By appealing to our nostalgic sense that nitrate – and celluloid altogether for that matter – is disappearing, they show us that we have to intervene. Although in different ways, both films have touched me deeply: it is this shared notion that by not intervening, I will not be able to see (film) anymore, and therefore not be able to remember (film) anymore, because the vital force of past cinema will be permanently lost.
The Giornate is, like a good museum, a place of pilgrimage, a place where one feels closer to the past by actually seeing the traces of the past. The 2003 Collegians, a new generation in the idea of history and heritage, have been able to visit the random creativity of the ruins of cinema. Although Decasia primarily reads as a grief for lost history, it also shows, however, that despite the film's transient character and its physical decay, parts of it have survived and that one, creatively, can give new life to it. It shows us that there is an apparent necessity of ruins: in order to have renewal, there has to be mortality. It also shows that preserving and making accessible the archival cinematic heritage is not just safeguarding the past; it is also foreseeing the future. And although this was a very daring programming choice, it is for this very reason that I found Decasia very much at home in the middle of a week of silent cinema resurrection at the 2003 Giornate.
*For their strong opinions, input and criticism I would like to thank Ivo Blom, Paolo Cherchi Usai, Peter Delpeut, Chad Hunter, Nico de Klerk, Martin Koerber, Bregtje Lameris, Eef Masson, Anke Mebold, Mark-Paul Meyer, Ad Pollé, David Robinson, Dan Streible and Ed Strattmann.
Links: