Baby Doll (Elia Kazan, 1956)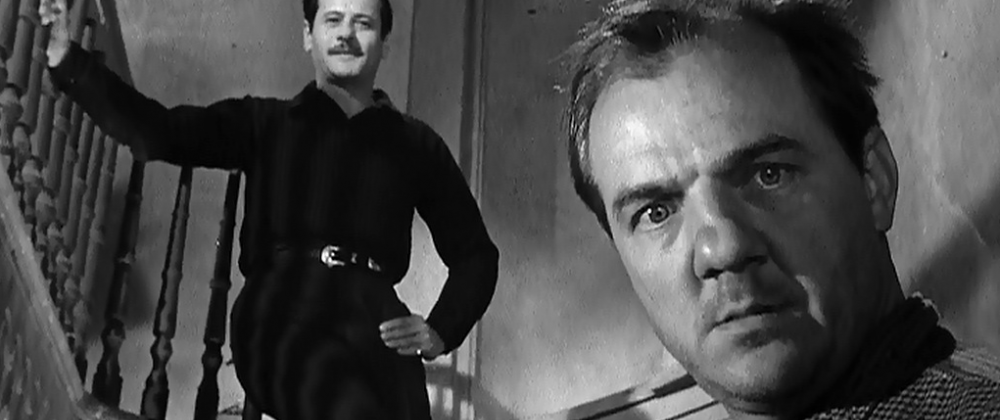 'There really wasn't much sex in it. You don't know whether she went down on him while the husband was away. It's the childish eroticism. And that appeals to a lot of men, right? Someone who's in a crib and thirsting for it and hungry for it and not ready for marriage. How are you going to beat that?'
For whatever reason, I've never really fully plunged into the oeuvre of legendary Hollywood filmmaker Elia Kazan, at least much beyond the obvious Brando classics (On the Waterfront, A Streetcar Named Desire, the Dean one (East of Eden) and a few others here and there (such as the intriguing yet ultimately unsatisfying The Last Tycoon, with Robert DeNiro), but I'd always been drawn to the tawdry reputation of this once relatively hard to find (at one point anyway, now very little is hard to get your hands on, a change of our consumer society which is both wonderful for my eager cinephile sensibilities, yet kinda sad for the nostalgic-riddled romantic who resides perhaps even closer to my heart) southern gothic Baby Doll.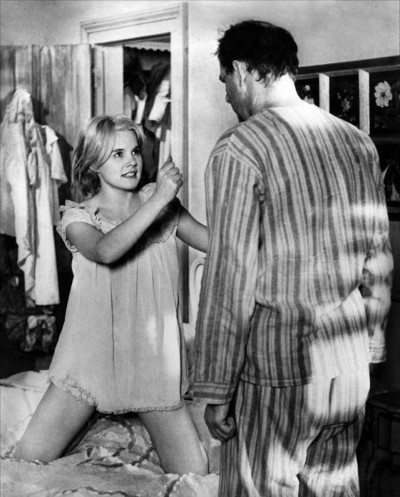 Seeing it was playing at the CQ (on 35mm no less), while also coming across that startlingly unfettered quote above from Kazan on the film… there was no way I was gonna miss this one. I mean, with quotes like the one above popping from the director's mouth in interview, talking openly about a male's barely concealed taboo sexual desires, forget the Catholic Church (who managed to largely successfully get the film banned at the time), Kazan today wouldn't have made it past today's outraged youth culture, who certainly would, with great reactionary righteousness, condemn him to that same barely-figurative burning pyre reserved for the likes of Woody Allen.
With all its sweat-filled glory, Baby Doll is recognizably written by that late, great tortured homosexual playwright Tennessee Williams; heck, between the celebrated aforementioned Brando adaptions, then adding in other treats like the charged 1960 The Fugitive Kind with Brando as a dangerous, snake-suit wearing drifter and sultry Italian Anna Magnani the sex-starved married woman who falls in deep lust for him, and 1959's Suddenly, Last Summer that ends with Montgomery Clift's character getting literally eaten alive by a pack of hungry young gay cannibals… was there any Williams film, play adaption or original screenplay in the 50's and 60's that wasn't amazing? Why, I'm thinking it might be time to embark on a self-imposed Tennessee Williams retrospective to verify that for myself.
Taking place in the Mississippi Delta, Baby Doll might on the surface be a story of a feud between two rival cotton gin owners — the downtrodden and painfully uptight Archie (Karl Malden) and the suave (yet ruthless) Italian new-comer Silva (Eli Wallach) — but it's true titillating heart is the naughty, Lolita-like triangle of lust, resentment and desperate craziness swirling about the two men and their object of desire, namely Baby Doll Meighan (Carroll Baker).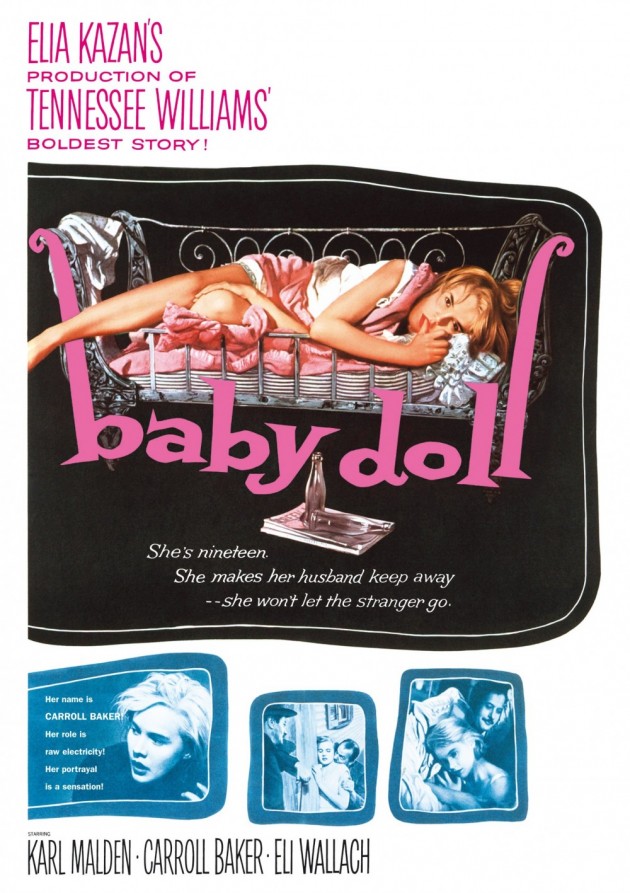 Pretty, empty-headed and irritable, the nineteen year old virgin sleeps in a crib in the broken down home of Archie, her wound-up husband, who is ready to explode from the expectation of her twentieth birthday, mere days away, when, upon their initial marital agreement from a few years before (when Baby Doll's now deceased pappy had handed her over to Archie, certain he would be a successful businessman, as well as she believing his claims that he would make her a star), she had promised to finally consummate their marital vows together. However, Baby Doll is growing increasingly resentful of Archie, his aging slovenliness and his compounding financial failures, finding herself suddenly attracted to the lothario-like Silva, who she doesn't realize is seducing her so he can get her to confess that it was her husband that burned down his cotton gin.
While the entirety of Baby Doll may never quite live up to the wonderfully startling opening scene of the hungover, sweat-dripping Archie digging a hole through one of the walls to get just a look at his sleeping Baby Doll – a peep through the hole that we, Hitchcock-style, share with the desperate man — in her short revealing nightie, laying askance in her crib, wet thumb in her mouth (to be fair, how many films could surpass that one for sheer voyeuristic cinematic chutzpah?), there is still so much that makes this one a wonderful discovery; the scene of Silva chasing Baby Doll around the house, for instance, playing tag, but with a menacing underlying threat of rape (or of her own desire to be taken by him), in which her hysterical childish laughter merges with shrieks of fear and desire is particularly brilliant, flirting as it does into so much dangerous territory; it's the kind of adult interplay that would barely be allowed today. In fact, as I watched the film I lamented the loss of so much of the mature approach, male-centric as it was, that so many older films had that is missing today.
With his alcoholic, bigoted, twitch-filled performance, a character openly laughed at by everyone around him, practically attacking Baby Doll around the house, with her eventually forced to pull a knife on him, Karl Malden reminding us he wasn't just a long-time welcome and reliable face in Hollywood cinema, but a performer, when given the full goods, capable of go-for-broke greatness. I didn't realize until afterwards that this was Eli Wallach's first film role (already an established star on Broadway), but what a way to start his long, memorable cinematic career. And Carroll Baker, already 26 at the time (I guess you can make 'em look 19 when you dress them up in little girl's clothes and have them act all coy and… I better stop there, before I get in trouble), is stunning as the centerpiece (even if I have no idea what that drawling accent is she affects throughout… though it somehow works).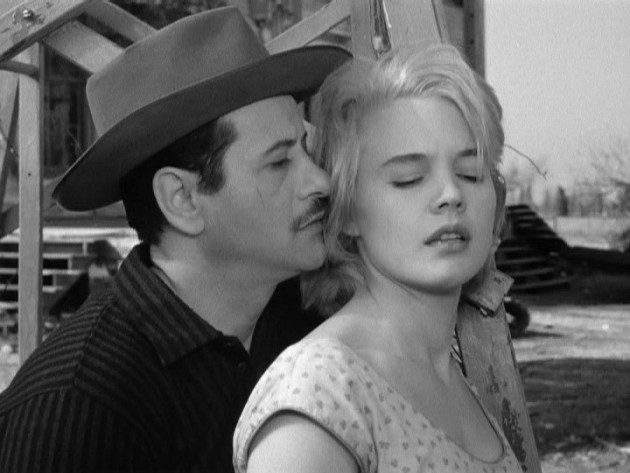 Along with acting alongside numerous Hollywood legends, like James Dean and Gregory Peck, to her loud idealistic battles with the studios, her determination to star in early indie films, oft controversial roles, later appearances in Euro-horror films — including a number of explicit gialli for Italo-exploitation legend Umberto Lenzi(!) — and a later comeback role in Andy Warhol's last film, the grotesque comedy Bad from 1977, Baker may have had the most fascinating career out all of them, and that's saying something.
The three characters all act fairly deviously along the way, with our allegiances constantly shifting on who we're rooting for. Somehow though, even with the stakes as they are, the film never quite reaches the unforgettable heights of anguish that the filmmakers bring out in the other Tennessee Williams' adaptions. I've read of the film described as a black comedy, and while I wouldn't go that far, there are a few broad moments and over-the-top character actions that end up taking away from what is supposed to ultimately be Tennessee Williams, southern-style perverse tragedy; not that the concluding moments don't have a resonance… they do… just perhaps not quite on the level of one of the author's best.
Kazan peppers the film with small-town locals, such as the missing-toothed sheriff and mayor, as well as a chorus of fascinating, deeply carved black faces that mosey about on the outskirts sharing laughs over the silly actions of the randy white folk (reminding me a bit of the African American 'cornermen' in Spike Lee's much later Do the Right Thing, only those three guys, as good as they were, were actors) and, as it usually does in these Deep South set dramas, adds a special quality, a verisimilitude, to the landscape.
With its (naughty) sexual charge, great performers and faces, Baby Doll is more than worth the re-discovery it seems to be getting. It operates on a level of daring, with a sense of maturity of vision, that few modern films of today do, alas.