An interview with François Miron on Paul Sharits
Talking Experimental at the FNC (Festival de Nouveau Cinema)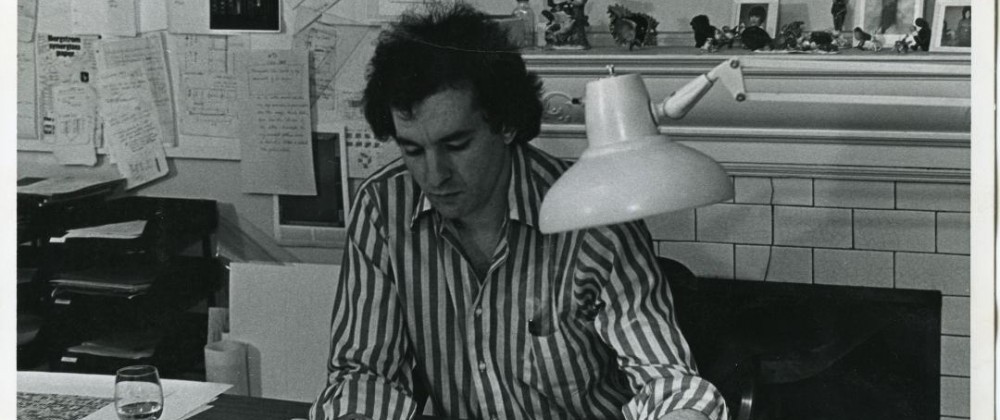 Filmmaker/teacher François Miron's new documentary on the late leading light of experimental and expanded cinema, Paul Sharits played at the 2015 Festival of New Cinema (FNC, Festival de nouveau cinema). I have known François Miron for many years from our teaching at the same university, Concordia University in Montreal. And yet our scheduling issues conspired against us conducting this interview in person, so it was done by email. Luckily I did get to chat with François a little before the screening of his amazing new documentary , Paul Sharits, outside the lobby of the threatre it played at, Cinema du Parc.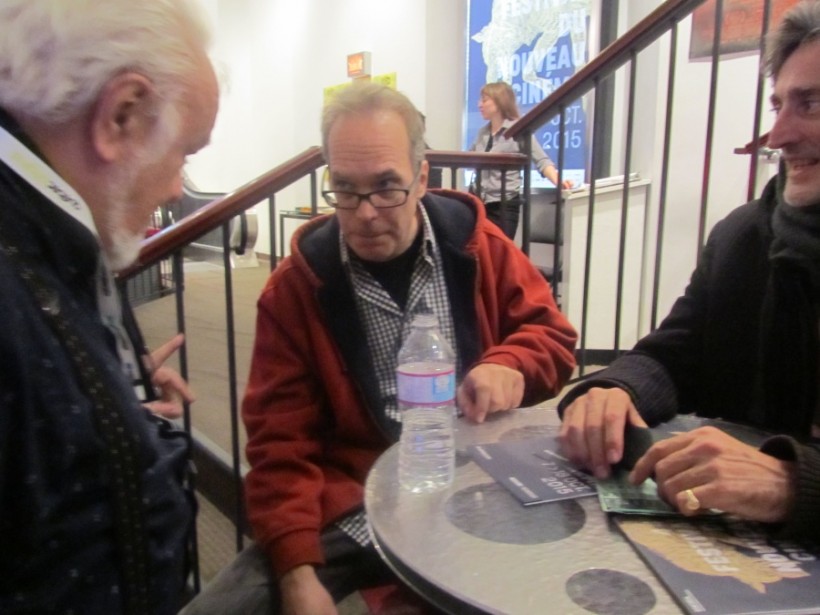 Miron (middle) waiting for his film to play, in Cinema du parc lobby
Offscreen: Why Paul Sharits?
François Miron: Paul Sharits is the reason I make films. I saw a double projection of Razor Blades in NYC when I was quite young, way before attending cinema school, and it blew my mind, I did not know this type of cinema existed, I did not know people created perceptual art like that, I was somewhat moving along with no clear purpose, seeing that film made me have some kind of reference.
Offscreen: Have you ever met Sharits?
François Miron: In terms of meeting him, I did a phone interview with him in 1985 (or 86) for a school project. We mostly talked about psychedelia, perception and colour. He was extremely brilliant and articulate, however, the audio was lost and the other student who had it died a few years ago. I tried to track it down but sadly no one has a copy. Sharits turned me on to the book The Living Brain by William Grey Walter, and the infamous chapter "Revelation by Flicker." He also provided me with several references to films, painting, sculpture and architecture. He visited the School of the Art Institute of Chicago (not an official visit) while I was completing my masters (1988 or 89). I showed him some of my films, and he really liked them. At the time, I even mentioned to him the idea of a documentary, but sadly, a few years later he passed away.
Offscreen: Do you remember your first exposure to the films of Sharits? I know for myself it was as a student in the Concordia course Film Aesthetics. And that film has become one of the key films in the course, with many students over the years being 'touched' by it.
François Miron: Yes, well the first question I answered, but TOUCHING is awesome, I really wish some of his other work would also be shown, like NOTHING, 3rd Degree and his lesser known work.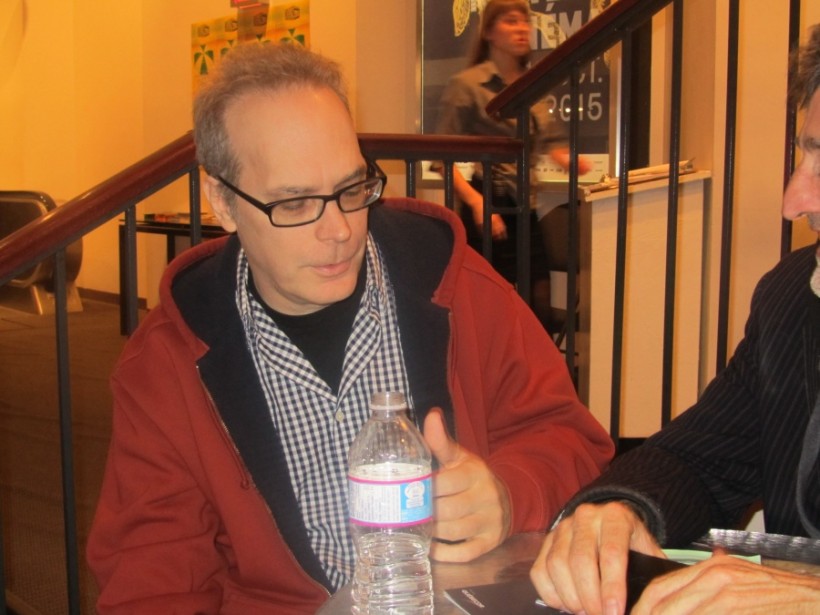 Miron waiting for Paul Sharits
Offscreen: Where do you rank Sharits among the greats of the American experimental filmmakers?
François Miron: Probably 2nd or on par with Brakhage.
Offscreen: I know it has taken you a long time to complete this film. Just how long?
François Miron: Research started in 2008, I would do interviews sporadically when people became available, some of the archives, pictures, drawings and home movies took me a while to get, mostly because I wanted the film to have a lot of things that were never seen before. I got seriously sick right before I started to edit (hours and hours and hours of footage) so this process would stop and start, sometimes the material would trigger the need for a few additional interviews. Sometimes I had to stop for several months because my health was too screwed up.
Offscreen: Has the conception or design of the film changed since you first conceived it?
François Miron: It was supposed to be a short portrait covering his work, I realized there was no way I could do that with a short film, there is just so many things to cover, so many areas of art, people related, biographical info. I had many editing structures but as the material accumulated, I kept getting archives while I was editing, the structures would change. The result is in some ways what I had in mind and in other ways completely different.
Offscreen: I won't ask you about the budget, but the source of your budget. Did the budget come entirely from government grants? Or was there some external funding too?
François Miron: Government grants, Canada Council, Quebec Arts Council, SODEC, The NFB (which gave me tons of services really, it was endless, I can't thank them enough) I also got CUPFA which I'm certain you are familiar with, and at the very end a little money from Telefilm.
Offscreen: Just curious, is the composer Félix-Antoine Miron related to you? (I think his music and sound design is amazing!)
François Miron: If you look carefully Donato it's actually Morin, not Miron, I know it's close and many people make that error. He was a key component of that film, it's like he absorb the weird drama of Sharits into the ether and laid it down on the analogue, some of his music gives me goose bumps, I think he's brilliant.
Offscreen: Your film is quite unique in its approach to the talking head documentary. I can't really think of any other film like it. Were there any films that influenced you in some way, maybe not in subject matter so much but style?
François Miron: I remember talking to Rick Leacock once and he was explaining to me that for this type of films (with hard to get experts or sometimes volatile subjects ) you had to set up the shot as fast as you could and get the material. I spoke to P.A Sitney during the making of the film and he said that people often make a celebration of themselves while making a film about someone else, especially filmmakers and I did not want to fall into that trap, the work of Sharits first and foremost, I don't give a shit about the curtains or the apartment/décor of the intervening character, I want to see the expression of fear or sadness or amazement that radiates only by the trigger of the film work.
Offscreen: I know that you have had to battle your own demons with health and personal issues. As did Sharits, as we learn from your film. Did you relate to Sharits in any personal way because of these mutual hardships (don't answer this if you don't want to!)?
François Miron: I could totally relate to him, look, he was a teacher and an experimental filmmaker, as I am. I had the entire pile of letters that he shared with Brakhage over the course of more than 20 years, some of the topics are things that I could write about, personal stuff, struggles, battles with illness, battles with corrupt people etc. I'm not bipolar like he (and Chantal Ackerman) were. But I do have my load of physical diseases from hell.
Offscreen: The list of people interviewed in the film is impressive. Were there any people you would like to have interviewed but could not, for one reason or another? Or anyone interviewed that did not make it into the final cut?
François Miron: I got everyone I wanted and people I never thought I would get. I left Michael Snow out, not because it wasn't good, it was a personal decision, I do love Michael Snow however. After the film was done, people came out of the woodwork saying they were former students/friends/assistants of Sharits, I wish they had come out before… but then this is easily the type of project that can go on forever, with endless material.
Offscreen: A related question: do you have a lot of unused footage, and if so, can we expect to see some of it on a future DVD/Blu Ray release?
François Miron: Yes, that's going to be tricky, a lot of stuff is interesting, I may put uncut interviews and more of his film work, there is so much, choices will have to be made
Offscreen: If there is a single thing that you learned about Sharits from having made this film, from the people interviewed, your research, what would that be?
François Miron: Wow awesome question. I think I've learned a thing or two. It's horrible really, it's when you're at your weakest and sickest that people will stab you in the back the most…..Also, when you are very close to death and in extreme pain, you access a tool somehow I guess, and that tool if used properly can provide you with a force that makes you absolutely indomitable.
Offscreen: The people interviewed all seem very relaxed and willing to talk about Sharits. If this was actually the case, why do you think people were so willing and ready to speak about Sharits?
François Miron: Fascination. I met this contemporary Art curator recently, she told me right off that she hated Sharits and then she managed to talk to me about him for hours, linking him to all sorts of works I had never thought about.
But aside from this, it's obvious that I chose people that were close to him and loved him for the most part and people that admired his work also.
Offscreen: Any interesting stories revolving around the people you interviewed?
François Miron: Not really, however some told me stories about Sharits that were interesting and frankly better left out of the film…..
Offscreen: I know the film has played in many festivals and has won prizes. What would you like to see for your film in terms of distribution (theatrical, home viewing, TV, etc.)?
François Miron: I'm extremely happy now with all the great festivals it's been to and going, I'll be at The Viennale in 2 weeks and just the fact that FIAC is playing it this year at The Grand Palais in Paris in enough for me, as an artist. I have still some festivals coming… .
Offscreen: I imagine you must have poured yourself into the life and art of Sharits to get this film finished. Can you still sit down and watch a Sharits film? Or has it become too much? Can you still enjoy a Sharits film for what it is?
François Miron: I still can watch his films and see or hear new things, if I am to go to a location piece such as Shutter Interface, it's hard for me to walk out.
Offscreen: Has your own filmmaking been influenced by Sharits?
François Miron: It was when I was younger, I actually dedicated a film to him that I made 1989 called "The Gap In The Curtain". I also believe that my life has been influenced by his wisdom as a person.
Offscreen: There is much said in the documentary about how violent and aggressive Paul Sharits' films were. And how that seems to have been a reflection of his life history. But Sharits in the film comes across as a very quiet, gentle human being. Is that a false impression? (Although now that I think of it there is one moment in an audio snippet we hear where Sharits become a little testy with Hollis Frampton when he assumes that Sharits 'manipulated' the word destroy in T,O,U,C,H,I,N,G.)
François Miron: Not a false impression. He was a good man that struggled with many demons. It's not Frampton, it's a member of the presentation in the audience, a student, he often did that to see how people would react, but really it's all cool.
Offscreen: This might be too involved a question, but Sharits was such a polyglot as an artist of many stripes. How do you see the relationship between his films and his other art practices?
François Miron: It's one thing, it may seem as many but really it's just one thing, on many levels at the same time, with a different face.
Offscreen: Anything you would like to add?
François Miron: No, I think it's good like that. Thanks for this great interview.
Offscreen: Thank you very much François Miron.