Cool Hand Luke (Stuart Rosenberg, 1967)
Hollywood Style Mythmaking at its best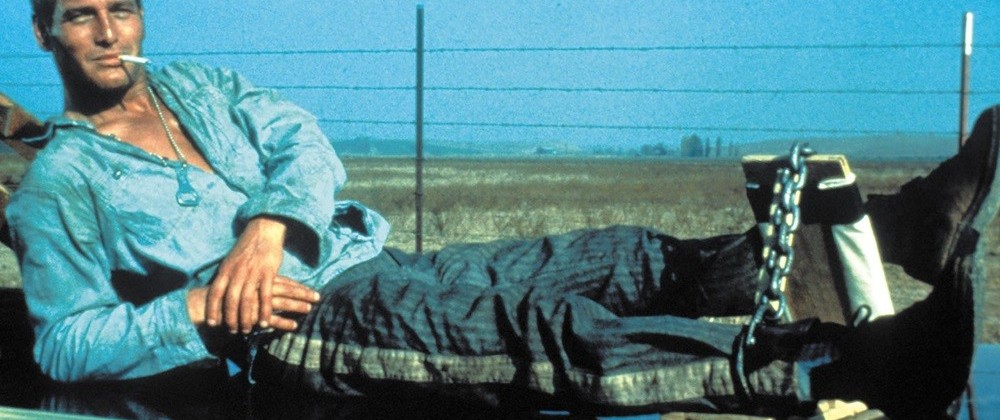 'What we have here, is a failure to communicate.'
— the chain gang warden played by Strother Martin
Paul Newman plays Luke, serving two years on a tough Florida chain gang for drunkenly cutting the heads off town parking meters, may present a seemingly easy-going demeanour, yet evolves into an almost-mythic non-conformist rebel hero, as he wilfully fights off the sadistic warden's attempts to break his iron will by escaping time and time again.
Taking a break from catching more of those creepy little perversities birthed out of that brief anomaly of film production known as the Canadian tax shelter years at the Anthology Film Archives, I decided on a little country brunchin' over at the Nitehawk Cinema, and I did it in much more slick 60's Hollywood style with the Southern prison twang of Cool Hand Luke (along with a 30-minute live pre-show set of bluegrass tunes, headlined by an eye-catching Sasha Papernik with her band, which wasn't the worst way to arise on a late Sunday morning).
That quote above, delivered by once-in-a-lifetime character actor Martin (in a bumbling fashion that brilliantly deepened his character's underlying sadism), has to be up there with one of the most remembered quotes for anyone who grew up around that time. And, similar to the entire film, it's hard not to be won over by that ability to create something classic. And they certainly knew how to create Christ figures, that's for sure. However, as filled with memorable 60's character actors and sweat and grime as the movie is, the slick presentation and easygoing charm of Newman himself never really allow it to feel entirely authentic. Of course, that's not really the intention. It's a big color Hollywood production, not an Italian neo-realist film, after all.
Newman has his performance moments, but he's really a star, an image, more than a textured or particularly resonant actor, relying on his famous smile and quirks of behaviour rather than depth of expression. Steve McQueen often did the same in regards to using a 'quirkiness', but his more flawed and ragged face allowed for the possibility of something deeper going on back there. He just seemed like a genuine tough guy. Robert Redford, that other cinematic icon of the time, and weakest by far of the three, often would rely on his looks alone with nothing else.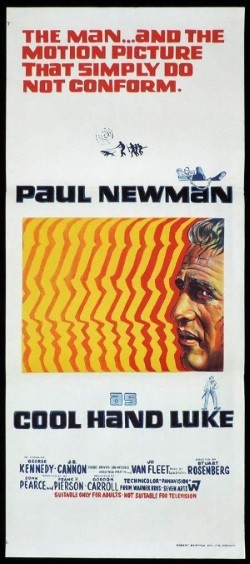 You never really lose sight as you're watching the film that what you're seeing is the continuing myth of Paul Newman on display (along with Hollywood's admirable ability to create myth). At one point, Luke escapes and sends back a picture to the excited men of himself at a fancy party with two gorgeous women under his arms. We'll learn later that Luke faked the photo to impress the men and, yet, in studying the photo, you can almost imagine Newman had decided to drop the act for a night, head to a Hollywood party and send back a signed photo.
All the convict character actors surrounding Luke are great, including a very young Harry Dean Stanton (credited as 'Dean Stanton') as a guitar-playing convict and George Kennedy as the big, tough good ol' boy who initially bullies Luke before being won over by the much smaller man's ability to literally take his punches (a lot of them) and still get up, to the point of becoming Luke's greatest champion and coining him 'Cool Hand Luke'.
Even with the sheen of its Hollywood surface glamour, it's still inspiring to look back at a film like this, coming as it did in the more tumultuous late 60's when, as patriarchal and male-centric as myth-making Hollywood remained, it also outwardly celebrated the outsider and the non-conformist, presenting fighting back against the Man as not only one of life's higher callings, but as something that's just a cool thing to do. They didn't call him 'Cool Hand' for nothing.