Expatriate Indie Filmmaker Philippe McKie Talks about His Debut Feature Dreams on Fire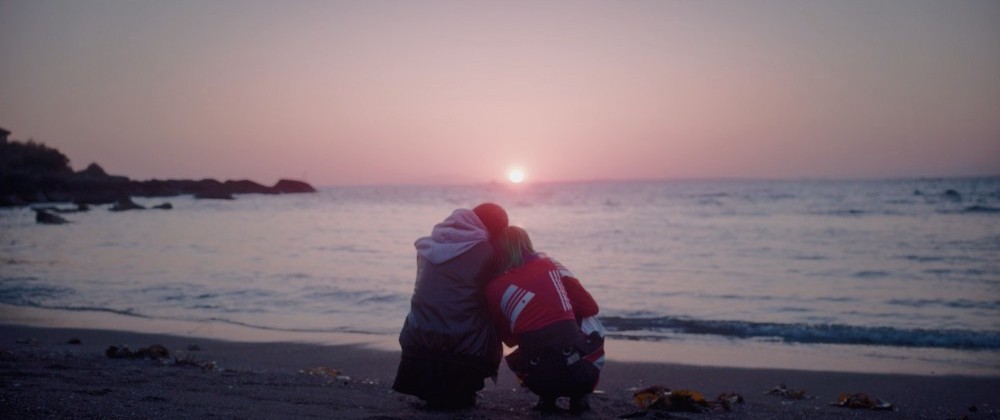 Four years ago, I interviewed (link) Montreal-born filmmaker Philippe McKie after two striking short films he made in Japan, Be My First and BREAKER, were screened at the 2017 Fantasia Festival. He now returns to Fantasia with his first full length feature film, Dreams on Fire, which will be one of only a handful of in-person screenings as the festival slowly moves toward a post-COVID version of normal. After 11 years living and working in Japan, his fascination with Japanese pop culture is now, if anything, deeper than ever, and is central to his new film. This interview was conducted by e-mail January 28-29, 2021.
Offscreen: After making short films, you have now made your first feature. Was this always the plan?
Philippe McKie: Narrative features have always been the goal. When I moved to Tokyo on my own, in my third year in the Film Production program at Concordia University, I hit the ground running and was out in the field with a camera ready to shoot within the first week. I found an underground event gathering locals interested in eccentric fashion, a universe which has always attracted me to Japan. Upon arriving at the party, I quickly realized that although I'd been obsessed with the subject for years, reality was nothing like what the internet had told me. Things were way more complicated and nuanced, and I decided at that moment to put down the camera, and that before shooting anything I'd need to feel like I had gone deep enough down the rabbit hole, learned enough, to make something that didn't feel shallow or touristic, that would be authentic and exciting both to international audiences, as well as, and especially to, local Japanese audiences. That process took a few years, during which I applied myself to a few artistic sub-quests, such as event organizing, DJing, collaborating with a fashion designer, and as a writer for a manga artist. I later learned that, at the time, my peers back at Concordia were starting rumors that "Phil quit directing to become a DJ in Tokyo!" I tried to explain that in the end it would all come full circle, and it certainly has with Dreams on Fire. Making features was absolutely always the plan. It's a good thing I didn't know how challenging it was going to be to get to this point when I moved to Japan. It always felt "just beyond the horizon," which turned into a decade-long hustle. Dreams on Fire is about that journey, sharing my thoughts, feelings and (hopefully) insights, which I wish I'd known starting out.
Offscreen: Beyond commercial considerations, what are the advantages and disadvantages of making a feature?
PM: With shorts, the investment of time and resources is a fraction of what is necessary for a feature. They are the ultimate way for a filmmaker to learn the craft, hone their skills, find their way of working, making partnerships and testing them out, and, finally, to create something and get it out there! Especially online, where, although it's an endless ocean of content, there is the opportunity to make a mark, and have something to show others. The main con with shorts is that they make no money, so you need to see it as an investment in yourself and your future as a filmmaker.
Beyond commercial considerations, I think, and this is where all the pressure comes from, things GET REAL with a feature. It's the format audiences are most accustomed to, so reputations are made, for better or for worse, with features. Or, at least, I think this is what most up and coming filmmakers believe, which creates a lot of pressure and expectations. It doesn't have to be that heavy, but I knew in my case that it would be. I always knew that I wouldn't commit to making a feature until I felt that it would be a film that could provoke an impact and punch above its weight as an indie.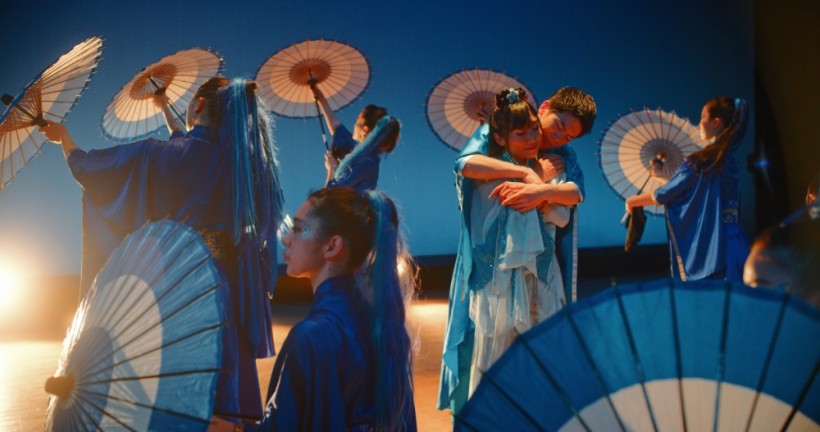 Offscreen: Why did you start with a dance film?
PM: As a teenager, dance was a big part of my life. I studied and competed as a breakdancer, as well as in tango (Argentine and American styles), as well as just regularly busted a move at house parties and raves in Montreal, and went to as many dance shows as possible. Becoming a filmmaker, in the back of my mind, I always thought "the scariest thing ever to shoot would be dance." But the sheer potential! When I think in terms of the hustle involved with making a living as an artist, my heart goes out to dancers. All artistic paths are difficult, but I think to live as a dancer is particularly tough on several levels, including that it is a performance art connected to the body, and so, like athletes, a single injury, and just aging, can influence the trajectory of a career. These ideas were always lurking in the back of my mind, and for the past few years, I'd begun deeply immersing myself in the Japanese dance community, meeting professional dancers who took me under their wing and showed me the real scene. It felt that this needed to be my first feature, a story that is my reality, and one that meant facing what intimidated me. I've always believed that doing what scares us the most is often necessary to reach our goals, so I walked into the fire.
Offscreen: Were you influenced by any previous dance films, either negatively or positively? That is, by films that impressed you and helped shaped the way you made your film, but also negatively in the sense that they had tropes or elements that you wanted to avoid?
PM: Coming into making the film, I felt a huge responsibility in making the Japanese dance community proud. So many of Japan's top dancers joined the project in their onscreen debuts, while for local and international audiences it would be their first dive into the deep world of the Japanese dance scene. It was also very important to me that it would be a film that adds something new to the genre. I'm also always very interested to know what is "the bar" in a specific genre and doing everything I can to try and push it, or at least add something fresh. There is one dance film more than any other which inspired me: The Red Shoes (1948), and there is actually a scene in Dreams on Fire which is a direct wink towards it. Actually, when I was already deep in pre-production, La La Land (2016) was released and became a huge hit. I went to see it in theatres with my top Japanese dance advisor, a professional dancer who was also my assistant on set who goes by the artist name "LION." She lives and breathes dance, and loves watching dance films (her favorite is the 2008 documentary Every Little Step). We walked out of the theatre knowing it was the opposite of what we were going for in two major ways. The first being that we wanted all the dancer leads to be played by actual top-tier dancers, and that we were determined to tell a story that doesn't feed into the tired Hollywood trope of "your dream will come true if you do your best." I was also aware of some classic narrative structures of recent urban dance films, and played with them for Dreams on Fire, especially for the later arcs of the film.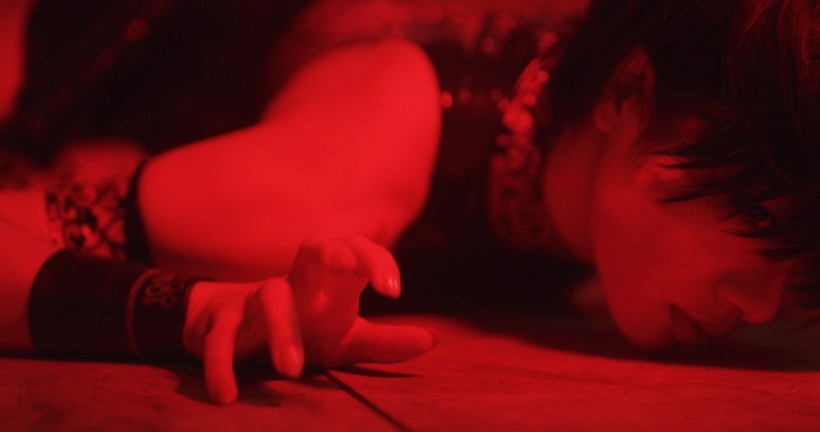 Offscreen: It strikes me there are interesting continuities between Dreams on Fire and your earlier short films Be My First and BREAKER. In terms of subject matter, there is the interest in the sex trade and other Tokyo underground subcultures, and visually, your use of red and blue filters, and in general there is an expressive use of strong primary colours in your costumes and visual design. Do you see these continuities, and can you talk about them? Can you also talk about what new areas you explore here that you didn't in your earlier work, and what you find interesting about them?
PM: I'm glad you could find these filaments. As for the sex trade, that's a juicy one. Something I learned early living in Japan, which people are often surprised to hear as there are prevalent stereotypes that Japan is cold and conservative, is that in reality, it's quite the contrary! "Eros" is seen as a natural part of life in Japan. Sex work is pretty much legal, and it's everywhere. And I don't mean on street corners as we see here. There are countless establishments, with signboards describing services, websites, credit card payments, etc. Most of these are off-limits to foreigners, the main reason being out of concern for the sex workers who don't speak English and want a safe atmosphere. But it isn't all about sex. There is a whole gamut of types of establishments, mostly catered, but not limited to, straight men and women, which are designed to quench the thirst of interacting socially, romantically, and sexually with one's type. Perhaps the biggest and best example, a world which is explored in the film, is of the Host/Hostess industry. Let's say you and two friends go to a Hostess club. They will sit you down around a table with an equal number of Hostesses, and they will talk to you, compliment you, try and make you have a good time and feel good. You pay by the hour, and buy their drinks. There is no promise of physical contact whatsoever, which is at the discretion of the Hostesses. Often there is a member of staff watching from a distance to make sure everything is smooth and safe, and often their drinks aren't alcoholic unless they want them to be. It's a very popular part-time job for young adults, which is understandable considering they are often making $30+ an hour to "drink and have a good time." In reality though, it's a very tough job if someone wants to stay in it for a while, and establishments range wildly in their working conditions. If a Host bar is level 3, and a brothel where you can pay by credit card on your lunch break to have a threesome with cat-eared maids is a Level 8, there are establishments offering services ranging from Levels 0-11. The number of these establishments is staggering; every city has the basic types, and big cities often have whole districts. Tokyo, for example, has two "famous" red light districts, but also has countless brothels and Host/Hostess clubs scattered around major subway or train stations. This is just a snapshot. It's a deep world, and yes, I find it fascinating. I have many friends who live and work in these types of establishments, and their insight has been a deep well of experience and inspiration which I hope to infuse into my films. I have yet to visit a place that has totally figured it out and found a balance between eros, life, and society, but in this regard, I think Japan is carrying out some pretty funky social experiments and has definitely clearly shown me the benefits of legalizing sex work and creating a healthy and safe environment for sex workers.
As for colours, there is definitely a palette I am most attracted to, but, in the end, the choice of colours, and how they are used, in the lighting, the clothing, the makeup, the grading of the image, must be in service of the story, of the experience. The mood of a scene is very important to me, and yet it is elusive, the combination of so many aspects, including the art direction of the environment and costuming, the music and sound design, the editing, camera movement, dialogue, all come together and synthesize into the mood, atmosphere, vibe. I think colour is a very strong ingredient, and breaking down the story into scenes, I think colours can imbue and highlight these chapters. We could spend the whole interview just on colour, and I would love every second of it, but to put it simply: colour isn't the first aspect I consider going into a scene, it's a decision made to complement the subject. The characters and location will come first, then the colours will be painted into this space, with everything being as much as possible in-camera. Ultimately, as with so many other aspects of the filmmaking process, we are wrestling the universe to create the vision, but the devil in the details has a mind of its own and we're just there riding the storm, doing our best to capture as much magic as possible.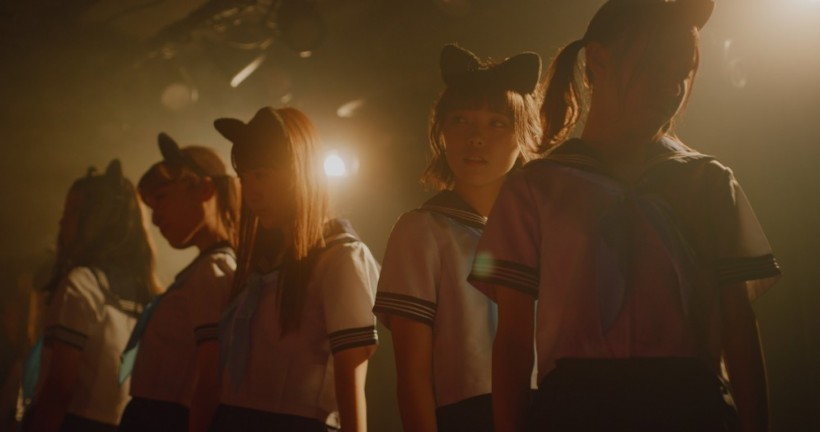 Offscreen: You seem to like having female protagonists. Can you talk about why and what this gives to your stories?
PM: All I know for certain is that I'm bored of seeing so many cookie-cutter male leads and generic token strong-female-characters™. I hope I can add something new, refreshing, and, hopefully, inspiring to the picture.
Offscreen: You present a wide variety of dance styles in the film. Was the idea that all these styles influence the development of Yume's own style? Did you consult with Japanese choreographers and dancers in selecting which types of dancing to showcase? Did you have a single choreographer to oversee the dance sequences, or did you have each of the individual dancers and troupes do their own choreography? Did Bambi Naka choreograph her own dances?
PM: Every dancer has their specialty, and when casting the dancers for each scene, I was already familiar with their styles. I'm incredibly grateful and excited that we were able to gather many of the most famous dancers in Japan for the film; each of them is at the top of their field. My strategy was first to let them know what the scene was going to be, the layout and atmosphere, and then, if they were performing a solo, I would give them a few options of tracks I had selected and give them an exact piece of the song to perform, this process was done months in advance, and involved me needing to already have chosen the music and gotten permissions from those artists. So well before getting on to set, each dancer knew exactly what they would perform, and to what music.
The main character, Yume, is played by Bambi Naka. I've been a fan of hers for a long time. She's a legend in the Japanese dance scene, having toured the world with Madonna and performed in huge events, including just recently at the Olympics opening ceremony. We had a conversation about her dance style going into the project. For me, the most important aspect was that she would level up throughout the film, going from someone with a certain level of confidence but hasn't quite found her voice, then seeing a variety of dance styles, meeting teachers and dancers that also contribute to her growth, and finally flourishing into a new form and stage persona. I wanted this growth to be observable in her dancing, as well as in the way she dresses and her personality. I learned from Bambi long after the shooting was complete that she had created her own back story for Yume's dance style as we first see it, that she came from the countryside and learned mostly through watching videos online and practicing in secret in her family home, which is one reason why she is using her upper body more than her whole body at the start.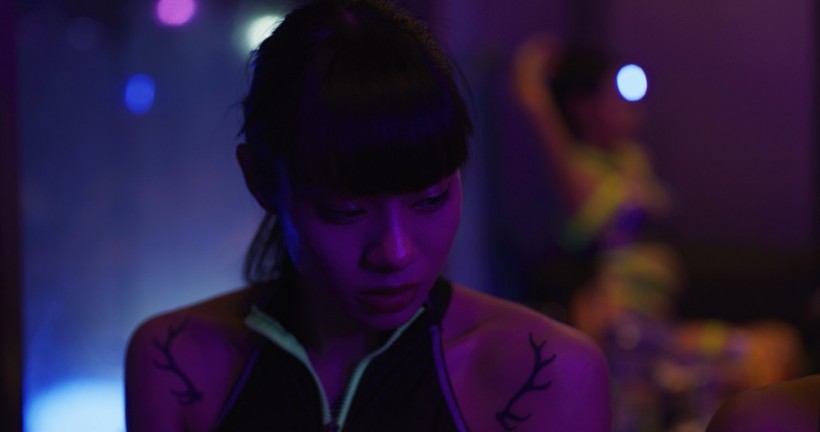 Bambi Naka as Yume
For the larger choreographies with dozens of dancers, I cherry picked my favorite numbers from some of the biggest dance competitions in Tokyo. One of my favourites of these competitions is called Final Legend; it's massive and brings together dozens of the best crews from around the country in all kinds of styles. Two of the choreographers that appear in the film, MIWA and avecoo, have both won the top prize at this competition.
Offscreen: You vary the way you photograph the dances. For example, early on, in the "dance off" sequence, you often show the whole bodies of the dancers, use a handheld camera, and have the camera from one dancer to another without cutting. Other dance sequences focus more on the head and shoulders (and arms), and are much more edited. Was there an overall plan, or were you adapting your style to each specific dance? Did the choreographer, dancer, or your cinematographer contribute to these editing and camera decisions?
PM: Making the film, I knew that audiences going to see an "urban dance film" have become used to the Step Up style of dance battle scenes, and often the films seem like vehicles for a series of those battles. In Dreams on Fire, having that "dance off" scene very early in the film is all about two things: for the audience, it's starting out with familiar territory, to start on a solid footing because where we go from there will get funky and a little off the beaten path, and for the character, I wanted her to get CRUSHED as soon as she arrives in Tokyo – "welcome to the big city, you aren't even close to being the best, what are you going to do about it?" It pulls the rug from under the character, and the audience.
Within that one scene, you can also notice that the camera movement and mise-en-scène start out very simple, stable, long-shot, full-body, and then, halfway through, as the music and colour change, things start getting more wild. Similarly, the idea is to set expectations, and then switching it up and, hopefully, warming up viewers for what's to come. I wanted every dance scene to be shot differently. Each choreography and dance scene is shot in a different style to always keep things fresh, and it also goes hand in hand with the different dance styles presented. I didn't want a feeling of repetition between any of the dance scenes. Like with the character Yume, there had to be constant evolution, always moving forward onto something new.
Offscreen: Where did you find the dancers? At what point did Bambi Naka join the production? Did you write the story with her in mind, or did you write the script and then go looking for someone to play it? Did she or any other dancers help shape their characters in any way?
PM: Even now, I find it hard to believe that Dreams on Fire is the first ever Japanese urban dance film. I spent a few years diving deeply into the Japanese dance community, forging connections and friendships with professional dancers. Casting the dancers of the film was a combination of having found certain dancers whose styles and charisma I adored, and asking my advisors "who are the absolute best?" Then, I researched them all and selected those I felt best matched the story. Every artist who appears in the film participated with the purest of intentions, and I think the dancers, in particular, were excited to show their talents for the first time in a film.
Offscreen: You have a lot of charismatic performers appearing briefly in the film. In particular, the dance instructor with the yellow top has a nice camera presence. Did you consider using him more?
PM: That dance instructor is played by an awesome choreographer called Genta Yamaguchi. He was so fun to work with and would do a lot of improvisation around his lines, each take was so different! Scheduling was a big challenge, and many of the artists who appeared in the film had very limited availability. In his case, we had to shoot all of his scenes in a single day. It involved changing locations and jumping all over the city. He also choreographed the dance sequence where Yume and Shizuku perform together wearing green outfits with the trippy visuals behind them. I'm glad you liked his character and wished to see more of him. There have been viewers who expressed similar feelings towards some of the other characters who appear only briefly, but I wanted the story to flow in a way that I feel is true to life. Sometimes we meet cool people only for a moment, our lives can be changed by a single meeting; others may stay for a while, and we may grow close, only for them to disappear.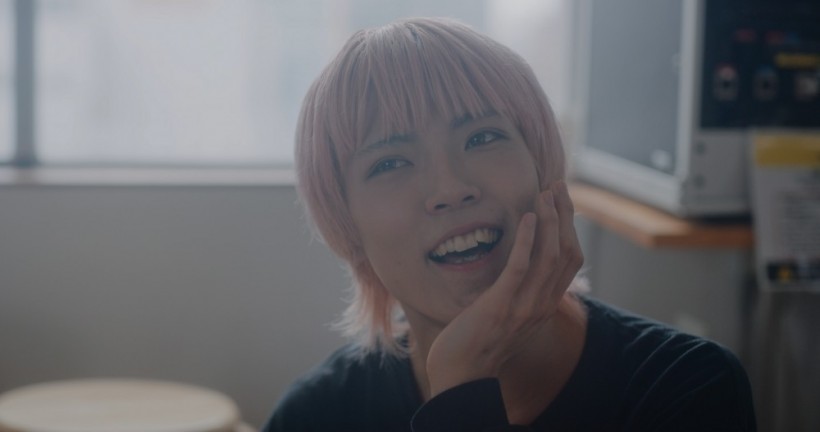 Genta Yamaguchi
Offscreen: How much dance is too much dance? What's in your mind when deciding how long a dance sequence should extend, and how much time should there be between dance sequences?
PM: That was a fine line I was very conscious of walking as early as the scriptwriting stage. In the end, I knew there'd always be certain viewers who would want more dance or more drama, and I heard both from people who'd read the script. I wrote the story with a balance I liked, and then in the end the final ratio was decided in the edit, which pretty much mirrors the original script.
Offscreen: Can you talk about your music choices for the film? Just like the dancing, you have a variety of genres and styles on offer here. Did the DJs and musicians have input into what was included, or did you go out and find specific performers based on what you had already decided you needed? Also, while it seems that the dances showed a mix of foreign and Japanese influences, the music seemed much more directly (exclusively?) based on Western styles. What do you think?
PM: I'm happy you bring up the music, as it is one of the aspects of the film that excites me most. Every day, I'm hunting for new beats. Hearing new bangers in the genres I love is the greatest high. There are over 20 different music producers that contributed to the soundtrack of the film. They represent the bleeding edge in certain genres, including wave, drum and bass, and other electronic music styles, and hail from all over the world: Germany, Russia, the UK, Canada, the US, China, and more. When it comes to my crew, including the music producers, I don't care about where someone is from, their age, gender or anything else, I simply want to work with the best. Most of the tracks are underground releases by these artists I love, and a couple are original compositions made for the film. This includes a track made by American producer SØMETHING, who made the piece while the city around him was immersed in the George Floyd protests. He infused the track with sounds of helicopters and police sirens, the reality and spirit of the time he was living, and I love that. I would like to give shout outs to some of the incredible musicians and beat producers who contributed to the film: Drum and Bass heavyweights S.P.Y, Data 3 and Buunshin, voices who refuse to be silenced, IC3PEAK, founder of the pioneering wave label vibe.digital Fyoomz, Canadian bass weavers Giant Ibis and "Memphis.", Montreal rockers Rusted, ultra talented UK singer Ojerime, and the cutting edge sounds of STAHL, Juche, Mad Zach, as well as the support and artistry of SBU and Innrsky, and many others. It's an honour to showcase your talent in the film. Composer Eiji John Mitsuta composed the opening scene of the film. Recorded with a full orchestra in Bulgaria, his piece truly elevates the film. Each of these tracks are precious gems, mounted into a mighty sonic blade, forged by one of my closest collaborators, Remy Sealey, senior sound designer at Audio-Z in Montreal, who mixed the film single-handedly, the mad lad.
Offscreen: The narrative of the film seems to function as a hook to allow Yume to come into contact with a variety of Tokyo subcultures. Can you talk about the various subcultures the film presents? Was there any problem getting permission to film? How did you decide which subcultures to film?
PM: You could make a documentary series called Tokyo Subcultures with a dozen hour-long episodes and you'd still only be scratching the surface. Making Dreams on Fire, I knew there were specific subcultures I wanted to explore. I was especially interested in the nightlife/club/event world, as well as in certain branches of street fashion. In terms of permissions, the easy way to put it is that the people and events that appear in the film were brought together through having built personal relationships. A good example is the Drum and Bass go-go dancer audition scene, which was shot at the hands-down (or way way up in this case) DnB event in Tokyo, at the famous club WOMB. E-mail, phone, they weren't answering any of our queries to shoot there. So I contacted a DJ I'd performed with in my early years in Tokyo, who I knew was operating at the deepest levels of the DnB community. Sure enough, he knew the owner personally, and was able to set up a meet, which led to being able to shoot during the actual event, called 06S. Those are not extras. Those ravers are the truest of Tokyo Drum and Bass heads. Dreams on Fire is a very in-your-face example of the worlds I've been integrating myself into for over a decade in Japan, in the hopes of capturing and sharing their beauty and creativity on film.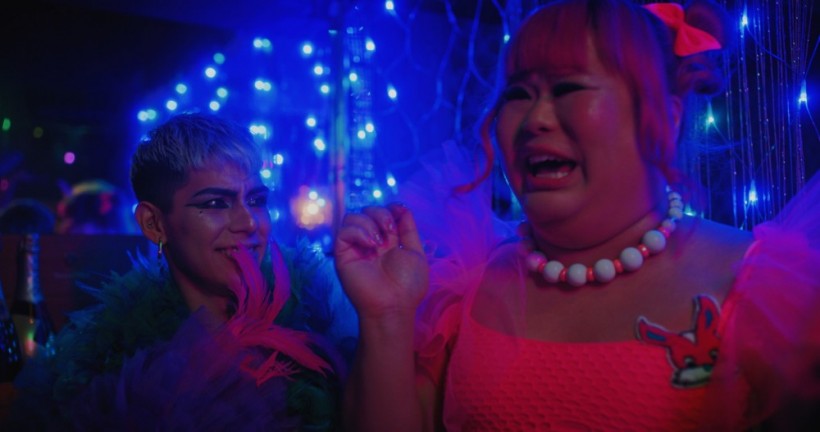 Offscreen: How does being a foreigner affect how you present these subcultures? Does this film have a "Canadian lens" when examining Japanese society, or have you been there long enough that there is no significant difference in the way you film it?
PM: It's always been important to me that when Japanese audiences watch my films, that nothing feels off, as that would unhook them from the story. I aspire to becoming a bridge, making films that are exciting and feel authentic both to international and Japanese audiences. I think being from a certain place doesn't make you an expert. It normalizes the experience of living there, but for anything underground or specialized, you need to seek it out. While making Dreams on Fire, the actors would often ask: "How do you know these things?" This could be regarding either the unique locations or the niche subculture artists that appeared. A good example is the fetish event sequence, where you've got Bambi Naka alongside professional body-builders, the "Ishoku Hada" crew who like to paint their bodies in flashy colors, two of the most famous "human dolls," including Lulu Hashimoto, the notorious fetish/circus queen Yusura, and a dozen models decked out in outfits by the world's number one latex and rubber fashion designer Kurage. Most of these artists had never heard of one another. The making of the film was a series of these kinds of situations. I am very proud to be Canadian, and there are many aspects of our culture I am happy to have been exposed to growing up. Montreal is also a very special multicultural city full of talented artists, but I don't think of my lens as being particularly Canadian. At this point, I know the layout of Tokyo far better than my hometown. I've spent nearly half my life there. At this point, here or there, I'm an alien who dreams of being a bridge.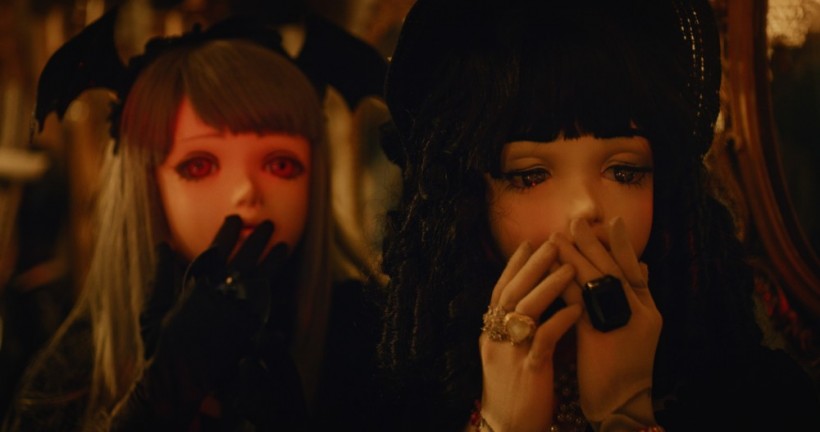 Offscreen: I know you shot this on a tight budget. Were you getting permits to film exterior scenes and your various locales, or were you engaging in guerrilla filmmaking?
PM: :)
Offscreen: Did you have your visual style in mind when writing the script, or did you write the script and then decide on the visual style? How much does your cinematographer contribute to the look of the film? At what point in the process do you make these stylistic decisions: when you're writing, when you're rehearsing (assuming you have the time or money to rehearse), or spontaneously when you're shooting?
PM: When I write, I have a cast in mind. I see their faces, what they are wearing, the space around them, the edit, the sound design. Then it's a matter of locking as much as possible in pre-production. Then, once we are shooting, being extremely organic and finding the sweet spot between the crystal clear vision and the reality on set. Then we wrestle the universe. The director of photography of the film is a dear friend and close collaborator called James Latimer. He's a director himself, and has been crushing it. His latest short, Kata, just played at Tribeca, and he is now running his own gear rental company out of Tokyo. As filmmakers our styles are different, but at our cores, our spirits and why we are in Japan resonate. This was his first, and apparently, last, time being a cinematographer on a feature. I love how we worked together. Our chemistry was fantastic, and I think it shows in the film. I've always been extremely hands-on with the look of the film, coming in knowing what I wanted, and also working as the art director, as well as the editor, and in the end, the primary camera operator. The budget limitations meant that we had to have a very small and very talented crew to pull it off. I am all for delegating and collaborating, but my rule is that I'll do it myself unless I know someone who can do it better (who we can afford). In this case, this meant I had to wear these many hats. Nonetheless, it went very smoothly, and the small crew was a dream team with a fantastic synergy. James brought so much expertise and knowledge to his role, making many of the core decisions on what we would use to make the film and how, I couldn't have done it without him and I'm excited to work with him again.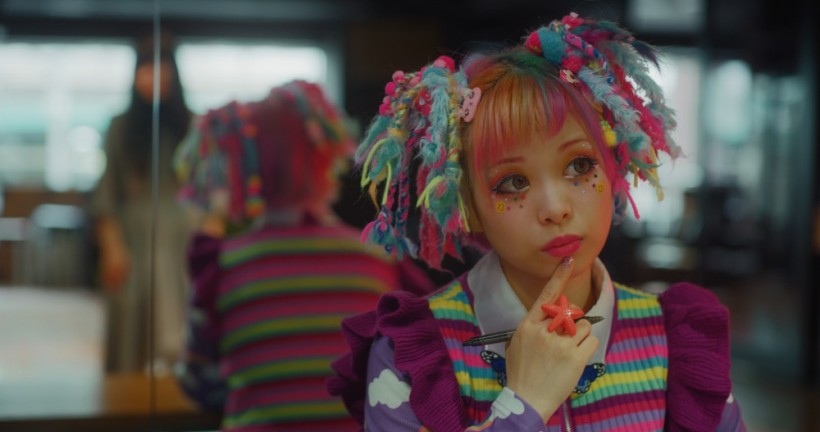 Offscreen: The costumes are very striking. Did you have a designer oversee the project, or did some of the cast provide their own? Or was it a bit of both?
PM: I was the art director of the project and oversaw all the looks. A few characters are played by individuals who are extremely stylish, in particular Bambi Naka, and Medusa Lee, who plays ChoCho. For Bambi's character, we created her look together. I would select specific pieces I knew she owned, and then would ask her if she had certain pieces for specific scenes and she would show me some options and we would go with them or buy new ones. The massive "jacket" she wears in the climactic performance near the end of the film, created by ChoCho in the story, is actually the same jacket worn by the lead character in BREAKER, which has been modified with some new additions. It's a one-off work of art. In the case of ChoCho, Medusa, who plays her, and I selected her outfit together, including ordering some pieces from abroad, like the "dickini" top she wears when we first meet her. Medusa is a fashion designer and stylist. She's opinionated and very talented, and when she showed up for the shoot, she'd made some changes to her wardrobe. Sure enough, her choices were dope and fit the character, so we rolled with it!
In the fetish scene, we collaborated with the legendary latex/rubber designer Kurage. He made a custom design for Bambi's character, and since it's made of form-fitting latex, it really only can be worn by her. I chose the colours and gave some notes, like how I wanted her shoulder blade tattoos to be visible, and then he took the reins and went to work creating a beautiful costume filled with detail. On set, he looked at it and decided to make some last-minute modifications. He was lightning fast and it was wicked to see the master at work. A dozen models appear in the scene wearing his outfits. He basically gave me an album filled with images of his work and told me to pick.
Offscreen: How would you compare yourself to ChoCho, the non-Japanese costume designer working in Tokyo who is in love with Japanese culture, but still an outsider?
PM: ChoCho's character absolutely mirrors important elements in me. First, she is a foreigner in Japan with artistic ambitions who sees the power and potential of Japan in ways the locals aren't, and second, that she is having visa troubles, a constant challenge for foreigners trying to live in Japan. In fact, Medusa had visa troubles right before the shoot, and we almost lost her in a way that would have been painfully meta.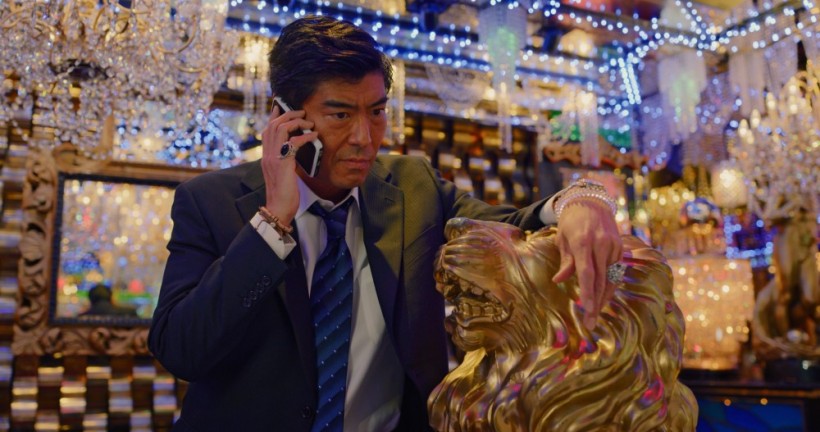 Offscreen: The yakuza night club where Yume works as a bar girl has a wonderfully kitschy look – all that gold, and what a staircase! Did you always have that location in mind, or did you scout for it? Was getting permission to film in it a problem?
PM: I wrote the script having most of the locations in mind, and that one in particular. It was a notorious Host club in Kabukicho, the biggest red light district in Tokyo. In reality, it was an establishment where women would go to be entertained by stylish men, as opposed to having Hostesses as in the film. I regret to say that the location has been demolished, as it was in an old building that's been torn down. We knew while shooting that this was one of the last times it would be on film. It had appeared in a couple projects, but I felt that it had never been done justice, so that was another big responsibility I felt. I negotiated for permission to shoot there after hours.
Offscreen: Can you also talk about this club having its hostesses dress in school outfits and other fetishistic clothes. Is this really a thing?
PM: As I talked about earlier, the Host/Hostess industry is massive, and that district is filled with them. There are buildings with multiple Hostess clubs per floor, beehives of nighttime decadence. There are certain areas in Tokyo, such as Kabukicho, which come alive at night, truly nocturnal districts, and shifts as Hosts/Hostesses start in the evening and often end at dawn. Most hostess clubs have a similar dress code for the staff, they look like prom dresses, and for Hosts it's often suits. There are many that offer themes, like bunny-girls or schoolgirl uniforms. I decided to go all-in and create a Hostess club that had a collection of the most popular fetishized outfits: the nurse, maid, flight attendant, shrine maiden, and of course, Yume in a schoolgirl uniform. Some of the cast members had experience working as Hostesses, including Bambi, who told me that she used to have to wear a qipao. 1 It was amazing to see some of the cast slip into "Hostess mode" while shooting, with lots of very natural improvisation. I have mad respect for Hostesses/Hosts. Some put a lot of care into honing their craft and are truly impressive at the job.
Offscreen: Can you talk about Yume's so-called apartment?
PM: Her character is living in an internet cafe, and yes, like everything else in the film, it's real. People who live in them are called "cyber homeless" or "net cafe refugees."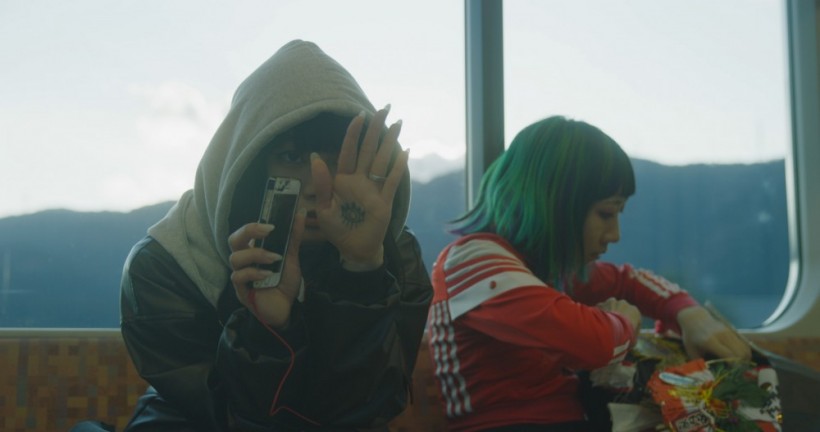 Bambi Naka (Yume) and Medusa (ChoCho)
Offscreen: As the story progresses, we see more of Yume's tattoos. Does she get them after she leaves her home in the country run by her strict grandfather, or does she already have some when the story begins? Are the increased prominence of her tattoos intended to be tied to Yume's empowerment and development as a dancer? This also brings up one confusing element in the film, which is over what time span does it take place? A lot seems to be happening, and I hope for Yume's sake that it's not all happening in the same week.
PM: I find the gradual reveal of her tattoos interesting, we get to discover them one at a time, and I've laughed hearing someone in a test screening go: "Wait, she has one on her hand!?" Within the story, these tattoos represent that Yume has a past, which is left to our imaginations, but we know that she has a mind of her own and this isn't the first time she goes against her family's wishes. Tattoos on a leading actress in a Japanese film which isn't a gangster story are extremely rare. I'm very proud to present a character that pushes back against this, as tattoo culture is alive and strong amongst Japanese youth. It's nowhere near as ubiquitous as in North America, but there are many displaying the beauty of the art form in Japan, and a few characters in the film show this, including the fetish performer Yusura and the model Akane Watanabe (Hyperbeamcat), who appears briefly in the Harajuku district scene as a photographer.
The time span being mysterious is deliberate. Life's a trip.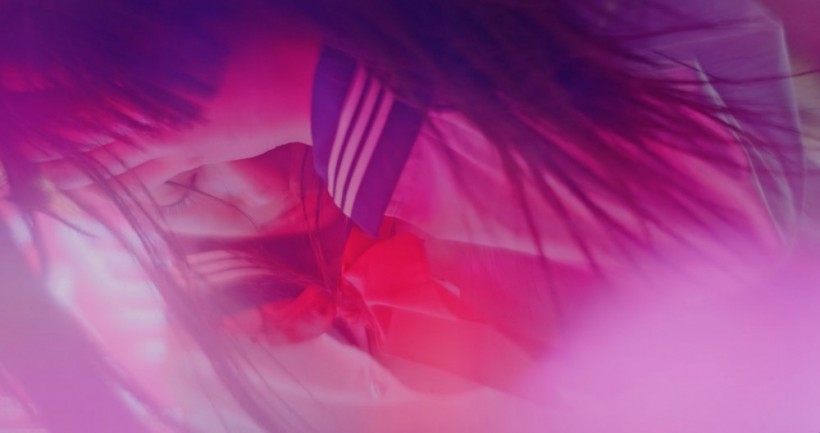 Offscreen: You have several impressionistic sequences where you abandon dialogue and go with just music and sound effects, while experimenting with your visuals. Can you talk about these sequences and what they bring to the film?
PM: When you're obsessed with something, you can't escape it, even in your dreams, and after a few pints, things can start looking pretty impressionistic. It's true to life. It also permitted having scenes that are radically different in style, keep the journey fresh, and bring together some exciting collaborations. Akaji Maro, who plays the grandfather, is a legend, the most famous living Butoh performer, with a long and illustrious career on stage and film. I feel that as a performer he has two very different modes: the human, and the Butoh manifestation. In Dreams on Fire, we get to see both within the same story. Working with him, as well as with the unrivaled bondage-rope artist Hajime Kinoko, were dreams come true, and to have their arts collide in the same scene in that nightmare sequence alongside Bambi Naka blows my mind.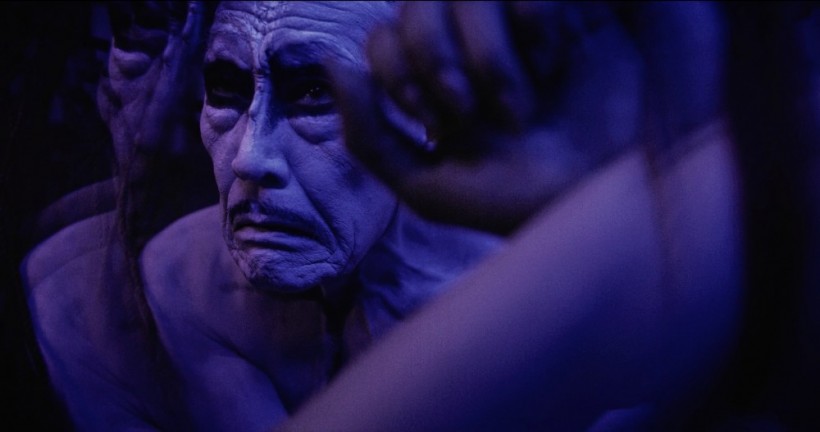 Akaji Maro
Offscreen: In the interview we did a few years ago, you listed a bunch of Japanese films as your major influences. Do you consider Dreams on Fire to be part of Japanese cinema, or does your outsider status make it more of a Canadian film, or perhaps some sort of hybrid? Would a Japanese audience see this as a Japanese film?
PM: Throughout the process, I always thought it is a Japanese film, in the sense that the story is set in Japan, starring a Japanese cast, in Japanese, and that the audience I was most concerned about was the Japanese dance community, due to the film being the first Japanese urban dance film. That was a huge responsibility. When the film was released theatrically in Japan, I think most viewers weren't even aware that the director wasn't Japanese. In the end, more important than the label, I simply care that people enjoy the film, and that it be inspiring and feel authentic to audiences regardless of where they're from.
Trailer for Dreams on Fire: https://www.youtube.com/watch?v=evEvFGvtOEY
Dreams of Fire makes its North American debut at Fantasia on August 8: https://fantasiafestival.com/en/film/dreams-on-fire
Notes
Also known as a choeongsam, this is a close-fitting dress with high neck and slit skirt up one leg. ↩