36th Leeds International Film Festival 3-17 November 2022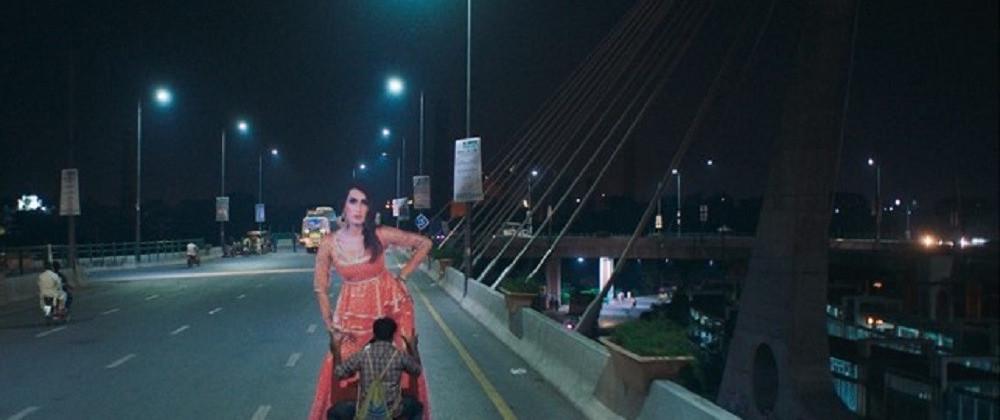 The festival expanded its remit this year. The Official Selection of feature films was still there along with Cinema Versa (documentaries), Fanomenon (fantasy and horror) and a plethora of short films. The additions this year were spotlight programmes on 'Films Femmes Afrique' (women creators of the future), 'Disability Futures' and 'One Love from Jamaica' (a retrospective of Jamaican films). Within the strands are six short film competitions and a competition within the Official Selection for new directors. It is hard to move far without encountering a jury member. I watched as many Official Selection films as possible, together with some from the Fanomenon strand. All have done the rounds of festivals.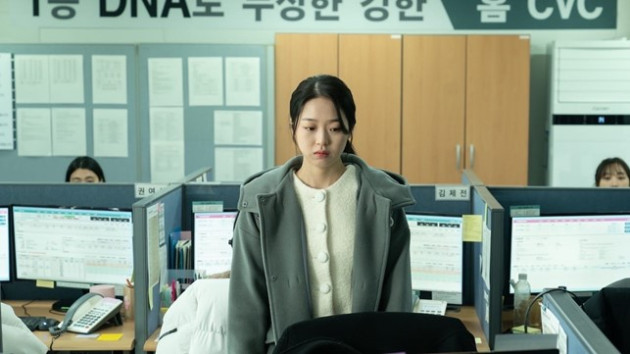 Next Sohee
My standout films were Next Sohee (July Jung, South Korea, 2022) and My Small Land (Emma Kawawada, Japan, 2022). In Next Sohee, So-hee (Kim Si-eun) is first seen indulging her passion for dancing. As part of her high school education she embarks on an internship at a call centre. The pressure is intense with teams and individuals within teams competing to deal with as many calls as possible and to achieve satisfactory outcomes. Dancing has to be put aside. When her manager complains about the pressure on interns, he is ignored. The situation deteriorates to the point where he commits suicide. Sohee does well initially, but her bonus is withheld and her results decline. The company and her school urge her to do better, but the stress is such that she turns to alcohol and hits her new manager. Suspension prompts a period of introspection, which culminates in So-hee drowning herself. The initial police investigation is cursory, but newcomer Detective Yoo-jin (Bae Doo-na) is dissatisfied. She exposes the company management's lack of concern. Irrespective of working conditions the school has to find internships for pupils, or suffer financial penalties. The school inspectors have to meet their own targets. So do the police and a case of suicide can be sidelined, as Yoo-jin discovers. The true story made a powerful impression on the director and her anger imbues the film.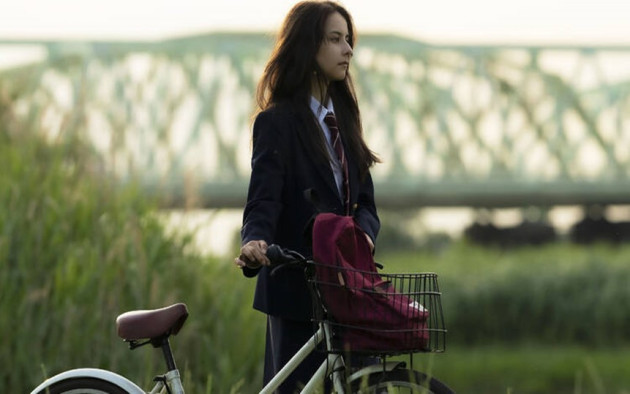 Japan is not a country that welcomes refugees. My Small Land follows the travails of a Kurdish family, whose father is refused an application for permanent residency, meaning that he is not allowed to work. When he is discovered driving illegally on a building site, he is detained by the immigration authorities. His daughter Sarya (Lina Arashi) has to look after her two younger siblings, for the family has no mother. Sarya is about to leave school, but without a visa she can neither enter university, nor take paid work. She has to leave her job in a convenience store, meaning that her blossoming romance with fellow worker Sōta (Okudaira Daiken) is jeopardised. Her father has already banned Sarya from seeing him, fearing that her identity as a Kurd will be compromised. Her father's attitude undergoes a sea change while he is imprisoned. As the ultimate sacrifice he decides to risk imprisonment or worse by returning home, so that his children will be allowed to remain in Japan. Unlike Next Sohee the film ends on a positive note. This is a first feature for Emma Kawawada and for Lina Arashi, who gives a peerless performance, her face betraying Sarya's inner conflicts. The film's only blemish is that her sister is sketchily presented.
Both films are emotionally and intellectually satisfying. They present personal tragedies within a socio-political context, which gives them polemical force. The film-makers' passion for achieving justice in the face of a rule-based bureaucracy is evident. In Next Sohee this is combined with a critique of the commercial imperative that dominates life at every level, particularly at the call centre where the management gives scant regard to workers' feelings. Both films deserve wide distribution.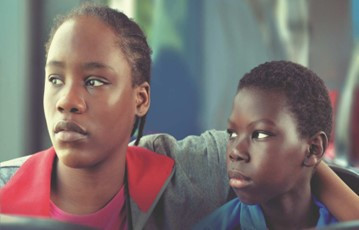 Tori and Lokita
Tori and Lokita (Jean-Pierre and Luc Dardenne, France/Belgium, 2022) is a Palme d'Or winner at Cannes. The two leading characters are migrants from Benin, who met on the boat and pose as brother and sister as they seek a new life in Europe. Tori (Pablo Schils) finds work selling drugs on the street, while Lokita (Mbundu Joely) tends a cannabis farm, where she is locked in and left alone for weeks on end, until Tori finds a way of reaching her. They attempt to escape, but the dealer employing her tracks them down. This is a film about the plight of refugees who are caught between an intractable bureaucracy and the black economy. Its heart might be in the right place, but it feels formulaic. There is an absence of passion and empathy, which mark Next Sohee and My Small Land. The official who questions the young people is never seen after the opening scene and what they are escaping from in Benin is ignored, meaning that their situation lacks context. This has the feel of a television film.
Living (Oliver Hermanus, UK, 2022) opened the festival and is on general release in the UK with Bill Nighy in the leading role being tipped as an Oscar contender. This is London in the 1950s, when office workers carried furled umbrellas and wore dark suits and bowler hats. Mr Williams works for London County Council and is in charge of a section with five clerks. He is the epitome of the bureaucrat, knowing his responsibilities and not going beyond them. A pending tray provides a convenient resting place for difficult cases. This ordered existence is disrupted when he is diagnosed with terminal cancer. Without telling anybody the reason he abandons his job and sets out to enjoy his final months. A seaside holiday is a first, tentative and none too successful foray. Back in London a chance meeting with Margaret Harris (Aimee Lou Wood), the only female member of his section, develops into visits to a restaurant and cinema together. Margaret becomes uneasy, suspecting an infatuation on his part until he explains the true reason. The confession gives him a renewed lease of life. He cuts through bureaucracy to get a children's playground built on a bomb site. The film is based on Ikiru (Akira Kurosawa, Japan, 1952) and has a screenplay by Kazuo Ishiguro. In a similar way to the characters in Ishiguro's 1988 novel The Remains of the Day, Williams is constrained by his role, but illness forces him to reappraise his priorities. My principal reservation is the shift in tone from the comedic opening, which could presage an Ealing comedy, to the underlying theme of the film. The transition is not wholly successful. Ishiguro and Hermanus stray from Ikiru by not keeping the tone serious. A putative romance between Margaret and newcomer to the office Peter Wakeling (Alex Sharp) adds nothing to the film; neither does the music, which is a selection of bleeding chunks. Despite these reservations the coda when Peter returns to the playground after Mr Williams's death is affecting.
In Joyland (Saim Sadiq, Pakistan, 2022) Haider Rana (Ali Junejo) has yet to find a role in life. He lives with his extended family and has satisfied his conservative father by marrying the feisty Mumiaz (Rasti Farooq). Mumiaz is the breadwinner, while Haider is happy entertaining his older brother's three daughters. When Haider is pressured into getting a job, he finds work as a backing dancer in a troupe led by transgender Biba (Alina Khan), telling his family that he is the stage manager. A closeness develops between Haider and Biba and they become lovers. The father demands that Mumiaz stops work now that Rana is earning, but she rebels against her passive role and seeks sexual satisfaction in spying on a male neighbour. Joyland is a film by a debut director, which challenges taboos. For this it must be applauded, though it has aroused controversy. The film received a favourable reception at Cannes, but was banned in Pakistan, which disqualified it from being the country's first Oscar contender. This decision was reversed two days later after minor cuts to the film (Hindustan Times 2022). The kiss between Haider and Biba disappeared, though the film is still banned in Punjab (BBC 2022). This is unlikely to be the end of the story.
The contrast of this forward-looking film is with Pamfir (Dmytro Sukholytkyy-Sabchuk, Ukraine/Poland/France/Germany/Chile, 2022). This portrays a rural Ukraine, where smuggling is rife and not much can have changed over several generations. Pamfir (Alexandr Yatsentyuk) is a rogue. His redeeming quality is that in an echo of My Small Land, he is willing to help his son escape to Romania and a better life, though at some cost to himself as a smuggling gang catch up with his freelance activities.
Another film in which the protagonists are confined within self-imposed roles appears in the Fanomenon strand. La Pietà (Eduardo Casanova. Spain/Argentina, 2022) contains images drawn from Michelangelo's statue. An adult Mateo (Manel Llunell) lives with his mother Libertad (Angela Molina). This is no ordinary mother and son relationship: their clothes are pink, their home has a pink decor and Mateo rarely strays outside the house, being dependent on his mother for everything. Things change when he is given a cancer diagnosis. Such is their bond that Libertad joins him in projectile vomiting and taking his chemotherapy tablets. It is she who dies, forcing Mateo to abandon his role as compliant son and to venture into the outside world. Like Mr Williams in Living, Mateo has a late conversion, but he has more trouble making it. The relationship of mother and child is counterpointed with footage of the death of Kim Jong-il and the reaction of a compliant and infantilised North Korean population. The difference is that North Korean citizens continued on the same path with Kim Jong-un rather than having to confront a changed reality; Mateo finds no such consolation. There is a report that the North Korean parallel was toned down (Hurtado 2022), which may have compromised the comparison.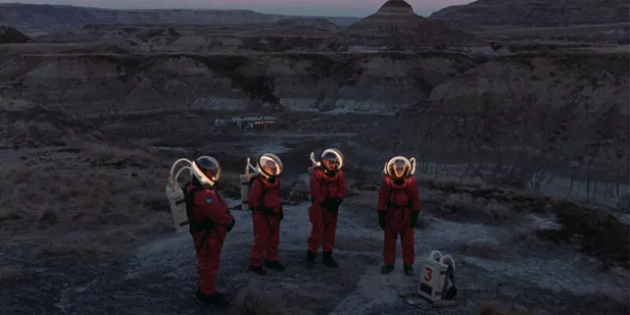 Viking
Also in the Fanomenon strand and a study in voluntary role-playing is Viking (Stéphane Lafleur, Canada, 2022). Viking Society member David (Steve Laplante) volunteers for a mission to Mars and is selected. If being a gym teacher seems a strange qualification for this task, the solution is that there are tensions within the real mission team. To resolve the problems a second team is recruited to simulate the mission, so that the group dynamic can be studied on Earth and the lessons applied to the real team. David and his colleagues in this second group are isolated in a desert location and presented with the problems the real team are encountering along with a few of their own, while maintaining the fiction that they are on Mars. The outside world intrudes occasionally: one of the team has a pizza delivered, while two bemused locals watch a foray into the desert by individuals in spacesuits. This is a droll comedy that fits no genre and could easily be overlooked.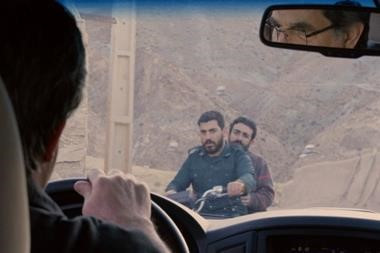 No Bears
Two films concern making a film, which is a particular form of role-playing. Jafar Panahi is currently imprisoned in Iran, but being banned from filming for a decade has not stopped him from working. At the opening of No Bears (Jafar Panahi, Iran, 2022) a couple are seen trying to get forged passports to leave Iran. The man wants the woman to wait for him abroad, but she will not leave him behind. This impasse is revealed as a scene in a film being shot over the border in Turkey. Panahi plays the director, who works from his laptop in an Iranian village near the border despite the difficulty of getting a good internet signal. The director encounters another problem. While wandering through the village with his camera, he sees a young couple. He is suspected of photographing them and the male villagers demand to see the picture. The girl was promised to another man at birth and he is jealous. In this rural community adherence to tradition is paramount. The air of suspicion prompts the director to leave, though why he stops his car in the final frames is not clear. This is a film operating on three levels: the story being enacted across the border in Turkey, the film in which Panahi plays the director and Panahi's own plight. Whatever our opinions on the result we must salute his courage in continuing to work in the face of state disapproval. Fortunately the result is intriguing. The flourishing smuggling industry across the border is noteworthy and is something rarely considered.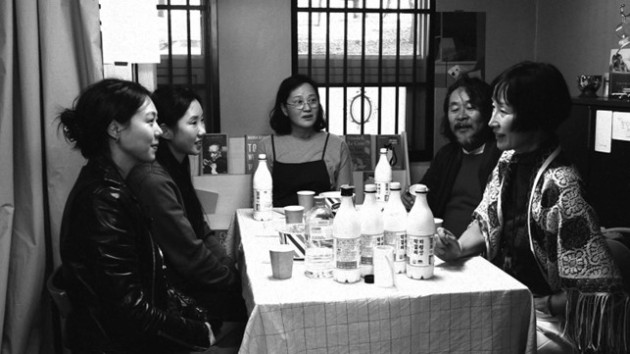 The Novelist's Film
The Novelist's Film (Hong San-soo, South Korea, 2022) is a UK premiere. This is a film about talking, which recalls the work of Eric Rohmer. The implication is that the audience has to be comfortable with a film about the chattering classes. Author Jun-hee (Lee Hyel-young) is disillusioned with writing. In a park she meets actress Kil-soo (Kim Min-hee) walking with her nephew film student Gyeong-woo (Ha Seong-guk). The three of them plan to make a film. Jun-hee visits bookshop owner Sewon (Seo Young-hwa), whom she used to know. They follow conversations over meals at Sewon's home, one involving the elderly poet Man-soo ((Ki Joo-bong). The film becomes the story they film. This is a work about creativity, which demands concentration and two viewings.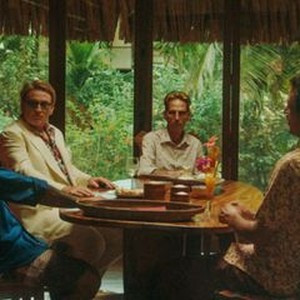 Pacification
Two films chart the end of empire. Pacification (Albert Serra, France/Spain/Germany/Portugal, 2022) is set in Tahiti and follows French High Commissioner De Roller (Benoit Magimel) as he passes his time in bars, observing the dancers and the visitors. He could have strayed from a Graham Greene novel. Things are happening, though he is not sure what. French sailors come to the island. There are rumours that France will resume atomic testing, while a Portuguese diplomat asks some awkward questions. The admiral joins De Roller in an evening's drinking, but even when drunk he gives nothing away. Only in the final moments when he is going back to his ship with the sailors does he reveal their reason for being there. This is a leisurely film at 165 minutes. The visuals are striking, but De Roller's drinking habits outstay their welcome.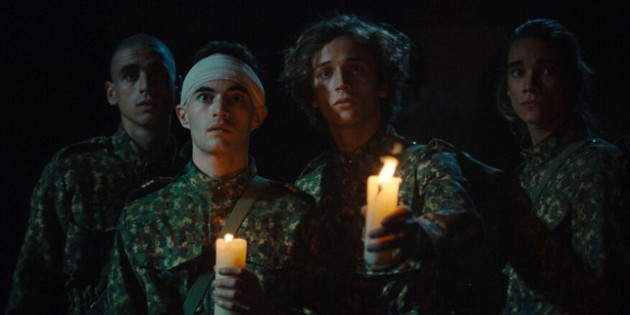 Tommy Guns
Tommy Guns (Carlos Conceição, Portugal/France/Angola, 2022) is set in Angola in 1974. This is an episodic film with the audience being left to make the links. At the opening a girl is being patronised by a nun. In the next scene the missionary is attacked by a group of youths, when she tries to help an injured Angolan soldier. The girl encounters a lone Portuguese soldier. They are attracted, but after sex he shoots her. Attention shifts to a group of soldiers under the command of a sadistic colonel (Gustavo Sumpta). He has them kill one of their own, who is branded a traitor. When he brings a prostitute to the camp, his control breaks down. He tries to reassert his authority, but a soldier shoots him. The woman leads the squad to a gate in a wall blocking their escape from Angola. Beyond it, they find themselves in a familiar world. This is a film that begins in realistic fashion, but morphs into a zombie movie as the ragtag soldiers seek to escape from their victims, who have risen from the dead. A challenging watch, though most walls today seem designed to keep foreigners out.
Two films present women whose occupations create conflicts with their sexuality. From a new director comes Baby Pyramid (Cecilie McNair, Denmark, 2022). Hannah (Donico Curcic) struggles to become pregnant, the irony being that she works in a fertility clinic. Her patient is Gry (Christine Albeck Børge), who is legally too old for fertility treatment, but Hannah's own situation is exposed and she is inveigled into agreeing to Gry's demands. When Hannah learns that her high-flying patient has already had abortions because pregnancy was inconvenient for her career, Hannah turns against her. The moral dilemma is interesting, but the film fails to reach beyond the personal drama to have a wider significance.
Another first feature, Blue Jean (Georgia Oakley, UK, 2022), is set in 1988. This was when the AIDS panic was at its height and the gay community in Britain experienced the ramifications of Section 28 of the Local Government Act, which prohibited teaching the acceptability of homosexuality in schools. Jean (Rosy McEwen) is a gym teacher, who keeps her sexuality secret at work. This works until new pupil Lois (Lucy Halliday) arrives. She is picked on, but Jean is wary of siding with her too openly, particularly when Lois visits the gay club Jean frequents and encounters Jean's girlfriend Viv (Kerrie Hayes). To maintain her position in the school Jean has to be seen to uphold Section 28. The film fails to resonate in the same way as Next Sohee or My Small Land, perhaps because it takes British audiences of a certain age to know the significance of the legislation. The political context needs exploring if the full import of Jean's dilemma is to be conveyed. Presenting its resolution might have helped.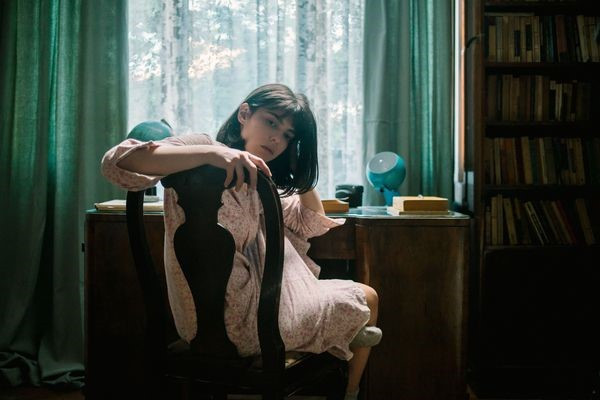 Metronom
Metronom (Alexandra Belc, Romania/France, 2022) looks back to Bucharest in 1972. In Belc's debut feature schoolgirl Ana (Mara Bugarin) is 17 and goes to a party against her parents' wishes. There she encounters her boyfriend, whose family is emigrating to Germany. They have their first and last sexual encounter, which proves unsatisfactory for both of them. So far, so conventional, but the film has a wider agenda. The youngsters listen to Radio Free Europe and decide to send a letter to Metronom, a music programme. Ceausescu's secret police have been tipped off and take them into custody. The police captain (Vlad Ivanov) tries to get Ana to confess, but she stubbornly refuses, ignoring the danger to herself in an act of teenage petulance. Belc presents an assured first feature, which captures the paranoia of a society where conformity is the rule and nobody can be entirely trusted. It is a reminder of the chilling effects of authoritarianism.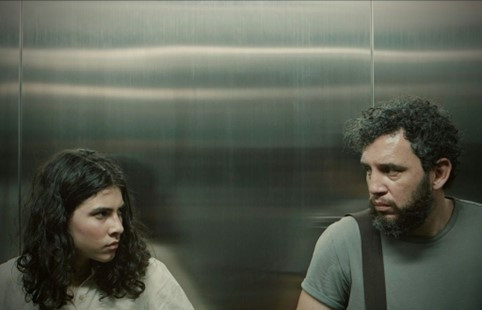 I Have Electric Dreams
One case of writer's block has been encountered in The Novelist's Film. Two other writers are having problems. I Have Electric Dreams (Valentina Maurel, Costa Rica/Belgium/Portugal, 2022) comes from a director making her first feature and offers a rare glimpse of Costa Rican middle-class life. Martin (Reinaldo Amien) leaves his wife and two children to live the life of a poet in a one-bedroom flat. His older daughter Eva (Daniela Marin Navarro) is 16 and wants to remain with him. She does, but their relationship is volatile to the point where the police are called and Eva accuses her father of assaulting her. Maurel tells a coming-of-age story, which feels newly-minted, though it never strays beyond being a domestic drama. When Eva goes to the poetry group, is this a sign that she is going to follow in her father's footsteps? The film won the New Directors Competition.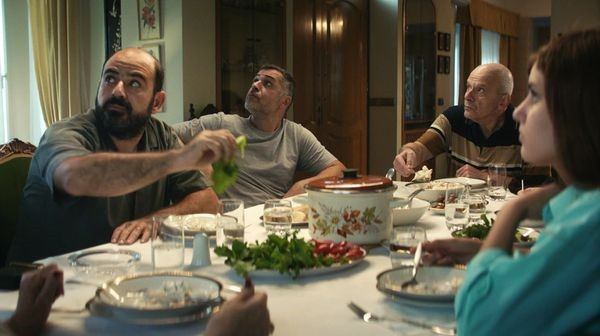 Mediterranean
A writer who likes the idea of being a writer rather than its practice appears in Mediterranean Fever (Maha Haj, Palestine/Germany/France/Cyprus/Qatar, 2022). Unaccountably the writer/director is not in the new directors' competition. Waleed (Aimer Hiebel) leaves his job and his family to concentrate on writing. He is depressed, which can make for depressing viewing, but he encounters his neighbour Jalal (Ashraf Farah) initially to complain about the noise. Jalal operates on the fringes of the law and exhibits the exuberance Waheed lacks. A friendship develops between the two men. Waleed asks for a contact who will kill somebody; it takes longer to reveal that he is the intended victim. A personal drama is played out against a tense political background: when Waleed is asked his religion by an official, he refuses to answer, eventually responding that he is Palestinian. Haj could be accused of shying away from making the politics explicit; equally she could be praised for focusing on male friendship in a situation that is only perceived in political terms by people outside the Middle East. The screenplay won Un Certain Regard at Cannes, but as Andrew Robertson's review illustrates (2022), the film has polarised responses. Filming took place in Haifa, the irony being that Gaza has been without a cinema for many years, though Palestinian film-makers are seeking to change that with the Palestine Cinema Days Film Festival. Mediterranean Fever was the opening film.
Corsage (Marie Kreutzer, Austria/Luxembourg/Germany/France, 2022) imagines the life of Elisabeth (Vicky Krieps), Empress of Austria and Queen of Hungary. As she turns 40 in 1877, she has no political or public function. Her options are to carve her own role, or to take a lover; she samples both. I have trouble with costume dramas: historians strive for facts, while film-makers seek to dramatise them. It is difficult for audiences to know which they are getting. An additional difficulty is that Austro-German film-makers have a singular approach to recreating the past, ignoring the background and focusing on the principal characters. This was apparent in the two German films screened at last year's festival and in KeDeWe (Julia von Heinz, Germany, 2021). By contrast British film-makers strive for verisimilitude, so that there is never a television aerial to disrupt the sense of period. A British audience will home in on the anomalies, which appear in every indoor scene of Corsage (telephones, modern table lamps and those EU regulation exit signs). The makers stretch dramatic licence further by inserting that pioneer of cinematography Louis Le Prince into the narrative. A film to be approached with caution.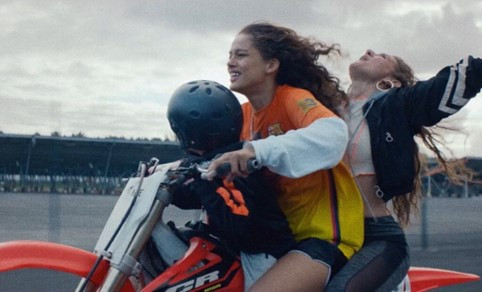 Rodeo
More obvious pleasures can be found in Rodeo (Lola Quivoron, France, 2022). A year before Easy Rider made headlines, Marianne Faithfull's character in The Girl on a Motorcycle (Jack Cardiff, France/UK, 1968) found ecstasy on a motorcycle journey through France and came to a sticky end. Julie (Julia Ledru) shares some of her qualities. She likes to live dangerously, ingratiating herself with a gang of bikers who perform stunts on public roads. Their base is a garage, where stolen bikes are rendered untraceable and resold. Julie joins in their activities, but prepares a more complex and lucrative heist, which proves to be her undoing. There is plenty of action, but there is also room for relationships to be built and broken. Lightweight equipment means that the photography captures the thrills and spills more successfully than Jack Cardiff could manage in 1968.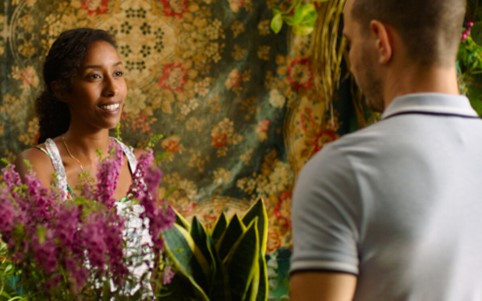 America
America (Ofir Ruel Graizer, Israel/Germany/Czech Republic, 2022) is set in Israel. Eli is a swimming instructor, who returns home on the death of his father. There is a reunion with his old friend and swimming companion Yotam (Ofri Biterman). When Yotam falls into a coma after an accident, a relationship develops between Eli and Yotam's Ethiopian fiancée, the florist Iris (Oshrat Ingedashet). This comes to an abrupt end when Yotam regains consciousness and Eli returns to America. The film abounds in enigmas: why did Eli change his name, what was his relationship with his sadistic father and what happened to his mother? This is a thoughtful film with a twist at the end.
If there is a theme to many of the films, it is that people play roles. Things get interesting when they move outside those roles. This can lead to heartbreak or revelation, though on the evidence of the Official Selection there is a dearth of films demonstrating that it can lead to comedy. Two trends are apparent across the festival. The first is a paucity of films from the USA. The second is the increasing number of female directors, who dominate the new directors competition. Whether these factors are a consequence of the films submitted or how they were selected is an open question, but it is encouraging to see countries such as Palestine and Costa Rica being represented. At a time of financial stringency Leeds City Council is to be congratulated for its support of the festival and of film culture in the city throughout the year. The council owns the Hyde Park Picture House, which is being refurbished and will have a second screen in the basement. With the future of the Edinburgh Film Festival in doubt (Pulver 2022), the example set by Leeds is all the more important.
BBC (2022), 'The Cultural Front Line', BBC World Service, 4 December. https://www.bbc.co.uk/sounds/play/w3ct37sf.
Hindustan Times (2022), 'Pakistan reverses ban on official Oscar entry film, Joyland may release on Friday as scheduled', Hindustan Times, 16 November, https://www.hindustantimes.com/entertainment/others/pakistan-lifts-ban-on-official-oscar-entry-joyland-film-may-release-on-friday--.
Hurtado, J. (2022), 'Fantasia 2022 review: La Pietà, a stunningly vulgar triumph in puke pink pastels', Screenanarchy. 22 July, https://screenanarchy.com/2022/07/fantasia-2022-review-la-pieta.html.
Pulver, A. (2022), 'Edinburgh film festival shuts down as organisers call in administrators', Guardian, 6 October, https://www.theguardian.com/film/2022/oct/06/edinburgh-film-festival-shuts-down-as-organisers-call-in-administrators.
Robertson, A. (2022), 'Mediterranean Fever', Eye for Film, 22 August, https://www.eyeforfilm.co.uk/review/mediterranean-fever-2022-film-review-by-andrew-robertson.