20th Leeds International Film Festival
Tradition and Change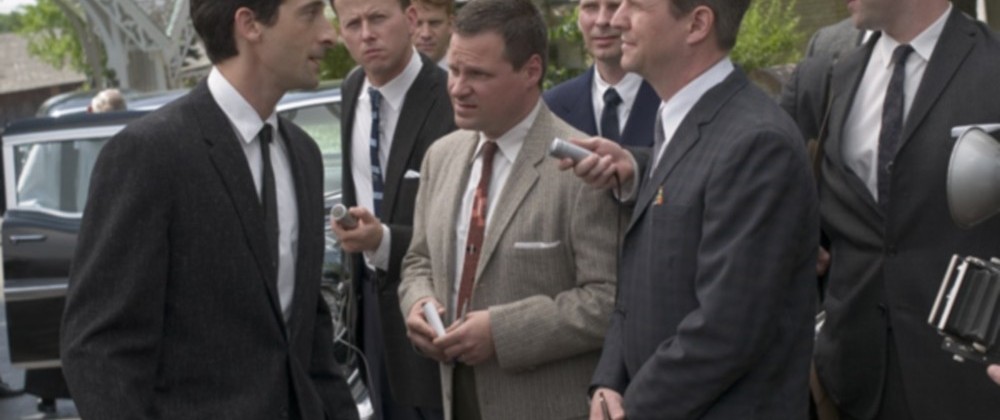 It's all change at the Leeds Film Festival (November 2-12, 2006). Aside from different sponsors, there's a new venue – the Carriageworks in the city centre. This is a replacement for the Civic Theatre, which is being converted into a museum. The Carriageworks has a studio theatre in addition to the main auditorium. Alas the opportunity was not taken at the planning stage to provide a dedicated film theatre for the city centre and the improvised facilities for festival screenings in the Carriageworks are no more than adequate. There are side rooms which can accommodate seminars and workshops, but these events did not figure in the festival. Can this be remedied for next year?
The strands of the festival have also been given a makeover. The Official Selection of new releases is still there, along with new British releases in UK Film Week, and Fanomenon – a mix of horror, sci-fi, fantasy and anime which appeals to the city's large student population. Documentaries and the fringe are subsumed within the Cinema Versa strand, though there are signs of an independent fringe emerging. "Shoot" is the new name for the short film section, while "Devotional Cinema" is a loose enough description to encompass classics and experimental film. Another break with tradition is the abandonment of the retrospective season which highlighted the work of neglected film-makers. If a theme runs through this year's programme, it is the tension between tradition and a rapidly-changing world. The lure of the modern usually wins out.
Documentaries assume an ever-larger place among the 350 films screened, reflecting their growing popularity with film-makers, if not always with audiences. My reservation is a lack of clarity about their aims. It is possible to be polemical like Michael Moore, to strive for a balance of views in classical journalistic fashion, or to follow Humphrey Jennings' in aspiring to the poetic. It is also possible to point the camera and hope for the best. This seems to be the strategy for The Blood of My Brother – A Story of Death in Iraq (Andrew Berends, US/Iraq, 2005), which follows the family of Ibrahim, who was shot by Americans while guarding a mosque. While it is refreshing to escape from polarized views on Iraq, too many awkward questions are dodged, so that a probing film dwindles into a human interest story. The Hills of Disorder (Andrea Tonacci, Brazil, 2006) blends fact and fiction in the story of a Brazilian tribesman who is introduced to modern life after ten years of living in the hills. How much is re-enacted for the camera and how much is invented never becomes clear. Stylistic gimmicks do not conceal this defect. This Session Is Open (Vincenzo Marra, Italy, 2006) is more successful, taking a fly-on-the-wall view of an appeal judge and one of Naple's leading defence lawyers who are both involved in a Camorra hearing. Italian justice does not emerge well from its exposure to the camera.
Among the mainstream offerings, Venus (Roger Michell, UK, 2006) was the festival's opening film. When niece Jessie (Jodie Whittaker) comes to stay with Ian (Leslie Phillips) in his London flat, he finds himself out of touch with the younger generation. Fortunately his fellow actor Maurice (Peter O'Toole) is on hand to entertain her. Michell's love affair with London locations sometimes gets the better of him as it did in Notting Hill, but O'Toole is beguiling, Hanif Kureshi's script is bittersweet and Corinne Bailey Rae contributes a winning soundtrack. A cast which includes Richard Griffiths and Vanessa Redgrave is always worth watching.
Coincidentally, another London film comes from a director at a comparable stage of his career. Anthony Minghella has returned to the territory of his first feature Truly, Madly, Deeply (UK, 1990) after his excursion to America. Breaking and Entering (UK, 2006) is set in the King's Cross district which is struggling to be gentrified. Will (Jude Law) is a landscape architect whose offices are ransacked by a gang which includes a Bosnian teenager. The film's opening scenes are assured, barring the overblown dialogue, but when Will discovers the teenager's address and embarks on a relationship with his widowed mother (Juliette Binoche), the film loses credibility and dwindles into second-rate romance. By way of consolation, London emerges as a real city rather than a tourist attraction.
Another Bosnian mother with a teenage child appears in Esma's Secret (Jasmila Zbanic, Austria/Bosnia/Germany/Croatia, 2006). Here we see the people who stayed behind. Sara wants to know about her father and pesters her mother Esma until the truth emerges. This is a slow-burning, but powerful piece, though a subplot about the mother's romance with a bodyguard seems fanciful. Similar in its mood of despair is Ryna (Ruxandra Zenide, Romania/Switzerland, 2005). Set in a remote village on the Danube delta, Ryna is a teenager who works as a mechanic and is treated as a boy by her drunken father. Her mother flees to the big city. Ryna wants to follow, but before leaving she visits the local fair. Both a young postman and the mayor are attracted to her and tragedy results. Zenide explores family tensions as mother and then daughter rebel against a man who has problems keeping his business together in this backwater which is being bypassed by the new road. Corruption and violence taint everyone. This is a domestic drama with a wider resonance as Romania faces its own challenges in finding a place in modern Europe.
Leeds has made a point of screening the work of Fernando León de Aranoa. In Princesses (Spain, 2005), two prostitutes, the feisty Caye (Candela Peña) and the outsider Zulema, strike up a friendship. Caye supports her Dominican companion through beatings and the discovery that she is HIV positive. The story has a documentary feel, with the director revealing his characteristic empathy for marginalised characters. Similar qualities mark Frozen City (Aku Louhimies, Finland, 2006). Taxi driver Veli-Matti tries to maintain contact with his children after his marriage fails. A dispute with a neighbour escalates into violence and Veli-Matti is imprisoned for manslaughter. You question where your sympathy should lie: with a killer drawn into an impossible situation, his irritating victim, or the mother who has such casual views on her maternal duties. This is a thought-provoking film about a dysfunctional family on the margins of society. Louhimies refuses to be sidetracked, which makes for a bleak and draining experience. My reservation is about picture quality. Digital video is a cheap and flexible medium, though when it is shown on a large screen, the image is noticeably inferior to film shot on 35mm stock. This may limit the film's chances of a cinema release. The same problem afflicts Death Rode Out of Persia (Putyi Horvath, Hungary, 2006). Helped by a plentiful supply of wine, an elderly writer looks back on an affair earlier in his life. The flashback structure can be difficult to follow and the experience of watching is akin to being buttonholed by a drunk, but if you persevere, the film settles into a rhythm of its own. This is another film in which a sense of despair comes across strongly, but so does the exhilaration of being able to range across memories of happier times.
A film which proved so popular with audiences that it was repeated on the final day is Wrong Side Up (Petr Zelenka, Czech Rep/Slovakia/Germany, 2005). A fork-lift truck driver tries to get back with his girlfriend, while his mother goes mad and his father pursues a sculptress. I found the humour forced. The elements of romance, whimsy and domestic comedy sit uneasily together. More interesting is how the shadow of Communism flits across the screen – the father used to report on visits by foreign dignitaries for the broadcasting service and now performs his commentaries for the new middle class. This film does not eclipse the Czech comedies of the 1960s. Closer in mood to those times is Lunacy (Jan Svankmajer, Czech Rep/Slovakia, 2005), a surreal black comedy (the director calls it a horror story) in which lunatics take over the asylum. When a well-meaning inmate helps the powers-that-be to reassert control, he discovers that their regime is infinitely worse. As a picture of madness it is simplistic and clichéd, but you look for allegories and draw conclusions. Kafka's nightmarish world in which the individual has no control never seems far away.
Among English language films, the most high profile was Hollywoodland (Allen Coulter, US, 2006), the story of George Reeves' success as Superman in the late 1950s and his mysterious death from a gunshot wound. This is a moody piece with plenty of period atmosphere and a fine performance from Adrian Brody. The trouble is that we have visited tinseltown scandals in films like The Cat's Meow (Peter Bogdanovich, 2001) and Wonderland (James Cox, 2003), while private-eye movies with labyrinthine plots are even more abundant. Hollywood adds nothing new to either genre. Apart from not coming up with any explanation for Reeves' death – Coulter fudges the issue by offering a range of options – the film lacks the wider resonance of David Lynch's Mulholland Drive (2001). The British films except for the two high profile releases already mentioned were generally low-budget affairs. Like Minds (Gregory J. Read, UK/Australia, 2006) charts the relationship between two boarding school pupils which ultimately ends in tragedy. An interesting drama is let down by the framing device of having the story recounted by the surviving boy to a forensic psychologist. Toni Collette gives a fine performance in the latter role, but so many television stories have featured the psychologist at odds with the investigating detective that the situation has become stale. More thought-provoking is The Living and the Dead (Simon Rumley, UK, 2006), an intimate drama about an addicted schizophrenic who looks after his sick mother in a decaying country mansion. This film has aroused interest at other festivals and polarizes those who see it – I overheard one audience member declare that it was the most depressing film he had seen in his life. Certainly it is sombre and intense, but it maintains tension and provides an opportunity for Roger Lloyd Pack to show his acting mettle as the father. I look forward to Rumley's next work.
Leeds' commitment to short films is demonstrated by the twenty-four programmes devoted to them. There is little opportunity to show such work on the big screen except at festivals. The two programmes I attended displayed a high quality of work. Notable was Avatar (Lluis Quilez, Spain, 2005), the story of a paralysed man who comes to hate his partner and extracts a brutal revenge. This was screened at the Bradford festival earlier this year and looks just as impressive on a second viewing. It received special mention in the Luis Le Prince Short Film Competition. The winner was Bhai-Bhai (Olivier Klein, France/Canada, 2006), a lightweight but amusing saga of an illegal immigrant being deported from France which is treated as a Bollywood musical. More affecting was the optimistic and gentle Big Girl (Renuka Jeyapalan, Canada, 2005), about how a small girl deals with her mother's new boyfriend. It packs a lot of emotion into a small space and stays in the mind.
The Devotional slot provides an excuse for reviving classics which are rarely seen on the big screen. Ordet (Carl Dreyer, Denmark, 1955) is an austere study of an imploding family. One son is absorbed in his religious visions, while his brother's wife dies in childbirth. Can any religious faith be left? The ending in which the wife is raised from the dead by her brother-in-law might be a 'shattering, miraculous climax' as the programme proclaims, but it sits less comfortably in a secular age. L'Argent (Robert Bresson, Switzerland/France, 1983) follows a young man who is the victim of a swindle and sinks into a life of crime and killing. Here is Bresson's unwavering concentration on the marginalised individual. The gentle End of Summer (Yasujiro Ozu, Japan, 1961) recalls Tati's Mon Oncle (1958) in charting Manbei's free-spirited travails with his family and his inability to come to terms with corporate business. Antonioni's L'Eclisse (Italy, 1962) eschews Ozu's wry humour, counterpointing a love affair with the frenzied activity of the stock exchange. The final scene brings to mind the ending of Antonioni's recently-revived The Passenger (1975) with its apparently artless observation of life in the street. What links these film-makers is that formalism is put at the service of story-telling. In some recent works, particularly from Britain and America, style is more self-conscious. The paradox is that quick-fire editing and restless camera movements can prove more distracting on the large screen, while intimate stories which are more reliant on dialogue and have less need of bravura editing find their natural home on television.
Lest it should seem that all the best work comes from the past, the festival included four fine new films. Requiem (Hans-Christian Schmid, Germany, 2006) is based on the death of a West German woman during an exorcism in 1976. An epileptic girl escapes from her staunchly Catholic family to embark on a university course. Her illness becomes intertwined with her belief that she is possessed. The sense of freedom which comes with leaving home is well caught, while an intriguing aspect is how the rational old priest and the devout young priest reverse their bad guy/good guy roles as the film progresses. The audience is given a disturbing experience, thanks largely to Sandra Hüller's committed performance as the girl. What is not explained is why a medical explanation is abandoned in favour of religion. More understated is Old Joy (Kelly Reichardt, USA, 2006), which should appeal to admirers of Sideways (Alexander Payne, 2004). Two old friends, Mark (Daniel London), who is feeling the pressure of imminent parenthood and the free-wheeling Kurt (Will Oldham), go camping in the Oregon mountains. The drama is in small things, but they hold your attention. Without flashbacks or reminiscences, you come to understand the two characters and the enduring nature of their friendship. Old Joy has been well reviewed in the States, but has yet to be distributed in Britain. As a bonus there's a haunting score courtesy of Yo La Tengo and Smokey Hormel. Grain in Ear (Zhang Lu, China/S. Korea, 2005) follows the struggles of the marginalised Korean-Chinese in China. Cui supports herself and her son by selling food at the roadside. Bureaucracy thwarts her at every turn, her relationships with a married man and a young policeman collapse and her son dies. When an opportunity appears to take her revenge on her adopted society, she takes it. This work recalls Bresson in its austerity and its inexorable playing out of consequences, though some people might question the weak ending. The Leeds festival has long championed Ki-duk Kim, and one of the largest audiences this year was for his latest film Time (S. Korea, 2006). A girl undergoes plastic surgery to improve her relationship with her boyfriend. This makes her unrecognisable, allowing her to assume a new identity and experience the relationship anew. She comes to realise the emotional complications when her boyfriend does the same thing. Devotees of the director might be surprised by the urban setting and his enthusiasm for dialogue. Many of the couple's encounters take place in a cafe, from where they watch the world outside. Given that Ki-duk studied in Paris, perhaps it is not surprising that the film recalls Rohmer's wry but humane studies of the minutiae of relationships, while there are echoes of La Belle et la Bête in the use of masks and what David Thomson calls Cocteau's discovery of the magical in the real. Ki-duk's previous film is still awaiting distribution here. Why are distributors in English-speaking countries shunning one of the more interesting directors working today?
Not a vintage festival, but any celebration of film is to be applauded. Such events showcase work which would not otherwise be seen and hopefully entice audiences who might not otherwise visit the cinema, though many Leeds citizens still seem unaware of the treasures on their doorstep. Festivals need to proselytise and Leeds deserves to be applauded for importing a print of the seldom-seen The Quince Tree Sun (Victor Erice, Spain, 1992), as well as initiating awards like the Golden Owl Competition to spotlight work which is without a distributor. The winner this year was I Don't Care if Tomorrow Never Comes (Guillaume Malandrin, Belgium, 2006), a glum piece in a realist tradition about an ex-prisoner who takes his son on holiday. It might find wider circulation on television. My qualm is that some films seem tailored for the festival circuit and are destined never to escape its rarefied atmosphere. Communications companies and national film boards which finance such work do a disservice to film-makers if they fail to encourage reaching out to a wider audience. Lateral thinking is required to exploit the potential of the internet and cheap DVD production. Perhaps film festivals should follow the example of orchestras in London and Berlin which have established their own labels for marketing CDs direct to the public.