20th Anniversary Survey Responses

As part of a celebration for twenty years of Offscreen existence, I came up with a survey reflecting on the course cinema has taken in the past twenty years. I sent the survey out to friends, Offscreen contributors, and film critics who I thought would find the exercise fun rather than work. I truly thank all of you who took the time to write down their thoughts and for your help in making the 20th anniversary of Offscreen something a little special. Here's for another 20 years! Here are the questions I sent out, with instructions to each to comment on as many questions as they wanted.
Questions:
1- Since 1997 has the way you normally see films changed? In your city, how has the culture of film viewing changed? Are there still many theatres to see films? Have many cinemas closed? Are there still theatres that project 35mm or 70mm film?
2- Pick a film from 1997 and a film from 2017 that you feel reflects the changes that have taken place in cinema over the past 20 years. Or that reflect a strange consistency.
3- Do you think 2017 is a better place to be for the cinephile? Has the greater choice of how to watch films made the experience richer or poorer?
4-Among your sphere of friends, work, family, do you think film has the same cultural impact today as it did in 1997, or earlier? Give an example of a film which has resonated culturally in terms of a social impact (style, fashion, politics, environment, food, minority representation, etc.).
5-Who do you think is the most important filmmaker to have debuted since 1997? The veteran filmmaker from before 1997 who most disappointed? Or who has made a great comeback since 1997?
6-Has your habit of collecting, archiving or remembering films changed since 1997? Is buying physical media still important to you?
7-Can you point to an important cinematic trend, style, sub-genre, or cycle that has developed since 1997?
8-Has writing about cinema gotten better or worse in the past 20 years? Any groundbreaking works of film criticism, theory or analysis since 1997? Where do you go for critical thought on cinema: online, podcasts, blogs, books, journals, magazines?
9-What is the best cinematic event of the past 20 years?
10-What is the most important Blu-ray release since 1997? Or film you most want to see released on Blu-ray?
Stacey Abbott (Lecturer, University of Roehampton, Horror specialist)
1-Living in London (UK) means that I have access to a wealth of cinemas from a range of cinema chains (mainstream and art-cinema) and so I am an active cinema goer. I go at least once a week, which is consistent, more or less, with my cinema going habits since 1997. In London the issue is less that cinemas close but rather that many independent cinemas have been taken over by chains and that the economic pressures on cinemas mean that the programming strategies across cinemas are less distinct. Most cinemas, whether art house or mainstream, will screen the major film releases and the opportunities to see less mainstream fare is more restricted. But the opportunities are there. Furthermore, art-cinema chains are increasingly making their less mainstream material available via their own on-demand services, which means greater access to a diversity of cinema online. I am also fortunate to have access to the British Film Institute flagship cinema, BFI Southbank, which continues to screen 35mm and 70 mm where possible.
3-There is no easy answer to this question. I would say as a cinephile there are more films available in excellent quality through DVD and Blu-ray. Specialist labels such as Criterion, Arrow, Masters of Cinema, have made so much material available for personal viewing, beautifully contextualized with commentaries, documentaries and program booklets. So there is a lot for the established cinephile to enjoy. The downside is that I am not certain that contemporary culture fosters new cinephiles. For instance, there are fewer films available on television then when I was growing up, when there were multiple channels that screened a diverse array of films. While television is often perceived as in competition with cinema, it in fact became an excellent place to screen back catalogues and it normalized a diverse range of films, particularly in terms of film history. For instance, as a child, I comfortably watched silent comedies or classic horror films alongside contemporary dramas and genre films. As a result of this back catalogue that was easily available, television encouraged more people to step beyond the familiar contemporary cinema. So while there is a lot of great material that is accessible through a wide range of outlets, they seemed designed for those who are already well versed in cinema history and cinema culture. You have to know where to look as opposed to easily available on television for all to see. This fact, in addition to the growing choice of leisure activities for young people, means that we are not necessarily encouraging and developing new generations of cinephiles. My students do not have the historical knowledge of film that I had when I started as a film student. Services like Netflix has the potential to encourage diverse film viewing but in my experience, particularly in the UK and Canada, the choice of films is often quite limited. This may change….I hope it does.
4-In my sphere of existence, film absolutely has a significant cultural impact and plays an important part within our everyday lives, although I am not certain how representative of broader culture my family and friends are. I would say that going to the cinema is perhaps less of a normal every day activity for most people than it was in my youth, in part as a result of the cost of cinema tickets. But film is central within my social circles. Of course some cinema releases emerge and demonstrate the impact that film can continue to have on a diversity of audiences. For instance, two films that came out in 2017 come to mind when thinking about how film continues to resonate. The first was Get Out, social horror at its best and one that clearly hit home for many audience members, whether fans of horror or not. It tapped into global concerns about social exclusion and racism, but in particular spoke to specific tensions surrounding race in the United States. This film seems to be deliberately in dialogue with the social commentary that has built around George Romero's Night of the Living Dead since its release in 1968 in the midst of the civil rights movement. It is also overtly speaking to the #blacklivesmatter movement of recent years.
The second film is Wonder Woman, the most recent cinematic release with the DC superhero franchise. Given the ubiquity of superhero films in the 21st Century, it may seem odd to highlight this film as one with particular resonance – to many it may seem like another in a long line of comic book film (Logan, Guardians of the Galaxy, Spiderman, and Thor: Ragnarok all came out, or will come out, in 2017). But its opening weekend has been marked by emotional outpourings of relief, satisfaction and love for the film by fans via social media, as well as online articles about its opening weekend box office success, and controversy as a proposed women-only screening, to be held as a charity event for Planned Parenthood, was met with a hostile backlash from some male 'fans'. While this film is not perfect, nor does it necessarily pretend to be more than a comic-book action film, its significance is in the fact that it is the first woman-centered superhero film to come out as part of the current stream of DC and Marvel cinematic out-tings. Its box office success signals that women-centered films (directed by women) can achieve blockbuster status, even within a genre that is traditionally led by male stars or characters. The controversy and backlash against the women-only screening reminds us why it is so important for films like this to come out. The emotional response by female fans speaks to the importance of representation – particularly when it is handled well – as female comic-book/superhero fans cheer at seeing themselves represented, not as the sidekick or love interest, but as the hero. This idea resonated for me as I watched a 10-year girl leave the cinema-screening I was attending, proudly wearing her WW crown. Furthermore, Wonder Woman is not simply a kick-ass heroine (although she is that) but she is able to be innocent, comic, vulnerable without it undermining her position as a superhero. Its resonance has been palpable (as was the response to Star Wars Force Awakens and Rogue One) in recent months and makes this a film to remember.
5-I don't know that I can label one director as the most important director but I have been particularly impressed by the work of Canadian director Denis Villeneuve. His work is confident, stylish, cerebral and generically provocative. Loved Arrival and can't wait for his take on Blade Runner. I have also been greatly impressed by the films of Sarah Polley (also Canadian). While she has maintained her career as an actress, her shift into filmmaking, beginning with a series of shorts followed by the feature films Away from Her (2006), Take This Waltz (2011), and the documentary Stories We Tell (2012), demonstrates a distinct new voice for Canadian cinema. Her choice of subjects is compelling, her storytelling nuanced, and her visual style is subtle but innovative. I look forward to her next film. I have been most disappointed by Quentin Tarantino, who in the early 1990s seemed to offer a fresh, voice of cinema, gifted as a screenwriter and filmmaker with Reservoir Dogs and Pulp Fiction. But after his first couple of feature films, his work has felt increasingly derivative, not only of film history but his own work. His fresh approach to dialogue and plot structure now feels overly familiar and often stale.
To me the most significant comeback in the past twenty years was George Romero. While he had never really gone away, the resurgence of the zombie film in the early 21st century, with 28 Days Later, the Dawn of the Dead remake and horror comedy Shaun of the Dead, paved the way for a return to Romero's distinct, political, approach to horror with Land of the Dead (2005). Although it was sad to see that he, once again, is struggling to get funding to make his type of horror films. Also, while Kathryn Bigelow has never really been away and I have liked all of her films to varying degrees, there was a period in the early 2000s after the box office failure of K19: Widowmaker (2002), where she seemed to disappear as she sought to develop a series of projects. Her return to the screen in 2008 (after a six-year absence) with The Hurt Locker was a tour de force return, as the film was a critical and commercial success, which led to her being the first woman to win the Best Director Academy Award. Following this with Zero Dark Thirty and the upcoming Detroit, reminds us that she does not shy away from difficult subjects and is a directorial force to be reckoned with.
6-I continue to collect/archive films on DVD/Blu-ray. While online/streaming services are great and enhance accessibility for many, I am concerned by the perception that 'everything is available via these services' despite the reality that licenses for individual films are not indefinite and things can disappear at any time. Owning physical media ensures that I can have access to the material I value, when I want it. While physical media does deteriorate and so it is also not, necessarily, available forever, careful maintenance of media can slow this process.
The major change is that I no longer record films off television but rather rely on 'catch-up' services if I miss something on television (although I do use the off-air recording services of the UK organization Learning on Screen [BOB] for teaching purposes). This is a strange transition.
7-While not a new genre, I would say that the past twenty years has seen a phenomenal and global resurgence of the horror genre. High profile sub-genres have flourished, such as found footage (Blair Witch, Paranormal Activity, [REC]), torture horror (the Saw franchise), vampire (Byzantium, Twilight, A Girl Walks Home Alone At Night), zombie (28 Days Later, Land of the Dead, Pontypool, Train to Busan) and tales of hauntings and possession (The Conjuring, Insidious, The Awakening). In Britain, there has been a return to rural horror (Kill List, In Fear, Dog Soldiers) as well as the development of working class hoodie-horror (Eden Lake, F, Heartless). There has also been a rise of cross-over horror cinema, that has brought horror into art-house as well, such as Let the Right One In, The Witch, Only Lovers Left Alive, Raw, A Woman Walks Home Alone At Night, Babadook, Under the Shadow, Transfiguration and Under the Skin. Horror also maintains a high-profile place within the mainstream, with films such as Crimson Peak, the Purge franchise, and The Conjuring. Horror has become one of the most popular genres on television, a medium which used to be considered incompatible with the transgressive nature of the genre (American Horror Story, Wolf Creek, Scream, The Walking Dead). New directors with fresh approaches to the genre continue to appear, such as the Soska sisters (Canada), David Robert Mitchell (USA), Jonathan Glazer (UK), Jordan Peele (USA), Srdjan Spasojevic (Serbia), Jennifer Kent (Aus), and Alexandre Bustillo and Julien Maury (France), to name just a few. And the genre continues to walk a fine line between mainstream entertainment – Insidious, Sinister – and social commentary – Get Out, The Purge: Anarchy, Under the Shadow.
8-Has writing about cinema gotten better or worse in the past 20 years? Any groundbreaking works of film criticism, theory or analysis since 1997? Where do you go for critical thought on cinema: online, podcasts, blogs, books, journals, magazines?
Film criticism has continued to grow and develop within the last twenty years. The proliferation of space for publication means that we are spoiled for choice. I continue to draw from the best of all outlets, including online journals, blogs, podcasts, books, journals and magazines. This proliferation of outlets also means that one needs to be increasingly discerning as there is a lot of mediocre or poorly researched work out there but for the most part it is an excellent and exciting time for film criticism. I would say that the proliferation of film scholarship has led to a dialogue centric approach to the discipline, in which we don't necessarily see or look for one leading voice to break new ground, but rather a series of voices, in dialogue and offering news perspectives on the subject.


Michael Archibald (Freelance film critic)
1-Throughout most of my life I've kept a good balance between home and theatrical viewing. If anything, I now cherish the theatrical experience more than ever—even with the replacement of celluloid with DCP, which is, to me, entirely lamentable. In my hometown of Vancouver, the culture of film viewing has changed radically. The small-business single-screen venues are gone, and the Cineplex chain controls all mainstream first-run theatres. The two arthouse theatres are both non-profit outfits: the Cinematheque and the Vancity Theatre, which exists under the aegis of the Greater Vancouver International Film Festival Society, for which I work seasonally. The Cinematheque programs retrospectives, recent restorations, etc., as well as some first-run or post-festival-circuit screenings of more recent art films. It's a solidly, unabashedly highbrow theatre, and I'm very grateful for its existence. Unsurprisingly, its attendance has plummeted in recent years. The Vancity Theatre, also an excellent institution, is more oriented towards recent releases; along with art films it shows a lot of info- and issue-docs. DCP rules almost exclusively at Vancity; it dominates at the Cinematheque as well, but there 35mm occasionally pops its head up, and there's a 16mm projector in the booth that gets put to use for avant-garde screenings.
2-I'll go for consistency:
Commingled Containers (Stan Brakhage, 1997)
For Rest (Shinya Isobe, 2017)
Two avant-garde gems, both concerned with speed and physical transformation. In Containers, the speed is rapid and the transformation chaotic, while in For Rest the transformation is so slow it has to be captured with time-lapse photography. One is exuberant, the other morose; one is silent, the other scored; one is impressionistic, the other affects a sort of neutrality toward the material. But both are the work of committed manipulators, both are dedicated to perverse notions of beauty…and both are shot on 16mm. The format lives on despite it all. That's a consistency worth celebrating, and guarding.
3-For me the greater choice of how to watch films has been a mixed blessing. I was born in '78, and over my lifetime variety has contracted in terms of theatrical film viewing and radically increased in terms of home viewing. The two changes are linked, with the home-viewing boom serving as an alternative to the increased corporatization and homogenization of theatrical film culture but also working to hasten it. The rise of digital media has made it possible for cinephiles to watch a movie from nearly any nation, and certainly any given decade of cinema history, on any given day—providing they're doing it at home. Those of us who live in major cities often bemoan the ubiquity of digital projection and the decline in arthouse culture, and we're right to; but it's important to remember all the cinephiles, nascent or mature, who live in more remote locations and who can now transcend the cruel and unjust limitations of their local corporate multiplex or (good riddance!) Blockbuster outlet. It's all part of the same dynamic. If I could be picky and choose an ideal point along this historical continuum, I'd pick the period after VHS but before Blu-ray and streaming. 35mm still ruled, DVDs were good enough, and there were alternative video stores. But, again, that's my blinkered urban perspective—if I lived in a small town I'd likely feel quite differently.
4-I have only a handful of cinephiles among my friends, and none in my immediate or extended family. The cinephile friends I do have are, for various and somewhat arbitrary reasons, mostly younger guys. They were preteens in '97, and their cinephilia has been defined by internet communication and the home-viewing boom. For them—more so than for me at this stage in my life—cinema is a matter of consuming passion. Many others in my life would much rather watch Orange is the New Black, or The Americans is the New Sopranos, or whatever other piece of binge-friendly, directorially anonymous upscale product they can stream or download, than go to a movie theatre. The answers to your questions keep overlapping: DCP, theatrical ownership concentration, home-viewing technology and the supposed renaissance in television all relate to the triumph of digital media. My social world consists almost entirely of educated progressives, and it's defined by a lopsided polarity: on the one hand, you have members of an energized but very insular cinephilia, and on the other you have people for whom movies mean far less than serial cable dramas do.
As far as culturally impactful movies go, I'd probably cite Michael Moore's Fahrenheit 9/11 (2004). It was a smash hit, a major cultural intervention, and a seminal film—broadly, in the resurgence of the documentary film form in the West, and more narrowly, as a new template for political documentary-making.
5-Most important filmmaker: Ramon Zürcher. His feature debut The Strange Little Cat (2013) is almost shockingly original; it somehow manages to turn everyday human behaviour into something wildly absurd without making it outlandish. The filmmaker excludes almost all but our most banal actions, and then subtly inflates them; the effect is profound estrangement and high comedy. This is a movie where the offscreen space speaks volumes, and Zürcher composes and cuts like he's assembling building blocks—when it comes to the image as a unit, he's one of the few art filmmakers working today who stresses interdependency over autonomy. The takes are shorter, the pace quicker, and the cutting more pronounced than in the work of almost any contemporary festival-circuit auteur I know of. This is truly revolutionary stuff; perhaps the filmmaker's innovations are too personal to have any great influence, but nonetheless they're the most radical I've seen this century.
No pre-'97 filmmaker I know of has fallen off harder than Michael Mann. For most of my favourite working directors, digital cinematography has been a boon: Kiarostami, Jia, Tsai, Benning and Fincher have all made great stuff with hi-def video, and with each year the possibilities for the format expand. I wish I could put Mann with those guys, because few directors mean as much to me as he does, but I find his recent work glib and pallid and bloodless. With him, volume seems to work against power, and historical progress against quality: the easier it is to catch an image, and the easier it is to assemble them, the more disposable the work becomes—both from moment to moment and as a whole.
6-For the most part, buying movies has never been important to me. I just don't have a collector's ethic, and lacking that I don't see much need to pay $30 or more for a movie I may only ever watch once or twice at home. I dearly miss the days of rental stores like La Boîte Noire in Montreal and Videomatica in Vancouver. There I could spend, say, $50/week and see close to ten movies; that same amount of money equaled the ownership of two, three titles tops. That was the equation for me, plain and simple. When the video stores went down in flames, I started using the library to rent DVDs—ethical and free.
What has led me astray from the library—and here's where the embarrassment comes—is the availability of bootleg downloading. I'm reluctant to buy movies; I've found streaming a pretty weak option, both in terms of quality and—in Canada, at least—variety; and there are no longer any good rental outlets in my city. That leaves me with the library and/or the pirating sites. What can I say? I know perfectly well that paying collectors are subsidizing my viewing habits, that I'm draining revenue from small DVD labels, that stealing is (almost always) wrong…But oh, those pristine HD rips!
Morality aside, the downside to this habit is that I've acquired way more movies than I'll ever watch. The variety available from downloading is just staggering—especially if you're a member of a certain site that I won't, and probably don't need to, name in this space. There are DVDs and Blu-rays on both my wish list and my actual shelf, but for the most part it looks like more of the same for me going forward. Maybe if streaming quality improves, and resources like Filmstruck become available to Canadians, I'll change my ways.
7-Pixar's Toy Story came out in 1995, but it would take at least a few years before the Hollywood 3D animation train really got rolling. For me, the rise of digital animation in Hollywood—I'd say it counts as both a trend and a style—is a wonderful thing. The colours, the textures, the layered compositions and, in many cases, the great stories that define it give me hope for the future of big-budget American filmmaking.
8-I'd say it's gotten worse—it's now too easy to produce and, relatedly, there's too much of it. How many cinephiles today don't write about the films they watch, even if only on social media sites? As cinephilia has shrunken, film writing has grown in volume within its borders—almost to a swelling point, it seems. By no means do I exempt myself from this dynamic: most of the film writing I've done has been for online readers, and I'm proud of a lot of my work—and of the spaces that have allowed me to contribute. At the same time, I worry about what will happen to serious film writing when every cinephile is an unpaid critic.
Another big problem is the death of innocence: 20th century film critics didn't have DVDs, and for the most part they didn't have highly developed and formalized film studies programs to pass through on their way to becoming film writers. With digital video, anyone can speed, reverse and freeze a film for analysis. In film studies programs, students draw on established, institutionalized teachings of film history, theory and aesthetics, and they're required to write about cinema in formal expository style. The upshot is that younger film writers, myself very much included, are now so encumbered—by empiricism on the one hand and academic imperatives on the other—that their imaginative freedom has been squeezed. Does anyone under 50 today write with the exuberance, the perversity, the sheer sense of wonder and novelty that defined the work of Sarris or Truffaut or Sontag or Kael or Farber? Younger writers have to balance, or else choose from, the empirical and the intuitive, the academic and the belletristic. For me it's been a hell of a challenge, and I see the tension reflected in the writing of most of my peers.
Two major events in criticism for me have been the release of David Bordwell's The Way Hollywood Tells it: Story and Style in Modern Movies in 2006 and the posthumous collection of Andrew Britton's writings in 2008. Bordwell's book is a hugely important work, giving us a look at contemporary Hollywood aesthetics that's both wide-ranging and finely detailed, and pinpointing some of the most important changes in film practice to have ever occurred. The Britton book is a more mixed bag for me, but it contains some of the finest evaluative criticism I've read. His take on Hollywood Vietnam movies is superlative, and his anti-blockbuster piece "Blissing Out: The Politics of Reaganite Entertainment" is simply one of the finest critical essays I've ever read. A trenchant analysis of Hollywood's most wretched decade, it retains its relevance in our age of even greater domination by tentpole cinema.
Most of the reading I do these days is online, but I'm still fairly paper-oriented when it comes to film stuff. I'm on Letterboxd, a film-loving social media site where I read, and sometimes write, reviews of recently viewed movies. One online film critic I like is Richard Brody (the only cinephile critic who's ever worked for the New Yorker, and they barely even allow him in print!). He's one of the few relatively-new-to-the-game critics who has a pronounced personal philosophy when it comes to movies, and I appreciate that. The film blogs I used to love are all dead or nearly dead: Jim Emerson's Scanners, Glenn Kenny's Some Came Running, and the deeply lamented davekehr.com. For longer-form stuff, I mostly read essay collections and other books. The only print magazine I read anymore is Cineaste.
9-I'd say the South Korean film renaissance, which is still going strong. I love contemporary S. Korean movies for their emotional force, their superb casting and acting, and their dogged resistance to contemporary trends. One example: apparently filmmakers in that country didn't get the memo about the death of mid-budget genre films; they're still producing them with gusto and inspiration.
10-As far as I can tell, Apichatpong Weerasethakul's Syndromes and a Century (2006) has not been released on Region 1 Blu-ray with English subtitles. That's one disc I'd be thrilled to buy—yes, buy.

Douglas Buck (filmmaker, cinephile, 'Buck a Review' columnist/blogger)
1- A bit. I have, and probably always will, love to experience as many movies as possible at the cinema houses. I spend most of my time watching older and classic movies and that includes films often just a decade old. I prefer to avoid whatever current buzz or interest (or even lack thereof) that exists around a current film, because I often feel it will eventually have little to do with the historic 'life' (or 'death') of the movie. I consider myself a student of film (and one who is forever learning about this art form, the most influential and powerful ever created) but not of pop culture. One major change that has occurred is my film viewing at home. Within the last 5 years, I've acquired a projector, a 10'x8' wall screen and a surround system, so my home viewing is… well… kinda amazing (though it doesn't stop me from hitting the rep cinemas at all).
I moved to Montreal from New York City in 2005 and can't say I was fully aware of the film viewing habits and culture operating here when I arrived. For a rep cinema lover like myself, though, coming from the embarrassment of cinematic riches in New York City, there seemed to a bit of dearth of quality programming or venues for this type of viewing in 2005. However, over that last decade or so here (and, from what I've seen, all over North America), there seems to a resurgence of interest in actual film projection and rep programming. For example, the wonderful all-celluloid Film Society/Cineclub, which has been going on for 20 years or so has certainly had a noticeable boost in attendance the last few years and continuing smaller venue events such as the portable 35mm projection night, presented by Cinema 1999, at Bar le Ritz on Jean Talon, have cropped up over the last few years to decent (and young and attentive) crowds. The Cinematheque Quebecoise over the last few years has noticeably improved their programming, doing not just one-off screenings, but actually thoughtfully considered an on-going film print series for film lovers and students.
In New York, it's been twenty years of lots of change to ultimately get back to not only where it started, but even better than before in certain ways. Over the first decade of that twenty years, a number of cinemas closed, including rep houses (in a city always known to be teeming with them). However, over the last decade, mirroring the North American resurgence, a number of really wonderful, well-funded rep houses have come alive – from the Metrograph and the new Quad, both in Lower Manhattan, to the Nitehawk Cinema and the Alamo Drafthouse in Brooklyn (with the Nitehawk poised to open a second , much larger 7-screen venue, with four theaters having 35mm capabilities… and one having 70mm!). From my many trips down there, I can say… New York is even a greater rep cinema fan's delight than ever. As far as your local mainstream multiplex theaters, they're still kicking, though rarely do they offer film anymore. They mostly play movies from that small pool of latest, usually-CGI-engorged product they're pushing that month.
2- 1997's Face/Off, John Woo's only Hollywood masterpiece (the rest of his masterpieces were done back in China), proved that amongst the depressing mass of low-brow, cookie cutter, status quo corporate-minded mediocrity pushed out by the Hollywood studios, there was still a small space left in which an individualistic auteur voice could somehow squeeze through, playing with the toys in the mainstream sandbox and managing something transcendent (while making a lot of money). Small consolation, perhaps, but at least some hope in a cinematic landscape where the 'independent' non-studio film really was on its last legs. Of course, it only took a decade of frustrating studio interference to ultimately lead Woo to get the hell out of Dodge and back to China where he could make the movies he wanted.
2017's Get Out, however, seems to have shown that the indie film, especially in the horror genre, has claimed some new legs. It may be an indie spirit that's a bit too do-gooder politically correct in its vision, but then again it's youth… so there's time to hopefully grow out of that pathology.
3-2017 is a wonderful time for a cinephile like myself. The amount of choices, from old once-hard-to-find classics to the new stuff, is as never before. The only niggling issue that I wonder about though is that there was something powerful and romantic about only having heard about a film and not being able to see it (or to have to wait YEARS to finally get the chance). Having everything you want to see immediately available at your fingertips kills the magic a bit and waters down the appreciation that comes with building anticipation. I don't think today's film lovers will ever quite understand how something delicious can grow from word of mouth and limited ability to get your hands right away on something.
4-Film today has a greater impact, unfortunately, because the corporate complex has taken over the industry and is that which decides what we will see. You could say it's always been that way, but the truth is it's never been this complete, even in 1997. The entire Marvel universe of films, for instance (and Star Wars films, etc.) basically operate as a way to keep an entire adult generation infantilized and a way to keep them as perfect little consumerisms. As they have now controlled the entire political process in the United States, as well as the economies in the entire Western World, the corporate/military elite control what the masses talk about and digest in the movies – that is, military and corporate friendly, infantile fantasies in the service of distracting the populace away from the terrible exploitation and damage being done the world over. All of which, of course, has an expiration date, as even the FBI has declared climate changing leading to an ungovernable planet in less than 50 years, scientists have reached consensus that we are in the middle of the planet's sixth mass extinction (the first man-made one, though) and important progressive political voices feel certain that, with the building nuclear weapons programs and out of control wars in the Middle East, that a nuclear war is likely.
6-One thing that I've certainly picked up within just the last few years is cataloguing each film I see on my Facebook timeline with a photo and, if not a full review, at least some specific thoughts. Back in my college years (a decade before 1997, I'm afraid), there was a period of time in which I catalogued each film by individual index cards. The Facebook way has proven a lot more productive, allowing comments from fb friends… and now a new blog spot at Offscreen!

Leon Saunders Calvert (cinephile, writer)
1-Partly due to being older and having a family, as well as the home viewing experience being significantly better than 20 years ago, I am more happy to wait to view films on bluray/DVD or streaming (Netflix) rather than make a trip to the cinema. We have an excellent small cinema, part of the Everyman chain in the UK, in our town but for really big event films I might make a trip to the London IMAX. The options for multiplexes are numerous and have increased although the film selection re what is shown has done the opposite and the ability to see non-digital projection is limited to small theatres that film societies use.
2-I haven't seen anything released in 2017 yet! So instead I'll pick Robert Zemeckis's Contact and Denis Villeneuve's Arrival. It is possible to make critically claimed and successful science fiction films for adults which promote the resolution of conflict through words and ideas and recognize that, to quote Kubrick, the universe is not "hostile but that it is indifferent; we must supply our own light".
3-It is better in that cinema is truly global now and digital production of films has democratised the process – with that comes diversity and access to new filmmakers, etc. It is worse in that product from Hollywood is so saturated and more driven now by economics than it ever has been, so the local multiplex is less varied in terms of what it offers despite
4-I think film does have the same cultural impact now but this is a problem given that the dominant ideology is defined by Hollywood and American mainstream cinema is now utterly engrossed with superheroes and fantasy. The Fast & the Furious franchise is unfortunately a good representation of this — the success of which I still struggle to comprehend.
5-Christopher Nolan and Paul Thomas Anderson represent the continuation of some of the great American filmmakers (Stanley Kubrick, Michael Mann) — lots of potential but not yet as good as any of their heirs (Nolan's obsession with the idea that deception is a moral necessity doesn't help).
Dennis Villeneuve, Alfonso Cuaron, Alejandro Gonzalez Innaritu, Alejandro Amenabar have also found a strong voice which I want to hear more of.
Francis Ford Coppola —get back to making movies! Where is Megalopolis anyway?
Terrence Malick — in serious danger of parodying himself
Oliver Hirschbeigel — from Downfall to Diana!!!
Florian Henckel von Donnersmarck — from The Lives of Others to The Tourist!!!
Steven Soderberg had nearly lost it before 1997 but came back to be a pretty relevant and highly productive filmmaker
6-Yes, I still buy films (the highly quality the better, i.e. 4k) but the film has to be especially special to warrant purchase versus streaming.
7-As digital film has created a democratisation of movie production the style associated with handheld documentary-type footage has been adopted by the mainstream, with Paul Greengrass, Michael Mann and Kathryn Bigelow at the vanguard. This is both exciting and dangerous as it can become yet another tool in the armory of the filmmaker to hide ideology (selection of images and points of view) in plain sight dressed as 'reality'.
8-I don't think anyone has been as coruscating as Robin Wood was in the 80s but the internet has allowed some really interesting voices to get heard via blogs and such like — Kenneth Morefield is a good example that springs to mind.
Generally the quality of film criticism as represented by mainstream reviewers is incredibly poor with very few reviewers understanding the basics of the medium and how cinema creates meaning. There are exceptions, Manohla Dargis, writing for the NY Times, for example.
9-Honestly? Titanic. As an event which got literally everybody to the cinema it is unmatched in the last 20 years.
10-I really want to see Ali: Commemorative Edition by Michael Mann, a new cut of the film which is yet to be released in the UK

Nathaniel Carlson (film critic)
1-I have to confess that I've always been more inclined than not to view films at home rather than at the theater if I have the option. There are exceptions of course (e.g. some event films, festival offerings, etc.) but really they are few and far between. Since '97, the availability of films, obscure or otherwise, and the ability to view them at home, in a high quality form in conditions generally far more ideal to me than theater screenings, has only improved and increased. I have lived in a variety of cities, large and small, over the last twenty years and I suppose the situation is very diverse accordingly. Since I don't go out of my way to see films in theaters it's hard to gauge just how much circumstances have changed over the years, though I'm always a little surprised to drive by local cinemas at various times of the day and see parking lots full as the films generally offered don't interest or attract me at all and I can't imagine spending the often exorbitant fees to experience them there. The theaters I am most familiar with are those associated with larger chains and they rarely seem to falter (in fact there is a large "Bistro" cinema going up right now just a few blocks away from me). These theaters present themselves as the most contemporary and up to date in terms of design and that may be, though I think few chain cinemas are equipped to screen 70 mm films. My own experience, when I do go, is often compromised I think by my preferred film viewing habits—seeing films at home routinely offers the possibility of a far more ideal kind of quality control in terms of managing your immediate environment for maximum comfort and the diminishment of possible distractions but this can increase impatience with other situations in which you have less influence in the configuration of your environment. Other people are as often a hassle as a potential fascination but even the modernized and ultra comfortable seating can be a negative when you have to reserve a seat at the front register without being able to see what the actual conditions are like in the theater itself.
2-For me, at present, the changes between 1997 and 2017 are often ones of loss. I think of the career of Alan Rudolph, for instance, who's last great film was perhaps 97's Afterglow, featuring an Oscar nominated performance by Julie Christie. Since then Rudolph's supremely idiosyncratic cinema has been more marginalized than ever with funding harder and harder to come by and arriving at a long absence then for this director. He does have a new film coming out sometime soon called Ray Meets Helen but this release has been delayed multiple times already. In the meantime, we are deprived and bereft of the kind of work Rudolph does and that absence is glaring: his unique approach was to address his characters in both dramatic and comedic terms with a heightened and expressive stylization running throughout but also an intense sincerity that grounded all of it. This confluence was and is particular and extraordinary with these features complementing and enhancing one another, not undercutting each other; but instead of fostering his cinema as a model of achievement that reaches deep into what reality really is, it's been underfunded, finally fading from much of cultural memory and awareness. Similarly, I think of the great '97 films of a similarly bracing, idiosyncratic bent that reveal a multi-dimensionality to our experience—films like Philip Haas' The Blood Oranges, Lance Young's Bliss and Lynne Stopkewich's Kissed, all films from filmmakers who have gone on to very little if any follow up features. These singular visions are not supported in other words, no matter how good they may be, and we are collectively the poorer for it. Even Paul Verhoeven's Starship Troopers with its clash of ludicrous absurdist comedy and brutal violence is and was remarkable as a mainstream Hollywood product; and a director like Verhoeven would be highly appreciated now were he recruited to give substance to otherwise empty Hollywood products like The Mummy.
3-As I suggested above, I do think in some very specific ways that 2017 is a better or a least more preferred place for me as a cinephile, though I wouldn't speak for anyone else. And of course this cuts both ways because the increased availability of films for home viewing has its own problems. My biggest issue I think with the massive volume of films now available for anytime streaming is simply that very volume, an excess of riches. In order to even determine what to view an endless array of options must be sorted through, which can swallow huge amounts of time as a pure distraction. Having said that, I should also note that massive volume is deceptive because specific streaming services, for instance, only really offer a selection of films, often veering with consistency toward certain genres or production periods. You can access more but to do so often requires a multitude of subscription services and this, in turn, will inevitably lead to the glut of offerings mentioned earlier.
4-In my specific, pretty limited sphere of relationships, I think most have had a pretty similar experience to myself in respect to film viewing. This may just be reflective though of a lack of diversity on the part of those relationships. But of course it's easier and more comfortable to maintain relationships with others who share some similarities or inclinations in common. I certainly don't find the experience "poorer" but one does have to be discriminating with one's time, now more than ever and make some serious determinations about viewing priorities. This can lead to limiting the experience more than actually increasing it but it seems hard to know how else to manage the plethora of riches now available to us (just as with the endless glut of info on the Web—we are forced to be in the position of managing it all and giving it some form that may inevitably end up reflecting our already existing interests and preconceptions rather than encouraging nascent and/or developing ones). The vastness of what is available to us also acts to frustrate the kind of cohesive grand narratives that used to bind societies and give them some comprehension of themselves and some direction. Now we really do exist in a fractured post-modern landscape of subcultures. There are still films and works of art that have social and cultural significance or resonance but it's hard to find ones that really cross borders or speak for generations. As I get older perhaps I look less for that too and am more comfortable settling into my own super stratified subculture; but perhaps so does everyone now. The last film that comes to mind for me that really did seem to "speak for its generation" is Fincher's Fight Club and that's so long ago. Still, I think it's a genuinely great film in how well it manages to get at some often otherwise ineffable details that defined a generation that seemed to slip through the cracks. Though that film still resonates for many and should as its subject is utterly contemporary, maybe now more than ever, there's a way in which it could never have been made quite the same way at any other time: Pitt's deeply resonant declaration to his wayward male disciples that their war was a spiritual war and their great depression was their lives penetrates to that neglected an unacknowledged substratum of modern male identity but to put it in such terms after 9/11 would have been unthinkable.
5-The most important filmmaker to have debuted since '97 is, of course, difficult to determine and dependent on a variety of factors that can shift in terms of emphasis and significance. Even to cast this more in terms of ambition and accomplishment makes it no easier a task. There are many candidates that fit the bill. The culturally specific magic realism of Apichatpong Weerasethakul stands out as does the High Art refinement of Nuri Bilge Ceylan. There is the supreme elegance and vast sensitivity of Julián Hernández, the intricate craft of Andrea Arnold and the virtually transcendent perfection of Jessica Hausner. But especially important for me is the work of Eugène Green, whose Baroque inflected films are dense with both detail and cultural freight. They are also idiosyncratically aligned with an artistic sensibility steeped in the values of another time and the attendant understanding of a culture's comprehensive metaphysic. As singular an artist as Green is, he has significance for me as the heir apparent of the unique vision of Manoel de Oliveira whose interests and emphases, as well as aesthetic, were similarly focused. Though the overlap is pronounced in Green's magnificent The Portuguese Nun, it is evident throughout his filmography in the seriousness with which he treats the entire idea of the fine arts as the inheritance of a larger culture, a vast civilization. It's also apparent in the emphasis he gives to both word and image conjoined, intertwined to the point of inextricability and the deep, lasting significance of these individual elements as such. The great comeback from the last twenty years is surely that of Terrence Malick who arrived again after a period of that same amount of time with the towering achievement of The Thin Red Line. He too is another for whom the inheritance of culture, the language of both words and images, is of great consequence and great importance. The need for the reminder provided by this emphasis cannot be overestimated. For me the veteran who disappointed is probably Atom Egoyan, though I am far more receptive toward his later films than most seem to be. Still, though I attribute much of it to his restless ambition, few of his recent works can measure up to the perfectly pitched accomplishment of his early years. Nonetheless, there are some very fine films in the midst of this period (e.g. Ararat, Chloe, Devil's Knot).
6-I still buy some physical media but less every year. It really does have to be a special sort of exception. This can take the form either of limited editions of specific films (e.g. the Arrow edition of Visconti's Ludwig) or films from artists I admire and whose work I know I will return to (e.g. Costa's Horse Money). Otherwise I really am content with what I have available to me and that is more than enough for several lifetimes.
7-With the fragmentation and dispersal of a unified culture it becomes more difficult to identify prominent new styles and trends that have much sway. I'm just grateful frankly that Mumblecore seems to have effectively evaporated. I guess certain low budget American indies tend to look alike in terms of form and composition, have the same loose, low key energy, but often little to distinguish them, a paucity of cinematic innovation, invention or imagination. In big studio features it's a uniform banality even with the most explosive action pictures. Mostly it's just depressing. Having said that there is an increasing emphasis on image at the expense of words (going so far as to even infect Terrence Malick if the rumors are to be believed that the version of Voyage of Time he personally prefers is the one without narration). This crops up most obviously and prominently in Godard's Goodbye to Language but also in an even more obscure item like Godfrey Reggio's Visitors, but its impact is incremental and insinuating as the resultant product of an academic theorizing and a certain strand of philosophy; it's also likely a reflection of an image obsessed society. If a great artist like Claire Denis has partially influenced this inclination in "art cinema" filmmakers it's understandable as her works have the density of a fully realized vision, setting it apart and showing what can be done with this approach, and they actively extract thought from our reflection upon and response to image; but for many this trend seems more likely an excuse for laxness or even outright intellectual laziness, neglecting the active participation of cognition in art. At this point I'm more inclined to look for trends that I'd like to see actually develop rather than ones already extant. Some filmmakers, like Malick or Davies for instance, seem too singular to have much broad influence but if the work of someone like James Gray, with its profoundly understated approach to modern melodrama, could influence a forthcoming generation of directors, particularly those in the pop Hollywood vein, we would all be the better for it.
8-I don't know that writing about cinema has gotten better or worse over the last couple of decades but what has changed is our access to more of it. Again, there is a vast glut of the available now which challenges not just consumers of culture but those who produce cultural artifacts. How does one set one's work apart in this landscape? That really is a pressing question for writers and artists. It's easy enough to identify what you don't agree with or what you consider to be badly written with faulty reasoning or inadequate evidence but finding the stream of quality work can be difficult, especially as it's not always all accumulated in one location. I do think that quality writing and reflection is always and will always be available to us; the challenge of finding it may just be more momentous now. Online resources obviously seem the most reliable and likely the ones consulted most easily and freely, which is part of what makes them so critical to both readers and writers.
9-To be honest, the best cinematic event for me over the last twenty years was seeing Visconti's The Leopard at a restored screening at The Music Box in Chicago. This was a momentous experience and a reminder for me, who needs the reminding, of what the theatrical experience can be at its very best. Because this was that most assuredly. The Music Box is already a wonderful venue in which to see any film, with its vast theater with painted stars on the ceiling high above, but for this particular film it was particularly transportive. The retro organ that is employed sometimes was employed here in a way, whether conscious or not, that supremely enhanced a sense of traveling back in time to a period more hospitable and accommodating to films such as this one. It was also immensely pleasing and encouraging to see a real community at this event, a packed house but also a cross section of community, which enforced that almost lost idea of a cultural bonding that does not have to be of the most mindless and bombastic Cinema of Sensation variety but can be one in which a cultural artifact reaches beyond us in many different directions and bring us together into common experience.
10-The most important Blu-ray release probably ever is Abel Gance's Napoleon. And this not just for its cultural and historic "value" but because it is another genuinely great film that deserves to be seen in the best possible conditions and benefits tremendously from all of the restorative efforts, applied with such obvious loving care, which it has received.
The film I would like to see most on Blu-ray or any format really is Everett Lewis's 1993 masterpiece An Ambush of Ghosts. For whatever reason this film has never received any video distribution anywhere in the world despite featuring superb performances from a recognizable cast (Stephen Dorff at his very best, Geneviève Bujold, Alan Boyce, Anne Heche, David Arquette). It was released at Sundance in '93, won an award there for cinematography and, after a few more fest screenings, more or less disappeared. I was able to see it at an exceptionally rare screening at USC in 2001. This is a tremendous, essentially lost work of psychologically operatic proportions, searing in its performances and its cinematic intensity (reminiscent at times of an American Greenaway). I wish some adventurous distributor would reach out to Lewis and give this one the release it deserves. Barring this film, I would very much like to see a Blu of Oliveira's Valley of Abraham, for me both his greatest film and the greatest film period.

Elena El Earthbourne (film/theatre director, architect, artist)
1-My hometown, Voronezh (where I was born in 1972) is situated 500 km south from Moscow, towards the Black Sea. At the moment, its population consists of 1 million people. I left Voronezh in 1997, Russia in 1999. In 2013, when I returned, the changes I faced were tremendous. They happened in all aspects of life and obviously have changed the culture of film viewing. In order to illustrate the essence of these changes, I want to give a brief background to the history of some central movie theaters (located in the historical center of Voronezh city) —the permanent cultural constants (architectural attractors) that have influenced the public worldview through the inseparable connection with politics and technological progress. Their contextual change along with the "inner" changes of film representations technologies might be of an interest here.
In Russia, the cinematography of Lumière brothers became known after the review by I. Yakovlev, "A dream in reality", from January 29 (new style February 11), 1896, in the "Novoe Vremya" magazine – "… to see dear people, already dead, or a thousand miles away from us, sitting in my room, walking, acting, laughing; or some great historical event, a national celebration with thousands of people taking part in it, when these events or celebrations took place hundreds of years before us – what is this all as not a dream, as not an empty, but a sweet dream? And meanwhile, this dream is now a realized fact. Many of the events taking place now, our descendants will be able to see centuries later not in a dead picture, but in motion …
On November 17, 1905, a decade after the famous sessions of the Lumière brothers in Paris, on the streets of the provincial center of Voronezh appeared huge posters: "First time in Voronezh! Theater of live photographs in a specially built building in Round ranks (Круглые ряды) on Moscow Street."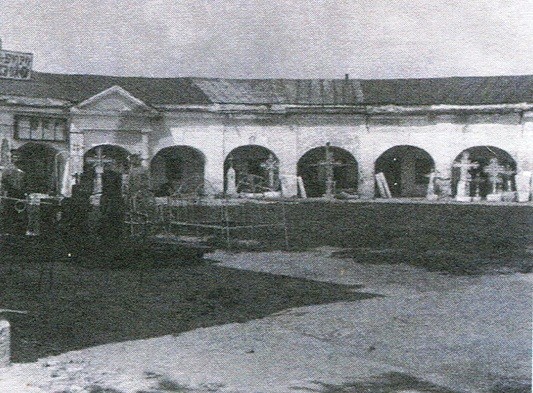 Round ranks on Moscow street, Voronezh, 1905
These messages caused a real stir and a huge number of Voronezh residents came to the first cinema sessions. What they saw on the screen delighted them. Thus the cinema in Voronezh instantly became popular and soon a mobile installation (which was popularly called "Bioscope") began to work in the area of the present Lenin Square. The first silent films that were shown in the "wandering illusions" lasted only a few minutes, among them were "Wonders in the depths of the ocean", "Scenes from the Russian-Japanese War" and "Fashionable Coccock Dance", some of films had surprisingly naïve names: "Akulina coming out of the bath", "Little Red Riding Hood" and maybe "The charms of family life. The very first Russia's moving picture "The Coronation of Tsar Nikolai II in Moscow" was filmed by Camille Cerf of the Lumière Brothers on May 1896.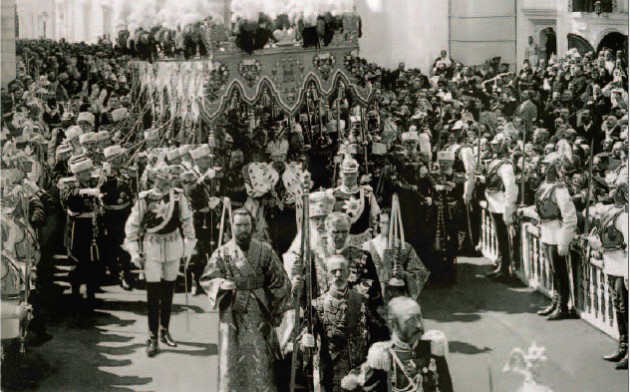 "The Coronation of Tsar Nikolai II. Moscow", May 1896, filmed by Camille Cerf
It is logical that after such success, on August 7, 1907, the first movie theater "Biograph", one story building with 300 seats, opened its doors to public. It was located in the main city street, Grand Noble Street (Grande rue de la Noblesse).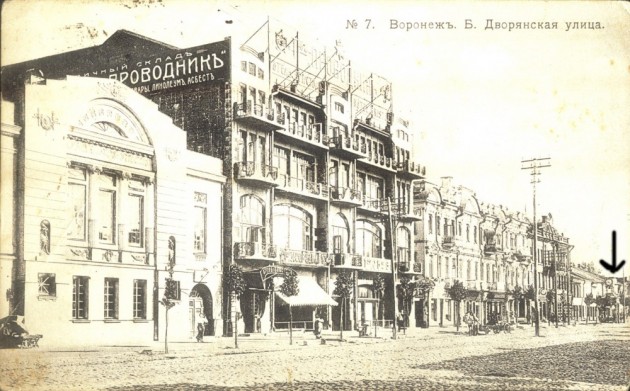 The first cinema building "Biograph" (marked with arrow) in Grand Noble Street, Voronezh, 1907
In "Biograph" the pictures changed weekly, tickets cost 20 kopecks for adults (36 of contemporary US cents) and 15 kopecks —for children. Movies were played from 6:30 pm (on holidays from 5pm). Repertoire in "Biograph" was updated every two days and was not different from the modern one: action films, melodramas, and criminal dramas. However, it is important to emphasize that from the very beginning the Russian cinema was very much politicized. For example on January 2, 1917 (just before the Revolution) "Biograph" demonstrated the film "For the Holy Russia, for the Tsar" (За Русь Святую, за Царя) (See the lower section of the poster).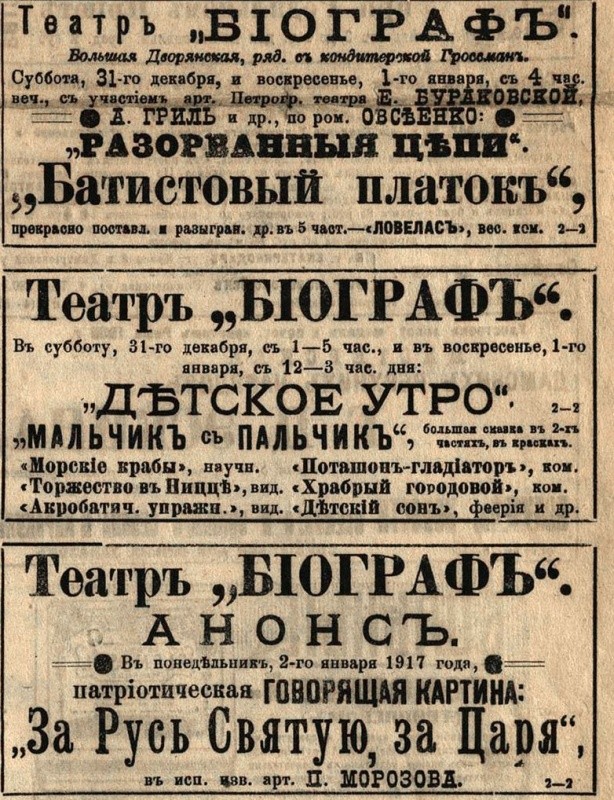 "Biograph" film poster, 31 December 1916 -2 January 1917
Later the Tsar films were replaced by the Bolshevik ones (e.g. Battleship Potemkin, 1925, etc.). V. Lenin in his talk with A. Lunacharsky (the first Soviet People's Commissar of Education responsible for culture and education) named cinema to be the most important from all arts. In 1917, despite the scarcity of bread, sugar, firewood, and full hospitals (during the third year of World War I, Voronezh became a city-hospital, where wounded soldiers arrived every day from the front) the electro theaters, illusions and cinematography were at the peak of fashion. Along the big cinemas there were also small ones. After the revolution, "Biograph" was nationalized and did not function for a long time. Later, it was renamed "Pioneer" and specialized in children's films, among them were: Children of Captain Grant (1936) and Treasure Island (1938) directed by V.Vajnshtok, Djulbars (1935) by V. Shneiderov, and of course Chapaev (1934) by brothers Georg and Sergei Vasilyev (the film is a fictionalized biography of Vasily Ivanovich Chapaev (1887–1919), a Red Army commander, who became a hero of the Russian Civil War, based on the novel of the same name by Dmitri Furmanov, a Russian writer and Bolshevik commissar, who fought together with Chapaev). It is strange that exactly Chapaev became the people's hero and remained it throughout the whole period of the USSR existence. I remember that in 1976-78, in kindergarten, we had a game "Chapaev". I also remember that "Chapaev" film was demonstrated to kids in summer pioneer camps. Moreover, just recently, I watched the interview with the new Russian director Valeria Gai Germanika (who is engaged in revealing painful social phenomena among schoolchildren and teenagers on screen) and was surprised that she called the film Chapaev to be the one that influenced her decision to become a film director! The fate of the "Pioneer" ("Biograph") was decided on June 13, 1942, when the garden (located at the back of the theater) was vigorously bombed by the Nazi's airplane. A lot of kids and adults instantly died. After the World War II the movie theater and the garden were never rebuilt.
The second movie theater in Voronezh was called "Taumatograph" (from Greek "Tauma" – miracle) (1908). The permanent visitors, many of which had their own reserved seats as in a real theater, went to film premieres as to special holiday events.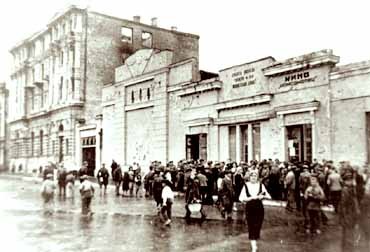 "Taumatograph" movie theater, Voronezh, 1915
The only thing that did not fit the fashion is a complex foreign name, difficult to pronounce. Thus, after some reconstruction in 1915, the name was changed to a plain one for the townsfolk: "Kino" ("Cinema"). 286 spectators could watch movies there and visit a buffet. In 1916 the People's University organized cognitive lectures for children with the display of certain thematic films. After the revolution the cinema was renamed into "Komsomoletz" (Komsomol member/Комсомолец). In April 30, 1943 "Komsomoletz" cinema demonstrated the first film after the liberation of Voronezh from the German troops (Voronezh was occupied by Germans from June 1942 to January 1943). After the war, the building accommodated the Musical Comedy Theater. In 1961 the building passes to Voronezh State Concert Association "Philharmonic" – the function that the building keeps until today.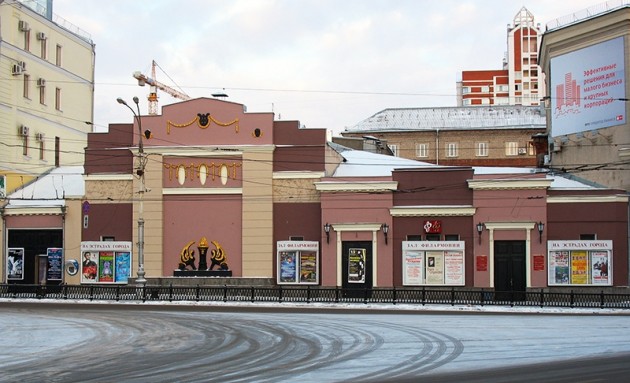 The "Philharmonic", former "Taumatograph", 2017
If "Biograph" (Pioneer) and "Taumatograph" (Cinema) ended their lives before 1997, the major one, "Ampir" (Empire), which began its life in 1913, just opposite to "Taumatograph", has survived and turned in 2006 into the best cinema in Russia (recognized by the Alliance of Independent Film Distribution Organizations).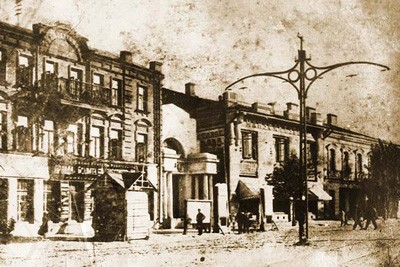 "Ampir" cinema (in the center), Voronezh, 1913
If we look back into the history, we can find that "Ampir" had significant advantages over the "Taumatograph", besides watching movies, visitors could have a good time visiting the cafeteria, smoking and coffee rooms, and a free of charge wardrobe allowed them to comfortably wait for the session and to relax with pleasure during the intermissions.
Cafeteria in "Ampir" (Spartak)
After the Revolution of 1917 "Ampir" was nationalized and renamed "Spartak" (Spartacus/Спартак). The name obviously had a political background (referring to Spartacus's uprising —the third largest slave uprising in Rome).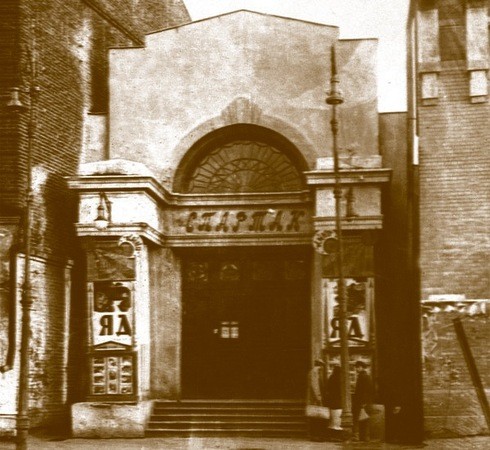 "Spartak" (Spartacus/Спартак) cinema entrance after 1917. Voronezh
During World War II the cinema building was destroyed, but the entrance survived. After the war people watched movies during the daytime in a long foyer, nicknamed the "gut", and in the evening under the open sky between the surviving walls.
Cinema "Spartak" (Spartacus/Спартак) entrance 1947. Voronezh
The new reconstructed "Spartak" cinema opened on Sunday, January 16, 1955. The first session (at 08.30 am) was for children, the film "Team of our street", next one was for adults – a new color feature film "Test of fidelity".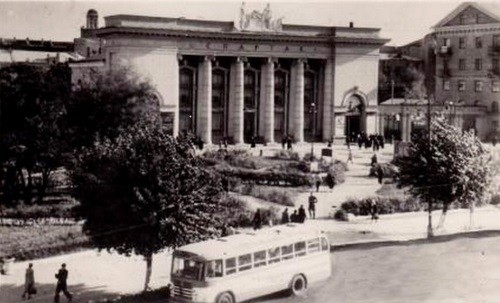 The new building of "Spartak" (Spartacus/Спартак) cinema, 1955. Voronezh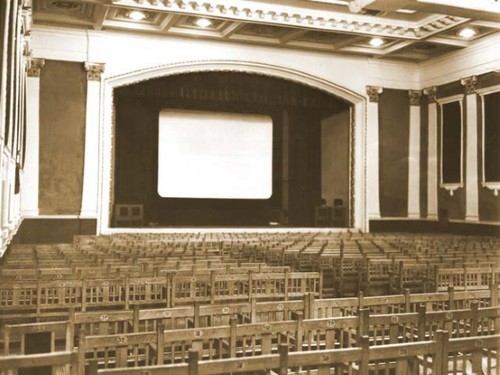 "Spartak" (Spartacus/Спартак) interiors in 1955. Voronezh;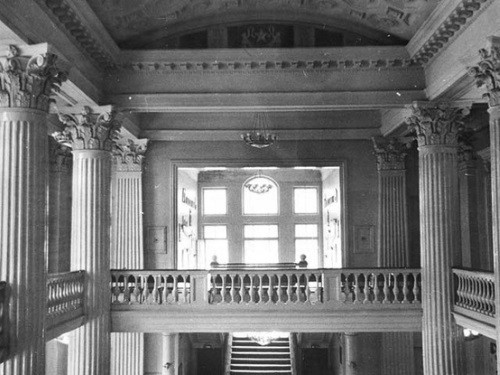 "Spartak" (Spartacus/Спартак) interiors in 1955;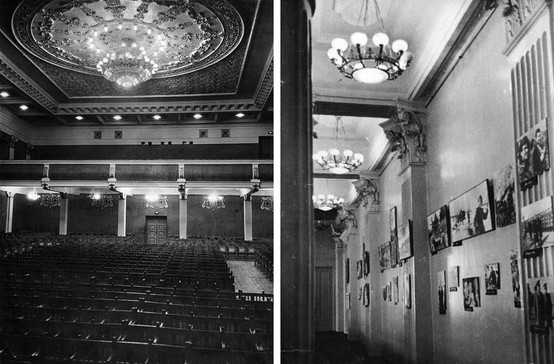 "Spartak" (Spartacus/Спартак) interiors in 1955. Voronezh
After "Perestoroika" (1989), came the "Dashing" 1990s, they brought empty shelves in shops, coupons for vodka and sugar, long lines for groceries, bank scams and so on, all this affected the public culture. In 1997, "Spartak" dragged a miserable existence: many small office tenants that have nothing to do with cinematography occupied the building; the material base of the cinema was worn out morally and physically. This situation was directly connected with closing of Soviet State film studios throughout the country (no more USSR, no more state money for film studios). Thus the impoverishment of the country coursed through the impoverishment of cinematography.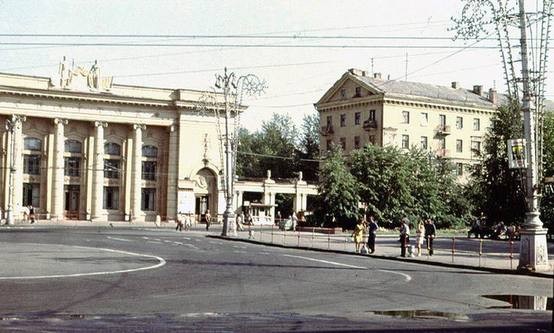 "Spartak" (Spartacus/Спартак) interiors in 1990s. Voronezh
In 1997, as I remember it, the cultural role of movie theaters in Voronezh fell almost to zero. Adult population was preoccupied with obtaining food and money, teenagers and students were preoccupied with the new waves of freedom, free speech, etc. Rock-concerts (of various genres) became so popular, so that they have totally suppressed cinema. Underground music and poetry came out. We all knew the lines of the sarcastic Egor Letov's song "All goes according to the plan" (1988) (Все идет по плану) by heart: "…our grandfather Lenin has completely shriveled, he has decomposed into a mold and lime honey, but Perestroika is still going and going according to plan, and all mud has turned into a bare ice, thus all is going according to plan, according to the plan".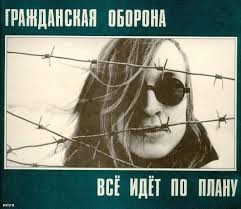 Rock band "Civil Defense", album cover "All goes according to the plan" 1988
In the early 2000s (with the new president and "New Russian" money) the task was set to conduct a reconstruction of the old "Spartak" cinema complex, to renew the adjacent park zone, and to build a modern building of the six-hall cinema, which includes a bowling club, a theater cafe and two coffee houses.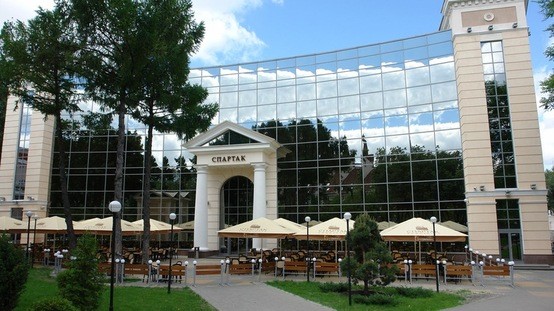 "Spartak" (Spartacus/Спартак) back entrance to the park zone, 2002. Voronezh
The concept of the new cinema was defined by the architecture of the old building of 1950s; so all the interior spaces of the multiplex (except bowling) were built in classical style, with the use of natural granite and marble in its interior decoration (private oligarch's money has done the trick). The result of the transformatio was a new park ensemble and a modern six-hall cinema with several cafes, two coffee houses, a bowling club and banquet halls. In 2015, the grand restaurant "Ampir" opened its doors on the second floor of the main building.
The total area of the multiplex in 2017 is about 9000 square meters.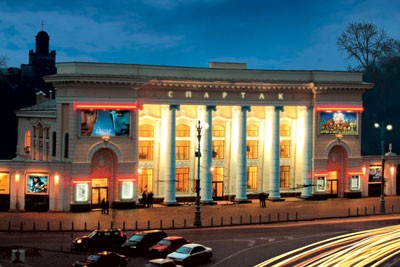 "Spartak", 2017, Voronezh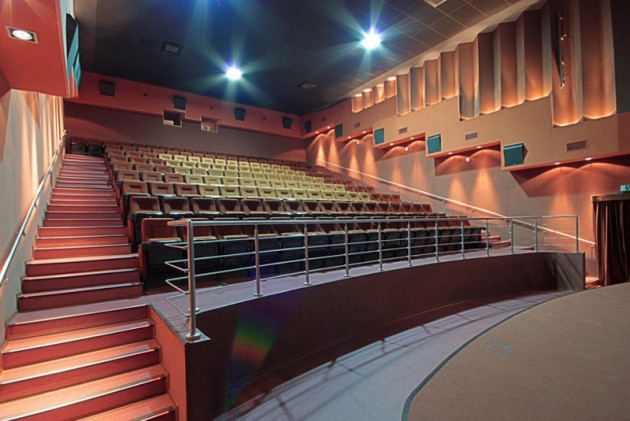 "Spartak", 2017, Interior, Voronezh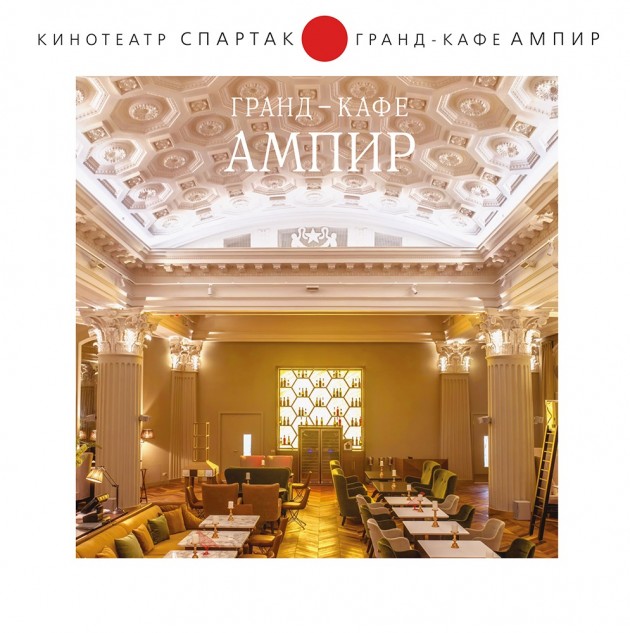 Grand restaurant "Ampir" in "Spartak" cinema, Voronezh, 2017
To tell the truth, upon my return to Voronezh, in 2013, when my old university friend invited me to the "Cinema" café in "Spartak", I was astonished by its transformations. Almost the same story happened with other major cinemas in Voronezh – "Proletariy" (Proletarian), where I first saw Traviata by F. Zeffirelli (in 1983) and (Through the Thorns to the Stars) by Richard Viktorov (1981); and Unost (Youth) cinema, where I first saw Solaris by A. Tarkovsky (in 1980s). Now they are reconstructed and contain a lot of "western" features.
It is important to emphasize that the main difference that I found between Western movie theaters (US, Europe) and Voronezh ones — is the saturation and concentration of multiple entertainment events in one place. For example, in 2016, "Spartak" had 17 film festivals, was the only cinema in Russia that had direct translations of theater plays from several Moscow Theaters, had screenings of the local films about Voronezh and its history, displayed photo and art exhibitions in the cinema foyers, and so on. In 2016, according to the local statistics "Spartak" was visited by 1/3 of Voronezh residents (340,000): mostly by young generation, who come to see movies, and old generation, who are offered a chance to watch theater plays from the famous Moscow theaters. It seems that the private owner, a local oligarch in his 60s, with whom I met in person, does his best to attract people's attention, thus to make money. The only problem is that he defines the local culture of the Voronezh residents according to his taste. Obviously there is no place for contemporary low budget experimental, art-house or underground films (p.s. from time to time some experimental films by the local Voronezh directors are shown in the small private art gallery named "Garbage" (ХЛАМ)). In "Spartak" there is also no place for retrospectives of the deep classical masterpieces. Everything is according to the boss' popular culture classic taste.
Just out of curiosity I opened the website of "Spartak" movie times of June 17, 2017 there I found: Cars 3, The Mummy, Pirates of the Caribbean: Dead Man Tell no Tales, Baywatch, Everything, everything (almost the same I found in Manhattan cinema in NYC!). In addition "Spartak" offers summer screenings of Italian comedies and screenings of theater plays from Moscow theaters: "Oedipus Rex", "Amsterdam", and "Exhibition on Screen" by Phil Grabsky. All in all in 2017, in Voronezh there are 7 major movie theaters and 6 smaller ones, which is about the same amount as in beginning of cinema era in the city, but for a population ten times larger than then. Moreover, all movie theaters in Voronezh have more or less the same repertoire, with some minor differences. All screenings are digital, attracting people with the bright ads of 3D, 4D, 5D, etc. We live in a global world of open boarders; in 20 years (from 1997 – 2017) Russia has picked up (very quickly) the entire major commercial and pop cultural trends of Western civilization. The cost of the movie theater ticket in Voronezh now is around $5-6 (350 rub.) with average monthly salary of $350.
2-I wanted to answer this question in terms of Russian film development. So, I picked two films The Thief by by Pavel Chukhrai (1997) and Attraction (2017) by Fedor Bondarchuk. I feel that these films reflect very much the changes that have taken place in the Russian mainstream cinematography and in Russian society over the past 20 years. _The Thief_  is a Russian drama film written and directed by Pavel Chukhrai. It was nominated for the Academy Award for Best Foreign Language Film and won the Nika Award for Best Picture and Best Directing. It is also the winner of the International Youth Jury's prize, the President of the Italian Senate's Gold Medal, and the UNICEF Award at the 1997 Venice Film Festival. The film is about a young woman, Katya (Yekaterina Rednikova), and her son Sanya (Misha Philipchuk) who in 1946 meet a veteran Soviet officer named Tolyan (Vladimir Mashkov). Katya falls in love with Tolyan, who turns out to be a professional criminal, but who also becomes a father figure to Sanya.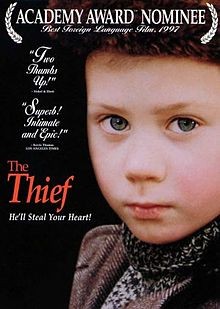 Film poster "The Thief", 1997, Russia.
To my opinion, this film is a 'child' of its time, even though its plot describes the time after WWII, 1952 and later, it has a striking parallel with the criminal situation in Russia of 1990s. The film, shot as the classical Hollywood story, with nice color correction and camera work, but without deep philosophical layers. Nevertheless it struck me with its truth, the brutal truth of human nature (which is the distinctive feature of all Pavel Chukhrai's films). Robbery —is the main hero's life, without which he cannot exist. He himself said: "I like my life, and I do not need another". This is alarming. After all, a person does not understand what he is doing, causing suffering to others. Thief life made Tolyan rude, hypocritical and cruel. The figure of the main hero and his attitude towards the others, including children and women, reflected (in the raw) what was happening in the Russian society after Perestroika. The Dashing 1990s became the cradle of contemporary oligarchs who at that time were just brutal thieves and criminals, very similar to Tolyan figure; who teaches his foster-son to "beat anything, rend your teeth, kick your feet, otherwise you're not a man". The most dark and scary moment in the entire film is when Tolyan uses a boy Sanya as a tool in his burglary plan.
Watching this film again in 2017, I can state without a doubt that the film is a very strong statement against violence and crime, with a special attention to "parents-child", "father-son" bonds. I believe it was the right film in the right time, brutal, but necessary, and, as it happens with every masterpiece, the film has not lost its relevance over the past 20 years. The film Attraction 2017, directed by F. Bondarchuk, a son of the prominent Soviet director Sergei Bondarchuk, was named the first Russian alien invasion film. It is true only in regards to its blockbuster form (in 1979, A. Tarkovsky also told a story about the invasion in his film Stalker). Independent UK proclaimed "Russian alien invasion film Attraction: If it succeeds, it is likely to usher in a brave new era of Russian sci-fi blockbusters". The film was released in Russia and China on January 26, 2017 and is likely to be released in UK later this year. Following his father, Bondarchuk the son has engaged himself in shooting epic pictures (his previous picture was Stalingrad). In Attraction the purely American genre is transferred to domestic soil. The gesture is ambitious and doomed to failure. The only salvation is irony: it is, of course, there. The aliens land in the Moscow sleeping area Chertanovo, just in the middle of teenage romantic story: a schoolgirl falls in love with a redneck, dad does not let her on a date, but she still escapes with her lover. Messengers from outer space meet face to face with the inhabitants of the Moscow outskirts and the Russian army, the girl falls in love with the alien man, because he is much better than the local redneck — and on this the whole plot of Attraction is tired. The love triangle that is offered doesn't function, because of the absence of the clear main hero figure.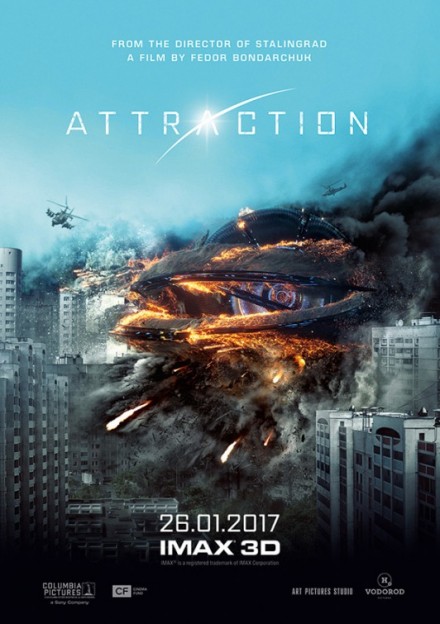 Film poster "Attraction". Outer space spaceship lands in the Moscow sleeping area Chertanovo
In response to Independent UK review I would dare to answer that Attraction didn't succeed, however, I do not exclude that it will open a new era of sci-fi blockbusters in Russia. The question is only of what kind of sci-fi blockbusters? This film so radically and vividly shows that contemporary Russia wants (whatever way it goes) to be on the same page with the American mainstream cinema (again politics, now in the film form creation, not in the content per se). The mainstream Russian cinema wants to compete, but unfortunately, all I see on the screen is a very weak, predictable and disjointed script, filled with very clumsy educational moments, dressed in American cliché blockbuster form. There is neither the old good Russian acting school (the arsenal is so-so when it comes to blockbuster), neither irony (which is not enough), neither technical (the Russian visual effects workshop Main Road cannot compete with giants like Weta Workshop). The only valuable thing that F. Bondarchuk offers to viewers is the noble idea that mankind is terribly aggressive, the Earth is inundated with cruelty and intolerance towards each other, so we must believe and love —there is no other recipe for survival in our galaxy. This single-layered, uncomplicated, childishly naive message comes into a straight contradiction with the complex blockbuster form that director is trying to achieve in this film.
I think the main problem of the new generation of Russian "star directors" is that they have access to big money (which should be politically justified) and new technologies, but cannot write the scripts by themselves, thus films are created quickly by a large number of people. The whole picture does not work out, because the director simply tries to get everything together, link the script with actors' play, screen the script, etc. All in all, in Russia of 2017 entropy and fast global technological progress (ref. to a concept of technological singularity), along with the big political ideas and money, come in contradiction with the deep philosophical understanding of film as a work of art. This time of quick decisions, which do not always work out well, looks like an invisible war against humanity and civilization. Oh well, it remains to be seen.
3-Man is a combination of personal qualities and major trends of the era he lives in. At the moment throughout my perception of space-time, I feel that entropy in all spheres of life is an obstacle to being a cinephile in 2017. The continued high speed flow of information makes myself and people I know busier than in 1997 (when I bought my first computer in Russia). Now reading and posting on Facebook, Instagram, and other social Internet networks became our second, third, etc. jobs that we do every day. No doubt that global world gives us much more opportunities, more choices, indeed we live now in the era of pluralism and access to more technological gadgets than in 1997. Today everybody can make a film with the phone camera and post it online; unfortunately the principal of hierarchy is still dominant. The concept of pyramid / mountain / Christmas tree, etc. – where the top is decorated with the star, still rules human minds. Thus many original and profound films and media do not find a healthy veiwership, simply because they are located at the bottom or middle of the pyramid, while the top of the mountains shows us what we already know.
At the moment in contemporary narrative films (that are shown on Russian TV and on big screens) I observe a terrible misbalance between form and content, and a tremendous drop in the quality of acting. Directors are clutching at straws grabbing new technologies, special effects, but this does not help. Contemporary Russian fictional cinema and TV (with the exception of some masters) lost its traditional deep philosophical understanding of life. The tradition of great literature and screen adaptation is still there, but acting and film form cannot compare with the work of great masters, such as Grigori Kozintsev, Mark Zaharov, and others. With the disintegration of the USSR and its state film studios, the new private ones are chasing after money and this race has big financial as well political bets. Moreover, most of the oligarchs that own movie theaters and film studios throughout the country were just thieves and mafia members in 1990s. So you can imagine what has defined their artistic tastes.
However, on the background of the poor state of Russian fiction films, I discovered the flowering of the documentary and staged documentary filmmaking, which forms probably the necessary balance. Of course I can turn off my TV and not go to the cinema, but to find a good narrative films online is getting more and more complicated, because of the "mountain" principle and the lack of time to physically go to film festivals; unfortunately film festivals in Russia do not display the film winners online.
I want to believe that this time in Russian narrative cinema is a transition period to a new era of exciting, profound films, where form and content will coexist in the golden balance, embracing the audience and give inspiration to new generations to come.
4-Among my sphere of friends, work, family there are no films today in Russia that has the same cultural impact as in 1997. In 1990s we were mesmerized by the idea of Changes and finding our true selves, in this regards I remember the film Brother (Брат) (1997), a crime film directed by Aleksei Balabanov, had an impact on my friends and me. After the film release on VHS in June 1997_Brother_ unexpectedly became one of the most commercially successful Russian films released in the 1990s and quickly became a cult film throughout Russia.
The main hero of the film is Danila (starring Sergey Bodrov Jr.) (the character of which is considered by many Russians to be an icon of the early post-Soviet period) after finishing his military service, seeks help from his older brother, a gangster in St. Petersburg, who puts him to work as a hired gun. Danila kills a Chechen crime boss and is wounded in the attack. He is pursued by the man's cohorts and goes on the run, but finds time to enjoy the city's nightlife and have some romantic adventures. However, as his new identity solidifies, Danila begins to question who he has become. It was an important film for us, because it reflected the changes that were going on in Russia in the difficult time of 1990s. In 1997 -1999 I actually lived in St. Petersburg and a lot of what was showing in this film actually was happening in reality.
It is admirable, that the entire filming process was completed within 31 days, on a small budget of approximately $10,000. The actors worked for little to no pay, and due to the low budget, they wore their own clothes on set throughout most of the film, the rest being bought second-hand on flea markets, such as Danila's famous sweater that he wears throughout most of the film. Today's mainstream cinema in Russia has tremendous budgets, nevertheless contemporary films do not find a deep response in my soul and mind.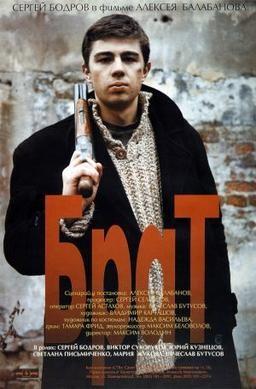 Film poster "Brother", 1997.
6-I don't buy physical media anymore.
7-Upon my return to Russia in 2015, I was surprised to discover the new cinematic trend, namely social teenage documentary (mostly female filmmakers), established by Marina Razbezhkina, who taught in Moscow (and apparently has a lot of students from all over Russia). In fall 2015, I step by a small private art gallery "Garbage" (ХЛАМ) in Voronezh, where I met a documentary filmmaker Dina Barinova (a student of Marina Razbezhkina), who screened that day her doc film Forgiven Day (Прощенный день) (2013). The film tells a heart-wrenching story about Samodurov family from the village of Ugljanez, Voronezh region. Family members Shura and her brothers, Petya and Alyosha (now in their 50s), are blind from birth. Their parents and elder brother died, so they have been living together for 10 years without any help. Shura refuses to hand her brothers over to a psychiatric hospital. After Dina's film, her students showed their work, about their lives and their families. All films contained bare truth —curse, abuse, etc. I got the impression, by observing how teenage filmmakers worship Dina, that this type of filmmaking gives teenagers a chance to reveal their physiological problems and at some point heal them. It is a defiantly new cinematic trend that has developed in Russia since 1997.
Later I went to Moscow, where I saw more documentary films shot by the students of M. Razbezhkina. It seems that they are everywhere! And all of them have the same distinct documentary style (almost no cuts, huge close ups). In terms of plot all films showed the contemporary social reality in Russia ripping the band-aid off. In 2017, I watched the interview with the new Russian female director who became famous for her staged documentary/feature films about the boarder situations in teenage lives in Russia (drinking, drugs, sex, etc.). Apparently, she is also a student of M. Razbezhkina! All in all, it seems that in today's Russia there is a big interest in the documentary genre, not only in the cinema, but in theater as well. Some feature film also uses documentary techniques, shooting using docu style, and inviting ordinary people to act instead of actors. In 2015 Dina Barinova opened in Voronezh a free film studio "Telescope" for teenagers (from 13-18). I found this very necessary and very much admire Dina's initiative.
8-I read reviews and film criticism online.
9-It was Titanic of 1997, I watched it with my mother in Voronezh, in the central movie theater "Proletariy" (Proletarian), just before I left my hometown.

Stefan Gullatz (writer, teacher, Lacanian)
Regarding the questionnaire, allow me to focus – at this point – chiefly on point one, the way cinema culture (in my city) has changed. Over the last two decades, numerous cinemas have closed in Heidelberg, including the town's only multiplex, with its largely commercial fare. There are now three art-house cinemas left, while a new, larger multiplex is to open in June this year.
So for some time, we've had the curious situation that there are three art-house cinemas but no multiplex. However, this is not as good as it sounds. Two of Heidelberg's cinemas offer a range of reasonably interesting national and international films, but there is a tendency to go for films that are, in some respect, compatible with the mainstream, the type you wouldn't be surprised to see nominated for the Oscar in the category 'best foreign film'. These two places also have a poor turnover rate. The other place has a better turnover and a more varied program, but unfortunately the location/ambience is not attractive.
Accordingly, the audience has become less avant-garde, and if you are interested in cutting-edge, experimental, or challenging films, Heidelberg is not necessarily the place to be. This was different in 1997. I noticed that something had irrevocably changed after I returned from my stint in London in 2009. In 2010, Dogtooth and Attenberg were on national release simultaneously, receiving good reviews, but subsequently failed to appear anywhere in Heidelberg.
To me, there is also a more general problem with cinema culture in Germany. This is the fact that virtually all foreign films are synchronized/dubbed over. Obviously, in the process a lot is lost. I have therefore tended to go to the cinema less often and instead rely on other sources, digital, internet etc.

Sacha Ornstein (writer, editor, cinephile)
1-In 1997, I was 13 and just discovering the world of art, film and culture. I was also trying to go out on as many dates as possible (mostly unsuccessfully) and that meant going to the movie theater to see whatever Hollywood release was out that week. I was lucky enough to have relatively early access to the Internet but the idea of downloading (or streaming!) a film was complete fantasy. Today, it's a daily reality and sadly, there's far less theaters than I remember – but I still find time to go to the cinema as often as possible – although thankfully my tastes have expanded beyond blockbusters.
2-I've scratched my brain for a serious answer to this question for several nights and frankly, no two films can sum up the changes in distribution, production and society that have taken place over the past 20 years. Although a friend pointed out that Men In Black arrived in 97 and Arrival was released late last year, so perhaps we're all still waiting for aliens. That's more of a permanent longing than anything relevant to that 20-year gap however!
3-Difficult to say. From a North American standpoint, I feel there are far more films reflecting the varied experiences and diversity of our multicultural society. From a selfish standpoint however, the hyper self referentiality of geek culture has made underground "grindhouse" cinema a bit predictable and it lacks the edge of what I remember from 20 years ago. Or maybe I'm just getting old.
4-Film continues to have a major impact and I believe that on a social level, it may have an even greater impact today than in 1997. Specifically, films like Moonlight and Get Out are addressing the African American experience in ways that weren't touched 20 years ago, at least in mainstream culture.
5-The greatest would be Takashi Miike, without a doubt – although I may be fudging his debut year a tad. As for who most disappointed… I think we can all agree Francis Ford Coppola did not do the world any favors by continuing to make films.
6-Sadly, I don't purchase physical media anymore. Streaming – be it legally or illegally – is simply too convenient.
7-I'm somewhat amazed at how "geek cinema" as represented by Fantasia has gone from a truly underground phenomenon to a legitimate festival circuit with directors purposefully crafting their films to be shown there. Whether or not that's impacted the quality of said films is up for debate however.
8-I wasn't reading criticism in 1997 so I don't feel qualified to answer this one. Sorry!
9-The widespread adoption of DVDs. While serious cinephiles had adopted laser disc, DVD's mainstream adoption finally put to rest pan and scan VHS to provide a suitable (if imperfect!) viewing experience for home viewers, and the release of countless archival films offered cinephiles the opportunity to see classics that would have never made it to home libraries previously. Sadly, despite the potential of streaming video to reach even more viewers, it seems that most mainstream services are increasingly downsizing their catalogues in terms of easy favorites however.

Peter Rist (Film professor, Film Historian, cinematic flâneur)
1-Digital projection almost completely dominates film viewing now in Montreal. We have great facilities at Concordia University to show all formats of analog and digital films. We surely are the best equipped educational institution in Canada, with all of our four film studies classrooms/screening rooms equipped to show 16mm and 35mm prints, and with two of them sporting Christie 2K digital projectors, DCP and 3-D friendly. However, all of the mainstream movie theatres are now digital-only, except for the rare 70mm release and the temporary installation of a suitable projector at the downtown multiplex. The "art house" Cinéma du Parc occasionally shows a film print; the Cinémathèque Québécoise continues to show 35mm and 16mm prints regularly and provides information on which format they are showing in their program. Also, Phil Spurrell's ciné-club and a few other groups in town do a good job of keeping analog film alive, but in the U.S., especially New York City, Chicago, San Francisco, Los Angeles and Rochester, NY, at the George Eastman Museum with its annual Nitrate Picture Show, there is something of a revival in 35mm screenings. I am optimistic that this analog revival continues in the U.S., but not so optimistic that it will pick-up anywhere else, Canada included. I make a point of going to Pordenone, Italy as often as I can for the Silent Film Festival, as 75% of their archival screenings continue to be on film.
2-1997 was the very first year that I travelled to Asia, for the Hong Kong International Film Festival. Of course, it was also the year when Hong Kong was returned by the UK to China and for the region to be overviewed by the government of the Peoples' Republic. Perhaps not co-incidentally, the decline of both the quality and quantity of Hong Kong films begins around this time, although it is easy for me to choose a Milky Way Image film from 1997, Too Many Ways to Be Number One, directed by Wai Ka-fai and produced by Johnnie To. Remarkably this was an experimental work in its narrative construction, but it was still popular with local audiences who were prepared to watch almost anything that featured HK stars, comedy and exciting action. To this day, To, especially, but also Wai continue to be on the cutting edge of fiction-feature filmmaking. 1997 was also a really good year for Korean films (e.g., Lee Chan-Dong's Green Fish) and Iranian "art cinema" (e.g., Abbas Kiarostami's Cannes-winning, Taste of Cherry). While Korean films are as popular as ever, and while at least one major auteur has emerged in the interim (Hong Sang-soo), the once-great cinema of Iran has mostly declined.
It is a bit too early to judge 2017. I find that I spend the first three or four months of the year catching up on some of the best- reviewed titles from the previous year (e.g., Neruda), and in the spirit of diversity, which has always been lacking but is now at least being recognized, I can note that a number of these are directed by women (Cameraperson, Certain Women, Toni Erdmann, and Maudie, a rare Canada-Ireland co-production with a Canadian subject [unlike Room and Brooklyn], beautifully directed by an Irish woman, Aisling Walsh), and a number directed by people "of color" (Angry Inuk, Dangal, Crosscurrent, I Am Not Your Negro, and Feng Xiaogang's uniquely cameo-stylized I Am Not Madame Dubarry, seen on a Cathay Pacific flight). Amongst the few brand new films from 2017 that I have seen, I can cite one that fits the second category, the brave Get Out, which manages to work as a surprisingly scary horror film while exposing white supremacy. I hope that 2017 becomes the best year yet for the diversity of filmmakers.
3-It depends where you live. One might be better off living in Paris or New York City, perhaps London, England and Toronto, Canada, or some other U.S. cities like San Francisco or Chicago, but not where I live, in Montreal. Of course if one lives in a remote area, with no access to film theatres, then one would be better off now than 20 years ago, with cable television and the internet providing greater access to films. For me, the key point is that I still enjoy going to the cinema, but I most enjoy seeing 35mm and 16mm films projected on the "big screen."
I am really disappointed in Netflix Canada, which we subscribe to because my wife is keen on TV series. Their selection of feature films is really poor. I have friends in the U.S. who still do Netflix the old way—getting DVDs in the mail the day they are released. Basically, they supply anything that has been legally released on DVD or Blu-Ray in the U.S. But here, with no more DVD rentals and few retail outlets, we can only shop online. MUBI streams here, and Festival Scope is available to some, but that's about it for interesting streaming services. As for festivals: the international documentary film festival, RIDM is getting better every year. (I am sure it is better than Hot Docs!) The Festival du Nouveau Cinema was very good last year, although there are always technical glitches, but the World Film Festival was so bad in 2016, we are hoping it doesn't come back in 2017. But, knowing Serge Losique, it surely will.
I don't own a cellphone, and if I ever do, I hope that I will never have to watch a film on it. I am really much better off at home than I was in 1997, because I own the best television I think I possible could: a 50-inch Panasonic Vieira with image THX encoding (analoging the digital, when appropriate). Plasma is now gone, but I still think it was the best system (up to 50").
5-If we are considering filmmakers who hadn't made a feature film before 1997, then my choice would probably be Lucretia Martel, along with Apichatpong Weerasethakul, closely followed by Jia Zhangke (who had made a 59 minute fiction film in 1995—is that a feature?). If we discount shorts and medium-length films made before 1997, my choice would be Wang Bing or Liu Jiayin (both Chinese).
6-I buy far less, because I no longer have the budget. I have always felt that I bought copies of rare films because they might become rarer. For posterity, I am in the process of offloading my collections to Concordia University, although libraries don't seem to want to collect books anymore! I take notes when I watch films at (old) film festivals that I think I might not have the chance of seeing again. My memory is definitely going!
7-Not really. I am alarmed that white men continue to have easier access to filmmaking than other people. I hope that the filmmaking world becomes more diverse than it is now, and that Cannes ceases to be the top film festival (for new films), since its programming continues to be very conservative (and white male-oriented). Locarno looks like it has become a really good film festival. I might go there one day. (I will never go to Cannes.)
8-There is more of it because of all the blogs. One interesting trend is that, whereas in the past writing on Japanese film in English was all done by westerners, most of whom had little or no facility in the Japanese language—Donald Ritchie excepted—we now have a number of really good books on silent and late-1930s Japanese cinema that refer to contemporaneous literature, including two PhD theses by Sharon Hayashi and Mitsuyo Wada-Marciano, and books by Peter B. High, Aaron Gerow, Joanne Bernardi, and Daisuke Miao. Also, in 1997, Tadao Sato's history of Japanese film was translated into French: in two indispensible volumes by the Centre George Pompidou: Le cinéma japonais. I still read some print journals regularly, especially cinema scope, and I am grateful that David Bordwell (and Kristin Thompson) still write their online "Observations on Film Art," which is invaluable. On the other hand, we lost access to the writing of America's best film critic, J. Hoberman, when the Village Voice fired him. For our film studies graduates, there are far fewer regular, paid jobs in film criticism available (although, in truth, some journals and most newspapers never wanted film experts to write for them).
9-The 20th edition of the Giornate del Cinema Muto in Pordenone (2001) was very special, with a steam train ride to Udine to watch kevin Brownlow's third restoration of Abel Gance's Napoléon (1927) in the huge Teatro Nuovo, along with their first retrospective of Japanese silents: the amazingly dynamic chambara (swordplay) films were a revelation to me. For contemporary digital filmmaking—or should it be called "filemaking"—I was especially impressed by the IMAX 3-D version of Alfonso Cuaron's Gravity, (which I saw in this format three times when it was first released in 2013) for its combination of reality and fantasy/live action, animation and special effects. It brought back the thrill of going to the cinema—very viscerally.
10-Of my most recent 100 best films of all time list that I made in 2005, only one quarter of the titles are available on Blu-Ray, while 14 of them have never been available on good quality DVDs, to my knowledge. OK, so I would never expect anyone to put Michael Snow's La Région Centrale on DVD, but I am still waiting for Maurice Tourneur/Ben Carré's The Blue Bird (U.S., 1918), Dovzhenko's Zvenigora (USSR, 1926) —Is Mr. Bongo (UK) reliable?— two Japanese silents, Ito Daisuke's A Diary of Chuji's Travels (1927), and Uchida Tomu's Policeman (1933), Pabst's Kameradschaft (Germany, 1931) —there was a good copy on You-tube, last time I looked, and it is coming soon from Masters of Cinema, yeah!— two films from 1958, Brakhage's Anticipation of the Night (U.S.), and Ritwik Ghatak's Ajantrik (in Bengali, India), Sara Gómez's De cierta manera (One Way or Another, Cuba, 1974-77), Jutta Brückner's Hungerjahre (Germany, 1979) —It is outrageous that so many great films directed by women during the "New German Cinema" era of the 1970s and '80s have never been available on DVD— Mrinal Sen's Kharij (Bengali, India, 1982), Chen Kaige's King of the Children (P.R. China, 1987) —only available in a terrible Chinese copy, which has the reels out-of-order!— Yi Chang-ho's The Man with Three Coffins (Rep. of Korea, 1987), and Mani Kaul's Siddeshwari (Hindi, India, 1990). So much for the notion that in the digital era, everything is available!

Donato Totaro (Editor Offscreen, film teacher, film critic)
1- One of the major differences is that in 1997 there were still a handful of local movie houses, where you could go see a film without travelling downtown. Those are now gone the way of the video store, so "going to the movies" now means heading to the city core. Even downtown the pickings are much slimmer and concentrated in a few locations, with many theatres closing due to increase in home video and then of course streaming, file sharing, and online viewing. Sadly in 2017 we lost the ability to see IMAX in film in Montreal, but there are still at least five or six theatres equipped to project 35mm. And the university where I teach, Concordia, still projects 35mm films that come from its teaching collection and rentals. The loss of regular celluloid projecting has definitely created a "wound culture" where die-hard cinephiles go out of their way to view "reel" film (like the dying Edward G. Robinson character in Soylent Green who goes into a special room to view film of how beautiful the earth used to be before the apocalypse!).
2-There is little doubt that the cinema landscape has changed from 1997 to 2017. The majority of films are now shot digitally and projected digitally, although the (oft) reported death of cinema is, to quote Oscar Wilde, 'greatly exaggerated'. The verdict on the projected democratization of filmmaking promised by the digital revolution is also still open. Yes the possibility for anyone to make a movie has increased (Do you want to see a film made by anyone? Do you have the time to see a film made by anyone?), but films the majority of people want to see is still restricted by distribution channels and Hollywood or commercial cinema in general has certainly not become cheaper to make. If anything, my guess is that the average budget of a Hollywood film has increased in the digital age. Hollywood production value, technical scale, marketing power and exhibition clout still makes it difficult for smaller films to be seen. In 2017 Luc Besson re-enters the foray of SF wizardry with the spectacular Valerian and the City of a Thousand Planets. In 1997 David Lynch makes a dark paranoia noir that features a character who splits into two identities, Fred Madison/Bill Pullman & Pete Dayton/Balthazar Getty. In 2017 David Lynch makes a dark paranoia noir TV show, Twin Peaks: The Return that features a character who splits into two identities, Agent Cooper/Dougie, both played by Kyle MacLachlan. As the French saying goes, "plus ça change, plus c'est la même chose" ("the more things change, the more they stay the same")!
3-There is no doubt that the ubiquitous nature of the film platform has made the cinephile feel like the proverbial "kid in a candy store". As a horror fanatic when I subscribed to the all horror pay platform Shudder, that is exactly how I felt! Excellent choice with a fine curatorial policy. These days name a film and you can in all likelihood track down a copy, either as a file, on Youtube, a file sharing platform or a physical copy on one of the Amazon world locations, and have it arrive at your doorstep in less than a week. But regardless of how many films you can watch or when, there is no disputing the fact that seeing a film on a large screen, with a proper projector (film or digital) and sound system, and with a large audience, will always make a stronger emotional impact on the viewer. You can't compare a thirty-foot screen with a 60-inch screen. Having said that, opportunities for seeing a film at the theatre, while less than twenty years ago, are still plentiful. The difference is in the increase in choices that film viewers now have. Whereas in 1997 it was the theatre or at home on a so-so TV as a VHS or DVD, now a film can be viewed on multiple mobile platforms, computers and much improved home viewing set-ups. So the percentage of films seen at the theatre vs. non-theatre is undoubtedly much lower in 2017 than it was in 1997, for most viewers, if not all. And that is a loss. The increase in choice can sometimes be a mixed blessing and the problem displaced to one of accessibility. I purchased a Roku box so I can access the Shudder station app. But then I got even more excited when I found out about all the stations that were legal and (many) free through Roku. Each app, such as Ovguide, TubitTV, My Retro Flix, FilmOn, or SnagFilms, had hundreds of films. On the down side, most of these apps do not have a search function, which makes it impossible to "find" a specific film. And much of the content is of inferior quality. It has been at least a year since I bought the Roku and I've probably watched about 4 or 5 films on these apps.
4-Even with all the noted competition that film has now, and the lowered engagement of films viewed in a conventional social setting, I feel that cinema is still a major player when it comes to its cultural impact. Many in this survey have already mentioned the impact to engage meaningful discourse that we've seen in certain African American filmmakers with works like Get Out, Moonlight and Birth of a Nation. Even though I have not yet seen the Ghostbusters remake, I remember the hoopla the gender reversal casting caused among (male) fans of the original film, and the consequent discussions in the media and social networks regarding gender inequality in film. And two recent films that struck me profoundly as explorations of youth culture, Spring Breakers (2012) and It Follows (2014), tapped into a cinematic zeitgeist of youth alienation which I have seen across films of many nations. I remember a discussion I was having with a friend about the social experience of cinema and how it is commonly associated with the theatre experience. Seeing a film at a theatre with a packed audience, all laughing or screaming or crying together, is a powerful social experience. This is an argument older people make, but for younger generations sharing files, watching films together on the computer, commenting on film through social media platforms, is a social experience, THEIR social experience. No doubt a different social experience. Another interesting angle on this question is the phenomenon of online fans that actually do promotional work on a film FOR the studio. I remember reading an essay saying how this was a new form of slave labour. Fans who do mash-ups of trailers, their own trailers, or their own advertising campaigns for films, all for free, or easy giveaway perks from the studios. This is something we all do to a lesser extent, emailing trailers to our friends or sharing the trailer of on upcoming film on Facebook. Now that is what they meant by the democratizing of cinema!
5-My vote for most impressive filmmaker to have emerged since 1997 is Kiyoshi Kurosawa, who made his feature debut in that year, with the intriguing blend of procedural crime, serial killer, and supernatural film, The Cure, which predated by one year Ringu. These two films, along with Ju-on, and Whispering Corridors spearheaded a horror cycle that reinvigorated the horror genre, J-Horror. Kurosawa would go on to make consistently about a film a year carving himself a niche as one of the most innovative directors of the fantastic, with a fluid slow-burn style that relies equally on image and sound, on and offscreen space.
6-While some people may continue to only buy physical media, and some have renounced physical media for digital copies or streaming, sadly I do both! I continue to buy Blu-rays, and the odd DVD if cheap or only available in that format. And I have multiple hard drives of films that, in all likelihood, I will never exhaust.
7-The love for all things retro was definitely not invented in the past twenty years —you only have to recall Starship Troopers, 1997, which riffed on the 1950s BEM (Big-Eyed Monster) movies)— but there seems to be a huge spike in interest and volume in films that are couched, either aesthetically, narratively, or both, in an earlier era of filmmaking, most often the 1960s, 1970s and 1980s. The Winnipeg Collective Astron-6 are masters of the retro aesthetic, culminating with their giallo/1980s Italian horror parody, The Editor. The Belgium team of Bruno Forzani, Hélène Cattet honed their chops with a series of giallo homage shorts before venturing into features with two equally striking masterworks of ultra-formalistic experiments in psycho-sexual aesthetics, Amer (2009) and The Strange Color of Your Bodies Tears (2013,). Peter Strickland's 2012 Berberian Sound Studio engulfs its viewer in the analog world of Italian low budget genre filmmaking of the 1970s. The amazing and multi-talented Ann Biller recreates the world of the 1972 sexploitation film with Viva (2007), and topped that with the twisted possibly feminist exploration of desire, The Love Witch (2016). Biller filmed on 35mm to better replicate the gorgeous color palette of 1960s Technicolor, and stops at nothing to recreate an era of post-1960s euphoria of drugs, black magic and sex. Another recent title that is set in an imagined past of the 1960s and 1970s is The Arbalest (Adam Pinney, 2016). The wonderful It Follows (2014) is a teen film disguised as a slasher film that downplays direct references to contemporary teen life, preferring a retro 1980s aesthetic influenced by John Carpenter and a modern electronic score. Even the recent Kong: Skull Island shot on film to better replicate the look and feel of the time of its setting, the 1970s.
8-I want to use this section to recall the one piece of bad news that has come of recent, that relates directly to writing about cinema: RIP Video Watchdog: 1990-2017. Issue # 184, June 2017 is the last print copy of Tim Lucas' indispensable guide for the aficionado of home video. I own and read every single issue of Video Watchdog, which for years provided me with a model of film criticism, deeply researched, informative, analytically astute, and obsessively attentive to variant versions of films. The writing was always intelligent and never dry or dull or condescending to reader or film. There was a dedication to an "objective" accounting of what was on screen, but with a hard to contain passion for cinema. But while VW expired, many new magazines have surfaced, giving hope back to print journals. I am always surprised at how many print journals continue to resurface, like the excellent UK Little White Lies, which is one of the most elegantly designed magazines around, and the eclectic Paracinema. And still going strong, the Canadian-based cinema scope. Also from Canada, Rue Morgue is going strong and is succeeding partly by branding itself (conventions, podcasts, books, radio, Halloween parties, etc.). And Allan Bryce is still ticking along with The Dark Side. In fact horror is thriving in print, with new journals such as Horrorville, HorrorHound, Diabolique (the best of the lot, with a more scholarly approach) and Classic Monsters. When it comes to online, I am of course a little biased, given my position as editor of the longest running online monthly film journal. Sure that the internet can often be a case of siphoning the wheat from the chaff, but there are some excellent online film magazines that have stood the test of time with a strong editorial presence or institutional support. Such as Slant Magazine (link), whose critical views I always go to before others, Bright Lights Film Journal, (link) the once print mag now gone online, Cinefantastique (link), a great source for critical insight on cinema of wonder. The (very well supported) Australian-based Senses of Cinema still continues to set the bar high (link). For those who think the internet is not rigorous enough, visit the studious Film-Philosophy Journal (link). And the final word as an indispensable resource for online writing and research, a big shout out for the sterling work that Catherine Grant continues to supply us with on her one-stop guide for all things film smart and worthy, her Film Studies For Free "blog". (link)
9-Watching The Hateful Eight in 70 mm Cinerama at Christmas 2016 was a special moment, an event experience made as such by the extra effort put on by Tarantino. It was so packed I had to sit in the first or second row, which meant I had to go back a week later to see it from a better perspective. Another outstanding cinema event was the 2011 performance of the 1925 silent version of The Phantom of the Opera presented at the Fantasia International Film Festival, with live musical score by Montreal composer, conductor and musician Gabriel Thibaudeau.
10-Ok this one requires a little backstory. I moved the UK to start my PhD (Warwick University) in late summer of 1997. That was also the beginning of Offscreen, as I launched the first issue in July 1997. I published a few more issues while in the UK. One of the case study films for my dissertation was Tarkovsky's Stalker. Although I had seen Stalker several times on 35mm, while I worked on the film for my PhD I studied it on VHS and then on a decent DVD copy from the Rustic label. When I defended my thesis 2002 Stalker was still only available on DVD, split across two DVDs (part 1, part 2). I pined for a good, no great copy of the film on Blu-ray. I thought my wait was over when Artificial Eye/Curzon announced the complete Tarkovsky on Blu-ray. I was overjoyed. But when I received my copy of Stalker in the mail in August 2016 and pushed it into the Blu-ray drive….disappointment. The transfer was underwhelming to say the least, at best a slight improvement over the Ruscico DVD, though the colors were more muted and drab. And then I catch a release notice that Criterion is about to distribute Stalker on Blu-ray. When? Through the beauty of sheer serendipity, July 2017! Eureka! I finally get my great digital copy of my favorite film, on the 20th anniversary of the commencement of my PhD and the debut of Offscreen. WOW!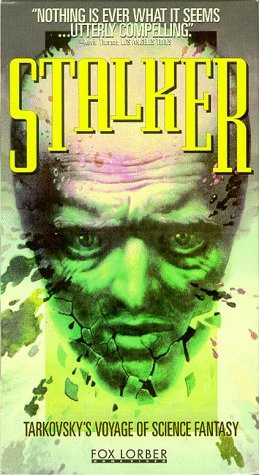 From VHS to DVD to Blu-ray1 to Blu-ray2
Ruscico DVD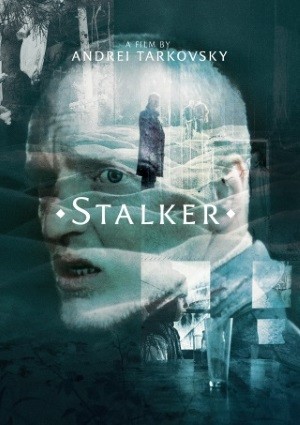 Artificial Eye Blu-ray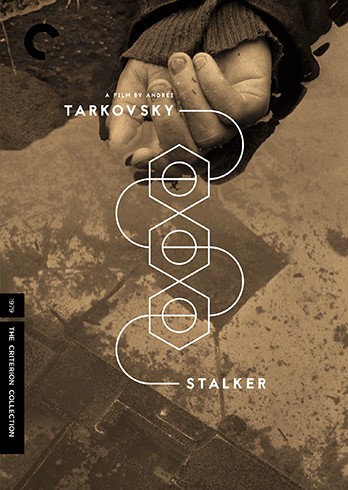 Criterion Blu-ray

Virginia Waxman (Film Professor, Film Historian, writer)
1-Since moving to Los Angeles in 2014 I have been enjoying the rich film culture that exists here. The city's many revival and art film houses are complemented by beautifully restored movie palaces, and many screenings feature Q and A's with filmmakers. Though not a purist, I enjoy the many opportunities offered here to see films in 35mm and 70mm—and there is even a 4-D theater near my house.
2-Two films, both Oscar winners, reflect profound changes in the way films are produced and reach the marketplace:
1997: Titanic, an event movie produced and distributed by Paramount Pictures, a major studio originally established in 1912.
2017: OJ: Made in America. Produced by ESPN, a sports television company launched in 1979. Is it a movie—or prestige television? The lines are becoming increasingly blurred.
3-Home movie theaters with expansive screens and elaborate sound systems can now compete with cineplexes.
4-Both O.J.: Made in America and 13th raised the public dialogue about race relations in the United States to a new level.
5-Most Important: Ava DuVernay: Not only because of the significant films she has directed, including Middle of Nowhere (2012), Selma (2014) and 13th (2016) but because of her work as a distributor of African-American made films, especially the revival of older titles like Ashes and Embers and Cooley High.
Most Disappointing: Terrence Malick
6-I still buy the occasional DVD, but I mostly stream films when I watch at home.
7-Digitalization has resulted in a major revolution affecting the way in which media products are created, distributed and consumed. Digital processes have enabled more ambitious restorations of classic titles, but we are quickly moving beyond the traditions these historical treasures represent. Computer-generated visual effects now dominate blockbuster franchises, and digital cameras are producing films with a flatter, brighter, harder-edged look. Editing conventions, too, have been transformed. Editors today piece scenes together with the click of a mouse, not the cumbersome splicing together of strips of celluloid as in former days; in practical terms this change means they can more easily deal with massive amounts of footage and cut it all up into smaller pieces than ever before. At the other extreme, shots are no longer limited to the length of a film strip that can be loaded into a 35mm camera and extra-long takes are easily executed. One sees this new freedom flamboyantly on display in Aleksandr Sokurov's 2002 Russkiy kovcheg (Russian Ark), a sumptuous spectacle captured in a single 100-minutes shot moving among throngs representing various historical periods cavorting in a series of rooms in the Hermitage Museum.
Moreover, as the 2017 Cannes Festival made clear, digitally-enabled streaming services like Netflix are eating into the business of theatrical exhibition houses. Today's upgraded television sets, combined with the commercial free formats offered by digitalized cable services, are attracting major cinema auteurs to the "small" screen, including, Stephen Soderbergh (Behind the Candelabra, 2013), and Jane Campion (Top of the Lake, 2013). The time-shifting enabled by home viewing has also broken open the two-hour long "evening's entertainment" model with a new emphasis on long-form narratives (Angels in America, Mike Nichols, 2003, 352 minutes; Mildred Pierce, Todd Haynes, 2011, 336 minutes) . The phenomenon of prestige television has also led to a reconceptualization of authorship, which must now account for writer-producer TV auteurs like David Simon (The Wire) and Vince Gilligan (Breaking Bad). More radical departures from the theatrical exhibition model are represented by projects like Alejandro Gonzáles Iñárritu's virtual reality exercise Carne y arena (Flesh and Sand), also on display at the 2017 Cannes event. Even more radical efforts like Mike Figgis's 2000 production Time Code and Danny Boyle's 2002 release 28 Days Later exploit digital tools to enlist viewers as co-creators.
Will the future make room for all of these new options? Or will some experiments be abandoned and residual forms left behind? I especially wonder if going out to the movies, a life-long habit for many of us, will soon become a thing of the past.
8-I am a big fan of Jerome Christiansen's book America's Corporate Art: The Studio Authorship of Hollywood Motion Pictures (Stanford, 2012), which has brought the sophisticated (some would say over the top) textual reading strategies of the New Historicist school to the study of Hollywood cinema.
9-The Cinema Ritrovato Festival in Bologna—and it happens every year!
10-So many international titles and films of historic importance are no longer available that it would be impossible to list them all. I will just mention Maria Candelaria, a milestone from Mexico's Golden Age that would be invaluable resource for teachers wishing to introduce students to the rich heritage of Latin American cinema.