The Cinematic Legacy of Baron von Munchausen
Celluloid Munchausen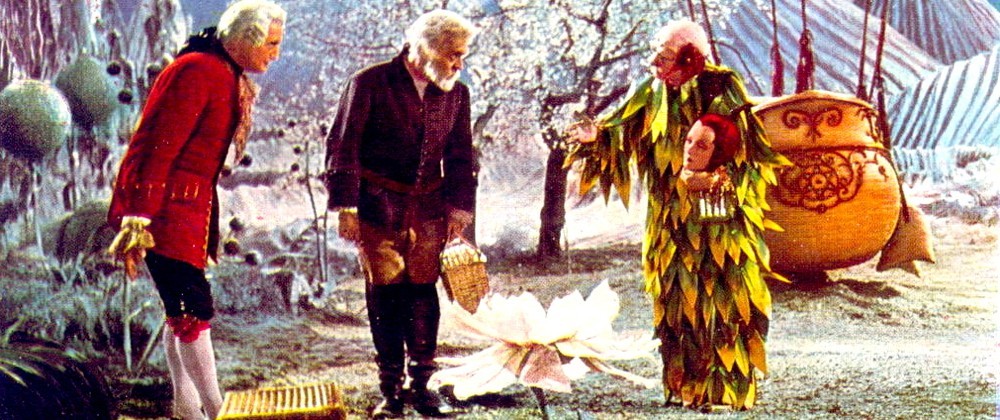 1. Introduction: The Munchausen Lineage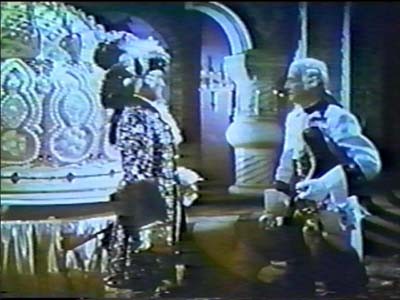 Josef von Baky's Adventures of Baron Münchhausen (1943)
As a literary figure Baron Munchausen, Rudolph Raspe's well-traveled fabulist, has been frequently rewritten in new adventures for new audiences. There is a two-hundred-year legacy of this liberal adaptation, with new Munchausen stories being written in Raspe's own lifetime by Gottfried Bürger under the perpetually employed title, The Adventures of Baron Munchausen. While Baron Munchausen appears in many literary guises, there are stable elements to his character that transcend whatever given position or medium he inhabits. He is a philanderer, an invulnerable figure of giant strength, a traveler, and, pivotally, a liar. The important aspect of his fabrications is their apparent senselessness; an acte gratuit, the Baron gains nothing but doubt for his efforts. There is no property or admiration to be won; there is only the art of the lie. The artfulness of lying is something that predictably tantalizes filmmakers as a source for adaptation; remarkable, however, is the number of adaptations—by my research, at least twenty, with several more awaiting confirmation. What follows is a catalogue of available information, errata, and personal observations on the Munchausen films, many of which are no longer extant, or are currently unobtainable. This survey is intended as an introduction for future film-specific articles; there is a massive international lineage of these films, and I endeavour to place them in context herein.
Before commencing, two notes may be enlightening on the current state of the Baron non-cinematically. Baron Munchausen is an occasional popular culture icon, appearing in advertising, comic books, decorative arts, role-playing games, and on radio and television. His adaptation is not limited to film, although these other media fall outside the scope of this article. Also, Baron Munchausen is probably best known in academia for his inclusion in the psychological tendency known as Munchausen Syndrome, or the more publicized Munchausen by Proxy Syndrome, whereby a parental figure, with perplexing motivation, causes the sickness of a child. The seemingly tenuous relationship between the character Munchausen and the syndrome is only that of deceitfulness; Baron Munchausen was a byword for fabricator until quite recently. Everyone from Nietzsche to my grandfather bandied the term about, or had it directed at them.
Chronologically, the films' titles, directors, and nation of origin are included where available; for ease of reference, a chart is included at the end.
The first documented film concerning the Baron is either that of The Adventures of Baron Munchausen Capturing the North Pole (1909) or Emile Cohl's French Les Adventures du Baron du Crac of the same year. Typical of many films of the time period, specific information is difficult to obtain, and they are only mentioned in passing in various places. There is also some talk of Cohl making his Munchausen film in the 20s, but knowing who and what to believe concerning this antiquated period of film history is difficult. The ensuing Baron Munchausen film, made in 1911, is the earliest that is still viewed today: Georges Méliès' Baron Munchausen's Dream. In fact the film is a titular adaptation only, narratively owing far more to Edwin S. Porter's The Dream of a Rarebit Fiend (1906), which in turn is adapted from Winsor McCay's turn-of-the-century comic strip, Dreams of the Rarebit Fiend. This palimpsest of cultural detritus with a topping, or titling, of Munchausen is typical of a number of the adaptations. Indeed, this is one reason why it is beneficial to view the films chronologically; as much as the Munchausen films are bound to their time and place of origin they are also self-propagating and reflexive to earlier versions.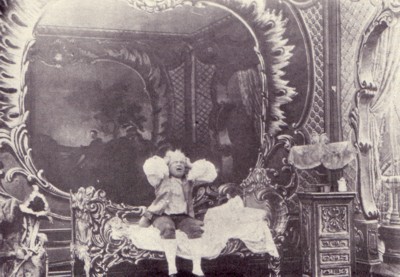 Méliès' Baron Munchausen's Dream
Between 1914 and 1936 five more versions were made: the Italian Avventure del Barone di Münchausen (1914); Paul Peroff's The Adventures of Baron Munchausen (Nothing But the Truth) (1927); I. Ivanov- Vano and D. Cherkez' Soviet Adventures of Baron Munchausen (1929); American Walter Lang's Three Stooges picture Meet The Baron (1933); and Phil Jutzi's German Munchhausens neustes Abenteuer (1936). This last, surprisingly enough, was the first German rendition of their own nation's character 1 ; they are now the most productive Munchausen filmmaking country.
The forties, a prolific decade for the Baron, saw four adaptations made, beginning with Czech animator Martin Fric's Baron Prásil (1940). In 1943 the most lavish Munchausen film to date appeared in Germany, Josef von Baky's Adventures of Baron Münchhausen. Josef Goebbels funded the giant project and writes about it at length in his diaries; the budget was extravagant and as such it was the first Munchausen film to appear in colour, discounting a Pathé stencil print of the Méliès contribution.

Despite its toxic provenance, Baky's Munchausen is politically innocuous; indeed, the film would seem unobjectionable coming from Hollywood today, though perhaps this says more about Hollywood than Nazi films. In 1947 and 1948 Canada made its first contributions to the filmic interpretation of the character, although the organization that is cited as having released them, the National Film Board, steadfastly denies knowledge of their existence. This obliviousness is perplexing, for it was filmmakers George Dunning and Colin Low who respectively contributed their own short takes on the character, and each went on to better-known films in 1968: Low worked on 2001: A Space Odyssey and Dunning directed Yellow Submarine.
Werner Jacobs supplied Germany with another Munchausen in 1958, Munchhausen in Africa, and Wolfgang Ness followed up with a version entitled Comrade Munchhausen in 1961, concerning the foolhardiness of space travel. Nineteen sixty-one also saw the release of Karl Zeman's Czechoslovakian Baron Prásil, that country's second Munchausen endeavour. Then came the great Munchausen lull; fifteen years went by with no cinematic representations of the old trickster. Finally, in 1976, Wes Heeny contributed a film, followed by an animated French endeavour by Jean Image in 1978, and Mark Zakhavov's Russian The One and Only Munchausen (1979).
Terry Gilliam's 1988 The Adventures of Baron Munchausen is no doubt the most widely seen version of the Munchausen character in North America, although that is not saying much considering the film's notoriously lacklustre distribution. It is best seen in light of a progression of cinematic versions of the Munchausen myth, and the film firmly recalls previous renderings, most explicitly Baky's version. Although Gilliam suggests that he did not particularly enjoy the Nazi epic, some of his scenes are shot-by-shot recreations. Studio uneasiness about the similarity may be divined from the following leader that read, in advance of non-American screenings of Gilliam's work, "This is a new motion picture, not to be confused with the UFA/Transit/Murnau 1942/3 motion picture bearing the title "The Adventures of Baron Munchausen". 2 Since Gilliam's work, but one adaptation has been made, Ian Ferguson's opportunistic short cartoon Baron Munchhausen in a Whale of A Tale (1989), made for the NFB.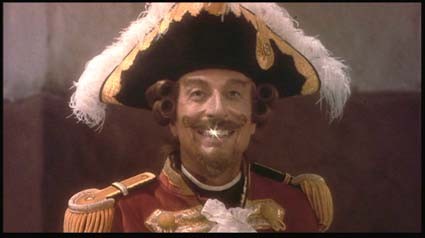 Gilliam's Munchausen
This is not to mention two unrealized Munchausen adaptations, which, in their unmaking, were a great loss to cinema. Hans Richter, the German avant-garde filmmaker, nearly joined with Méliès in the late 30s for an adaptation. Méliès had been impressed with Richter's Ghosts Before Breakfast (1928) but unfortunately projects in Switzerland took Richter away from the venture and Méliès died soon after. The American comic artist, Carl Barks, who is praised endlessly by genre fans for his work on Uncle Scrooge and Donald Duck comics, got as far as drawing storyboards for his Munchausen film, Donald Munchausen, in 1938. This date may explain the abandonment of the film; on the threshold of the Second World War, positive renderings of German characters were not popular and certainly not Disney material.
Some preliminary observations come to mind when viewing a great deal of this work. All the films deal with essentially the same select source material that amounts to about half of the original book's adventures. 3 The other half of the book essentially consists of viciously described hunting expeditions by the Baron. He recounts that he "rammed the head [of a decapitated lion] further into the throat of the crocodile, and destroyed him by suffocation." 4 Later, dressed in the skin of a polar bear, Baron Munchausen kills thousands of other polar bears by stabbing each in the back of the neck with a knife. These occasions are by no means the grisliest of his tales. 5 None of the Munchausen films available to me has contained even one of these expeditions; there is a silent and tacit refinement taking place by each filmmaker. This may be explained by the changing tastes of children (children who are, I must occasionally remind myself, the primary audience of the Munchausen books and films); inexplicable, however, is the lack of animal death in the earliest films, when it might still have been acceptable. Consider, for example, another children's work from as late as the thirties: Hergé's Tintin in the Congo run in Le Petit Vingtième. Tintin explodes a rhinoceros and stones a buffalo with abandon, and it was years before this was modified to the current animal-friendly version. The filmmakers' restraint is perplexing. And encouraging—the filmmakers respond to Munchausen the fabulist, not the brute.
There is also the manifest proclivity that comic artists have for the material, from Carl Barks to Jean Image to Terry Gilliam. Each of these directors worked in comics or fumettis and, no doubt, was struck by the bizarre visuals the narrative provides. Another inspiration for the comic adapters may be the Gustave Doré illustrations that accompany the most widely circulated editions of The Adventures of Baron Munchausen. Gilliam credits (or blames) Doré's illustrations for bringing him to his recently abandoned Don Quixote adaptation as well.
A final remark is something of a reiteration. These works deal in a near-archetypal character; despite superficial differences all of the films present a unified adaptation, particularly when noticing those elements of the original stories that are omitted. It is easy to read the entire body of films as one sporadic work, except that within their related representations, there is a growing reflexivity (and I do not attribute this merely to the shift from modernism to post-); it is probable that Baky had seen Méliès' version, Zeman had seen both Baky's and Méliès', and Gilliam had seen all three directors' films. There is a parthenogetic property at work, and without wishing to suggest the occult where there are only profiteering film studios, each film suggests something additional about the character and the situation from which the film sprang. This osmotic quality to the cinematic Munchausen oeuvre reveals the attraction to deception that lies at the root of all of the films 6 : liars working in a lying medium make a film about a liar.
Baron Munchausen Film Chart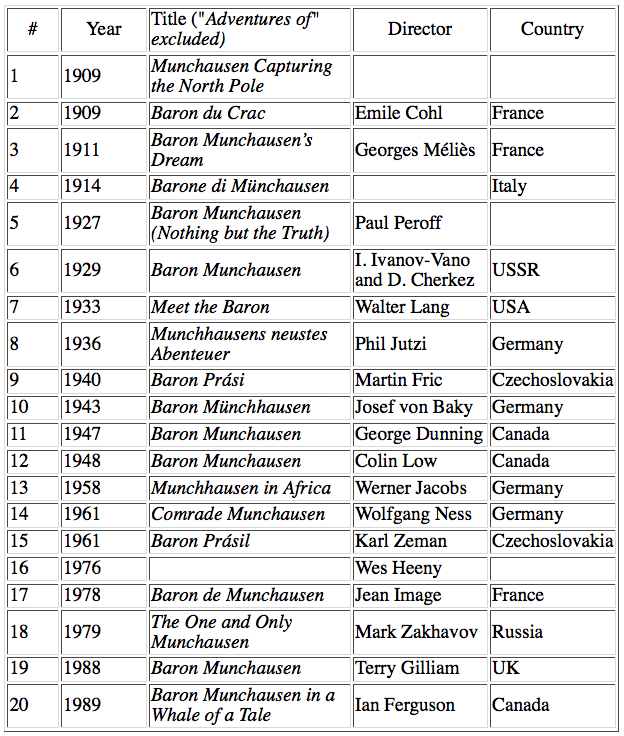 *Bernhard Wiebel at the Collection of Munchausology, Zurich, was very helpful in confirming certain things and suggesting new areas of research. If any reader has further information on any of the more difficult-to-obtain films, please contact me through email.
Read Part 2 Here.
Notes