Chinese Cinema: 1933-1949
The Golden Age of Chinese Cinema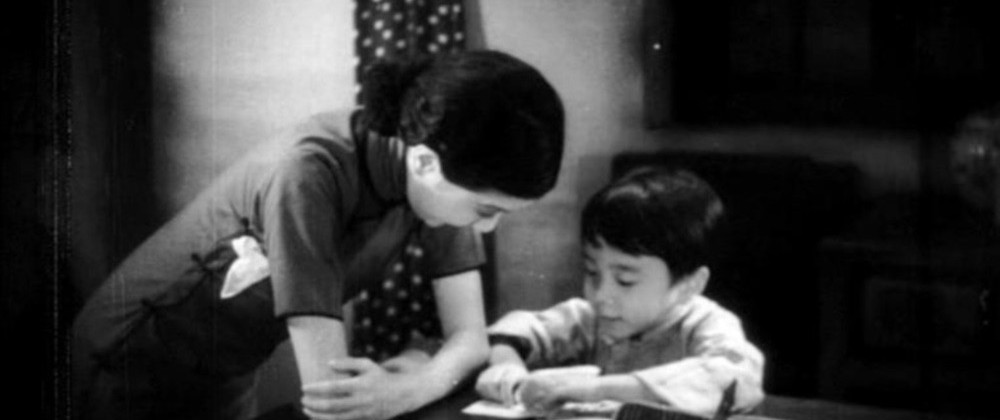 From May 19th to May 30th Montreal will host an historically important cultural event when The Mel Hoppenheim School of Cinema and IITS at Concordia University in association with Ciné-Asia present the film series: "Chinese Cinema: 1933-1949". The 10 film series, previously mounted at New York City's Lincoln Center, will be a rare chance to catch, for the first time in Montreal, treasures from the Chinese Film Archive in their original film version (some of the 10 films may have played at one time in Montreal, but in video format).
Though the recent post-1980 Fifth Generation Chinese filmmakers have left a lasting impression on the International film circuit, the early Golden Age of Chinese cinema is lesser known. However, things are beginning to change as recent festival retrospectives, such as the Pordenone Silent Film Festival's 1997 "Chinese Cinema: New Discoveries", begin to unearth the wealth of the classic Chinese Film period. The period in question spans a tumultuous era in Chinese political history, which saw the ongoing political struggles between the Jiang Jie-shi (Chiang Kai-shek) led Nationalist government (KMT) and the Mao Zhedong led Communists (CCP), a series of invasions by the Japanese which ultimately led to the War of Resistance to Japan from 1937-1945, and the retreat of Chaing Kai-shek to Taiwan and the eventual Communist overthrow of China in 1949.
Chinese filmmakers were themselves caught between these left and right political forces. In the cultural sphere, the urban protests of May 4, 1919 against the Treaty of Versailles allocation of former Chinese, German-held territory to Japan gave name to an intellectual and social upheaval (the May Fourth Literature) that was "characterized by a rejection of tradition and an embracing of reformist, Westernized ideas….May Fourth literature was one of the distinctive components of this modern, Shanghai-centered, cultural heritage" (Paul Clark, Chinese Cinema , (Cambridge: Cambridge University Press, 1987), p. 2). This modern, urban-based artistic movement, which can be likened to the Moscow-based post-Revolution Bolshevik art groups, gave rise to the League of Left-Wing Writers. In 1932 this League of Left-Wing Writers formed the Film Group to "guide and encourage leftists in the film industry" (David Bordwell, Kristin Thompson, Film History , (New York: McGraw-Hill, Inc., 1994), p. 288). Under the strict censorious eye of Chiang-Kai-shek's right-wing Nationalist government, left-wing filmmakers splintered into (primarily) three film companies, Mingxing, Lianhua, and Yihua. The films in this series represent the "Left Tendency" work of these studios, with five from the Lianhua studio, three from the Mingxing studio, and two from a Lianhua splinter studio, Kunlun. To put these films in their proper industrial context, three-quarter of the films screened in pre-1950 China were foreign, mainly American (US control of foreign screens has a long international history). For example, the largest of these studios, Mingxing, made 180 fiction films of varying lengths between 1922 and 1937 (Roy Armes, Third World Film Making and the West , (Berkeley, Los Angeles, London: University of California Press, 1987), p. 138).
Excerpts from two films and the full length screening of Unchanged Heart in Life and Death were presented at a recent press screening for the series. The excerpts featured two of the series' principal star performers, actresses Ruan Lingyu (dubbed the Asian Garbo) and Li Lili, and the important director Sun Yu (who has three of his films in the series). The tragic life of Ruan Lingyu, who committed suicide at the tender age of 25, has been lovingly recounted in Stanley Kwan's 1991 feature The Actress (aka Center Stage ). Small Toys tells the story of a gifted artisan toy maker, played by Lingyu, whose idyllic life is send spinning in a sea of tragedy which descends into madness. The excerpts screened depicted the idyllic crest that she would soon fall from with grand tracking shots along the rural beauty of her riverside house and loving close-ups of her miniature toys. The film then cuts ahead ten years to include Lingyu's now older daughter played by Li Lili, although the latter was only a few years younger than Lingyu! The other excerpted film, Loving Blood of the Volcano , featured Lil Lili in another story that again descends from "pastoral order into chaos" (Peter Rist, program notes). The excerpt gave a tantalizing taste of the film's zany mix of exotic melodrama and action. Derek Elley in the 1997 Pordenone program notes, describes Lili as Sun Yu's Dietrich to his Sternberg, and writes that the film, "is an outrageously enjoyable South Seas melodrama with a vengeful exile (Zheng Junli) falling for a blowsy dancing girl (Li) and finally battling his enemy at the mouth of an erupting volcano, a sequence that has to be seen to be believed."
Unchanged Heart in Life and Death is an enjoyable pro-revolution propaganda film that features stereotypical images of heartless government officials and noble revolutionaries, but resists the caricaturist levels of earlier Soviet Post-Revolution and Socialist Realist films. The film begins with a tracking shot that follows a government prison warden as he splats out the prisoners' daily grub. The prisoners cause a mutiny by throwing the food back at the warden and starting a fire. A young revolutionary, Li Tao, escapes through the mayhem. The film deceives the audience by cleverly subverting filmic language when a close-up shot of the revolutionary's newspaper picture (sporting long hair and a moustache) dissolves to a close-up of a well-dressed young man finishing to shave in a train toilet compartment. Since there is a resemblance, we assume this is the escaped young man attempting to disguise his appearance. The well-groomed man arrives at the home of his fiancée and mother, but is soon tracked down by government officials. He pleads his innocence, but is arrested. Only later when Li Tao appears, face scarred by fire, do we realize that the arrest has been a case of mistaken identity (the two men are played by the same actor, Yuan Mizhi). This coy deception may be director Sun Yu's allegorical way of saying that, indeed, we can all be revolutionaries. Li Tao keeps the mistaken identity a secret so he can remain free to help plot an underground plan to rescue all the political prisoners. The fiancée of the jailed man joins the revolutionary cause and trains as a soldier to partake in the insurrection. The revolutionaries rescue the innocent man from a prison assassination, and Li Tao redeems himself through death. The film concludes with two striking iconic revolutionary images: the reunited man and wife standing proud amid the tall grass, about to join the revolutionary line; and Li Tao's spirit rising from his dead corpse to lead the march (the spirit of the revolution lives on).
This period, though not untouched by a desire to entertain, seems remarkable in its realist designs and ability to quietly harbor leftist, counter-government tendencies. For example, by setting Unchanged Heart in Life and Death in 1926 director Ying Yunwei demonstrates how leftist directors of this period were able to circumvent Nationalist censorship. To quote Roy Armes, "with sympathy for the 1930's leftist struggle masked as support for Chiang Kai-shek's mid-1920's "revolution" (143). Also, the stars of Unchanged Heart in Life and Death , Yuan Muzhi and Chen Bo'er were husband and wife and, "real-life political activists who joined Mao in Yenan after 1937 and went on to occupy key posts in the Ministry of Culture after the Revolution" (Roy Armes, 144-145).
All the films will be screened at the J.A. Dé Seve cinema in the Webster Library building on 1400 de Maisonneuve Blvd West, with either English sub-titles or intertitles. The series kicks off on May 19th 8.00 pm with Shennu ( The Goddess ), 1934, which will be projected with live Chinese musical accompaniment. The other nine films in the series are:
Huoshan Quingxue (Loving Blood of the Volcano ), 1932, 100 min. part-talkie Xiao Wanyi (Small Toys) , 1933, 114 min., silent Chun Can (Spring Silkworms) , 1933, 100 min., silent Da Lu (The Highway) , 1934, 104 min, sound effects and music track Shengsi Tongxin (Unchanged Heart in Life and Death) , 1936, 90 min., sound Cimu Qu (Song of a Loving Mother) , 1937, 110. min, sound Shizi Jietou (Crossroads) , 1937, 110 min., sound Songhuajian Shang (Along the Sungari River) , 1947, 130 min., sound Wanjia Denghuo (The Lights of 10,000 Homes) , 1948, 115 min., sound