(A Brief) Interview with Takashi Miike
[Add introduction to Miike's history at the festival here.]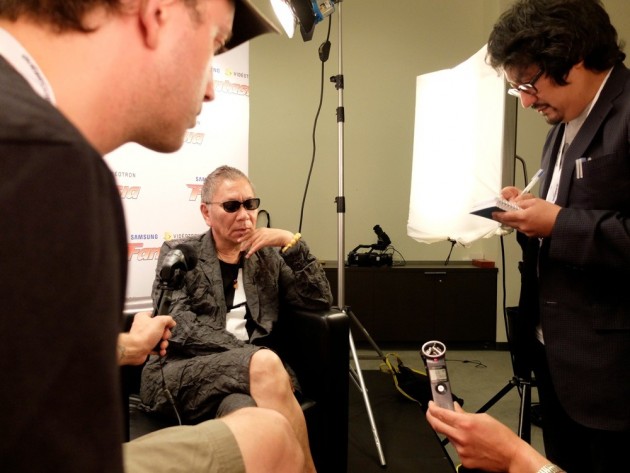 Photo by Keelia Hunter
Randolph Jordan: In an interview with Tom Mes 15 years ago you said that your own interests were moving increasingly away from the expectations of foreign audiences who were attracted to the kind of work that caught international attention like Fudoh, Audition, Dead or Alive, and Ichi the Killer. All these years later we can see that you have traveled many different paths since then. Some of your work has continued to be immensely popular at festivals like Fantasia. Other films have not been so popular, and many have even expressed disappointment that you're not making films the way you used to. Has anything changed in your view of meeting audience expectations?
Takashi Miike: Of course people liked it when I was making films like Ichi the Killer and such in my earlier days. But I don't really like to do what people expect, so I'm always trying to do new things, and make what I like. And I find that people now are enjoying my oeuvre as a whole.
Donato Totaro: It occurred to me after watching As the Gods Will that all the vicious killing objects, the Daruma doll, Matrioshka doll, the huge Cat doll, the wooden polar bear were traditional toys hundreds of years old, killing these young kids reared on modern tech toys. Which I think is a clever way to invoke the age old theme of tradition versus modernity. Can you talk about that unique treatment of an old theme?
TM: Actually, all those game scenes are based on children's games, but games we played when I was a kid, not games that kids play now. Kids have a lot of beauty and innocence, but there is also a part that is quite scary. They can be quite nice, but they can also be very cruel. We learn about these differences by playing when we are kids, and there are always winners and losers, those who live and those who die. And so we learn about these things through play. Today it's all through video games, but at that time we were learning via our bodies through these more physical games. It was very cruel. But a lot of things are like that in Japan. If you listen to old Japanese music for children there are always parts that are very dark and scary. It's always like that. This is where that aspect of the film comes from.
RJ: The very first thing we see in As the Gods Will are feathers floating down from the sky around the main character before he tells us that he wishes he could escape his boring life. That's the only hint of birds in this film, but you have a long history of including bird imagery in your work, from very explicit examples like Bird People in China, Dead or Alive 2: The Birds, and Lesson of the Evil, to brief suggestions like the raven in Ichi the Killer or in the opening sequence to Happiness of the Katakuris. Can you tell us a bit about why you continually include such bird imagery and themes across a wide variety of your films, regardless of style, production context or storyline?
TM: So my grandfather was a hunter and he used to hunt birds a lot. When I was a kid I used to pick up the birds that he shot and carry them in my back pocket. I could feel the bodies in close contact with my own. And it was easier to take the feathers off when they were still warm, and this always tasted better than when you buy the meat from the market. But there is also the cruelty of the deaths here, and so for me birds have become the symbol of hunting. And so when you see bird imagery in my films, there will be a connection to this theme of hunting, and the cruelty of death.
DT: I am interested in representations of violence and specifically gender. In your films it is mainly the men who inflict the violence but you've had some intensely violent women too, like in Audition, Imprint (from Masters of Horror), and Sukiyaki Western Django. When you create violence and violent characters in your films does gender ever come into play in terms of how you represent the violence?
TM: When I plan a violent film, the style of violence depends a lot on my choice of actors. Some actors have a violent streak, others do not. Sometimes I ask an actor to play a violent scene, and if I give them a lot of liberty they will bring their own style of violence to the scene. Especially with women, they are working in a world dominated my men so they are always working under the stress of portraying women the way that men want to see. But if we give them some liberty to express themselves, they will deliver a different kind of performance.
Peter Rist: You have worked a lot in 35mm, as recently as 2003 often with Yamamoto Hideo as cinematographer (about 20 films), and more recently with Kita Nobuyasu (over five 35mm films). I had assumed that you preferred digital. But is it a question of preferring to shoot on film only if the budget is there?
TM: It's like an investment for the future. There are fewer and fewer labs to handle film, and the cost keeps going up. But with digital it's increasingly possible to achieve a quality like film. And all the cameramen feel that way too. So for me, shooting on film is really something that has been tied to this particular moment in history, not so much because I like it better than digital. In 10 years time shooting on 35mm will really be something rare indeed for that point in history.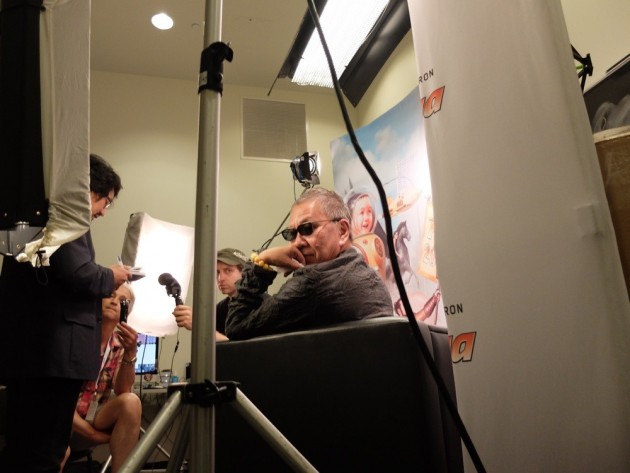 Photo by Keelia Hunter
[Add coverage of his award acceptance here.]
PDF Downloads